Halloween is a time for tricks and treats, but let's be honest it's mostly about the candy. Don't forget to think of your costume idea in advance; you don't want to wait until last minute. Speaking of last minute, you should get your decorations prepared in advance too! We've prepared a list of spooky Halloween items to help you prepare for your ghosts and ghouls, and they are all easy to crochet!
1. http://www.turtleweenies.com/?p=2040
Typically when we think of Frankenstein we think of the horrible monster he created, but this one is too cute to be the real monster! I love it though.
2. http://thechillydog.blogspot.com/2013/10/crocheted-pumpkin-pattern.html
Pumpkins are probably considered the most iconic item to have on Halloween, so don't forget to crochet your pumpkin this year!
3. http://www.petalstopicots.com/2013/09/monster-apple-crochet-cozy/
This is one monster I really wouldn't mind running into. This monster has one pretty eye and one cute baby tooth, you'll be swooning in no time!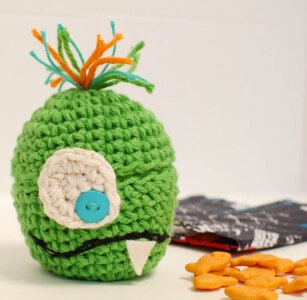 4. http://amjaylou.blogspot.co.uk/2013/10/crochet-web-bunting-and-spider-pattern.html
No one likes walking into a room and finding it full of spider webs, but maybe if it was filled with this kind of spider webs they wouldn't mind.
5. http://www.ravelry.com/patterns/library/pumpkin-headband
There are all kinds of traditional approaches to Halloween decorations, but why not make a cute pumpkin headband this year?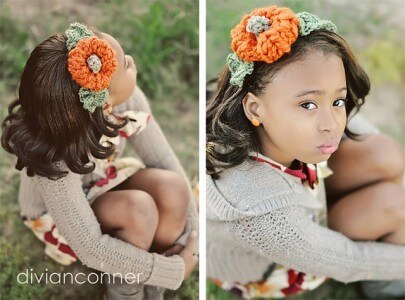 6. http://craftyiscool.blogspot.com/2011/01/wanna-make-monster.html
If you have a passion for cute monsters, and let's be honest we all do, then you should check out this website. It's full with free patterns for you to try out!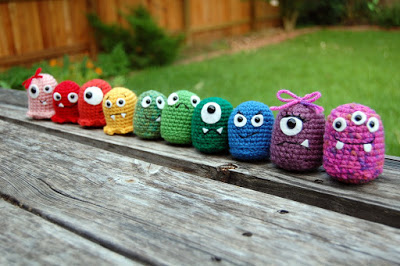 7. http://www.favecrafts.com/Crochet-for-Baby/Baby-Pumpkin-Crochet-Beanie#
Here's another cute pumpkin crochet pattern for you to try out. The only thing you need to think of is another place to put it!
8. http://crochetnirvana.weebly.com/1/post/2013/10/how-to-crochet-skulls.html#.UmnzVhdvPIV
These skulls will definitely help you get into the seasonal spirit. These skulls aren't silly, they are actually pretty intimidating.
9. http://www.annoocrochet.com/2013/10/friendly-ghost-family-free-pattern.html
Halloween doesn't always have to be terrifying though. Take these happy ghosts for example, they are super sweet!
10. http://www.huckleberrylove.com/2013/10/decorative-crochet-pumpkins.html
Here's a set of pumpkins that will leave a little room for customization. You can make a pumpkin into whatever shape you want!
11. http://www.freshstitches.com/tinypumpkin/
If those pumpkins weren't quite your style, try out this crazy looking pumpkin just to switch things up!
12. http://www.gleefulthings.com/blog/?p=2576
It's not too often that candy bites back, but this candy corn is nothing to laugh at. You better watch out before this candy decides to snack on you.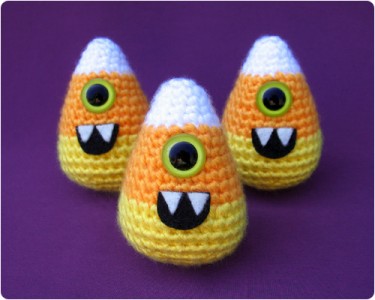 13. http://www.petalstopicots.com/2012/10/little-pumpkin-crochet-pattern/
I really like this pumpkin because it really accounts for all the curves of a real pumpkin, but it may be a little exaggerated.
14. http://wonkywonderful.com/1/post/2012/10/trick-or-treat-bag-free-crochet-pattern.html
Why would you waste money paying for a Halloween candy bag when you could just make your own? Introducing your own personal pumpkin purse!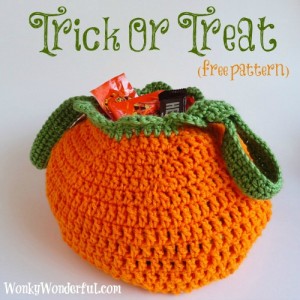 15. http://onesheepishgirl.blogspot.com/2012/10/crochet-pumpkin-treat-bowl-pattern.html
And when your purse is filled up to the brim, you can come home and fill up your pumpkin bowl and keep on trick or treating!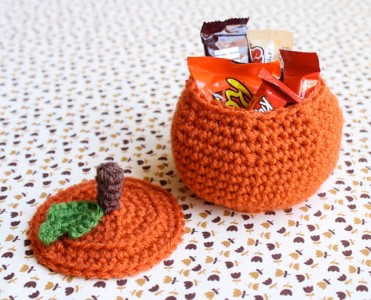 16. http://www.theboytrifecta.com/2011/10/crochet-monster-hat-pattern.html
It's time to let out your inner monster with this darling little hat. Monsters don't always have to be scary, this one has a cute smile on its face!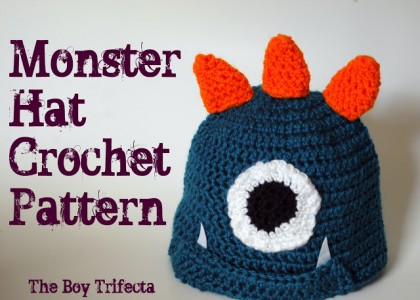 17. http://solmaldonado.com.ar/blog/index.php/halloween-skull-crochet-applique-free-pattern/
Now we're ending strong with a bunch of easy to crochet skulls. These will have you getting into the holiday spirit in no time.
I personally like and would love to recommend for you guys to check .
This Great online crochet class and very good value with Creativebug because you will get,
unlimited access to over 600+ classes and 1 class free to keep even if you are with free trial!