Hello everyone,
I have been thinking to write about monthly income reports for Jennyandteddy crochet and craft blog for a while now. After I  reading my favorite blog their income report, Lindsay from Pinch of yum and Pat flynn of smart passive income. They both were inspired me.
I am admitted that I am very lazy girl, not just  an average but it super lazy,lol. So, I wanted to kick and pushing myself to start income report serie, a new adventure this year.
For some of you blogging income is not interest,  not now and I am sorry-Feel free to skip  to another post.
The good thing about it, for me to keep on track and look back.
What I try to do to improve my blog traffic and experiment with ads network or affiliate that work for crochet and craft blog.
I knew a lot of craft bloggers aren't looking for make money blogging at all.
But Hey, if my passion and love of craft that I sharing can make a little bit of extra cash to cover the cost of craft supply and els..
It's can be real rewarding! This little crochet blog has been around for 6 year now! Can you believe that? well yes!
As you guys know Jenyyandteddy did not update for awhile almost a year! I has been on and off the blog for an update, for  good reason!
Let's me explain why.
The chance that I have time for writing is when Mr.Geo sleep at night, cannot in his daytime nap coz I have to do housework plus tookcare my mom as well
(she's on hemodialysis-kidney failure).
Everytime I feel like to write a post but all my battery was low and they are at sleepy mode lol.
So the time was gone with the parenthood, playing, outdoor activities,reading story, cooking and more..
But it well worth it to see my little boy grow up, this is the best part for stay at home mom right?
Let's see what's happened in January 2016.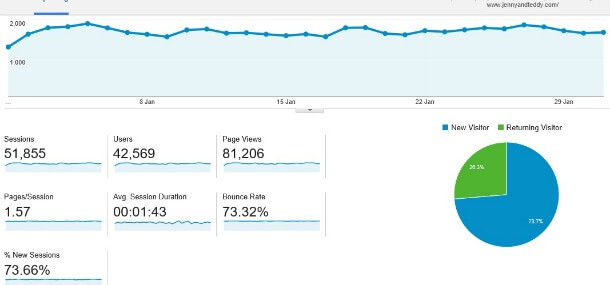 Traffic:
Users: 42,569
Pageviews: 81,206
The links  here may include affiliate links and I may be get small commission when you buy products with those companies. You can read my full disclosure.
January Blog income breakdown
Google Adsense – 214.55
ShareASale – 63.24
infolink – 12.77
Crochet pattern sales – 75.66
Other affiliate sales – 0
Total= 366.22$
In Detail
Just incase if you guys are new to ad network and affiliate read about them here
Monetize your craft blog with ad network
explain about affiliate and shareasale
Google Adsense – still my number one earning for jennyandteddy. I had 2 banner adsense 300×250 on my sidebar. and 1 in content. They did pretty well for the site that did not update for a year! PS. I would love to experiment on them , I have read that color is effect for more click or the position of the ads.
Shareasale –  They are my go to first affiliate that I sigh up. the earning  was awesome, They have a lot of merchant over2,000 to choose from ,It easily to find one that is a great fit for your blog.
So far  I am with
craftsy : they pay Commission: 10.00%
creativelive : they pay Commission: 20.00% and  $1.00 per lead
creativebug : they pay Commission: $3.75 and  $3.75 for lead commission
knitpicks : They pay Commission: 10.00% and  $0.25 lead commission
Infolink – did great job  just for  1  ads. I place them after post content.
I am also with other affiliate bluehost (why I like about them read How to start a craft blog)
Crochet pattern sale – continue doing ok because I did not release any new patterns yet.
Plans for February
– write more useful content and update.
– experiment with adsense position
– promote jennyandteddy free patterns.
My First goal blog traffic & income is to reach 200,000 page view and 2000$ a month, it enough to cover the cost of living in Thailand.
Thanks for all of your support! Let me know if you have any other questions, feel free to ask.