Hey there!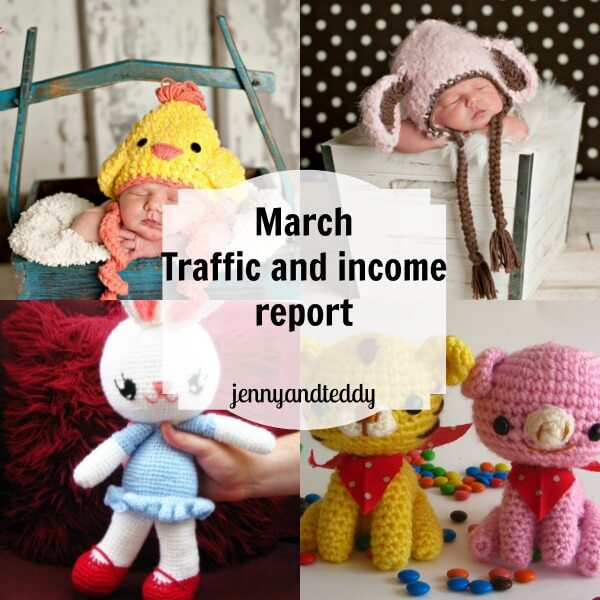 Welcome to March traffic and income report. If you haven't seen my last month's report, you can check it out here February traffic and income report.  I really wanted to share with you guys behind the scenes of jennyandteddy crochet and craft blog. Why do I shared this income reports. Well, just to keep me on track and maybe inspired you to create your own craft blog.
Let's get to March traffic:
Let's get started March traffic
Traffic: Users: 39,594
Pageviews: 76,555
The links  here may include affiliate links and I may be get small commission when you buy products with those companies. You can read my full disclosure.
March Blog income breakdown
Google AdSense:  80.06 (this income is for 15 day)
The blogger network: 132.01 (this income is for 15 day)
ShareASale:  28.19
Crochet pattern sales: 52.87
Other affiliate sale: 0
Written: 10 (this income is for 15 day)
Fiverr gig: 24
Total= 327.13$
EXPENSES: Visual assistant: 80
Total Expenses: 80
NET PROFIT: 327.13-80= $247.13
Just in case if you guys are new to ad network and affiliate read about them here
Monetize your craft blog with ad network
explain about affiliate and shareasale
Detail 
Traffic for March was down from February by 12,839 page view, But the income was up, Woo hoo! Finally, I got to join the blogger network, Yay! Obviously, I spent on VA a lot this month to help me get thing done. I try to work on Pinterest right now for bring in the traffic anyone have any suggestion?
Site RPM
Our March RPM is  $ 4.27 which mean every 1,000 pageview we make $ 4.27. It is calculated from: RPM = (Revenue / Pageviews) x 1,000.
Thank you for your support and being here. I'm love to hear your through.