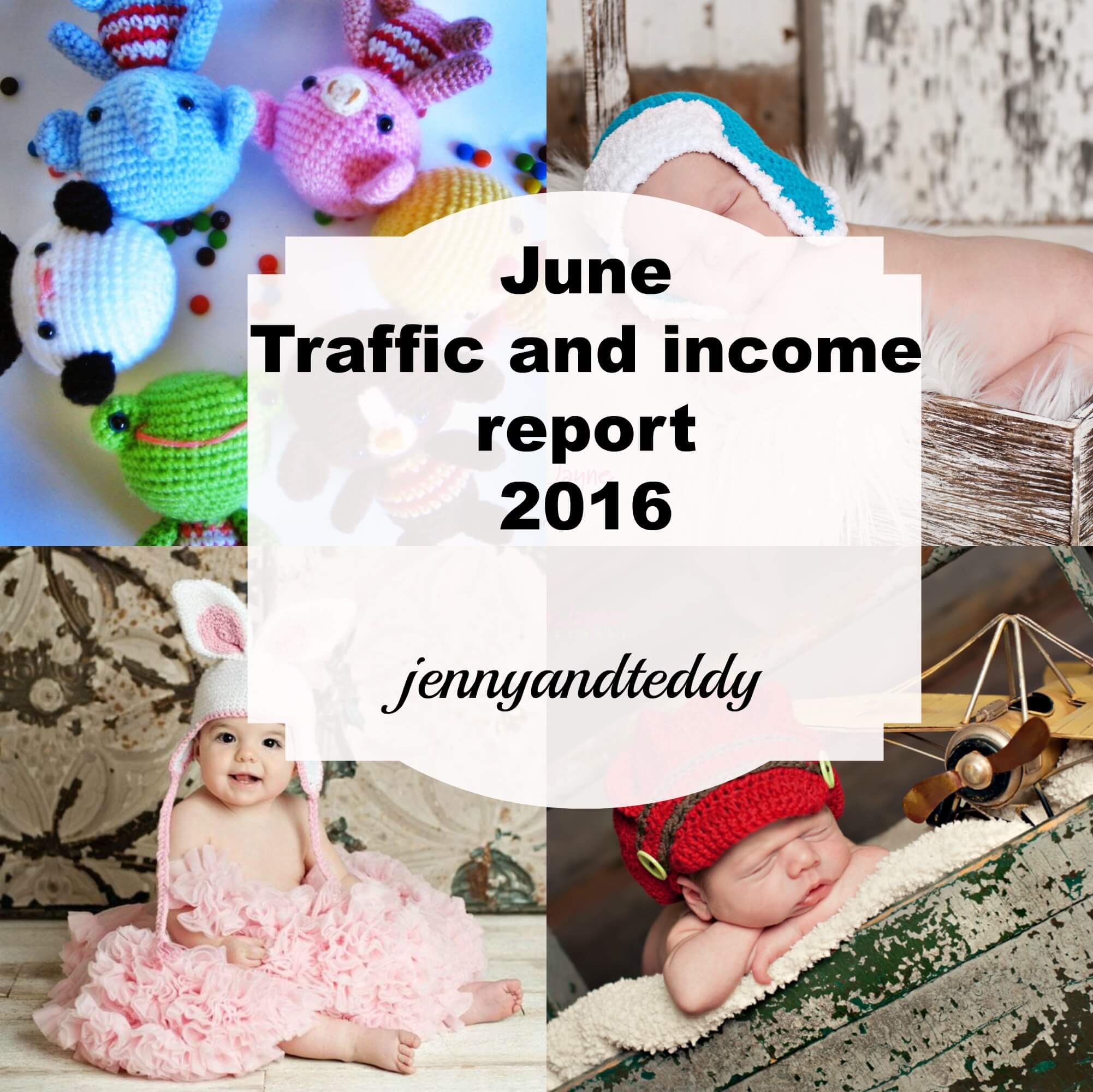 I never thought in my life that I would become a crochet blogger, sharing my love of crochet to the world throughout my little blog.
I'm so thankful and loving it.
A BIG thanks to you guys for your support on my journey of blogging.
I 'm share these traffic and income report every month to keep me inspired and work hard toward our goal become a career blogger (still trying) and I thought it might be inspired you to create your own craft blog.
If you haven't seen my last month's report, you can check it out here May traffic and income report.
In June we did publish 3 free crochet patterns.
Bomber hat free crochet pattern
Brim beanie crochet hat free pattern
Little friend free ami crochet pattern
Let's get started June traffic
Traffic: Users: 37,210
Pageviews: 70,668
The links  here may include affiliate links and I may be get small commission when you buy products with those companies. You can read my full disclosure.
June Blog income breakdown
Google AdSense: youtube-15.41
The blogger network: 192.65
MediaVine; 78.73 (from 8 day earning)
ShareASale:  26.23
Crochet pattern sales: 27.97
Other affiliate sale: 0
Written: 25
Fiverr gig: 60
Direct Sponsor: 190 (side bar banner)

Total= 537.26
EXPENSES:
Total Expenses:50.99
NET PROFIT: 537.26-50.99= 486.27
Just in case if you guys are new to ad network and affiliate read about them here
Detail 
Traffic for June was up from May by 10,349 pageview, and the income was up as well.
I did made one change on June by sign up with mediaVine ( another ad network like TBN ).
As you know that I am really happy with the blogger network so far but I start to hear about mediavine as well. MediaVine they are a bit different, they run fewer ads which make the site load faster. This good enough for me to jump in. I was only with MediaVine for the last eight days of the month, and still managed to make great income.
My social traffic "Pinterest still my no.1 referal" This result is from an amazing tool Boardbooseter. Now I am hitting 5.2k follower. Boardbooster save my time from pininng several time a day to space out my pin to once a week. Oh my I love them!
Boardbooster, they have a free trial of 100 pin and after that they have monthly plan, I change my plan from 5$ to 10$ a month for more pin and it well worth it every pennie!
And I just starting out and active on StumbleUpon will see some progress to the next following month.
Site RPM
Our June RPM is  7.6 which mean every 1,000 pageview we make $ 7.6 It is calculated from: RPM = (Revenue / Pageviews) x 1,000.
Our SOCIAL tribe
Facebook – 20,000( up 1,091) from Facebook ads
Pinterest – hit 5.2k follower (up 3.2k)
Instagram – 824 ( up 722)
Twitter  –  12
Overall I am really happy with this month so far and Thank you for your support and being here. I'm love to hear your opinion.