Hello everyone!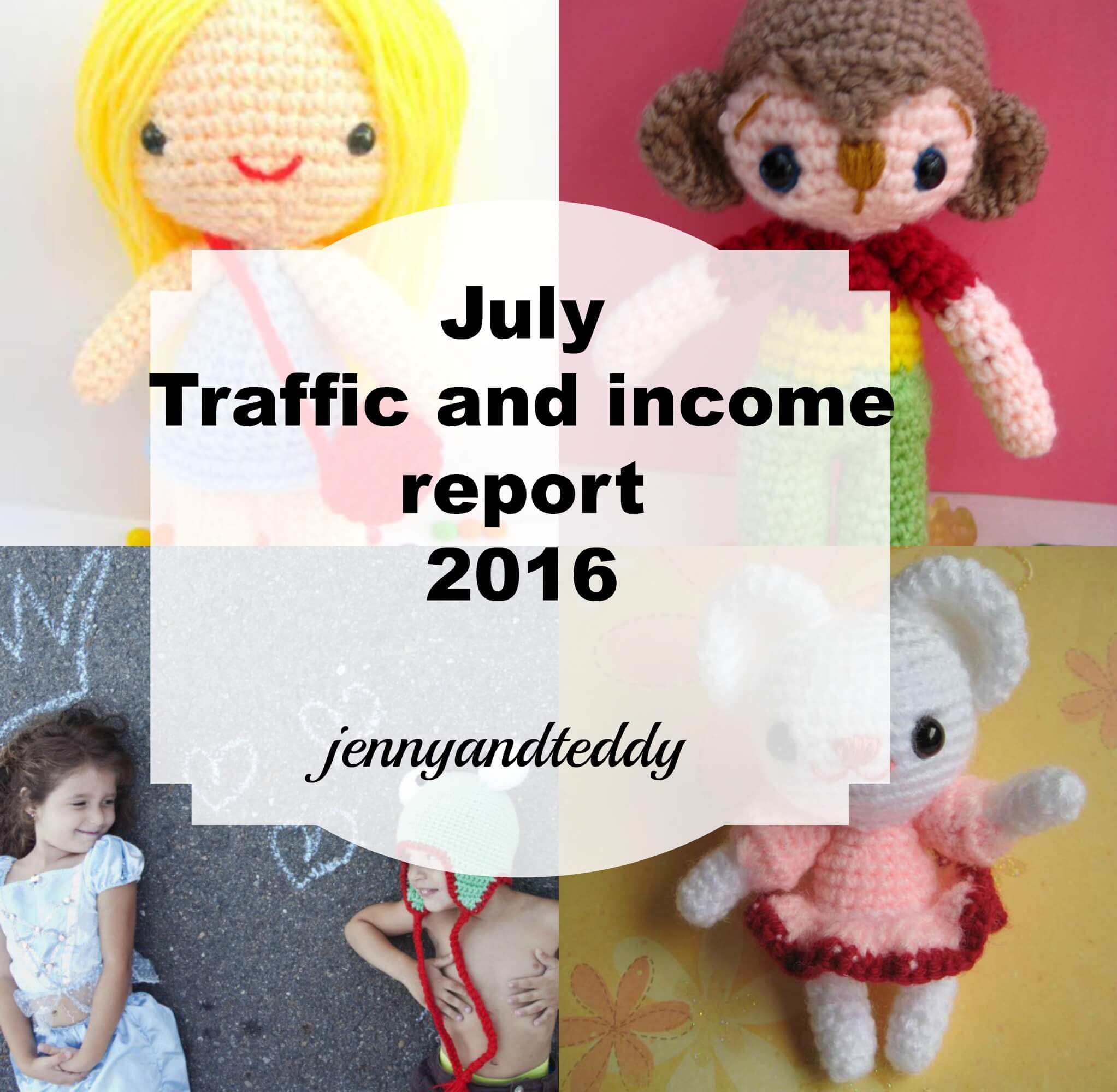 I am back here on my seventh traffic & income report. Each month I'm sharing with you my blogging journey to monetizing our craft blog jennyandteddy and all things that I've learning along the way.
The most important reason is that I like to share this report is to remind me of what I did to growth my blog  and keep working to achieve our goal ( hit 100k pageview a month).
And hope to inspire you to create your own craft blog.
Let's see how jennyandteddy did in July 2016.
If you haven't seen my last month's report, you can check it out here June traffic and income report.
In July we did publish 2 free crochet patterns.
Nicky cheeky monkey amigurumi free pattern
Polly the baby bear amigurumi free pattern
Traffic: Users: 40,052  
Pageviews:74,380        
The links  here may include affiliate links and I may be get small commission when you buy products with those companies. You can read my full disclosure.
July Blog income breakdown
MediaVine; 239
ShareASale:  40.43
Crochet pattern sales: 45
Other affiliate sale: 0
Written: 25
Fiverr gig: 10
Direct Sponsor: 60 (side bar banner)
Total= 419.43
EXPENSES:
Total Expenses:7.99
NET PROFIT: 419.43-7.99= 411.44
Just in case if you guys are new to ad network and affiliate read about them here
Detail 
Traffic for July was up from june by 3,712 pageview, and I did made some changed of ads network on June by sign up with mediaVine and they now manage all my ads. I am loving them so far.
Their customer service is fabulous and fast response with email question. They also have a great facebook group to update all thing happen with the community.
Direct ads on blog was a bit low this month this mean affect over all income for July. I try to find the way to increase the sponsor post on my blog any suggestion?
My social traffic "Pinterest still my no.1 referal" This result is from an amazing tool Boardbooseter. Now I am hitting 5.7k follower. I might Write a post about how I love boardbooster and what I did to increase follower.
And I did mention on last month (June) That I had been active on StumbleUpon and oh my word! I am delight with the result.
The traffic from them on June was only 189 pageview and boom ba da bang to 4,477 pageview on July. They are now my no.2 social traffic. What I did is a routine 10 minute every day or two to be on stumbleUpon.
I download stumbleUpon toobar for google chrome then go to my interest is crochet.
Then wait for the page to finish load and read the post you just have to had time to really read the post and give a thumb up if you like that page or down if you donot like it.
Make a list of group page you like it a kind of similar to pinterest board. You can see example what I make in my stumbleUpon page
If you just go to the page and not even waiting for page to load finish and give them a thumb up and move on to the next one that not gonna work, That use to be me in the pass.
The final is my favorite part to add a page to stumbleUpon, I did add 9 page of the crochet tutorial that I love then add 1 page of my tutorial.
That all I did with stumbleUpon.
Hey if you guys try it please let me know how it go for you, I would to hear your result.
Site RPM
Our June RPM is  5.9 which mean every 1,000 pageview we make $ 5.9 It is calculated from: RPM = (Revenue / Pageviews) x 1,000.
Our SOCIAL tribe
That all for today and thank you for your support and being here. I'm love to hear your opinion.