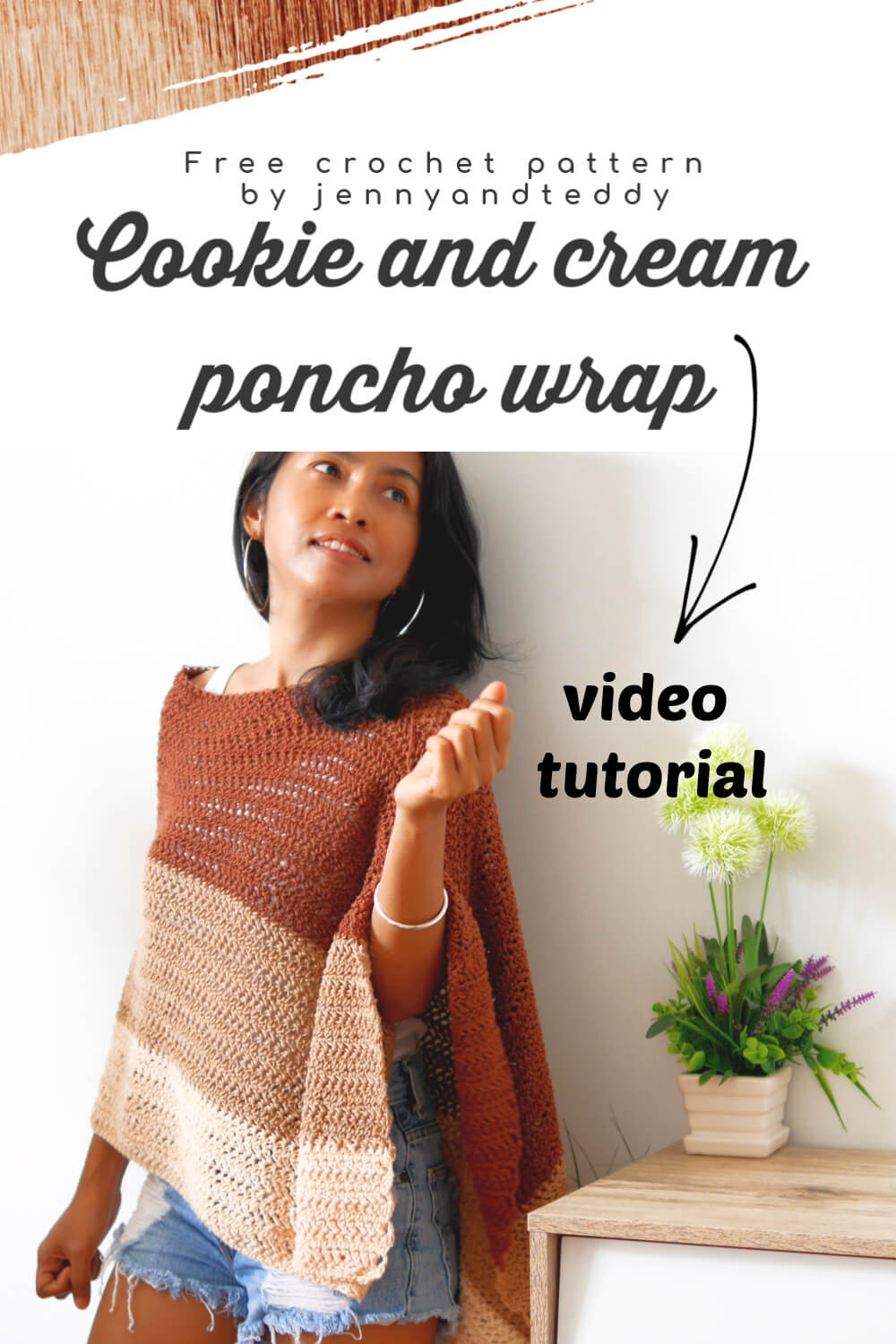 Here they are , Cookie and cream simple crochet poncho! This crochet poncho wrap is very easy and beginner friendly only 1 row repeat!. They are easy to mixed and match with jean , pant or skirt.
This beginer crochet cookie and cream poncho made from just one rectangle and fold in half use very little seam. I use 3 color of cotton yarn in the shade of brown color with the easy peasy crochet stitch called " herringbone double crochet stitch" which I also had a video tutorial for this too!
Here another one of my favorite crochet summer lace poncho free pattern.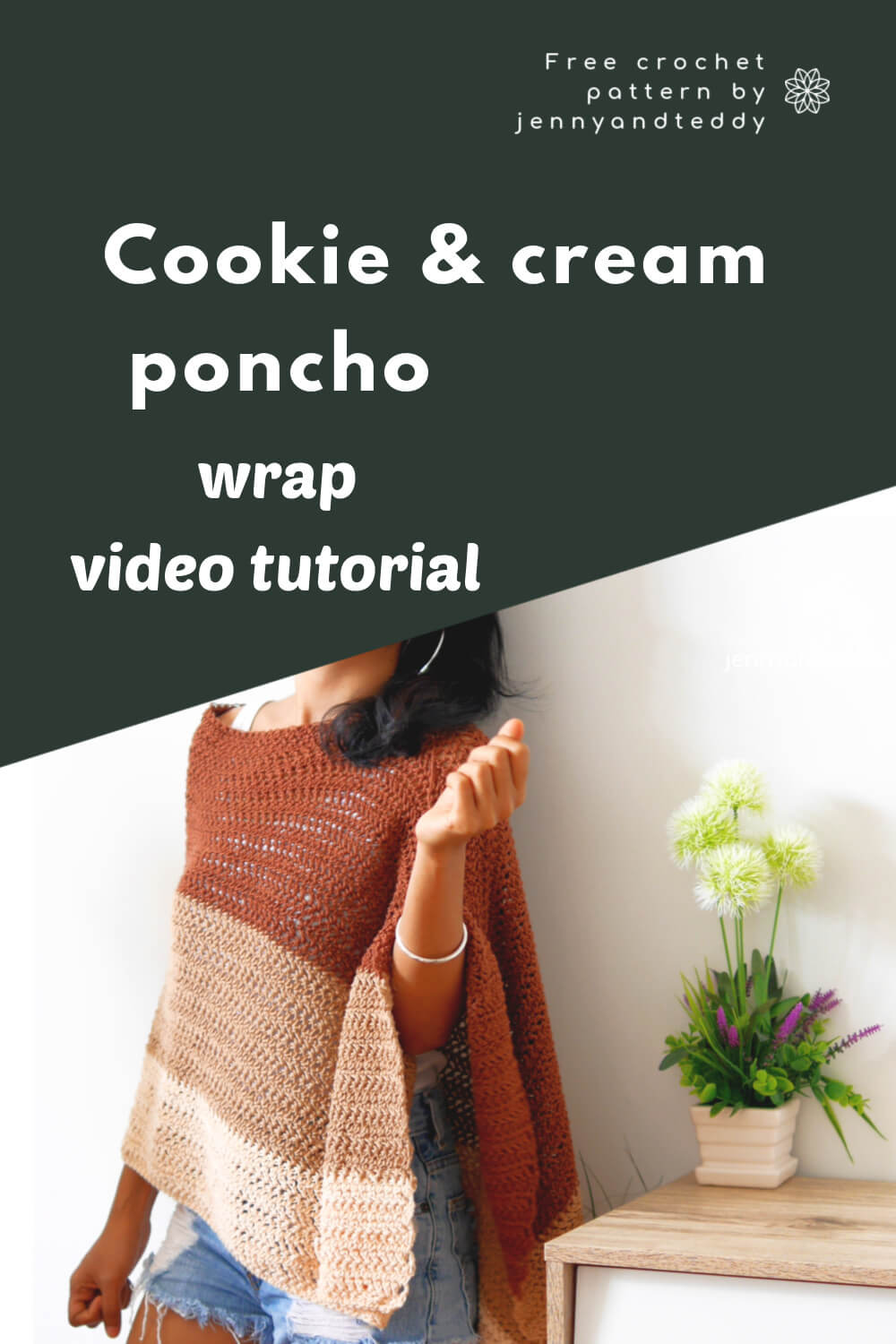 I have made the cookie and cream crochet top to go with this as well you and your friend could wear matching this two item together would be fun.
Let's get start!
I used Lion brand 24/7 cotton yarn weight 4 aran. I use around 1500 yard.
( one size fit all)
I used 3 color for this poncho wrap.
I am using about 1500 yard all together.
– 5.0 mm crochet hook
– Sewing yarn needle
-stitch marker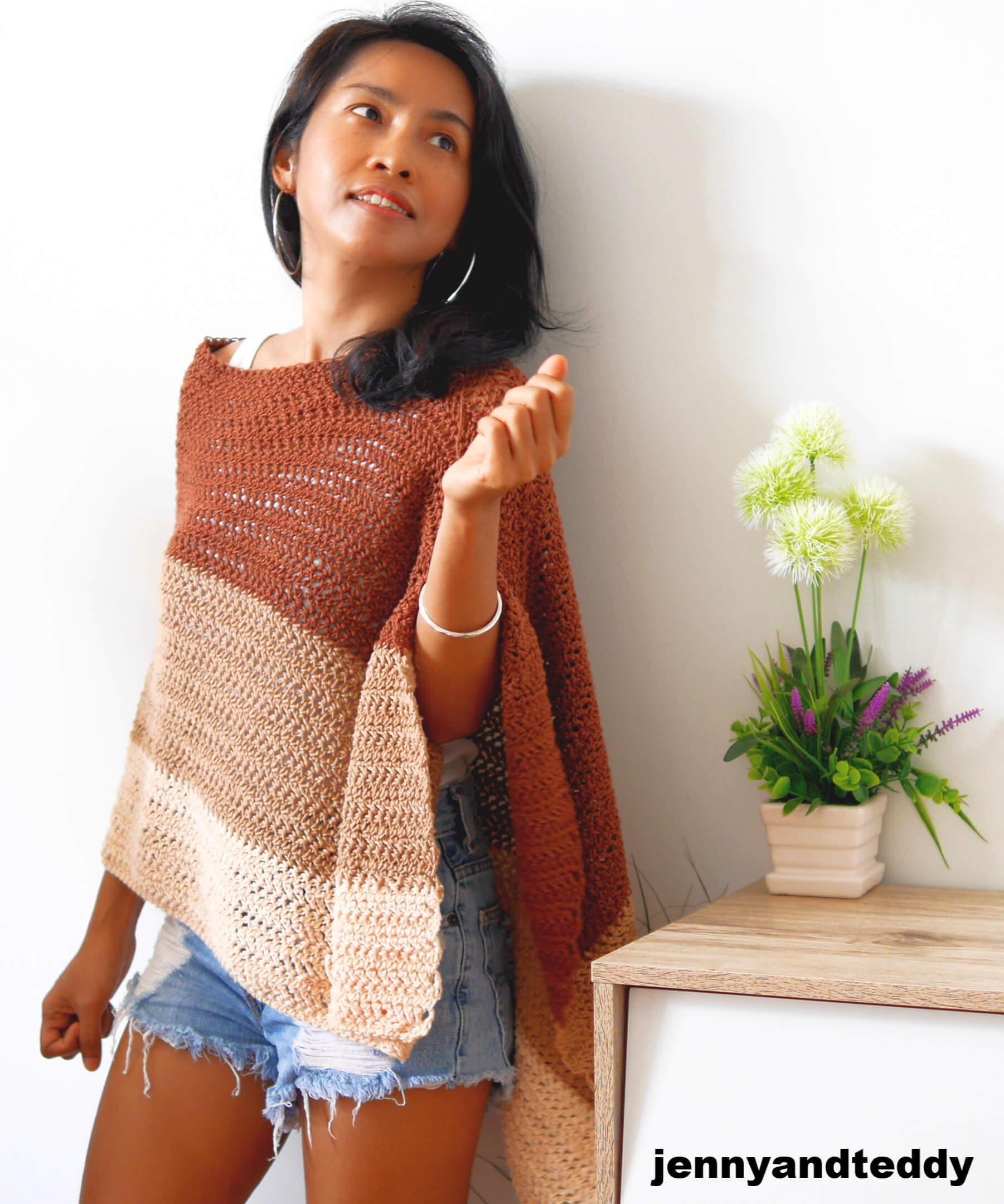 Gauge: " 3 stitch of herringbone double crochet = 1 inch
Note: we are crochet this poncho loosely not too tight.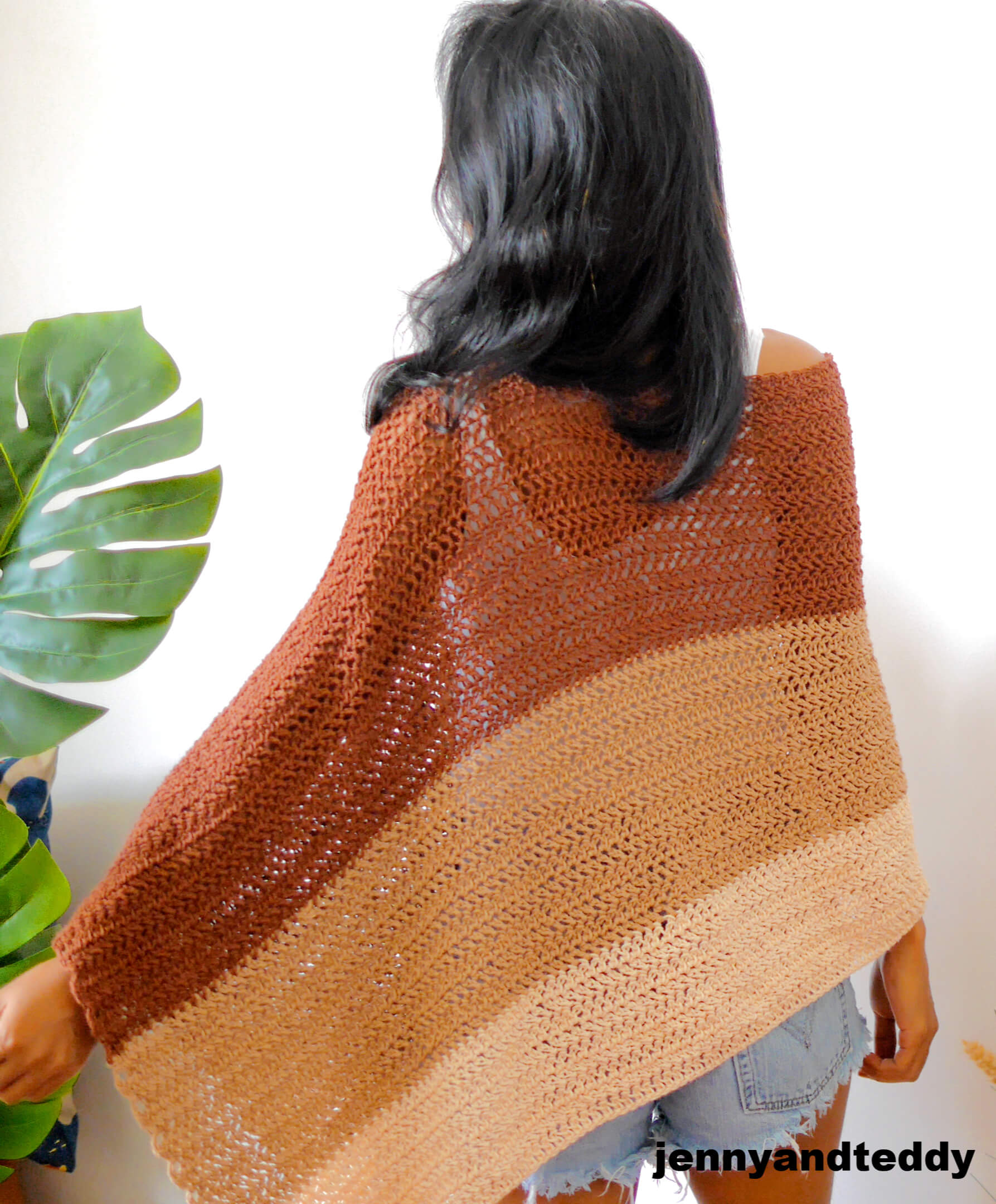 Skill and abbreviations
(American crochet terms)
You will need to know how to make
-Sl st (slip stitch)
-dc which mean double crochet
Herringbone double crochet stitch video tutorial.
–hbdc – herringbone double crochet: yarn over, insert hook into next chain, yarn over and pull through the chain and the first loop on the hook, yarn over and draw through 1 more loop on the hook, yarn over and draw through both loops on hook.
-ch, Chain
-slip knot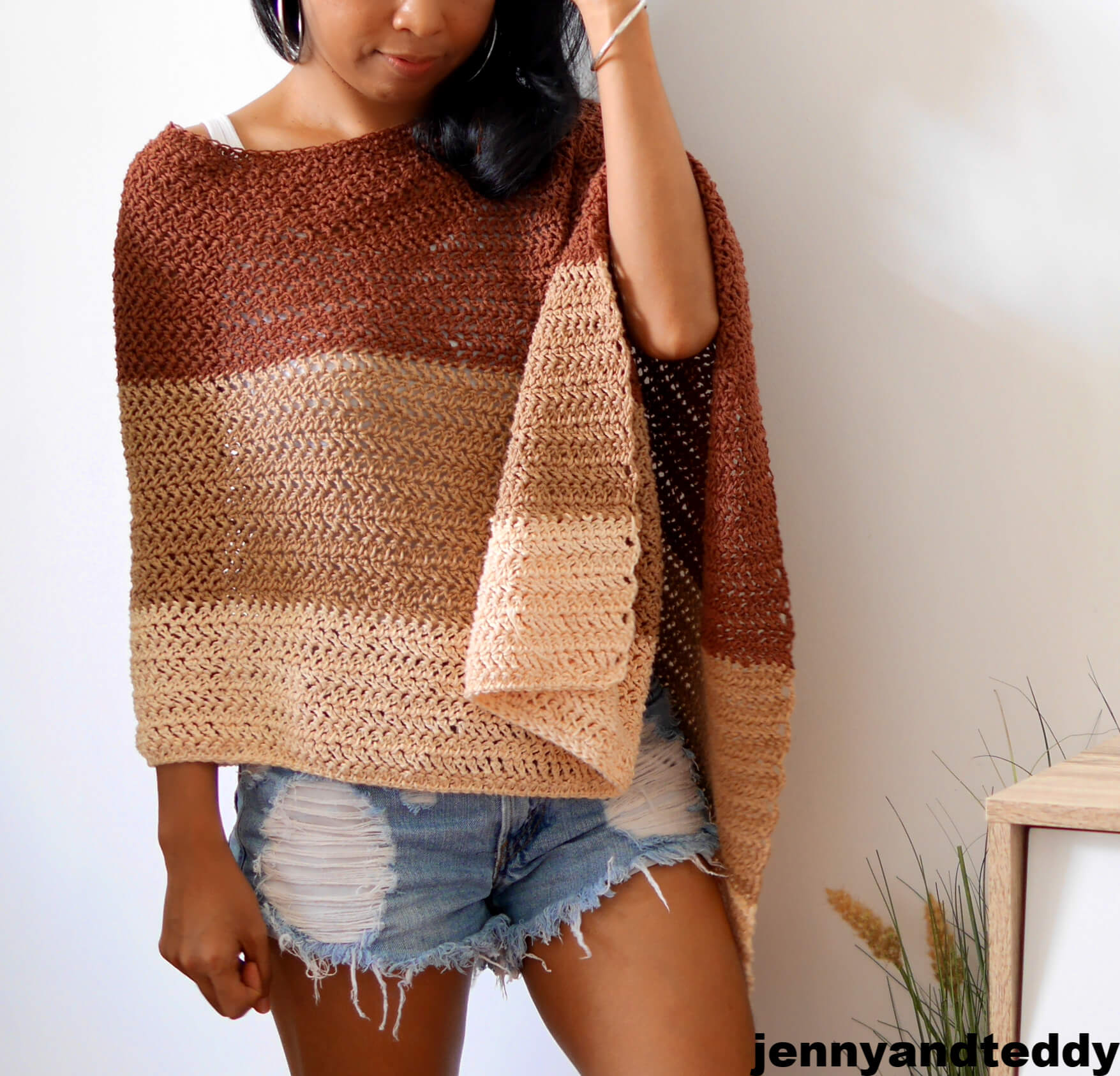 One size fit all:
For me the model wearing this piece, I am 4'9 feet tall.
Measurement.
one rectangle 18×54 inch.
Cookie and cream crochet poncho wrap video tutorial.
Pick up crochet hook size 5.oo mm and Start of by making a slip knot Then make 170 chain plus 3 chain =173 chains (foundation chain multiple of 2 + 3 ).
You will crochet it loosely not too tight to create soft and squishy.
Row 1: Skip first 3 ch from hook (counts as 1 dc), 1 hbdc in next ch and every ch until the end of the row, ( ch3 turn counts as 1 dc)

Row 2: , skip first st, 1 hbdc in next st and every st of hbdc until the end of the row, in the last st make hbdc in the ch3 of the previous row. ( ch3 turn counts as 1 dc)

Row3 and beyond : Repeat row 2 until we get 18 inch deep and fastern off. Leave long tail for sewing.
Assemble.
After we all finished with the long rectangle piece , now time for assembly.
Lay piece of big rectangle in flatted and then fold them in half and sew along the edge to create the shoulder by using yarn needle see pic below.
then place the stitch marker to fixed where the open neck is. then use yarn needle to sew along to create the shoulder.
after we sew the shoulder the piece will look like this.
All done!
Happy crocheting!
If you make one I would love to see your creation tag me on Instagram!