Hi guys! here another tip for promoting your Etsy shop. Promoting your handmade products is one of the biggest tasks you will face as a shop owner.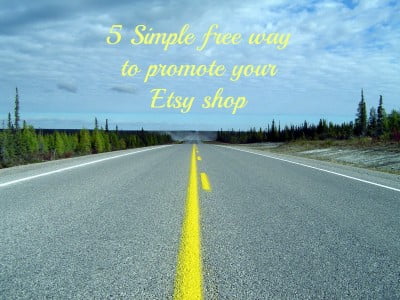 It's something that has to be worked on constantly, so you don't get lost in the sea of other shops. You have a few choices when promoting your shop: spend a lot of time, or spend a lot of money. If you don't have enough time to promote, you can hire someone to do it for you – or you can purchase advertising on platforms like Facebook.
If you don't have the budget to pay big bucks for advertising, you're going to have to invest your time. This article will help you with ideas on how to promote your shop on a budget. Remember, this is your shop… it's your investment.
Blogging
Creating a blog and sharing tips and tricks is a great way to promote yourself! If you sell make up, create a blog with beauty tips. Advertise by posting the articles on your fan page, and Pinterest. Do makeup looks and pin those as well.
Commenting
Commenting on other blogs is a quick way to promote your own business. Do NOT spam other blogs. Do NOT ask people to visit your shop. Simply comment, with something genuine about how you like their article, blog, or product. They will find their way back to your shop or blog – I promise.
Reviews or hosting a giveaway with Bloggers
Most Bloggers are more likely to review your products for free or fee – the only cost to you is your time and cost of supplies.
A review or giveaway are simple and a great way to advertise. You send the blogger your item (usually an item that is your BEST, because you always want to promote your best), they write a post about what they loved about it (be careful – some will also write what they do NOT like), and they advertise via social media for you.
 Then you can say you were featured on their blog, and you can send those posts out as testimonials for your shop.  See 7 tip for hosting a  giveaway
Forums
Join the Etsy forums! Watch a little before you comment, and then jump right in. Every time you post something, you're advertising for your shop!
Social Media
Promoting your business on social media is free and easy. Don't be spammy, though. Be helpful.
How do YOU promote your etsy shop?