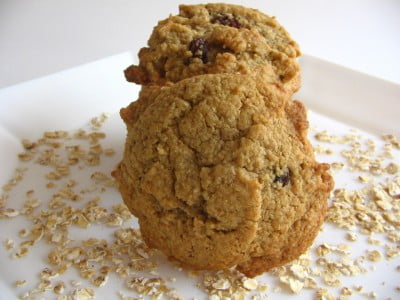 This Oat bran cookies is my long time favorite. Everytime I baked them , they were gone very fast.
The recipe is the same as previos post oat cookies, just change a bit to used all oat bran instead of mixed roll oat and oat bran.
Preheat oven to 180 degrees C.
1 cup of flour
1 1/2 cups roll oat——> change to used oat bran
1  cups  oat bran
1/2 teaspoon baking soda
3/4 teaspoon baking powder
200 g. butter, softened
3/4 cup sugar
1 large egg
1 teaspoon vanilla extract
2 tea spoon cinamon
1/4  tea spoon nutmeg
1 cups raisin
1/2  tea spoon salt( I didn't add this because I used salted butter)
In a separate bowl, combine dry ingredients together flour, cinamon,nutmeg,oat brand ,oat flag ,baking soda and baking powder. set  aside
In the other bowl, cream butter until light fluffy. Then add sugar.
Add egg plus vanilla  and mixed well.
Add dry ingredients and mixed well. then add dry fruit or raisin.
Bake around 10-14 min.
All done!
Enjoy.