Online shopping is become more popular this day. As a seller, we are always lookout  for great marketplaces to sell more handmade stuff and expand our crafts business through different channel and audiences.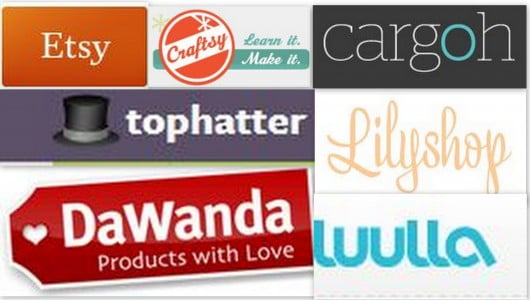 Sure that, most of us have a shop on Etsy– is one of the biggest and most popular marketplaces for selling and buying handmade products online. As we all knew  great thing about Etsy is community, where crafty people like us go to share our knowledge and idea in many ways.
So I decided to create a list of 14 great Etsy alternatives for selling handmade.
1. Artfire – Among the list of sites that will offer you the right services is ArtFire. This is an interactive craft community and market place. They allow their members to be placed in control of the functions and development of the site. One great feature of ArtFire is their service approach, you can ask for help and you will not have to wait for a response. This will allow your craft items to be placed online in a fast and friendly manor.   In Artfire, you can freely open up your shop for 14 day trial. What's more, they don't take any commission from sales.  However, there is verification fee that they charge you per month.
2. DaWanda– is a European website which deals in handmade goods.You have the option to buy items made by talented people like yourself. You are able to pin your favourite item onto your pinboard and share with your community. This is a great website for crafts that will allow you to post blogs and use the forums to get inspiration from other like-minded individuals. So there are listing fee. They will take 5% commission on sale.
3. Luulla– If the homemade products are made as a way to relate to your daily life and you have a story behind them, then Luulla could be the market place for you. With this site you not only are able to buy and sell all your homespun products, but you can also share your special story with others. So when your crafts have a story that you hold close to your heart. This is the website you are looking for.
The fees seem to be reasonable, They offer no transaction fees!  $0.10 per listing pay-as-you-go, or a monthly plan where you pay a flat rate of $9.90, which gets you unlimited listings, free relistings.  I found that the forums are small but everyone is nice and friendly.I've had several sales there .
4. Craftsy – If you are in the mood for learning about making your own craft products, then Craftsy is the place to be. Apart from sell and buy craft patterns from talent independent designers. Craftsy also offers how-to guides to teach you to become an artist yourself. They are also offer a free mini class to tryout. So I am always watchout for a good deal on craftsy! I love craftsy.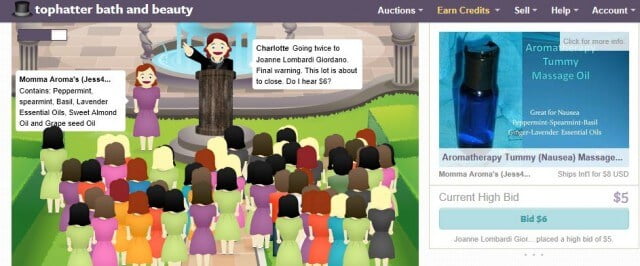 5. Tophatter – is an online live auction for handmade goods, from jewelry, accessories, home décor, supplies and more…, where the product is presented to the buyer and the buyer will bidding that item, just like at real cars auction. So the item will be bought up within a few minutes. They takes a 10% commission on sold items (quite a big commission I think). Overall Tophatter  is great place to get a quick sale.
6. Cargoh – is a curate marketplace where you can find handmade products of independent designer right from home decoration to jewellery and from clothing to the accessories. This is the perfect option even if you want just browse the items at display.
7. Handmade artists shop – combines e-commerce with social networking. If you have an interest in handmade products, then this website is a great place to meet likeminded people, and of course, there is the option to buy and sell handmade products too.
8. MadeItMyself– The website is currently in beta version and offers a lot of options for buyers and sellers of handmade products.
9. Silkfare – The website  provides online market booths to sell the  products. You have the option to sell any product even if it's not handmade, but there are some really good handmade products that are on display on this website.
10. Misi – Misi is a UK based website that deals in handmade items. On registration, they provide you a free sub-domain, and you will have the option to join their forum to polish your skills and to kick start your online business.
11. Zibbet– They offer many tool for the seller such as, listed your items in google product search and the find.com,  shop SEO, etsy import and shareability. There are no listing fee for basic account which you can list up to 50 products, and they don't take any commissions from sale. Want more features tool? You could go for premium account which is 9.95/month.
12. Storenvy– beats all the other handmade products websites in one department that it's completely free. They don't charge any fee, and they don't take any commissions from the sales of handmade items.
13. PoppyTalk handmade – The main difference between PoppyTalk and the other sites is that it allows only certain selected artists to display and sell their handmade goods. That's why you can expect quality here.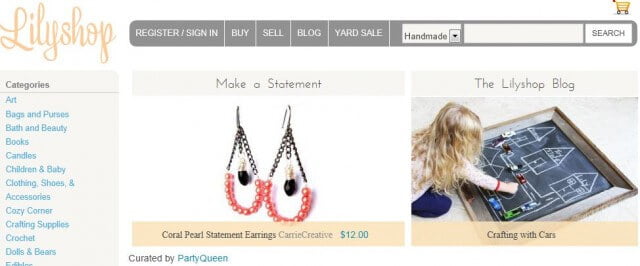 14. Lillyshop – is new handmade marketplace for crafts, vintage and supplies  as well. Jessie Jane is a founder and CEO of Lillyshop. She designed this marketplace specially for us fellow crafter. The website has got really good and clean looking. Lillyshop offers a wide range of handmade products.All these items are well organized.
They offer Unlimited FREE Listings, No Relisting Fees, Customizable Shop, Personal Shop Blog and more. They simply charges a 5% sales fee if you sell an item. This percentage does not include the shipping price.
With lots of new marketplaces that we found on the internet, where you can list and sell your crafts. This doesn't mean that we have to sell on all of these venues to get more sale and exposure to new shopper.  It's important to do your research before you choose an online marketplace, since you'll will be taking the majority for the responsibility  to managed your multiple shop.
 Did you sell on those online marketplaces?  Please share your thoughts  and experience with us!