Hi guys! I hope you all had a wonderful time! My sweet boy  turned 2 on March.Yay!
I have been  looking around Pinterest and found a lot of actitivity for 2 year old kid.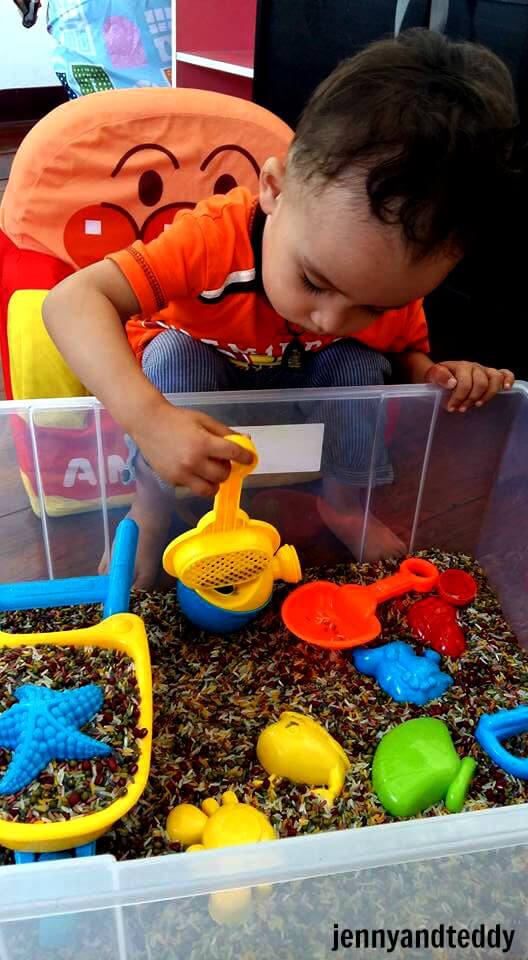 Colour rice are the one that popping up in my eyes on Pinterest.
They look fun to play and colourful, I thought ummm… it's a kind of not so much messy acitivity coz they are in a box.
Hey, who doesnot like a mess free play, so I give it a go and it turn out they were super easy and really fun to make!
My boy love it!
Let's make them!
Ingredients:
1 cup of rice
1 tablespoon of vinegar
3-4 drops food coloring or more depend on how much deeper colour shade you want
Directions:
I made them in plastic bottle, mixed the vinegar and coloring  together, added the cup of rice,close the lid and shake it baby!
Then brought them out, put on the plate and  let it dry.
Well I started  with one color each, then the colour rice got  mixed up to pretty colour and I add some dry green bean, red kidney bean, He loved the texture and exploring.
This colour rice keeping him busy for half an hour! Amazing!
Which kid activities that your kid enjoy the most?