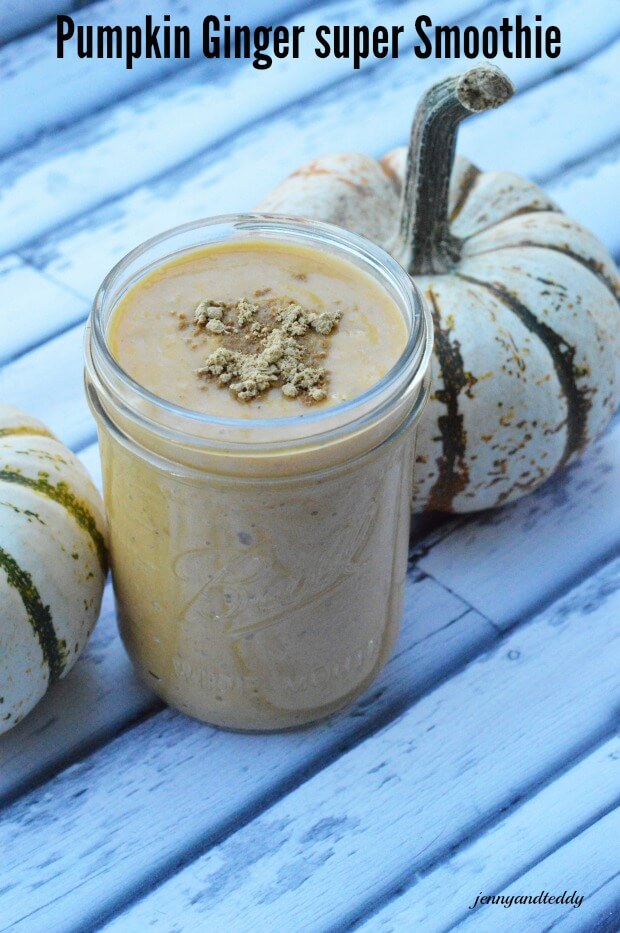 There's nothing like the experience of fall. There's just something about fall that calms your nerves and makes you feel nostalgic.
Like most people, one of my favorite things that makes me feel like it's truly fall is pumpkin. I know, I know, it's everywhere and it feels like it's going to take over the world.
I promise you it won't and you will love this smoothie I've whipped up. This healthy smoothie has a burst of protein and a hint of ginger.
Protein is great for fighting that chillier weather that fall brings and ginger is great for keeping those yucky colds at bay. Not to mention, the pumpkin is perfect for making the spirit of fall feel that much more alive.
This smoothie has some added sugar for a sweeter taste. If you don't mind it a little blander then just skip the sugar.
If you want the added sugar but want it a tad healthier, try some stevia in place of the sugar.
This is a great smoothie for breakfast or even a snack for that needed extra boost of energy midday. Here is how you make it!
Ingredients:
1/3 Cup Pure Pumpkin Puree
½ Teaspoon Cinnamon
¼ Teaspoon Ground Ginger
2 Tablespoons Sugar
1 Banana
2/3 Cup Almond Milk
Directions:
Combine all ingredients in a blender.
Mix well.
Pour into glass.
Let chill for 1-2 hours before serving.
Top with a sprinkle of cinnamon and sugar.
Makes around 16 ounces.
Hint: If you want even more protein or something else to dumb down the strong taste of the pumpkin, try adding an 1/8 of a cup of natural peanut butter. Substituting the almond milk for whole milk will give it a richer taste if desired as well.
I hope you enjoy it!