Hey there!
It can be so hard to find ways to get kids to eat healthy. I feel like I'm constantly struggling to find creative ways to make sure my son gets all the servings of fruits and veggies he needs.
Kids can be so darn picky. I have found that sometimes, if they don't know what's in it, they won't be as inclined to deny it or complain about it.
My two-year-old son loves his fruits and veggies, thankfully, which makes it easier for me to get the healthy stuff down him. However, overall, it can still be hard to get him a serving of everything he needs for his little growing body.
My go-to snack, meal alternative, or all around choice is a smoothie. Especially a healthy smoothie that is full of fresh ingredients and nothing processed.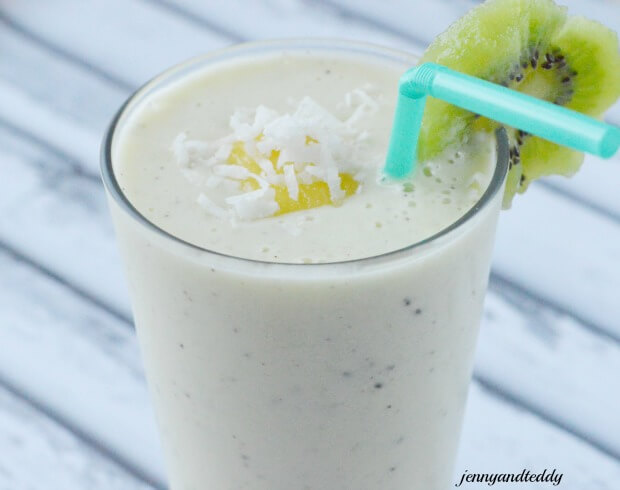 This smoothie which tastes like an icee, is made out of fresh fruit and greek yogurt for a healthy dose of fruits along with those cultures a growing child's tummy needs from the yogurt.
Plus, it's a fun way to get the kids involved in making things in the kitchen with you. Even at two, my son loves to do whatever I'm doing.
He mostly just steals pieces of fruit at this point but I'm just glad he enjoys it so much. I like how quick it is to make something so healthy as well, especially since we keep a lot of this in the fridge already.
Here's how you make it!
Ingredients:
14 Chunks of Ice
14 Chunks of Frozen Pineapple
1 Kiwi
1 Banana
1 Tablespoon of Water
5 ounces of Greek Yogurt
Directions:
Chop banana and kiwi into smaller chunks.
Combine all ingredients in blender and mix well or until no large chunks are left.
Pour into a glass and top with a chunk of kiwi and enjoy!
Hope you guy enjoy it!