Winter season is coming sooner, and if you girls are obsessed with making a poncho as I do.
You will love this ultimate beginner-friendly free crochet poncho patterns collection because they have a simple construction and are also perfect for less experienced crocheters.
What is the difference between capes and ponchos?
Crochet Cape and ponchos are two popular outerwear garments that have been around in the fashion trend.
Both of these garments have their own unique features and functions, but they are often compared against each other.
First, let's start with the definition of each item.
What is a crochet poncho?
A crochet Poncho is a loose-fitting handmade big piece of crochet garment that is great for layering to keep you warm during the fall and winter months.
They have a hole in the center for the head to pass through. The fabric hangs down from the shoulders and covers the torso and arms.
On the other hand.
What is a crochet cape?
A crochet cape is smaller that typically has opened in the front and only covers the shoulders and upper arms.
Did you know that there are different types and styles of ponchos?
Yeah! There are more than 10 styles of poncho that you can have fun choosing to mix and match with your outfit, from the cowl neck, boho style with fringe, a ruana that the length is up to your knee, a hoodie poncho, and more, etc…
Is it easy to crochet a poncho for beginners?
Yes Absolutely! Ponchos are great crochet projects for fewer experienced crocheters. They are made from simple rectangles and basic crochet stitches.
Most of the easy poncho patterns are designed for a relaxed fit, mostly sleeveless with no shaping involved.
It's almost like making two smaller crochet blankets with seaming on the side. Obviously, you can make a poncho from two rectangles.
Beginner tip & trick I would suggest.
1. How to spot an easy crochet poncho pattern: I got a 3 checkpoints for you to look for.
First, check if they are made from simple rectangles; second, check if that pattern uses basic stitches or a one-row repeat; third, check for clear instructions.
2. Check your gauge: if you follow the pattern instruction, be sure to check your gauge before you start so you can have a perfect fit poncho.
3. Try them on: This tip is just the basic fundamental for crocheting any garment.
Let's try them on along the process; it not only encourages you to finish the project quickly. Why? because You will be very excited to see how they look on you when you finish it but also you will know if you want to adjust something else to the garment.
4. Relax and take a break: Make sure you take a lot of breaks during your crocheting; taking a break will not slow you down, but it will encourage you to be more productive when you continue to finish the piece.
How do you crochet a poncho?
Here 3 easy steps that you can crochet a poncho without the pattern freehand that I usually did.
Step1. Measuring your bust size, so you can make them the perfect size just for you. then pick out some of your favorite crochet stitches that you want to make for this poncho.
These can be basic stitches like single crochet, double crochet, or if you want to go a bit fancier with the texture stitch.
Step2. Crochet a rectangle; after you decide which crochet stitch to put on your poncho now, we will create a simple 2 rectangle front and back.
Step3. Seaming& finishing touch, after you finish your pretty 2 rectangles, we are going to seam them together.
And don't forget to add a finishing touch to your poncho; this part is quite important to make your poncho stand out.
The finishing touch, by adding the fringe around the edge or contrasting color, a cowl neck, or a hoodie possible, is endless.
The best yarn for crocheted ponchos.
There are so many varieties of yarn to choose from for crocheting ponchos, depending on what you need.
I will give some examples from my experience.
Cotton yarn & plant fiber: Well, cotton yarn is one of my favorites for crocheting a poncho because it suits the hot and humid weather like Thailand, where I live.
Moreover, they give a beautiful drape to the garment and feel comfy to wear like a second skin.
Acrylic yarn: polyester fiber content yarn is affordable and lightweight; it is more stretchy than cotton yarn.
Chunky yarn: Oh, I love chunky yarn; just one reason is. They will speed up my crochet project, and another thing is you will look so cozy in the chunky crochet poncho also!
Wool yarn: I can't live without wearing handmade crochet garments with wool yarn in the freezing cold month of the winter.
They are the best yarn to go for to keep you toasty warm in the icy cold weather, but they are out of my league I mean out of my budget.
However, we can always go to the thrift store to find secondhand wool yarn.
10 plus best free beginner crochet poncho patterns.
the cowl neck poncho by jennyandteddy.
This roll-neck crochet poncho pattern worked up fast with chunky yarn and is made from 2 rectangles features a turtle neck which is great for winter and colder months.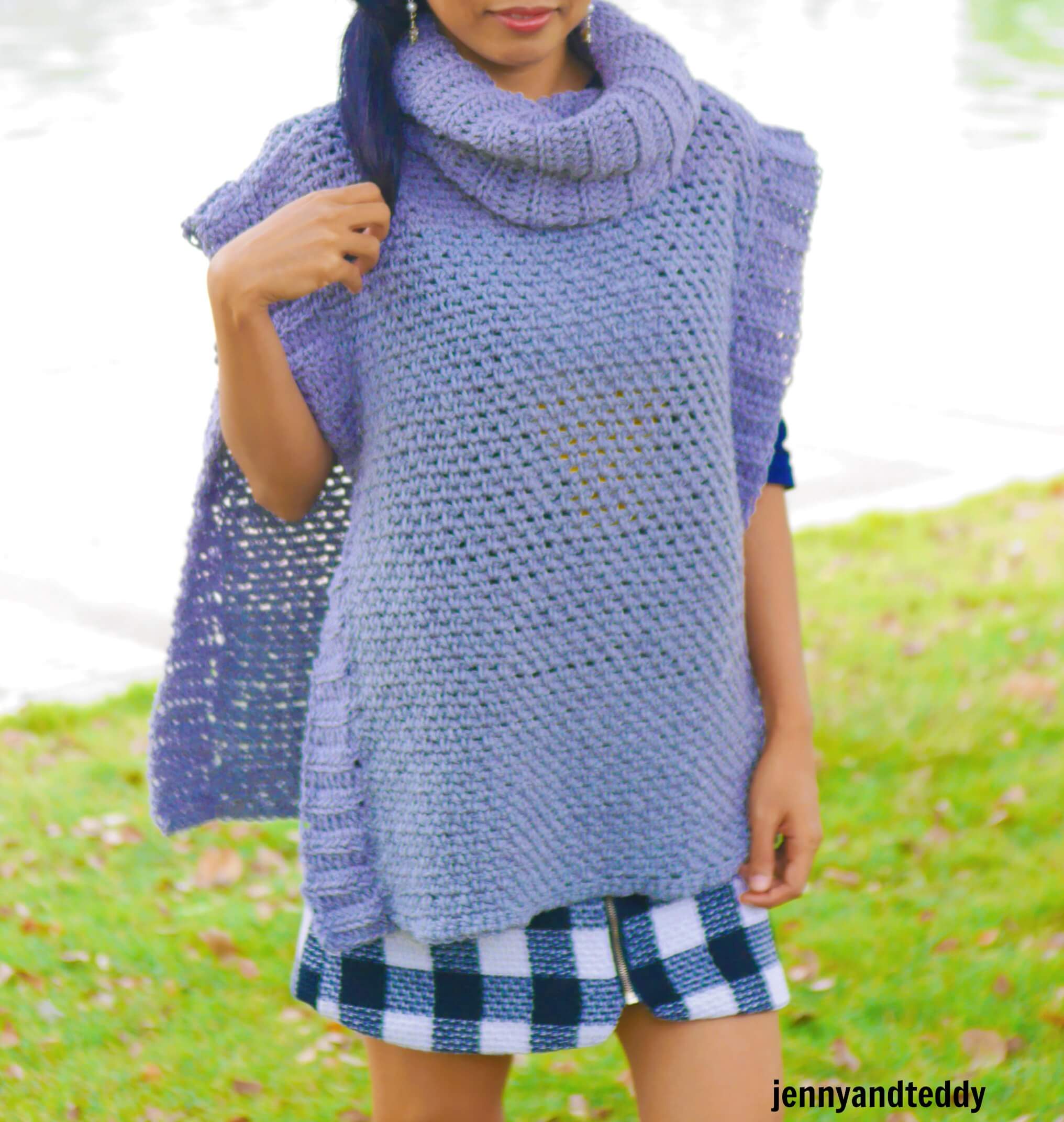 2. Lilly easy poncho by jennyandteddy.
This crochet poncho for women features a simple v-neckline that create from 2 rectangles with basic crochet stitches.
They are made from cotton yarn that will make you feel comfy to wear every time.
3.Bubble gum texture poncho by jennyandteddy.
This perfect fall poncho features a beautiful rich texture crochet stitch that you will love.
This pattern is the next level for a beginner but still easy enough for all with the simple shape.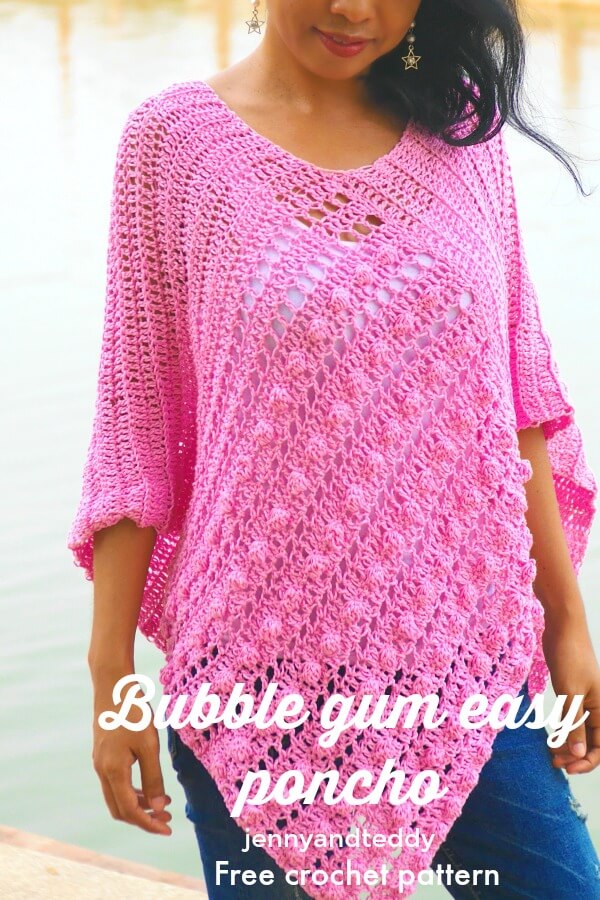 4. The greyscale pocket poncho by makeanddocrew.
Who doesn't love the pocket? This poncho is perfect for all, with a simple pocket and a stylish easy roll neck.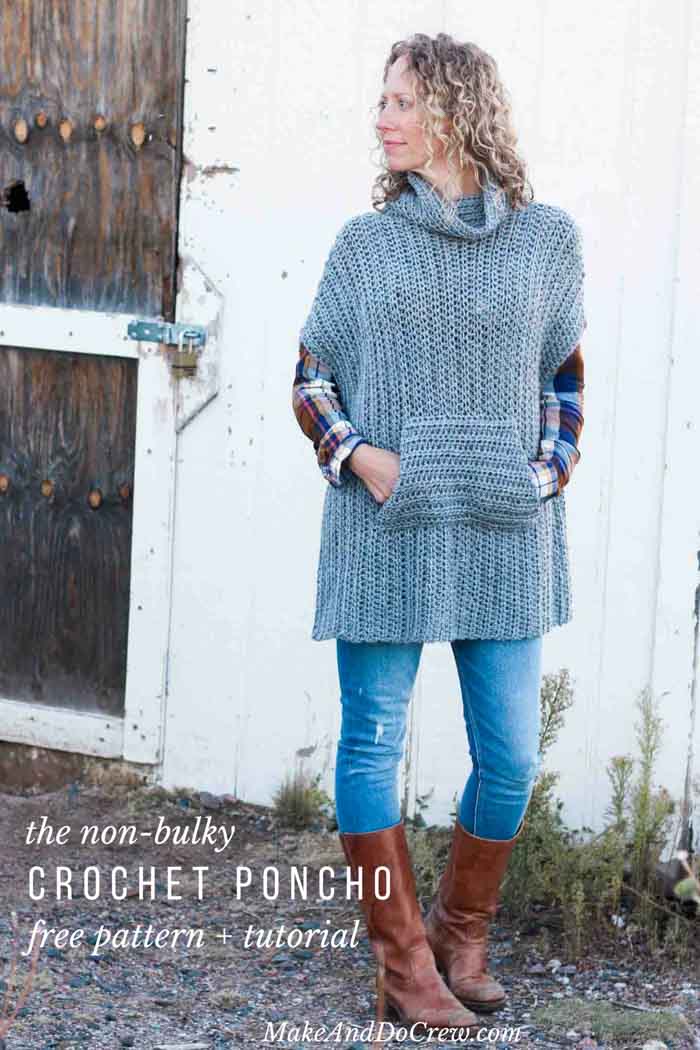 5. Light alpaca poncho by mamainastitch
This two rectangles poncho-free pattern is flattering and beautiful with a neutral color that will suit any event.
6. crochet sweater poncho by makeanddocrew.
If you are looking for a fun crochet sweater to make, go for this modern crochet sweater poncho made from five rectangles.
7.The ava fringe poncho by sewrella
This cute crochet poncho pattern had a fringe is PRETTY and flattering also feminine color is one of my favorites. I love all things pink.
Are you the same? The fringe is added to the poncho, making it look fun and playful to wear.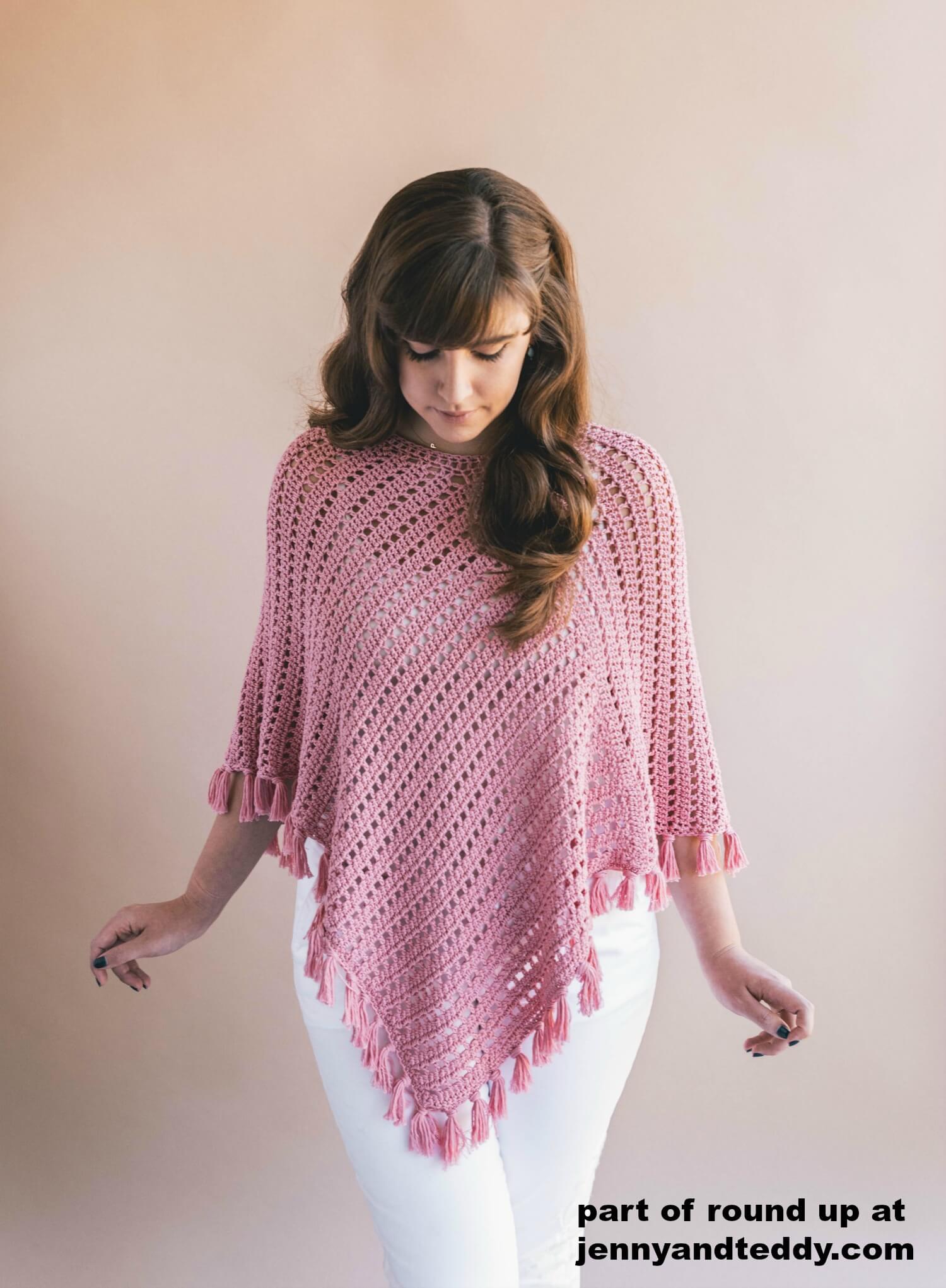 8. The easiest lacey summer poncho by me jennyandteddy.
This one rectangle poncho is perfect for summertime with the lacey crochet stitch that allows the cool breeze of the fresh air to come through the garment.
This free pattern is beginner friendly; the lace stitch used in the pattern is only one-row repeat.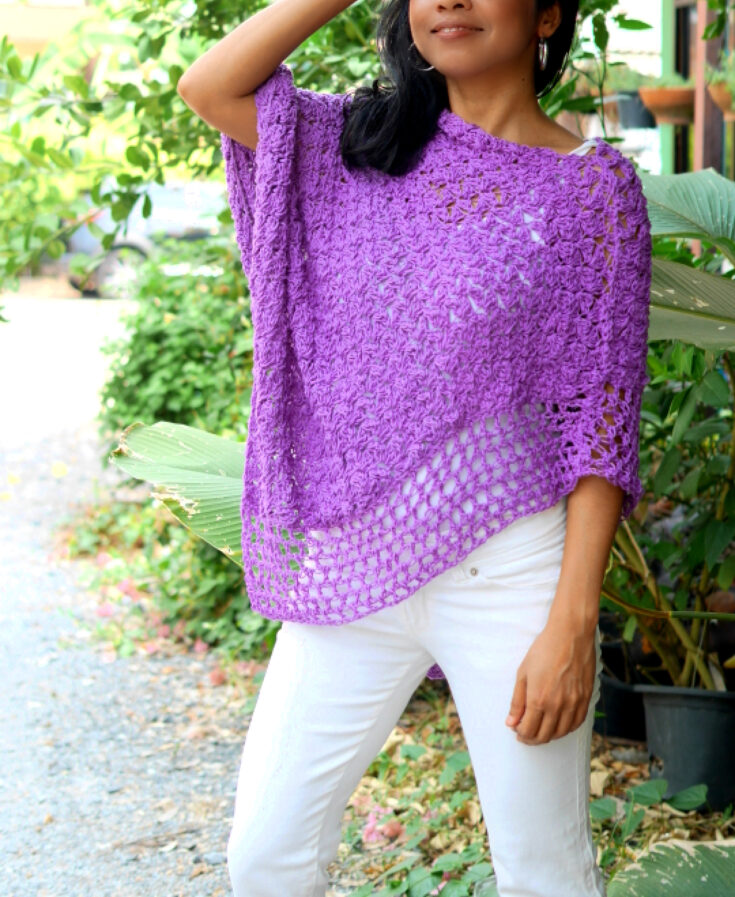 9. Amelia poncho by left in knot.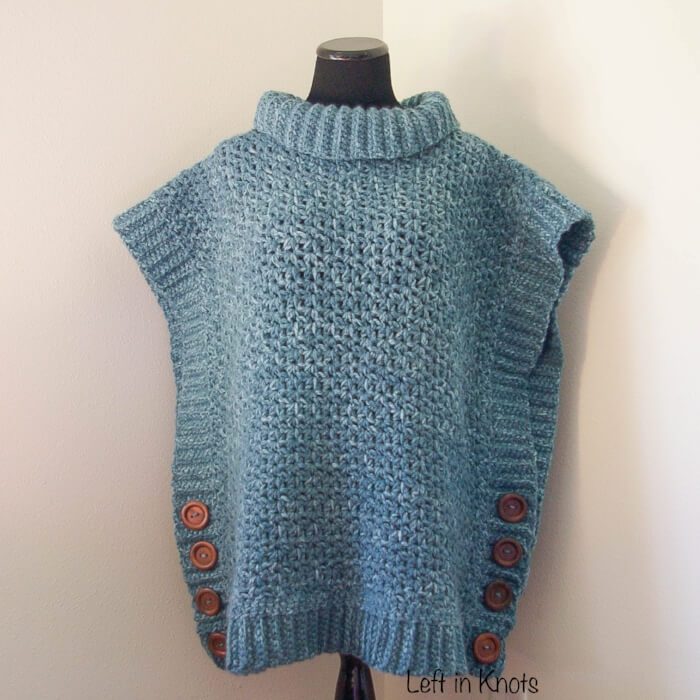 10. The perfect fall poncho by moogly blog.
This crochet fall poncho-free pattern is oversize and loose fitting it is perfect for layering and top off your tank or singlet.
11. The desertlife poncho by hookonhomemadehappiness.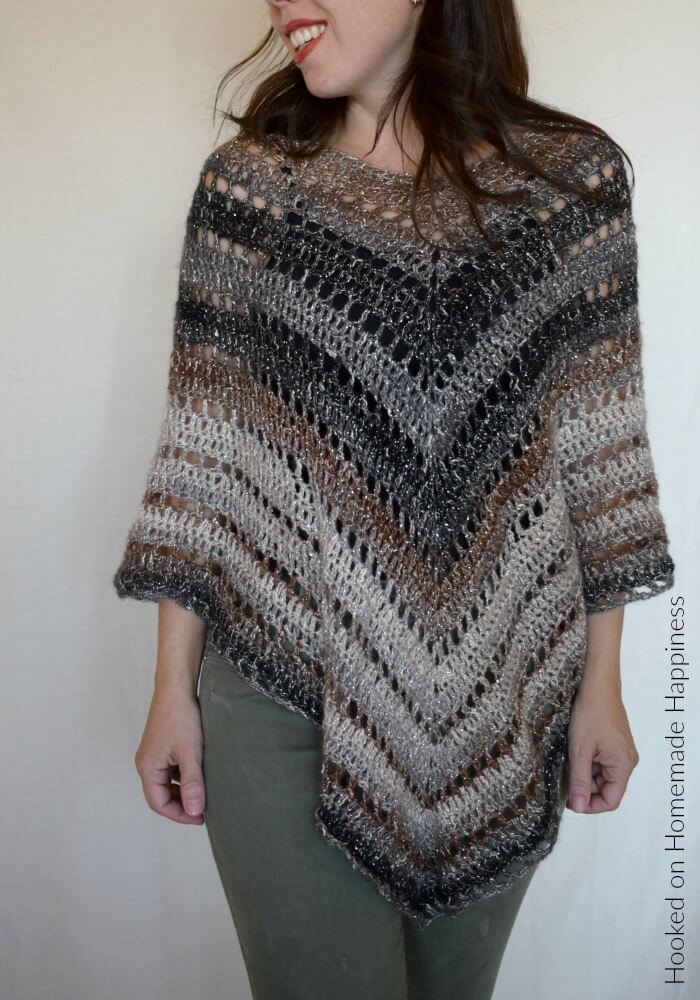 12. Houndstooth poncho by me jennyandteddy
If you are a bohemian lover, you guys going to love this poncho.
They are simple and have a unique poncho style with graphic crochet stitches, which are made from single and double crochet stitches.
Hope you guys enjoy this pretty collection of beginner-friendly crochet ponchos.
Happy crocheting.
`