Well, hello there, friendly crocheter! I am so excited to share this fun summer pattern with you today! Crop tops for summer are so popular right now – they're everywhere in the stores and it seems everyone is wearing them. So, what's a girl to do when she sees something she likes? Make a crochet pattern for it, of course!
I tried making my own easy summer crop top crochet pattern and, you guys, it turned out amazing! I am in love with this pattern and I know you're going to love it too.
So, here's the lowdown. I wanted this pattern to be easily doable for beginners, because it's so discouraging to see a ton of cool patterns and not be able to do the complicated stitches. Not in my patterns, I say! My easy summer crop top pattern uses only basic stitches like half double crochet and the crochet in the back loop stitch to create the ribbing effect.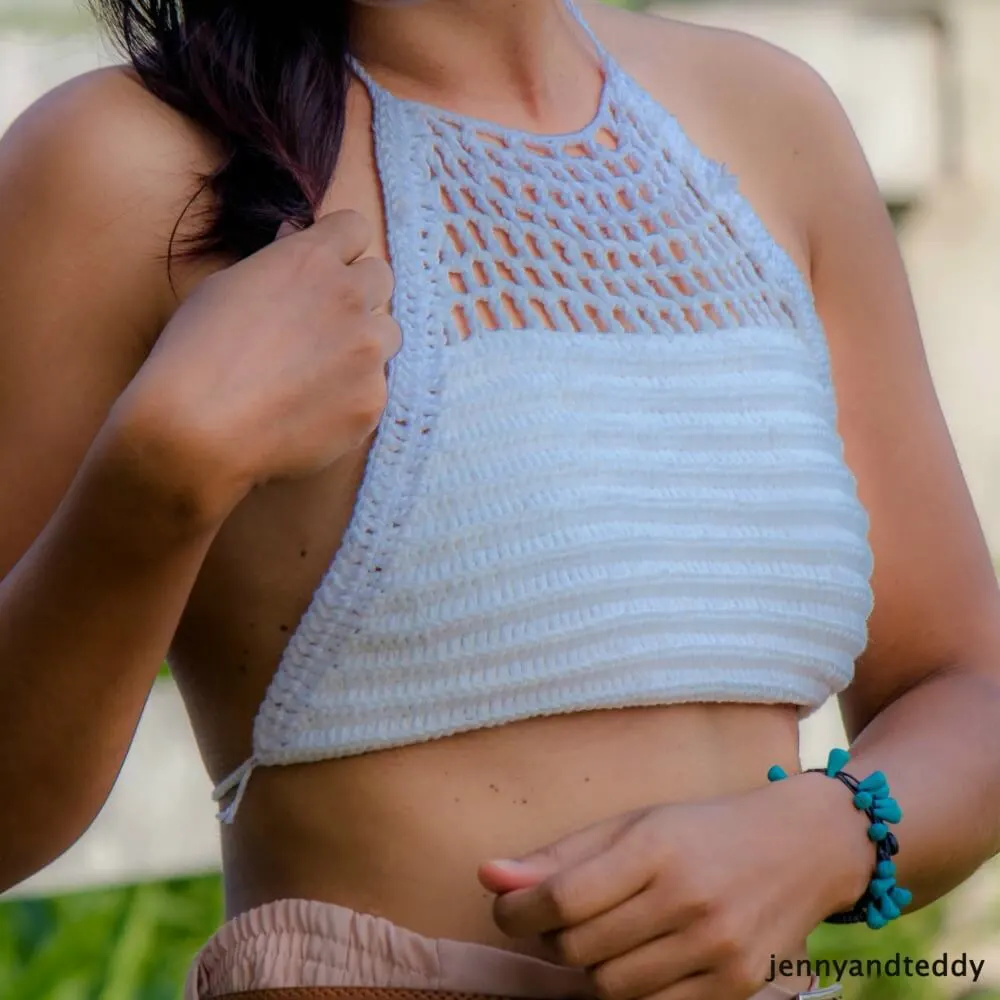 I know that sounds intimidating, but it's really not, and I'll walk you through how to do it. I think the extra touch of the ribbing effect really gives the whole piece a beautiful texture and makes it look so much more sophisticated than just a single stitch could.
I also added some fancy crochet lace at the top that is so easy to do! You just skip two stitches and then double crochet in the next. Super easy, right?!
I used cotton yarn for this one, because it's so much softer than the acrylic yarn. It's also a lot more breathable, which is important when it's so hot out! If you want to get extra daring, you can pair this crop top pattern with the crochet bikini pattern I have for you. It's an awesome way to create your own summer swimwear!
I hope you enjoy this summer crop top pattern! Don't be intimidated by the thought of making clothes – I know you can do it! After you make your top, post a picture and tag us on social media. We'd love to see how your top turns out! Happy crocheting, friends!
Gauge: 4 single crochet stitches x 4 rows = 1 square inch
Let's get start!
Skill and abbreviations
You will need to know how to make
-Sl st (slip knot)
-hdc which mean-half double crochet
-dc which mean double crochet
-sc which mean single crochet
-ch, Chain
-Blo which mean work in back loop only
-sl st which mean slip stitch
Let's get start!
– I used Lion brand 24/7 cotton
– 3.50mm crochet hook or E/4 US hook size
– Sewing yarn needle
This pattern is made for beginners! There is a basic skill level required to make the hat design.
Size: Ladies Size 8. You can customize the piece to match your size.
Make slip knot then chain 91 (or until the chain is at the length you want the width of your bottom of the crop top to be) ( about 19 inch) to make bottom of the crop top,
Turn your work ( when you turn your work in each row, do not chain this way will decrease the stitch in each row nicely )
Row1. start hdc across
Row2. Hdc in back loop only across * repeat for 20 rows
Now we are going to make the beautiful lace on the top.
I start with chain3, skip 2 stitches and make double crochet in next stitch until the end of this row.
Next I chain3 , turn, and then double crocheted in the space of the previous row with chain 3's in between.
So I continued this lace pattern row after row until I got the length that I want to be. Fasten off and leave long tail.
The Edge
Connecting the yarn and starting at the bottom right hand side of your top, double crochet all the way up to the top to make the edging. And leave long tail for making the straps repeat the same process to other side.
For the tie.
Use long tail that we have before by chain away from the top until u get the desired length and fasten off.
Happy crocheting!