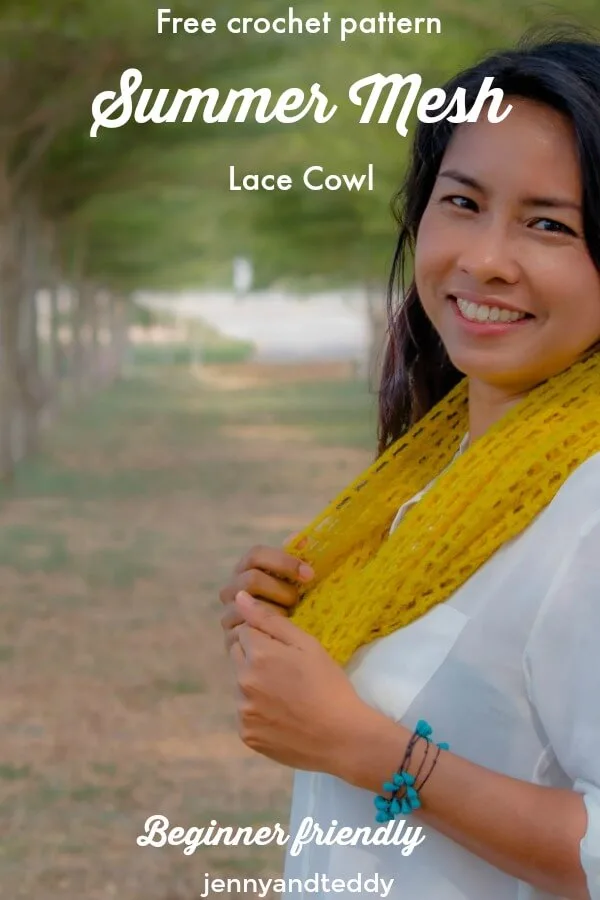 This super easy crochet summer mesh cowl is perfect for beginners. I love wearing cowls, but oh my gosh, this summer is so hot!
Thankfully, I learned a new stitch called' crochet mesh stitch", which is ridiculously easy!
Seriously, this lacy cowl is very simple to make, and it's so much nicer to wear in the warmer weather than my heavier chunky cowl.
I'm now happy to introduce you to the Easy Summer Mesh Lace Cowl Free Crochet Pattern!
Lacy & lightweight crochet cowl pattern.
This summer cowl is lightweight and made from a simple one-crochet rectangle that joins each end together to create the circle, and you are done! See how easy they are?
This breezy cowl is crocheted from a mesh stitch which is just a double crochet stitch combination with chain stitch.
The good thing is this beginner crochet cowl pattern is easy to adjust the wider or thickness of the cowl scarf by simply crocheting more rows to the rectangle.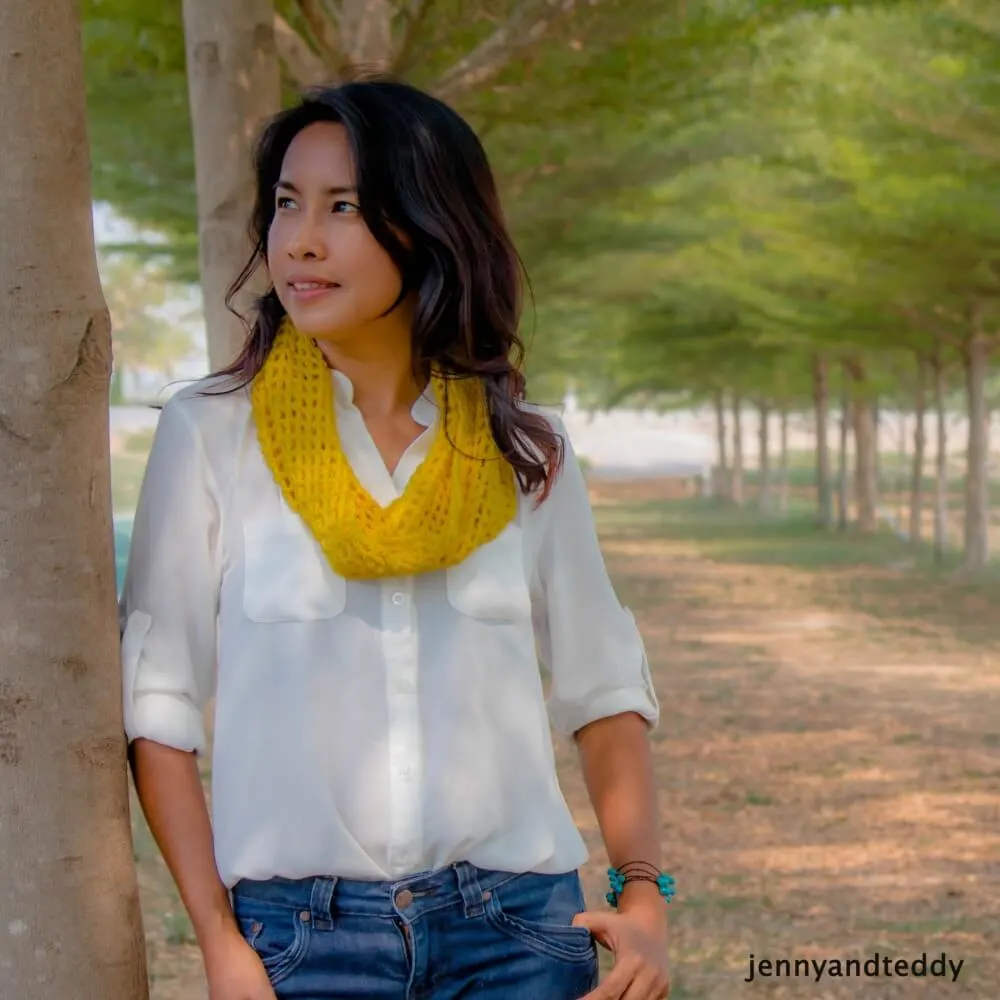 What is the best yarn for crocheting a summer cowl?
Cotton yarn: cotton yarn they are my favorite to work with because it doesn't lock up all the heat like other materials. Moreover, the cotton is lightweight and breathable. You will feel comfortable on your skin. It is a second skin-like yarn that you will looooove.
Bamboo yarn: bamboo yarn is ultra soft, great for sensitive skin, breathable, and lightweight; they give a nice drape and shine. Moreover, they are also a bit more thicker and stronger fiber than cotton.
Linen yarn: Linen yarn is known for its strength, durability, quick drying, non-pilling, and gets even more softer over time after washing. Moreover, linen needs less water consumption than cotton, so it is better for the environment.
Hemp yarn: Hemp yarn is stronger, more durable, and they are neutrally pest-resistant, so it pesticide free. They are eco-friendly fiber yarn that needs less water consumption. However, they are more expensive, and not many selections of the color due to their difficulty to dye.
Overall, all plant fiber is great for crocheting a cowl; however in this free easy crochet lace mesh cowl for summer.
You can also use any polyester fiber. It is fine because the open mesh stitch will give you a cool breezy when you wear them.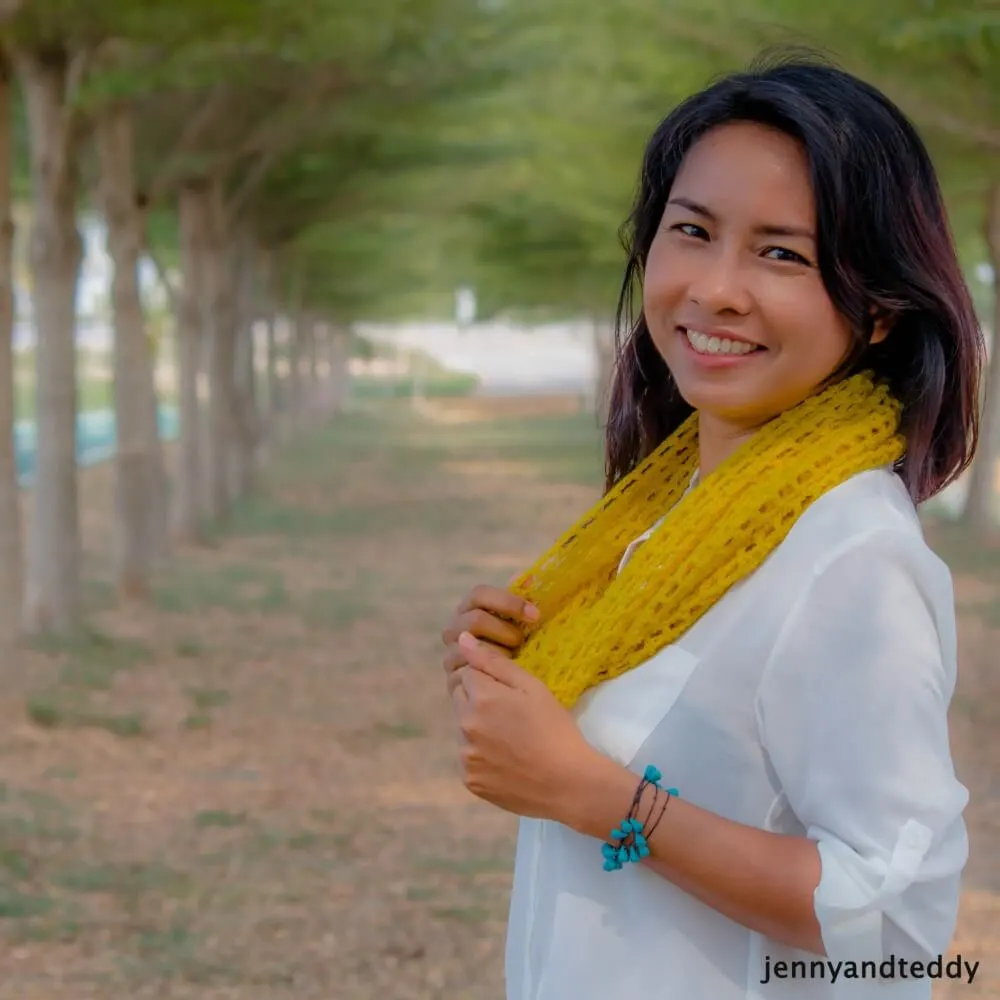 Need more crochet cowl scarf patterns to make this summer?
Skill and abbreviations.
American crochet term.

You will need to know how to make

Sl st (slip knot)

dc, which mean-double crochet

sc which means single crochet

ch, Chain
This pattern is made for beginners! There is a basic skill level required to make the design.
Supplies & material.
I used KnitPicks Shine sport yarn Dk weight or 4 medium weight is fine.

3.5 mm crochet hook or 4.0 mm hook size

Sewing yarn needle.
Easy crochet summer mesh cowl free pattern instruction.
Grab your 3.5 mm crochet hook and make a slip knot, then 115 chains.
Row 1 – sc in the next chain from hook and make sc in each chain until the end of the row.
Row 2 – *Ch 2, skip 1 stitch, 1dc in next stitch*. Repeat* to* until the end of the row.
Rows 3-34: Repeat row 2.
You can make it really wide or narrow to match your taste. I measured mine out to be about 12 inches wide, but it's totally customizable and can be any length and width you'd like.
Assemble the cowl scarf.
After you finish with the long rectangle of pretty lace, you use a yarn needle to stitch the ends together.
All done!
happy crocheting!
I hope you like this Summer Mesh Lace Cowl crochet pattern! If you decide to make one for yourself, be sure to post a picture of it and tag me on social media!



I'd love to see how it turned out for you and how you customized it to make it reflect your personality.
Happy crocheting!