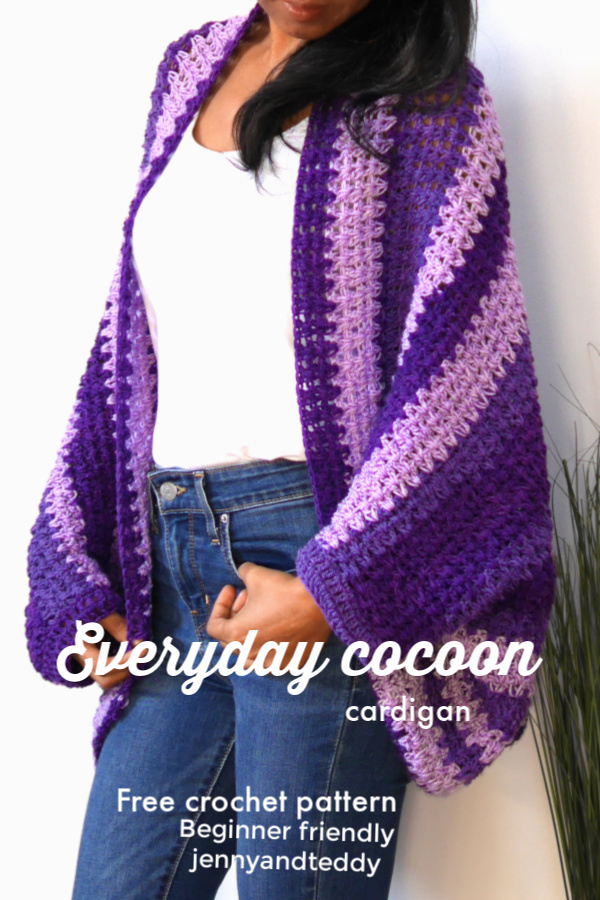 Crocheting cocoon cardigans are one of my favorite crochet wearable items to make of all time.
Especially for the fall and winter seasons. The cocoon cardigan itself has a very basic shape and simple construction.
Most of these crochet cocoon cardigans are made of one rectangle. You will be surprised how easy they are.
If you are looking for an easy crochet cocoon cardigan to make?
This Everyday crochet sweater pattern is one of the kind that you looking for.
They have very simple construction made from just one rectangle and only one row repeat for all along the piece.
Beginner-friendly cocoon cardigan pattern.
This modern and stylish cocoon cardigan free pattern is easy for beginner crocheters out here.
This would be your perfect first crochet garment to make.
They are oversized, cozy, and relaxed fit.
Also very easy to adjust to being bigger or smaller by adding more chains or decreasing chains to the foundation chain.
The stitches used in this cocoon cardigan free pattern are called V-stitch that easy for beginners.
The lovely V-stitch crochet, also so gives a good beautiful texture and lace effect to the crochet cocoon sweater.
About the yarn & yarn substitution to make this easy cocoon cardigan.
For the yarn in this example piece, I use DK weight / 3 light.
They are 100 % acrylic yarn that will create a lightweight cocoon cardigan.
You can also use any DK-weight yarn of plant fiber like cotton, bamboo, hemp, linen, etc.
the plant fiber content will give a beautiful drape to the cocoon cardigan.
The 4 medium-weight yarns also work perfectly for this cocoon sweater pattern as well.
If you want to make this crochet cocoon sweater for the upcoming winter, you guys could go for wool yarn.
Have you girls seen my Lightweight spring vest yet? They are made from v-stitch as well.
And I did undo it, the lightweight spring vest and making the new one is the everyday cocoon cardigan!
Has u girl ever done this? undo the old one and make it into the new one.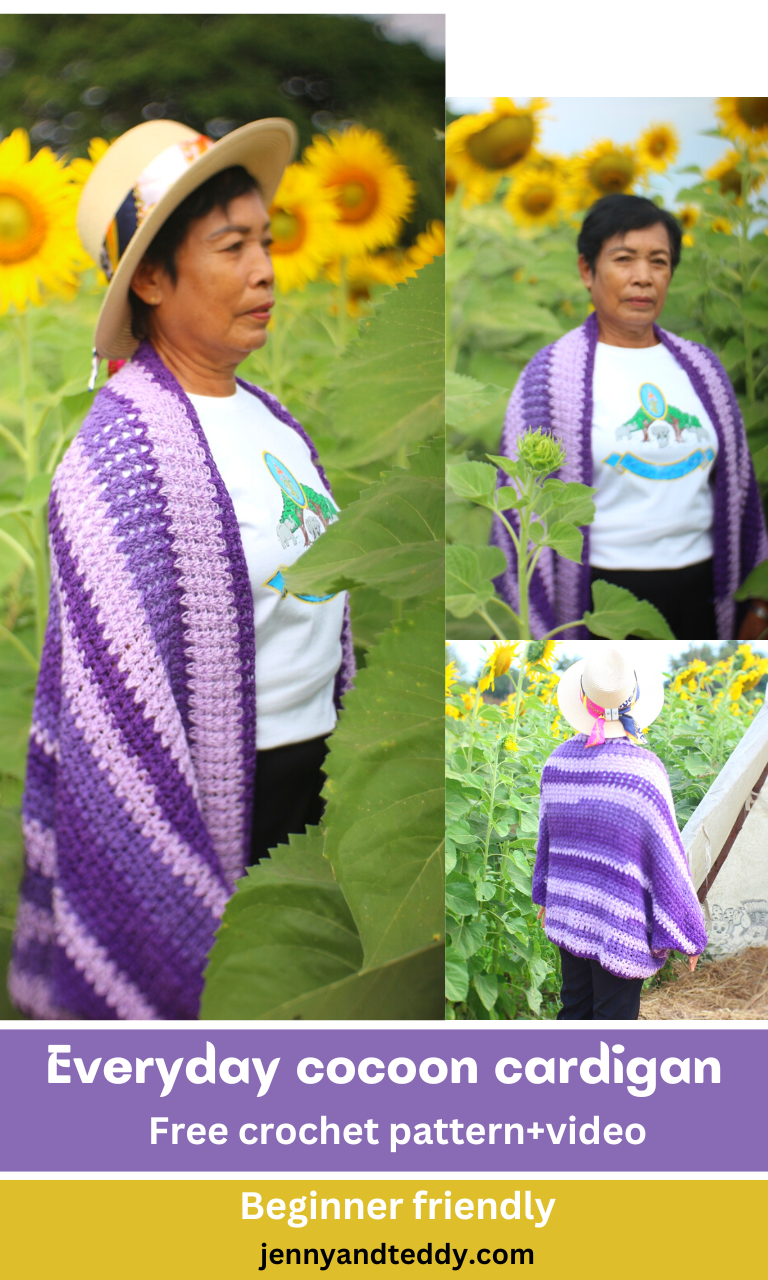 Let's get start!
Material for making this easy cocoon cardigan pattern.
I used DK-weight yarn 100% acrylic or you can use any kind of yarn cake that has a DK weight. I am using about 3 skeins around 1,600 meters fit sizes small to XL.
( easy to adjust the size see pattern instructions below).
yarn DK weight 3 light.
4.25 mm crochet hook size.
Sewing yarn needle
Skill and abbreviations
(Pattern is written in American crochet terms)
You will need to know how to make
sc which mean single crochet
dc which mean double crochet
ch, Chain
slip knot
sl st which mean slip stitch
sk which mean skip stitch
Example size for this cocoon cardigan crochet pattern.
For me the model wearing this piece, I am 4'9 feet tall.
Finished Size of the sample piece Approximately: Fit adult from size small to xl.
( other size from 2xl to 4xl detail in the pattern below)
How to crochet a cocoon cardigan for beginner video tutorial.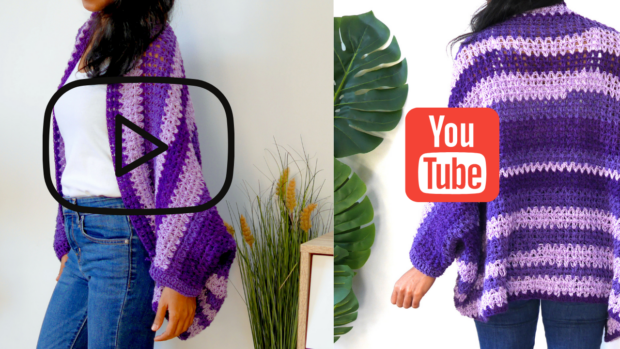 Get the pdf print-friendly version in my shop.
Everyday cocoon cardigan free pattern instruction.
Measurement of the rectangle.
46 inches wide
27 inches long
Gauge: 2 groups of V double crochet= 2 inch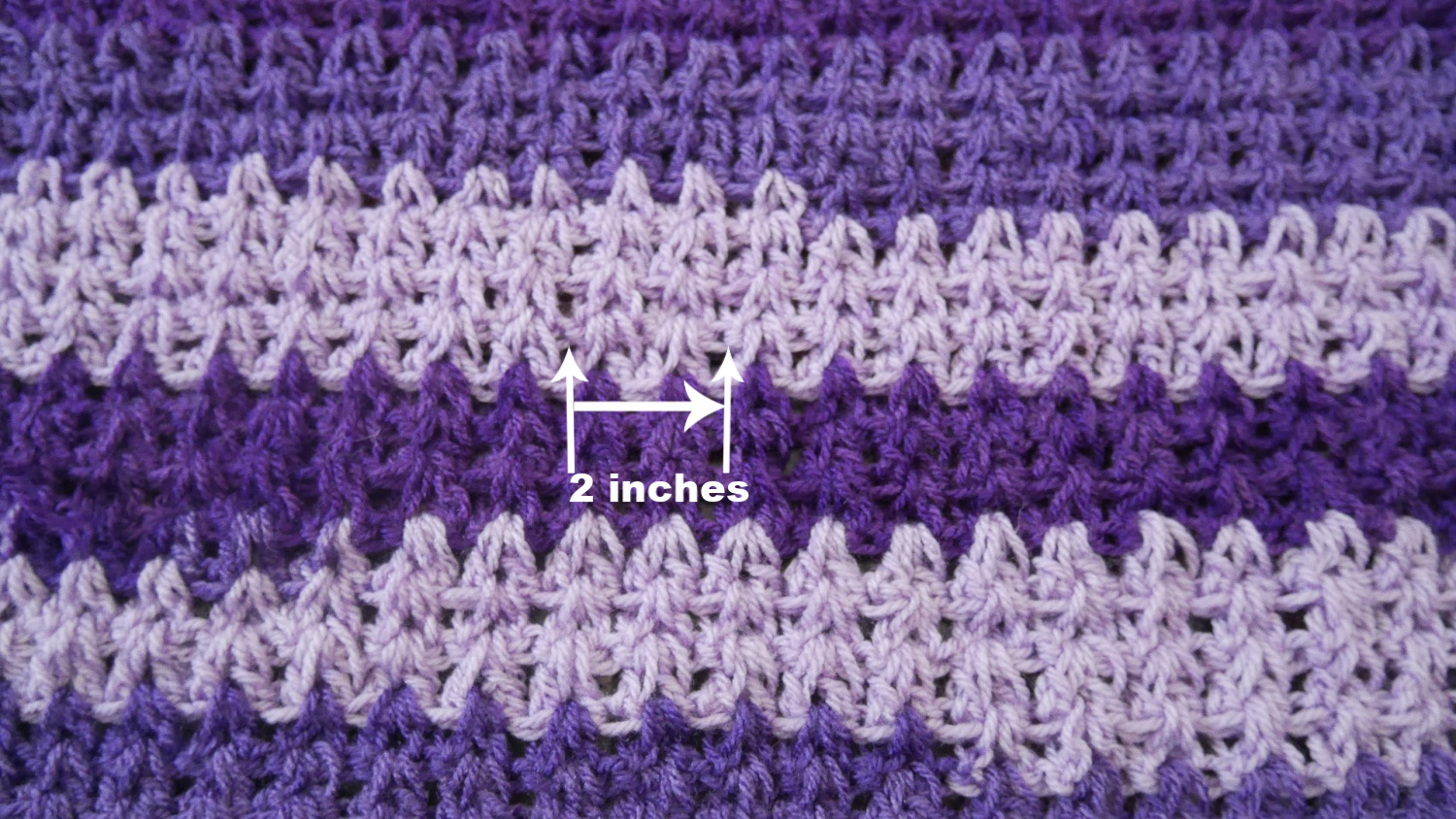 Note: we are crocheting this cocoon loosely not too tight.
Everyday cocoon cardigan instruction.
Start off by making a slip knot Then make 150+3 chains foundation chain.
size small to Xl chain 150+3
size 2xl to 3xl chain 165+3
Size 4xl chain 183+3
(you can adjust the size of the cocoon to be small by decreasing the foundation chain in multiple of 3 plus 3.
Or Bigger size by increasing the foundation chain in multiple of 3 plus 3.
For example ( 120, 165,174…..) for foundation chain.
Row1: skip 3 ch from hook, make 2dc in the next chain * skip 1 chain, then work 2dc in next chain* repeat * to * across until end of the row until you will have 2 chains remain, skip 1 chain, then make2dc in the last chain, ch3 turn.
Row2. now you will work *2dc in between each of 2dc of the previous row* repeat * to * across until end of the row, then make 1dc in chain 3 space of the previous row, ch3, turn.
Row3. Repeat row 2 until your rectangle measures approximately 27 inches long then finished off and leave a long tail for sewing.
Assembly.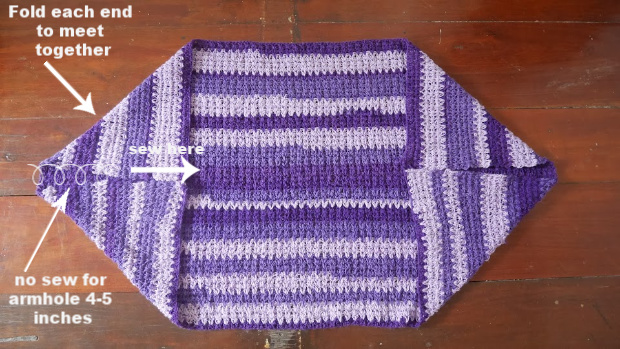 Lay the piece of rectangle in flat and fold each corner inward until they meet then use your yarn needle to seam the corner with your preferred method. ( I used whip stitch)
And leave holes for the arm. For the armholes, I leave my one about 4- 5 inches or your preferred length.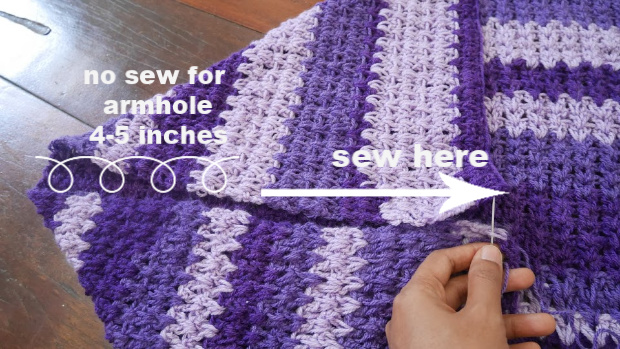 Sleeves for the arm.
Rejoin your yarn at any stitch of the armhole.
Round1. sc all around the opening of the armhole. Chain2.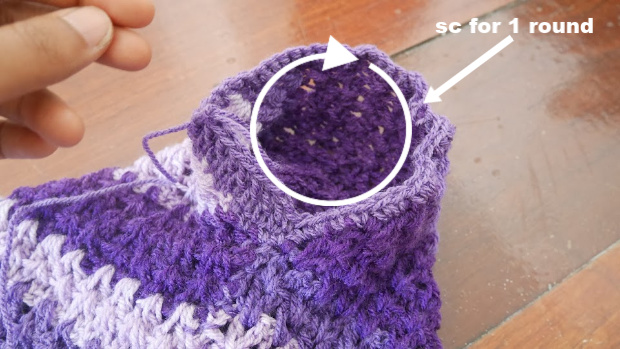 Round2. make dc in each stitch all around the arm hole. on the armhole work in a spiral do not join yarn.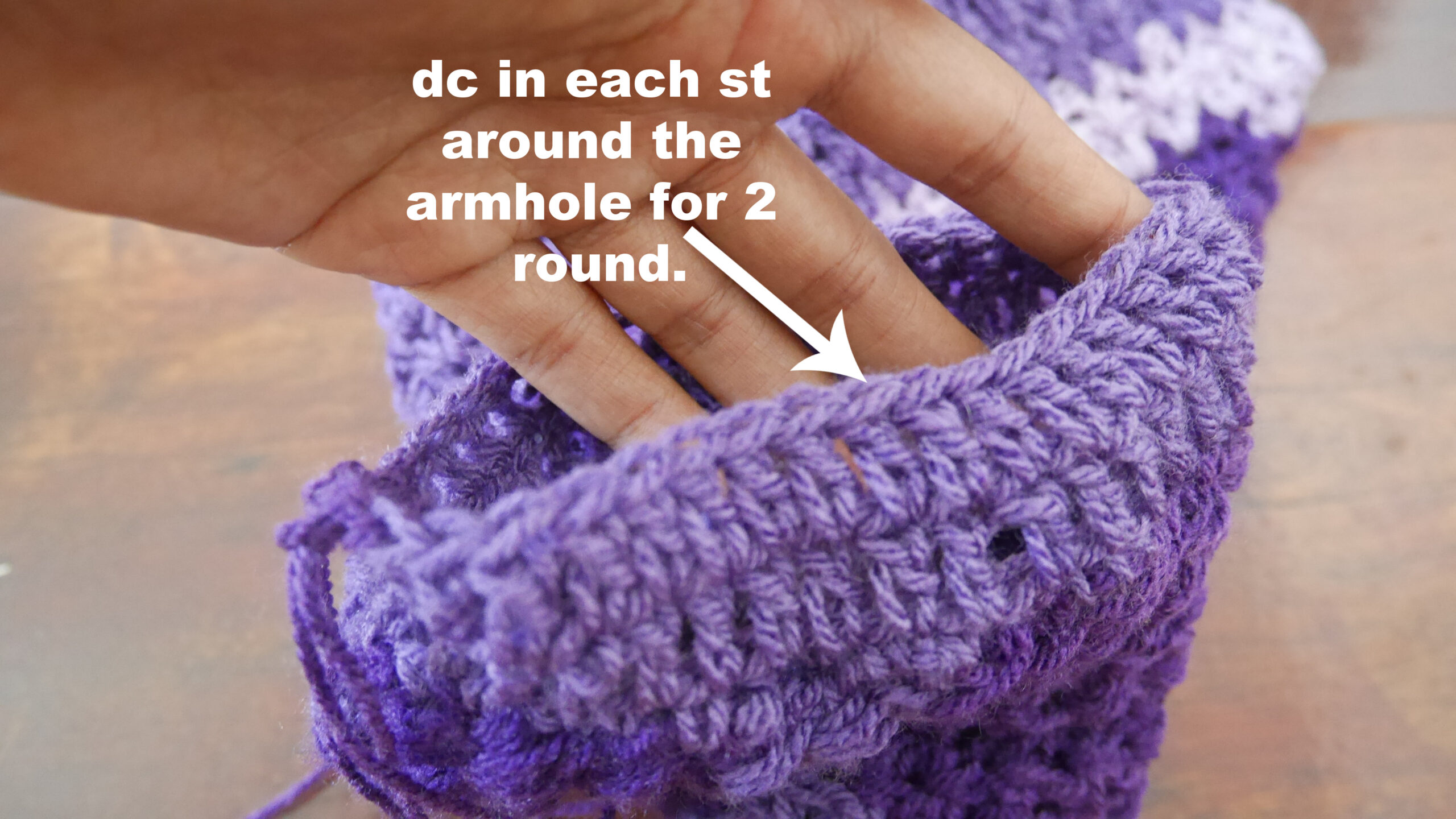 Round3. Repeat row2 until your sleeve measure around 1 inch deep. Fasten off and weave in end. Then repeat the same on the second armhole.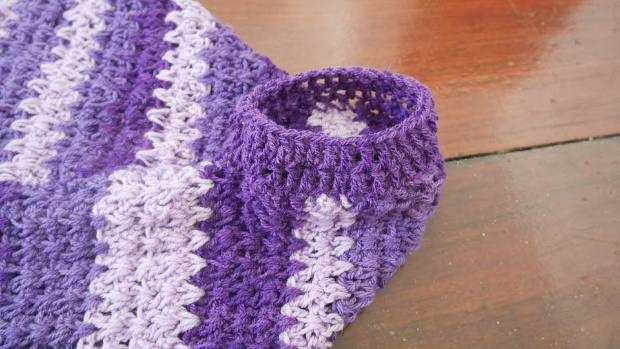 After we finished two sleeves the cocoon will look like this.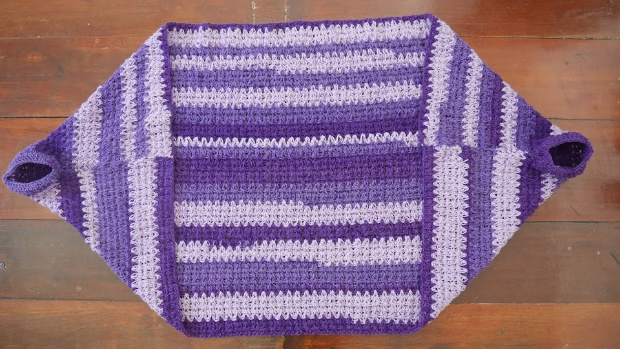 Now enjoy your new cocoon cardigan.
If you make one I would love to see your creation tag me on Instagram!
Happy crocheting.