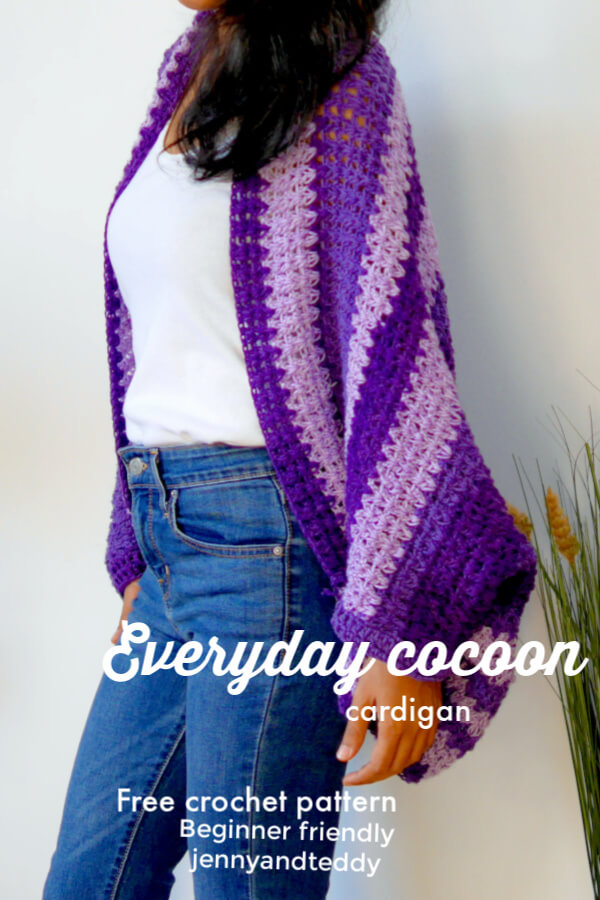 Meet Everyday cocoon crochet cardigan free pattern with step by step video tutorial! This is perfect for everyday wear around the house or just a cold day.
This super easy for beginners crochet cocoon cardigan made from just one long rectangle and use one row repeat for all along the piece.
This modern and stylish crochet cocoon is easily to adjust to be bigger or smaller by add more chain or decrease chain to the foundation chain.
I mainly use crochet V-stitch, which is simple and quick crochet cocoon.
The lovely V-stitch crochet, also so give a good beautiful texture and lace effect for the cocoon.

Have you girls seen my Light weight spring vest yet? They are made fron v-stitch as well.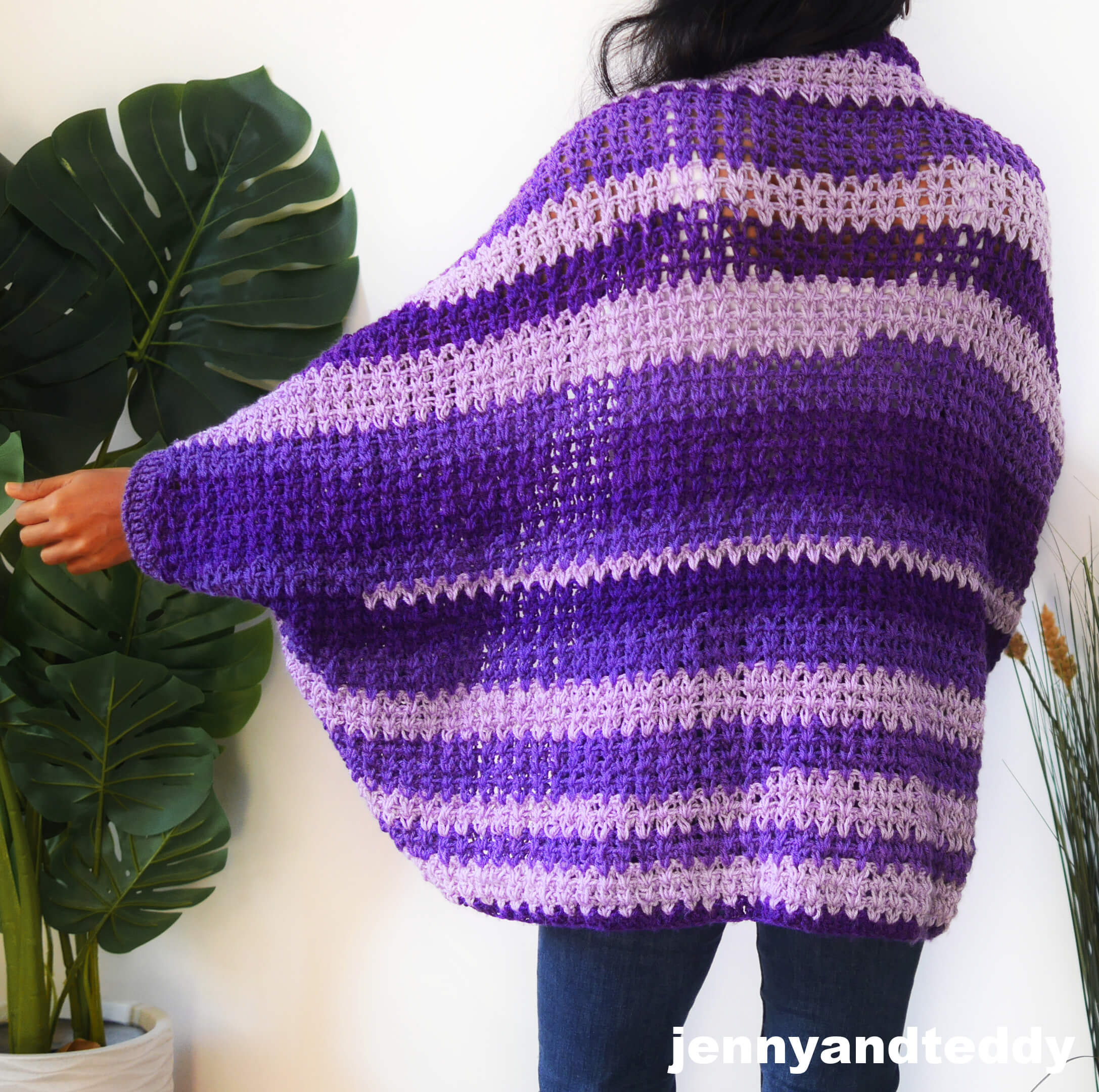 And I did undo it , the light weight spring vest and making the new one is the everyday cocoon cardigan!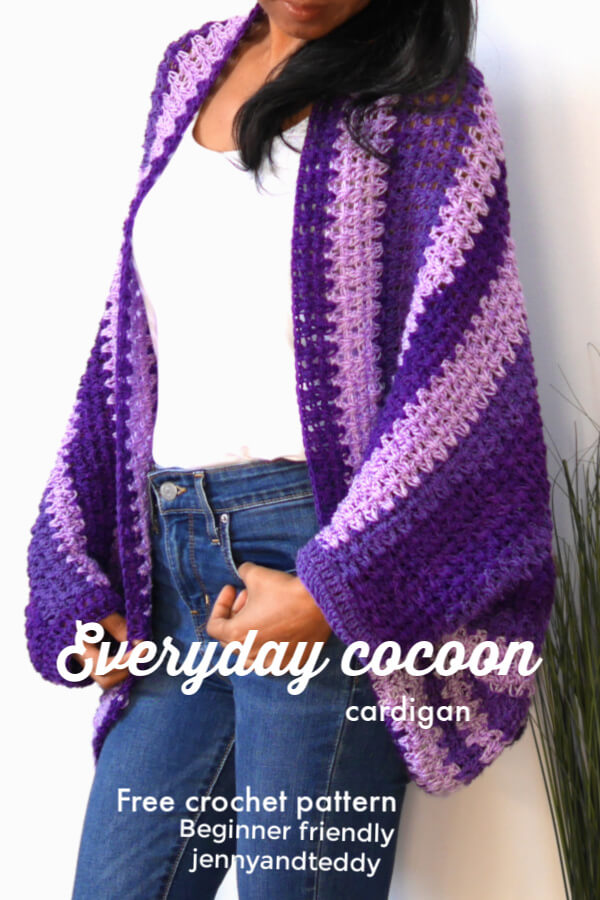 Have u girl ever done this ? undo the old one and make into the new one.
Let's get start!
– I used DK weight yarn 100% acrylic or you can use any kind of a yarn cake that have a Dk weight . I am using about 3 skein around 1,600 meter fit size small to XL.( easy to adjust the size see pattern instruction below).
-yarn DK weight 3 light.
– 4.25 mm crochet hook
– Sewing yarn needle
Skill and abbreviations
(American crochet terms)
You will need to know how to make
-sc which mean single crochet
-dc which mean double crochet
-ch, Chain
-slip knot
-sk which mean skip stitch
–V stitch crochet tutorial with video
For me the model wearing this piece, I am 4'9 feet tall.
Finished Size of the sample piecce Approximately: Fit adult from size small to xl.
( other size from 2xl to 4xl detail in the pattern below)
Video tutorial.
Measurement of the rectangle.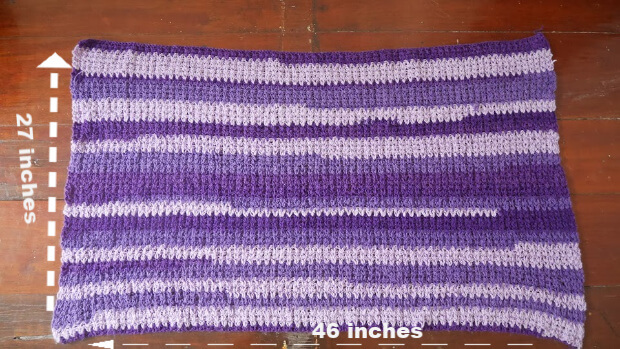 -46 inches wide
-27 inches long
Gauge: 2 group of V double crochet= 2 inch
Note: we are crochet this cocoon loosely not too tight.
Everyday cocoon cardigan instruction.
Start of by making a slip knot Then make 150+3 chains foundation chain.
size small to Xl chain 150+3
size 2xl to 3xl chain 165+3
Size 4xl chain 183+3
(you can adjust the size of the cocoon to be small by decrease foundation chain in multipleof 3 plus 3 . or Bigger size by increase foundation chain in multiple of 3 plus 3.
for example ( 120, 165,174…..) for foundation chain.
Row1: skip 3 ch from hook, make 2dc in the next chain * skip 1 chain, then work 2dc in next chain* repeat * to * across until end of the row until you will have 2 chain remain, skip 1 chain, then make2dc in the last chain, ch3 turn.
Row2. now you will work *2dc in between each of 2dc of the previous row* repeat * to * across until end of the row, then make 1dc in chain 3 space of the previous row, ch3, turn.
Row3. Repeat row 2 until your rectangle measures approximately 27 inch long then finished off and leave long tail for sewing.
Assembly.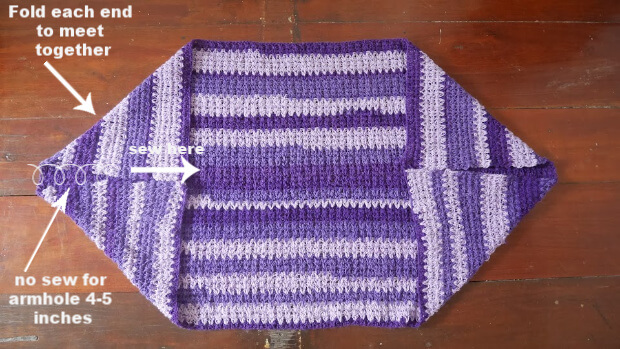 Lay the piece of rectangle in flatted and fold each corner inward until they meet then using your yarn needle to seam the corner with your prefer method ( I used whip stitch) and leaving holes for the arm. For the arm holes I leave my one about 4- 5 inch or your prefer length.
Sleeve for the arm.
Rejoin your yarn at any stitch of the arm hole.
Round1. sc all around the opening of the armhole. Chain2.
Round2. make dc in each stitch all around the arm hole. on the armhole work in spiral donot join yarn.
Round3. Repeat row2 until your sleeve measure around 1 inches deep. Fasten off and weave in end. Then repeat the same on the second armhole,
After we finished two sleeves the cocoon will look like this.
Now enjoy your new cocoon cardigan.
If you make one I would love to see your creation tag me on Instagram!
Happy crocheting.