Let me tell you why hexagon crochet shirts have become my new favorite way of crocheting a cardigan and everyday essentials clothing items to wear.
First,it's easy: This hexagon shirt is absolutely perfect for beginners because of the seamless design with only two simple pieces and you are done!
Second, it's fast: It typically takes me about 2-3 days to finish the hexagon shirt, with lots of breaks in between.
Third, it's fun: Yep, you hear it right with the nature of the hexagon shirt design, it is really easy to crochet the shirt in different colors by switching up some fun colors in each row how simple that is.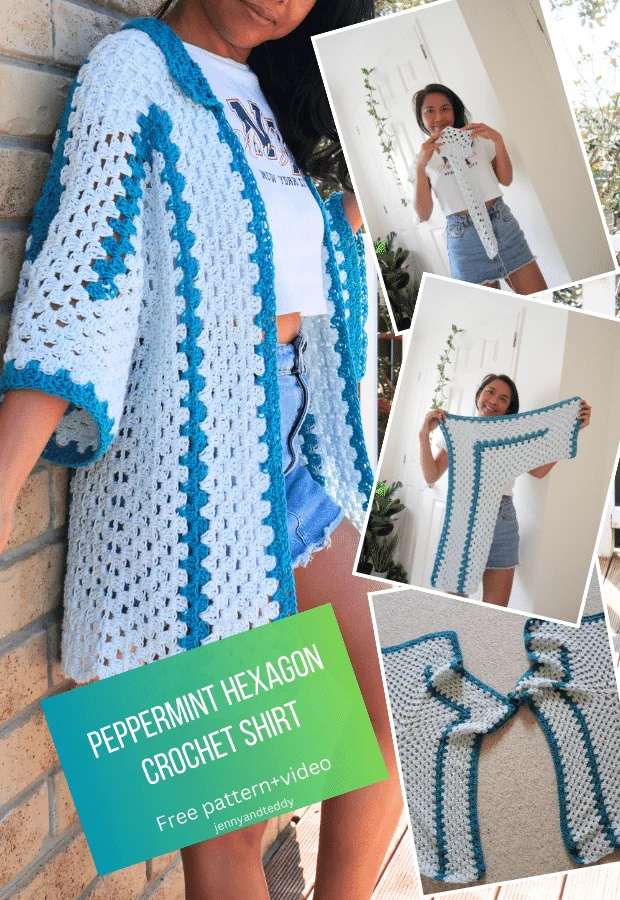 The easiest hexagon shirt with a collar you will love.
The most popular stitch patterns for hexagon crochet shirts are mainly 3 double crochet and chain, or you could call it the good old classic granny stitch.
So, Ideally, we will crochet the two simple hexagon pieces in the granny stitch pattern and add row after row until they are big enough for your bust size or your shoulder measurement. then we will sew it, and you're done, girl!
You will be surprised how fast you can complete this hexagon shirt.
How to adjust the size of the hexagon shirt to fit you.
Here is a 3 simple steps to adjust the size of a hexagon shirt to fit any size, from extra small to pulse size.
Step1. measure your bust for the perfect fit or measure your shoulder for a relaxed fit for example, my bust size is 32 inches then /divide by 2 so it's 16 inches.
Step2. keep adding more rows to each of your hexagon pieces until they reach the measurement of your bust.
That is all how you adjust the size of your hexagon shirt.
About the yarn.
The best yarn for crocheting a hexagon shirt depends on what you need, right?
Cotton: If you are making the shirt for summer or warm weather, I would recommend for 100 % cotton in 2 weights, dk weight or 4 medium weights would be great because cotton fiber will not trap the heat and make you feel good when you wear them.
Plant fiber: any plant fiber yarn will be perfect for warm weather as well as cotton.
Acrylic: will be a great addition to our budget and will provide more stretchy to the garment
In this example piece I use cotton 100 % with weight 2 from hobbii rainbow.
Overall, any yarn weight and fiber that suit your budget is all great.
Need more free crochet hexagon patterns to make for this weekend?
candy pop color combos, hexagon cardigan
Material & supplies.
In this free crochet cardigan pattern,I used yarn weight 2 from Hobbii Rainbow 8/6 around 1470 meters = 14 skeins for sizes, for example, small to medium from bust size 30-36 inches.
For other sizes example, size large or more, add 6 more skeins so the total would be 20 skien of hobbii rain 8/6 cotton.
1 skein of Hobbii rainbow 8/6 is 50 gram=105 m 100% cotton
4.0 mm crochet hook
Sewing yarn needle
Skill and abbreviations
You will need to know how to make (American crochet term)
dc, which means double crochet
ch Chain
slip knot
sk means skip-stitch
Magic ring
The finished Size for this crochet shirt is Approximately:
This example is made to fit a size small to medium 30-36-inch bust size.
For me, the model wearing this piece, I am 4'9 feet tall, bust of 32 inches, a waistline of 26 inches, hip of 35 inches.
Pattern Note:
This crochet shirt can be made in any size by adding more rounds.
The two hexagon left and right panels are made with the same stitch.
How to crochet a hexagon shirt tutorial for beginner step-by-step video.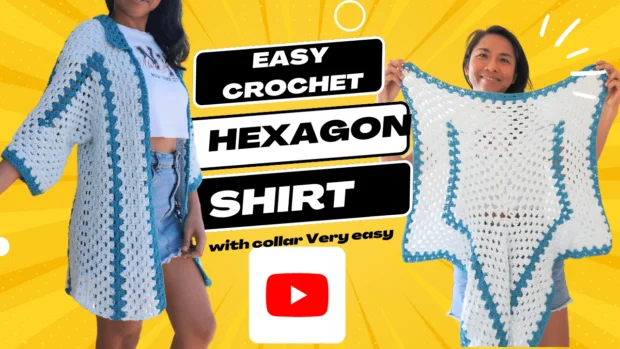 Peppermint hexagon shirt free crochet pattern instruction.
Make 2 pieces of hexagon.
Start off by making a magic ring.
Row 1: Ch 3 (first ch 3 of each round ALWAYS counts as 1dc), work 2 dc in Magic ring( 1 cluster create ), then ch 3, *work 3 dc in Magic ring, ch 3, *rep 3 more times. Sl st to join on top of the first st of the round. (4 clusters in total) and continue to add length for the shirt.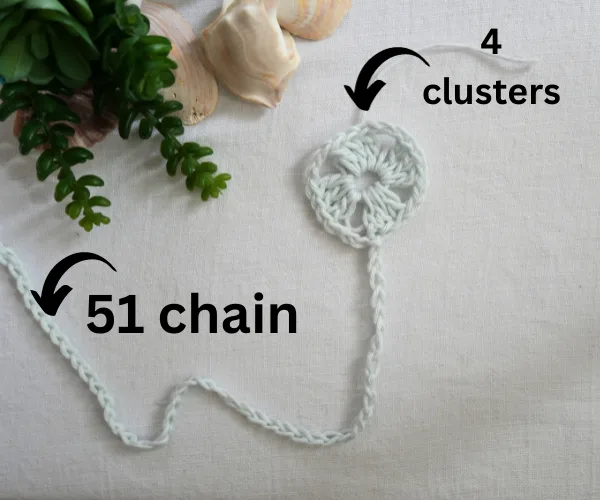 Add length to the shirt.
Now, after we slip stitch to join then we will chain away from the 4 clusters in a set of 3.
I did with 51 chains.
Now we working on one side of the chain by. sk2 chain from the hook( this will count as 1dc), then make 2dc in the next ch, * sk2 ch, then work3dc in the next chain* repeat this * to * until we are at the 4 clusters.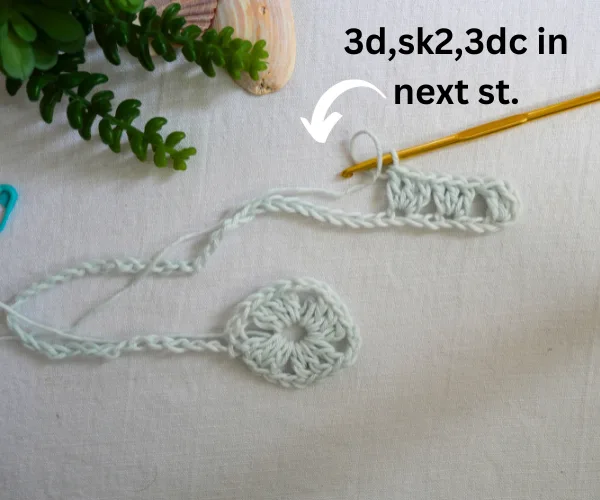 Now we are close to the 4 clusters we will sk2 st then work3dc in next stitch.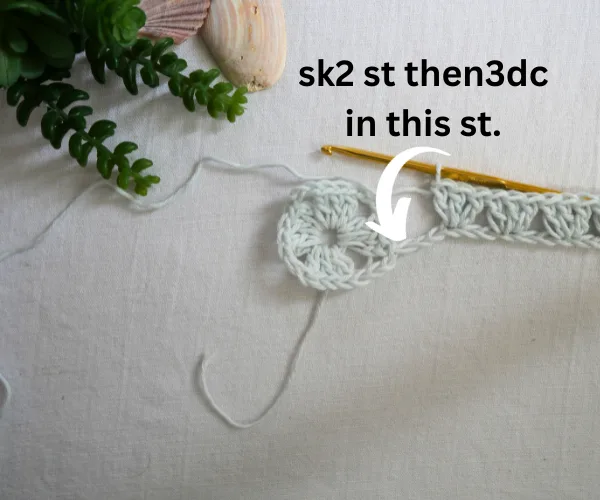 Now we work 3dc,ch3,3dc in chain 3 space from the previous row.
Then make 3d in another side of the chain until the end of row. Chain3 and turn to row2.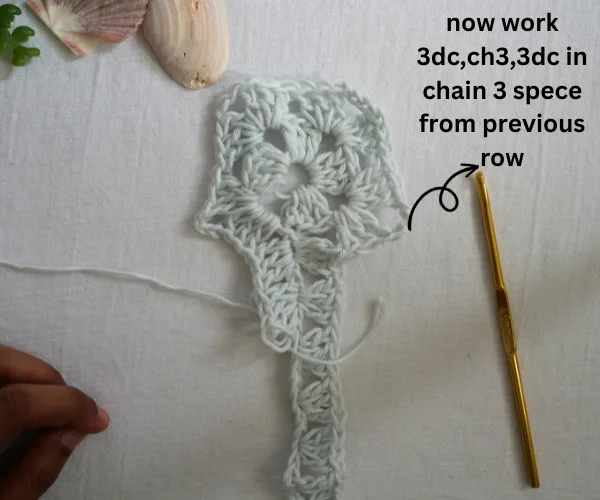 Row2.work 3dc in each space from the previous row and when you are at the chain 3 space from the previous row make *3dc,ch3,3dc all in the same chain3 space*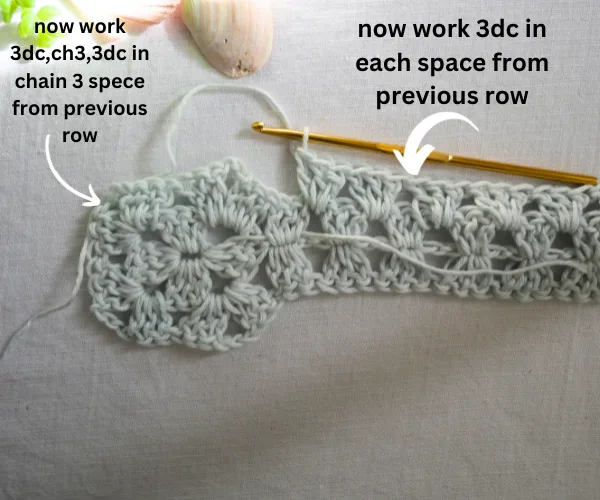 Row3. work 3dc in each space from the previous row and when you are at the chain 3 space, make *3dc,ch3,3dc all in the same chain3 space* chain3 and turn.
Row 4 and more. repeat row 3 until your hexagon get big enough for your bust measurement and changes up the color in some as you desire.
Mind one I have 17-18 rows.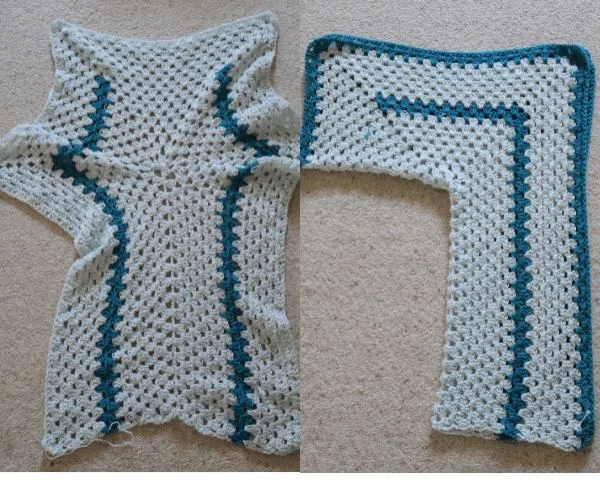 Assemble the shirt.
Fold each piece of a hexagon in half and join them by sewing at the top edge to create the sleeve of the shirt and sewing in the back to create the back panel of the shirt.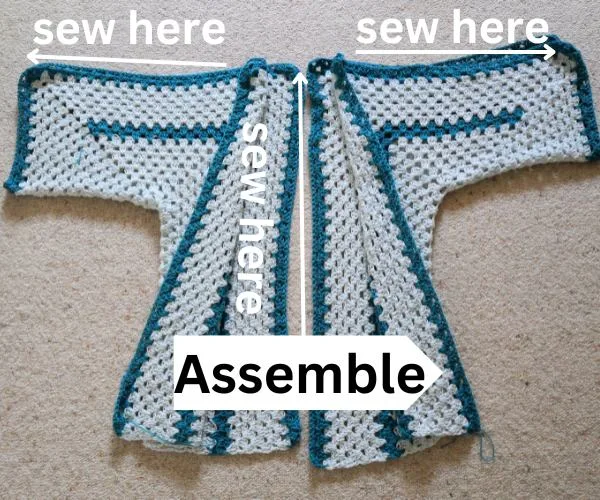 Add collar.
To crochet a collar, the foundation chain is in multiple 3+2.
I chain 57, chain my collar length is 18 inches; you can add more chains in the set of 3+2 to make your collar shirt longer.
After you chain, we make sc in each chain across and start row1 of the granny stitch.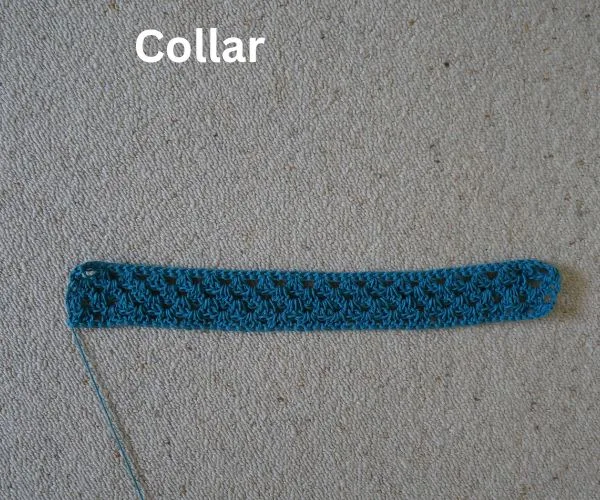 Row1: ch2, then make 1dc in the same stitch * skip 2 stitches, then work 3dc in next stitch* repeat * to * across until end of the row until you will have 3 stitches remain, skip 2 st, 2dc in the last stitch, ch2 turn
Row2. now you will work 3dc in each space ( between double crochet groups) across until the end of the row, then dc in the last stitch, turn.
Repeat rows 1 and 2 until you get your desired length.
Attach the collar to the crocheted shirt.
Now we attach the collar to the shirt by sewing using a yarn needle.
All done.
Happy crocheting.