Lately, I have been obsessed with crocheting all things hexagons and I couldn't believe how fast I whipped up these two easy pieces of hexagons.
Overall it took me 2 days to complete this hexagon cardigan of course with lots of breaks in between.
Let me introduce you to my New baby "The Candy Pop color combos hexagon cardigan crochet pattern FREE" The cardigan is made from just two simple granny stitch hexagons; it's ridiculously easy and beginner-friendly.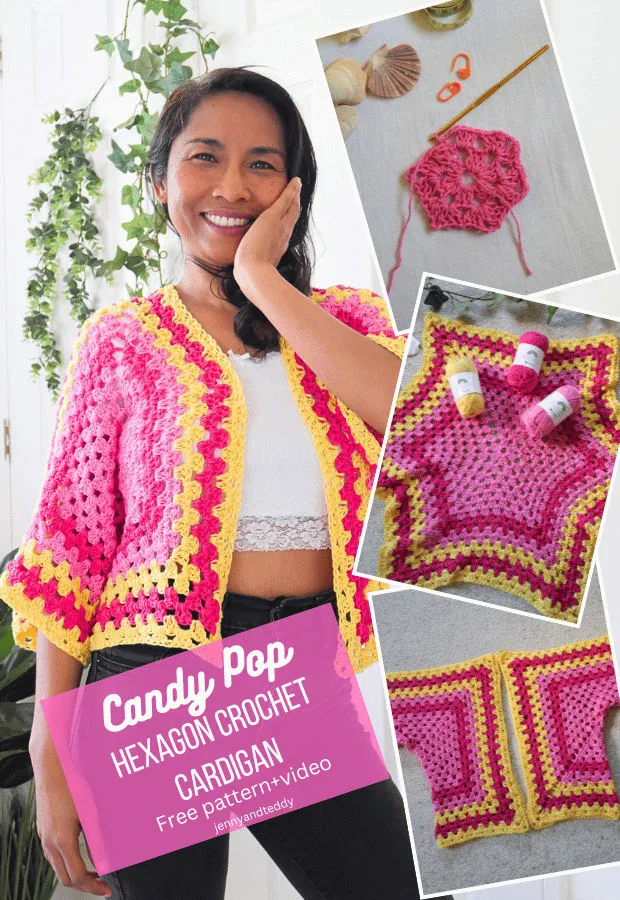 The easiest hexagon cardigan crochet pattern.
Girl! I know I have been in the cave for missing out on the beauty of crocheting a hexagon, but nothing too late to get started, right?
And Yes, you can make a hexagon cardigan easily If you have been crocheting a granny square before, They are just a piece of cake for you; if you are a beginner, do not worry, girl!
The key stitches used in hexagon cardigan patterns are mostly just double crochet and chain that all!
Let me walk you through 3 easy step-by-step of how to start crocheting a hexagon cardigan.
The hexagon is so simple and straightforward, versatile to use for any of your crochet projects; whether a cardigan, Hexagon T-shirt for men, hexagon bag, or much more, the possibilities are endless.
Step1.Make a magic ring, AKA called magic adjustable loop; then we will start round 1 by making 6 crochet clusters (1 cluster is=3dc ) and chain3 between each cluster. This will result in creating 6 corners.
Step2.Slip stitch to join; after completing the last corner, chain 3, and join the round by making a slip stitch (sl st) into the first dc crochet stitch you made in this round.
Step3. Add more rounds, Now we will continue crocheting by adding more rounds of your hexagon until they reach your desired size, and you are done!
If you are a visual learner I got you cover this hexagon cardigan has full in-depth step by step video on youtube.
Seamless designed crochet cardigan.
If you are someone who prefers less seam process in a crochet cardigan, this Candy Pop sweater might be your favorite new way to make a cardigan ever!
Because they have the seamless on the shoulder and the back panel, and that it you are done! Finished the cardigan.
Simple adjustable size cardigan for everyone.
With this Candy pop sweaterdigan, you will have hassle-free about adjust the size of your hexagon cardigan by simply adding more rounds to each piece of your hexagon until those 2 pieces are big enough for your shoulder measurement for relax fit or your bust measurement for perfect fit.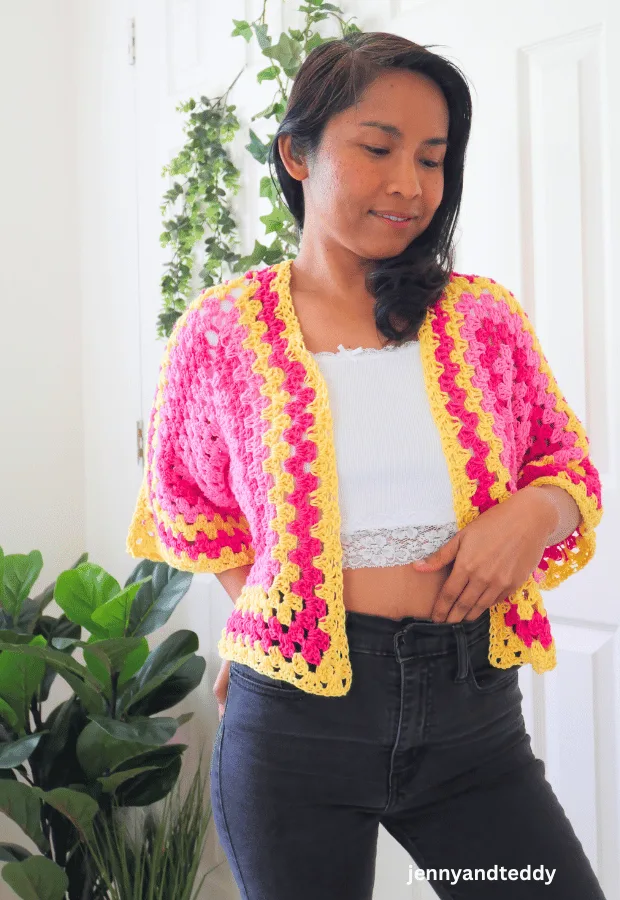 The versatility of a hexagon sweater.
If you are someone who loves to experiment with color changing and look, tweak, or switch the color as you go.
The hexagon cardigan has the ability to do it all for your needs easily.
Girl! now I know why the hexagon sweater is so hot right now, do you agree?
About the yarn.
The best yarn weight for crochet a hexagon cardigan, it's depend on what you really need for example yarn weight 3 light or 4 medium weight cotton is perfect for warm weather.
You can also you a chunky yarn weight with acrylic to speed up the process for cold weather.
However, The Candy Pop cardigan they are perfect for your scrappy yarn, and you can also use any weight and any crochet hook size for this cardigan sweater.
In this example, I love to work with cotton yarn, and my favorite brand for now I looove Hobbii Rainbow cotton8/6.
Oh, mind, Have you guys tried this yarn before? It feels so soft and silky mmmmm .. I feel good on my skin when I wear them.
Material & supplies.
In this free crochet cardigan pattern,I used yarn weight 2 from Hobbii Rainbow 8/6 around 1260 meters = 12 skeins for sizes, for example, small from bust size 30-32 inches.
For other sizes example, size Medium add 6 more skeins so the total would be 18 skien of hobbii rain 8/6 cotton
1 skein of Hobbii rainbow 8/6 is 50 gram=105 m 100% cotton
4.0 mm crochet hook
Sewing yarn needle
Skill and abbreviations
You will need to know how to make (American crochet term)
dc, which means double crochet
ch Chain
slip knot
sk means skip-stitch
Magic ring
Finished Size for this cardigan Approximately:
This example is made to fit a size small 30-32-inch bust size.
For me, the model wearing this piece, I am 4'9 feet tall, bust of 32 inches, a waistline of 26 inches, hip of 35 inches.
Pattern Note:
This cardigan can be made in any size by adding more rounds.
The two hexagon left and right panels are made with the same stitch.
How to crochet a hexagon cardigan tutorial for beginner step-by-step video.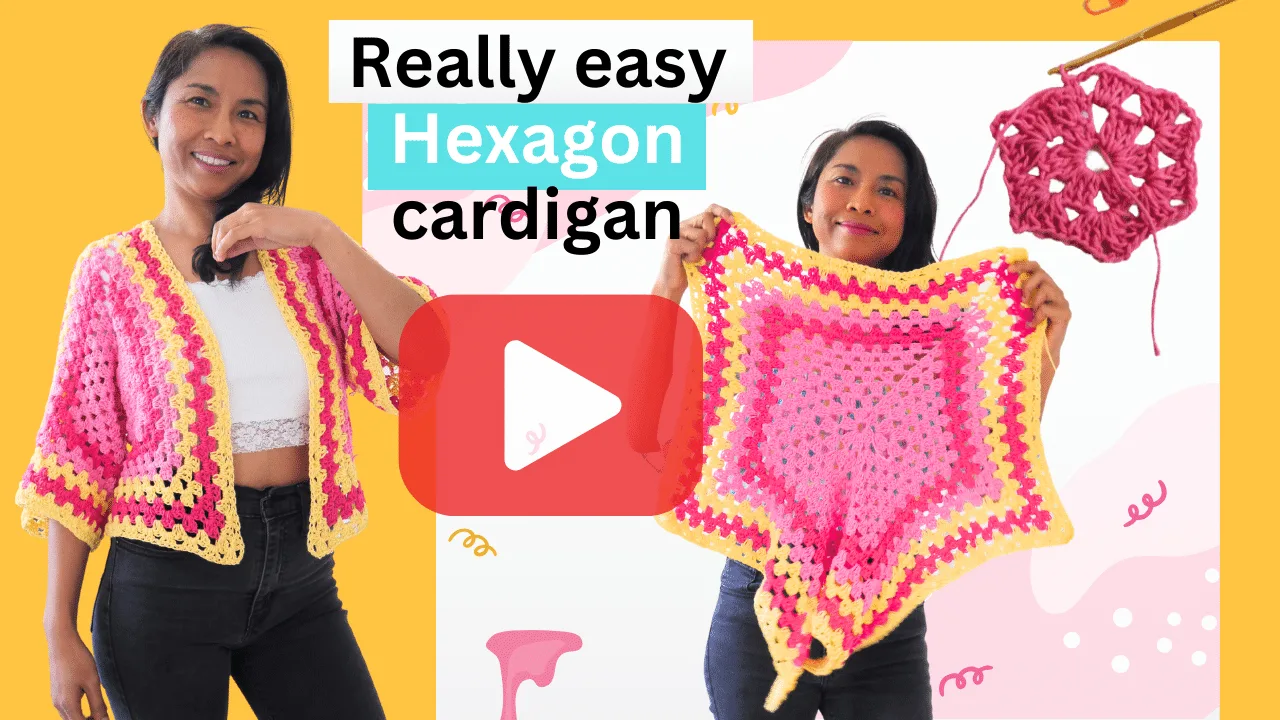 Candy Pop cardigan free crochet pattern instruction.
Make 2 pieces of hexagon.
Start off by making a magic ring.
Round 1: Ch 3 (first ch 3 of each round ALWAYS counts as 1dc), work 2 dc in Magic ring( 1 cluster create ), then ch 3, *work 3 dc in Magic ring, ch 3, *rep 4 more times. Sl st to join on top of the first st of the round. (6 clusters in total) and continue to round 2
Round 2: Ch 3( count as 1dc then 2d in same st), then work 1 cluster in ch3 space from the previous round (1 cluster =3dc,ch3,3dc); now we *work 1 cluster in ch 3 space from the previous round * repeat this* to * until the end of the round. Sl st to join the first st of the round.
Round 3: Ch 3( this acts as 1dc), then dc 2 in same st, *when you come to a space between 3dc from the previous round, make 3dc then when you come to the corner (ch3 space from the previous round, always make 1 cluster (1 cluster=3dc,ch3,3dc)* repeat this * to* until the end of the round.
Round4 and more. Repeat round 3 until you get your desired size for a small fit bust 30-32 inches I did 17 rounds.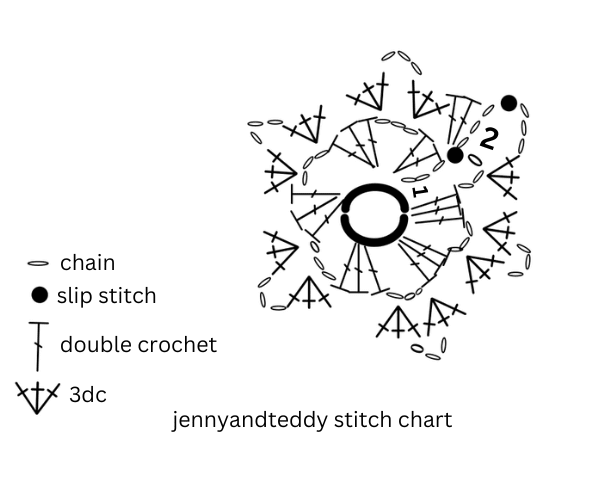 Add your own style to your cardigan.
Now we add more rounds and switch up some colors to your desired need. My Hexagon looks like this after I did 17 rounds.
Assemble cardigan.
Lay 2 hexagon in flatted then fold in half and sew along on the top to create the shoulder and sleeves.
Then I sewed in the back to create the back panel for the cardigan.
All done.
Happy crocheting.