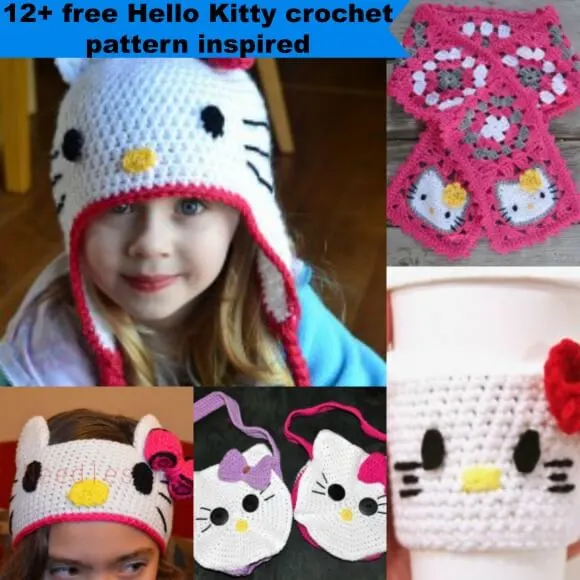 Hello Kitty is a cute cat with simple design. It is a favorite character of many girls. That is why it has become detail on many girl's accessories and a kind of brand. I'm a big fan of this kitty. However, having Hello Kitty accessory sometimes costs a little fortune. I am not a supporter of the idea to buy something with serial print, if I can make something nice and unique with little money . If you have skillful hands, and you know how to crochet, you can create Hello Kitty details on your own. You can make hats, scarves, purses, shoes for babies without spending a lot of money. Searching for an idea of how to creatively employ my hands, I found these 16 beautiful and free Hello Kitty crochet patterns that are amazing and sweet.
1.Hello Kitty doll
It's nice to have fashion accessory with this popular kitty . However, Hello Kitty does not have to be just a fashion accessory or an image. Make a doll with which your child can sail into the world of imagination and has unforgettable moments! Here you can find a detailed description of how to do it.
http://www.ravelry.com/patterns/library/crochet-kitty-hello-kitty-in-pink-dress-doll-toy
2.Hello Kitty hat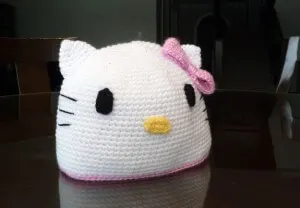 When winter comes, these hats will be every girl's favorite details. This is a simple way to transform a child into its favorite character and warm up at the same time. Free patterns can be found here:
3.Hello kitty newborn shoes
These are certainly not shoes in which your child will learn the first steps. These are the shoes that will be another cute detail at your baby's feet. Believe me, you do not want to tear such a masterpiece. Even when a child outgrows them, they can be a beautiful decoration. You can create a model with a belt, as crocheted sandals like this one: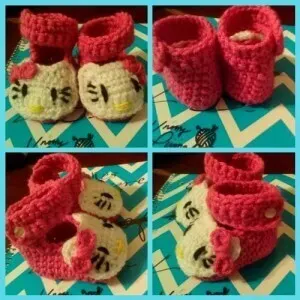 You can also choose a simple, white variant.
http://www.craftsy.com/pattern/crocheting/accessory/kitty-baby-booties/59904?rceId=1432271647124~dug5pazc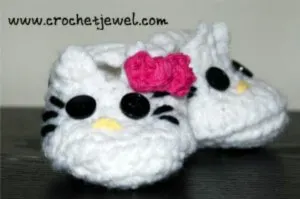 My advice is to choose both!
4.Hello Kitty scarf
Why only make a Hello Kitty hat? Make Hello Kitty scarf with this pattern and complete enjoying in the winter magic. It requires more skills, but the result of will and effort is simply beautiful .
http://madebyk-tutorials.blogspot.com/2009/12/hello-kitty-granny-square-scarf-crochet.html
5.Hello Kitty amigurumi
There are a million ways to use amigurumi. Your child can play with Hello Kitty amigurumi. They are small enough and do not occupy a lot of space in your bag.Change the color of the ties and dresses and you can make a whole collection.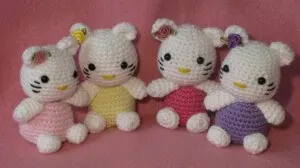 6. Hello Kitty keychain
In addition, amigurumi can be a key chain or decoration for the Christmas tree. You can put them on the rear-view mirror of your car, hang it over the baby's crib, and they may be a detail that adorns the shelves in children's rooms. Let your imagination run wild …
These are links where you can find free patterns for Hello Kitty amigurumi.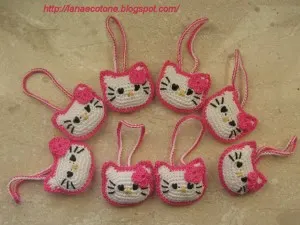 6.Hello Kitty coffee cozy
This Hello Kitty detail can really brighten your first cup of coffee. In addition, it may be an interesting detail on the cup of tea, especially if the child is reluctant to drink it. Do you make a themed children's party? Decorate the cups in Hello Kitty style.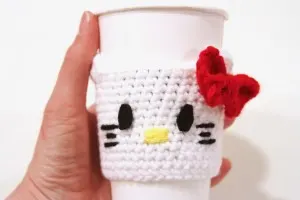 7.Hello Kitty hair bows
When it is not the time for the hats, there is still a way to put the detail that will transform your kid into a Hello Kitty. Make a nice hairstyle and add this Hello Kitty bow.
8.Hello Kitty beanie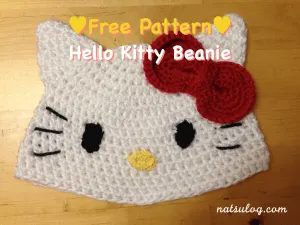 In addition to shoes for the baby, your baby's head can have a Hello Kitty decoration too. To make this Hello Kitty beanie for your baby, you need the most basic knowledge of crocheting, material and a little time. A free pattern can be found here.
9.Hello Kitty purse
Each true lady has a purse, why not your little princess? You do not have to buy a purse with printed application .I am more for the option to crochet Hello Kitty purse. This pattern is good, even for beginners in crocheting.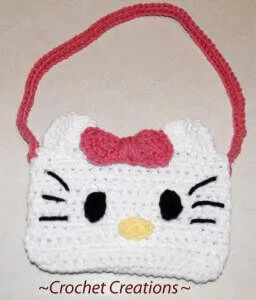 10.Hello kitty beg
When you master your crochet skills, you can make a little more complicated purse. Finally, true lady does not have just one purse, is not it? Combine your favorite colors and try this pattern.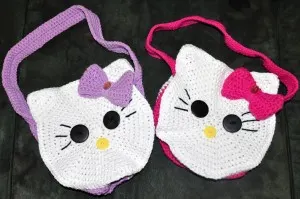 11.Hello kitty jar
Sometimes I like to turn quite ordinary and everyday things into decoration. Here's how you can make a Hello Kitty jar from one ordinary jar. In it you can keep hairpins or hair bands.
http://www.ravelry.com/patterns/library/hello-kitty-jar
11.Hello Kitty headband
If your child does not like hats, make a headband. Besides being a beautiful decoration for your little girl's head, this can also protect her ears from the cold weather. Connect beautiful and useful. How? The free pattern you can find here.
http://crafterguilt.blogspot.de/2013/02/hello-kitty-crochet-headband.html
12.Hello Kitty pillow
If your child loves Hello Kitty, this pillow will be a perfect match for the kid's room. Especially if you make few pillows. They can be great and unique complement to other Hello Kitty details in the room and complete the girly atmosphere.
http://cantoocrochet.blogspot.ca/2012/09/hello-kitty-pillow.html
Really, there are many ways to implement Hello Kitty details in your child's life . They don't have to be expensive, just beautiful and useful at the same time . They can awaken your creativity. I prefer those handmade. Do you love Hello Kitty? How do you implement it in your child's life?