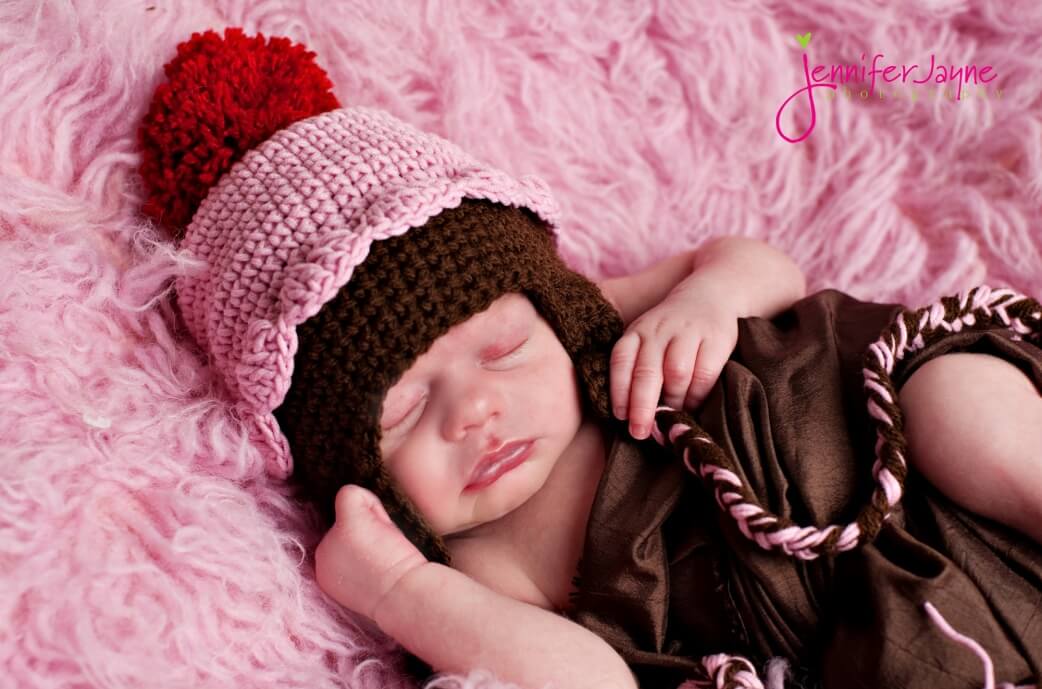 Hi Guy's here comes the cupcake free pattern we are sure that everyone will love this perfect baby showergift!
This delicious cupcake crochet hat pattern is so adorable. One cupcake never enough so why stop at one, make a whole batch to share.
They are so simple and quick to even for a beginner, and a great way to enter the world of crochet.
Sizes:
Baby 0-3 months (fits up to 12-14 inch)
Materials:
You will need
•MC (shown here in Pink colour): 50 grams/110 meters of MODA Vera BEETLE 50% acrylic, 50% cotton) or cotton yarn
•CC (shown here in dark brown): small amount (worsted weight yarn)
•Red: small amount (worsted weight yarn)
Crochet hook size 3.5 mm
Sewing yarn needle
Removable stitch markers or contrasting coloured yarn
Gauge: 4 single crochet stitches x 4 rows = 1 square inch
Skill and abbreviations:
You will need to know how to make:
Chain (ch)
Slip stitch (sl st)
Single crochet (sc)
Double crochet (dc)
Work in front loop (flo)
Work in back loop (blo)
Magic ring or adjustable ring
If you don't understand any of those technical word, don't worry I got you cover!
Here a  video free crochet class on craftsy or  the free pdf the beginner guide to crochet.
My beginner tutorial check it out here
How to start magic ring or adjustable ring
Note:
1.In this pattern, you will work in the round continuously. You may use a removable stitch marker or a short piece of yarn of contrasting colour to mark the beginning of each round. At the end of each round, you will not join, but begin the next round in the next stitch.
2.The stitch counts at the end of each round are given.
Hat body (sizes Baby size 0-3 months only)
You will work from top to bottom
Round1. Make magic ring or adjustable ring and 9sc in ring (9 sts) pink
Round2. 2sc in each st around (18 sts) pink
Round3. *Sc in next st, 2sc in next st*, repeat from * around (27 sts) pink
Round4. *Sc in next 2 st, 2sc in next st*, repeat from * around (36 sts) pink
Round5. *Sc in next 3 st, 2sc in next st*, repeat from * around (45 sts) pink
Round6 – 17 . Sc in each st around (45 sts). pink
Round 18 . Sc in each st around (45 sts).(work in back loop of round 17.)brown
Round19-23 . Sc in each st around (45 sts). Finish off at the end of Round23. Brown
Now we are going to make cupcake trim. As the picture above show front loop, we will going to crochet in front loop only for the trim.
Cupcake trim
Round 1. *3dc,2dc,skip1,sl st*, repeat from * around ,for the last st make sc on that st. Finish off (no st count at this round)
Shape earflap:
Use two stitch markers to mark the stitch in the middle of each side of the hat. Join CC at the first marker with sl st.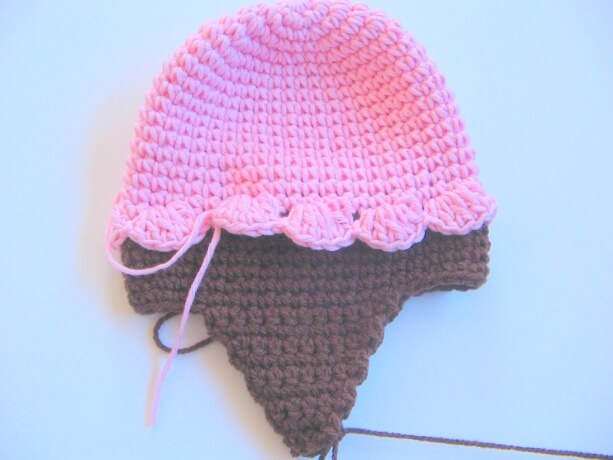 Row1. Ch 1 (counts as first sc here and throughout), sc 12, ch1, turn (13 sts)
Row2. Sc in next 11 sts, ch1, turn (12 sts)
Row3. Sc in next 10 sts, ch1, turn (11 sts)
Row4. Sc in next 9 sts, ch1 turn (10 sts)
Row5. Sc in next 8 sts, ch1 turn (9 sts)
Row6. Sc in next 7 sts, ch1, turn (8 sts)
Row7. Sc in next 6 sts, ch1, turn (7 sts)
Row8. Sc in next 5 sts, ch1, turn (6 sts)
Row9. Sc in next 4 sts, (5sts) fasten off. Join CC at second marker with sl st and repeat as above for second earflap.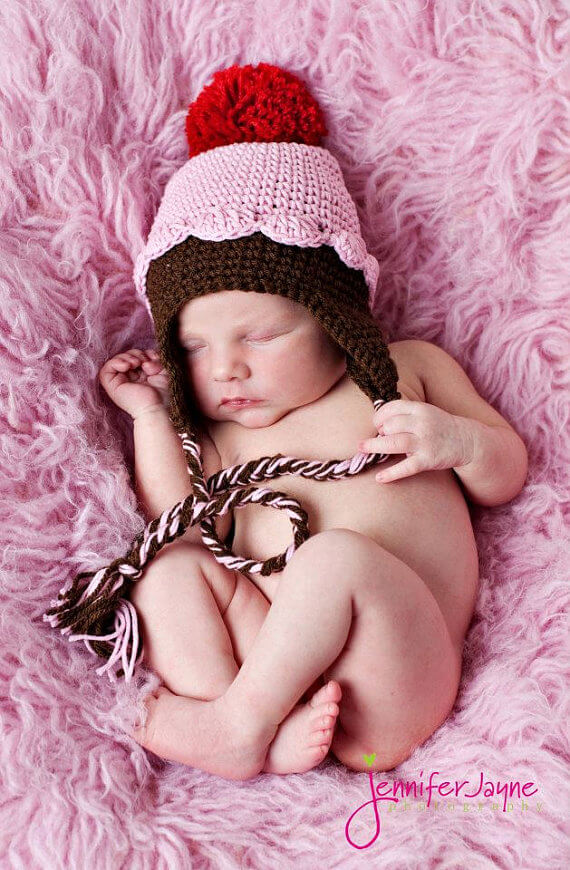 Edging:
Join CC at any st along the edging with sl st and work one round of sc around the edge, going around the earflaps. Fasten off.
Ties:
With MC, loop yarn into approximately 18-20 inch long loops as shown in the picture.
Note. Please use these pictures only as a guide.
Using a crochet hook, pull the folded side of the yarn through the center stitch at the bottom of the earflap, making a loop. Pull the free ends of the yarn through this loop and pull tight.
Divide yarn in to three parts, plaint or braid to the end, and tie a knot to finish up. One tie is made. Repeat on the other earflap to make second tie.
Pom Pom:
Make 1 pieces with Red colour .There are many way to make pom pom, choose the way you like to make.
Tutorial link.
http://poppymilkface.wordpress.com/2011/05/12/easy-craft-tutorial-yarn-pom-garland/
http://www.domestifluff.com/2008/10/how-to-make-pom-pom-flowers/
http://www.dana-made-it.com/2010/12/pom-poms-simple-tutorial.html\
Finishing
Sew pom pom to the hat as shown, using yarn tails.
Thank you.