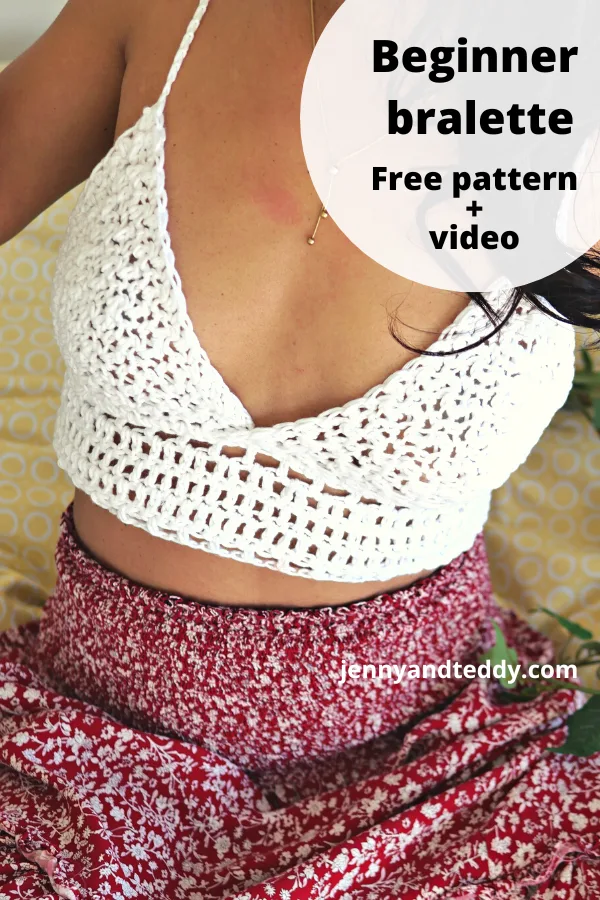 Summer is just around the corner. It's a perfect time to make a crochet bralette for yourself to wear in the summer month.
This easy crochet bralette pattern is perfect for beginners and has adjustable straps.
And you girls can make them fit any bra cup size; they also come with a complete step-by-step video tutorial.
This simple bralette top-free pattern can be your first crochet garment ( They are seriously-super easy and quick).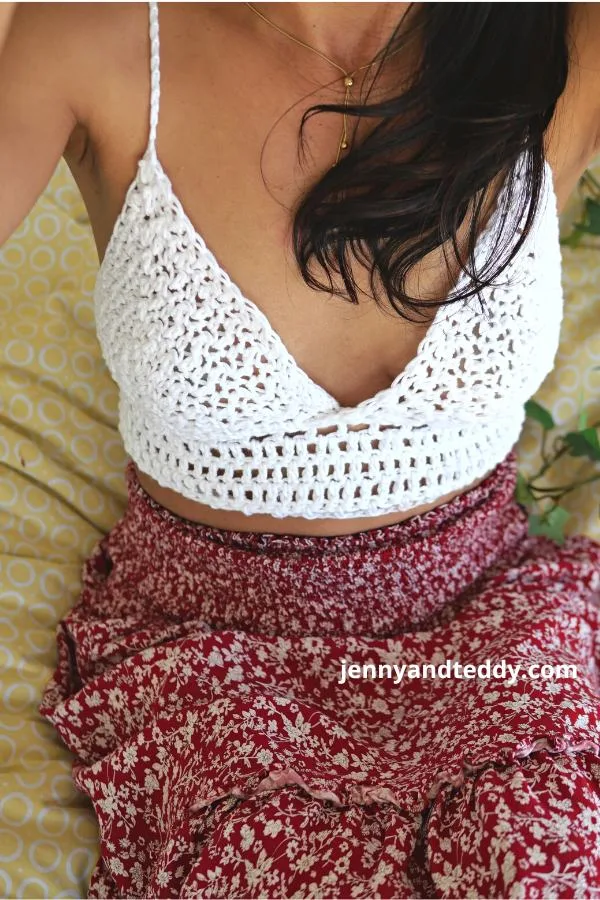 Beginner-friendly crochet bralette top.
This crochet bra top is effortless, and all you need is basic crochet stitches like single crochet and double crochet that you are most familiar with.
I made this crochet bralette with 100 percent cotton yarn, so they are comfy and breathable in the hot, humid weather.
Make this cute crochet bralette top in any size.
You girl can make them in any bra cup size; they are made by measuring.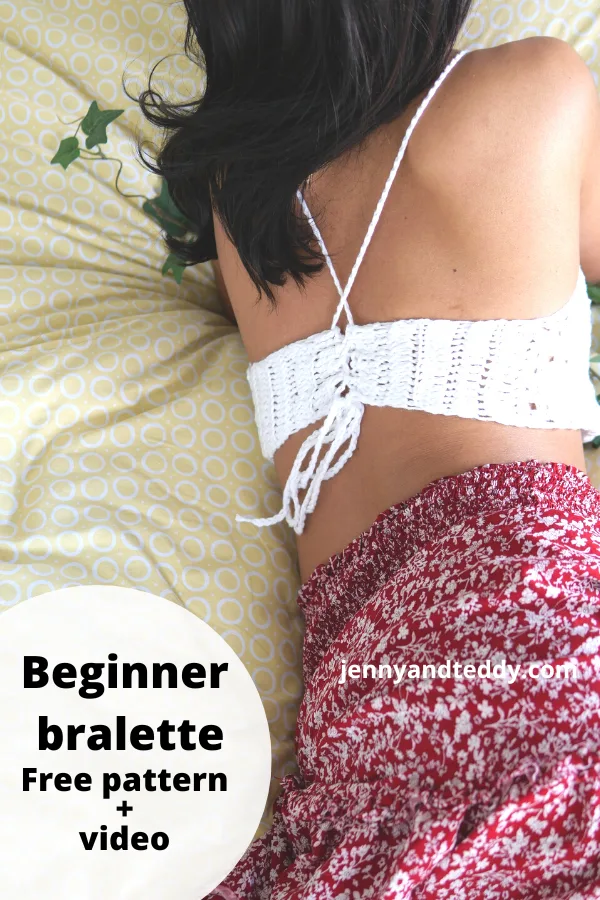 What is the best yarn to make this crochet bralette pattern?
Well, in this pattern and tutorial, you can use any DK weight yarn/3 light that will work just fine.
For example piece, I use 100% cotton yarn in DK weight yarn from Hobbii yarn called Rainbow.
Want more free crochet patterns for bralettes?
Let's get into the beginner bralette pattern, shall we?
Material.
I used DK weight yarn / 3 light around 500 yards. For example piece is a size small from bust size 32-34 inches.
Skill and abbreviations
you will need to know how to make (American crochet term)
sc which means single crochet
hdc which means half double crochet
Blo which means crochet in the back loop only
dc which means double crochet
ch Chain
slip knot
sk means skip stitch
Finished Size Approximately:
This example crochet beginner bralette is made to fit sizes small to medium.
For me, the model wearing this piece, I am 4'9 feet tall, bust of 32 inches.
In this Pattern.
You will learn how to crochet bralette cups that are perfectly fit for your size.
How to join two bra cups to create a bralette top.
We will start crocheting two bra cups, then join them, add the bottom part, and then the back panel.
How to crochet a bralette video tutorial for beginners.
Make bra cup make 2.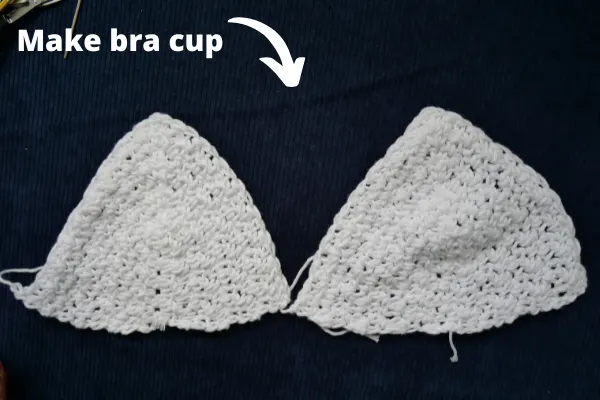 The first start makes a bra cup by measuring your breast from the bottom part of your cup to the height of your nipples.
For example, mine got 3 inches then we will chain the number that will match the length of your measurement.
Mine is 3 inches so I make 12 chains for the foundation. (example size fits small to medium)
See the detail on the video tutorial in the pattern construction part.
Start with ch 12 (cup a-b) (14 cup c,16 cup d) Make the cup.
Round 1: *sc in the first ch or stitch from hook then dc in next ch or stitch * repeat this * to * across. In the last chain, you will make (sc, dc, sc) all in the same chain.
Now we are on the back side of the chain you will make * dc in first st then sc in next* repeat this * to * down the row. Ch1, turn your work.
Round 2: repeat round 1 until you reach your desired width and height for your cup.
Repeat the same process for the second cup.
After we got 2 pieces of the cup we will join them together.
Join 2 bra cups.
Now we will join 2 bra cups together by laying them flatted then overlapping the edge then putting a stitch marker to secure the position. See the video tutorial.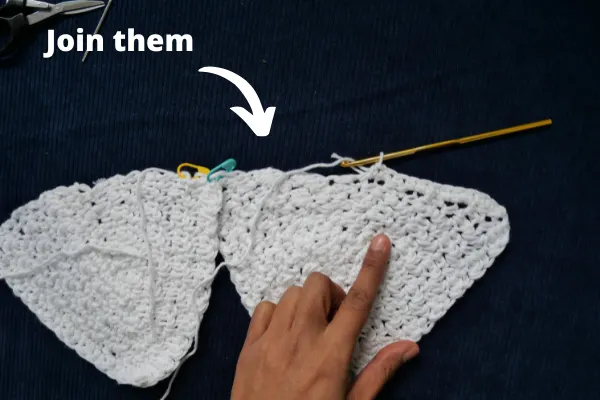 Make the bottom part.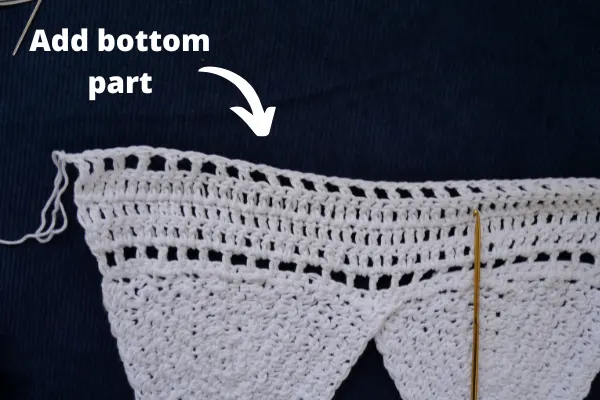 After we join 2 cups already finished then we will add the bottom part of the bralette by.
Join new yarn.
Row1. make sc in each stitch across. chain 2 turn
Row2. make *dc,ch1,skip1 st, then dc in next st* repeat this * to * across. ch2 and turn.
Row3. make dc in each st across. ch2 and turn.
Row4-5. make dc in each st across. ch2 and turn.
Row6. make *dc,ch1,skip1 st, then dc in next st* repeat this * to * across. ch2 and turn.
Add back panel.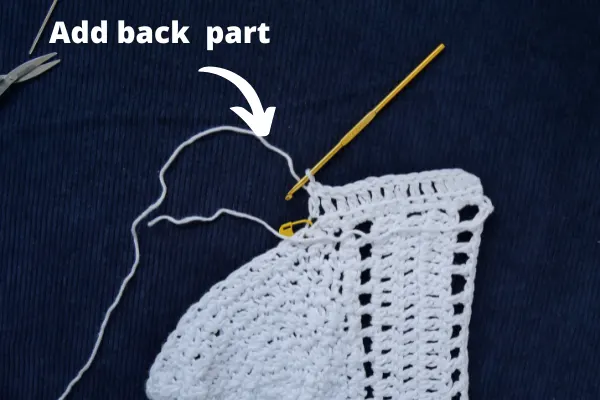 Now we are going to add a back panel to each side of the bra cup edge.
By joining the new yarn then start to crochet sc in each stitch across at the end of the row chain then chain 1 and turn.
Then repeat to make dc in each stitch across in back loop only row after row until get to your desired length then fasten off.
Add a tie strap.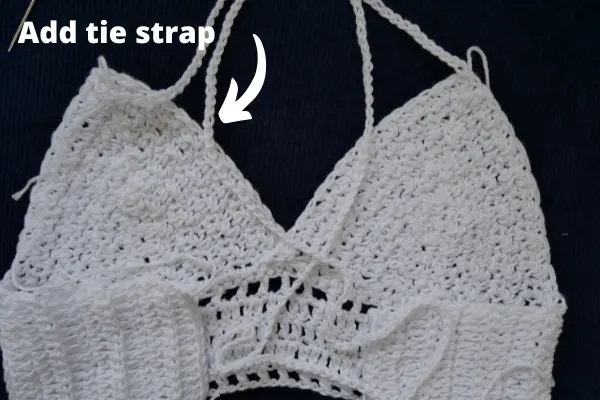 make a tie by simply making a chain in any number you like that is long enough to reach your neck and back.
All done.
Happy crocheting.