Meet the easiest crochet V neck summer top for beginners!
Hi everyone! Say hello to June! June is a raining season and some day sometime in between is wet , hot and cold.
So am looking for something to make myself that I can actually wear often and cool at the same time.
Here they are Boho chic crochet easy crop top with the feature easy V neck style , the V neck you can adjust to be a deep V neck or a short V by add more or less wooden button.
The free crochet V neck crop top come with step by step video tutorial on youtube as well for you girl.
This crochet crop top is adapt from White hippie boho mini dress. This top is made from just 4 pieces of rectangles and made with 100% cotton yarn.
If you love this boho style top , you will also love this easy crochet deep v neck boho top as well.
Shall we get into the how to made them shall we?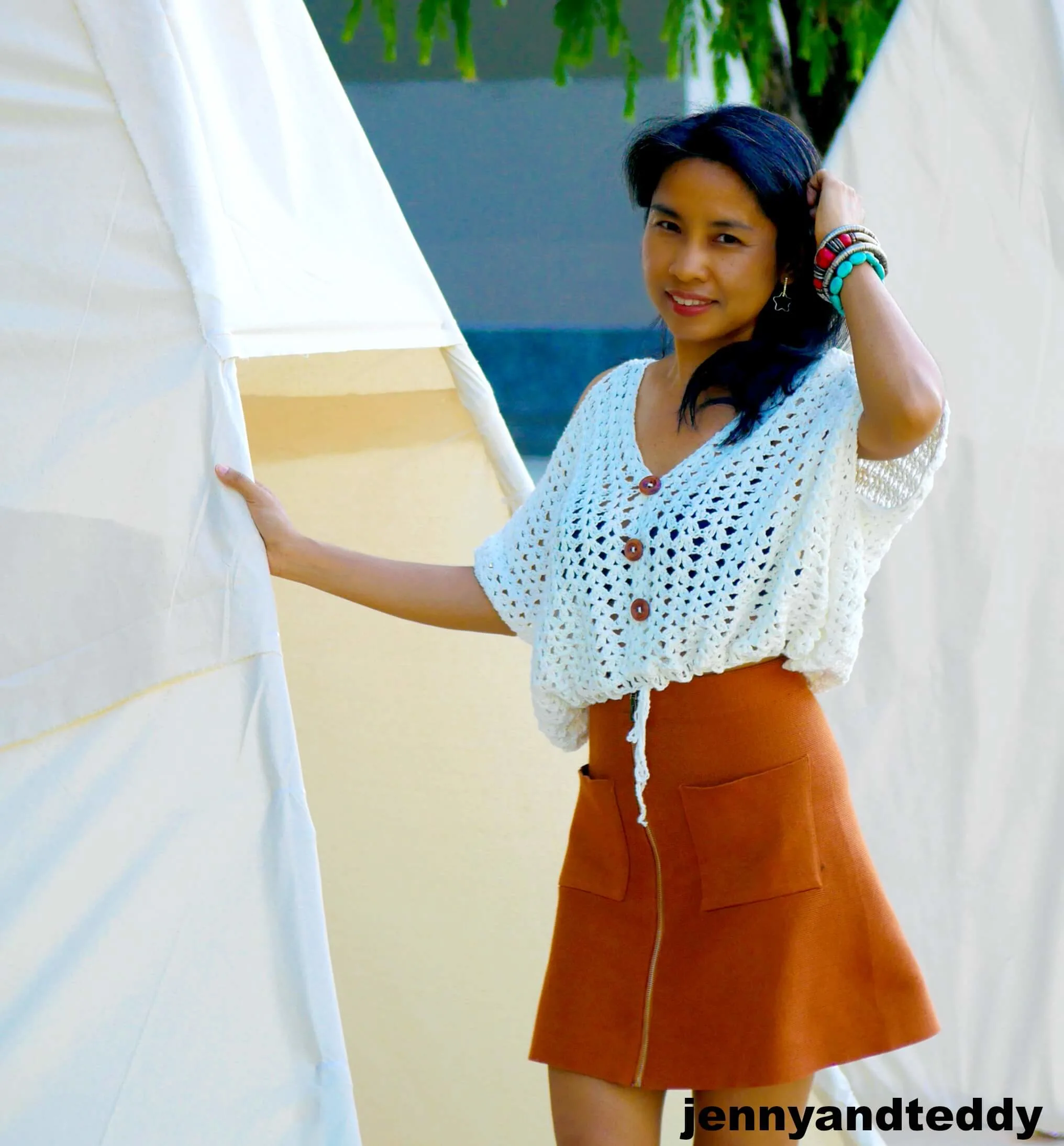 Let's get start!
– I used DK weight yarn cotton. I use around 700 yard. ( size s to m)
– 4.0 mm crochet hook or B/1 US hook size
– Sewing yarn needle
-stitch marker 3 pieces
-wooden button 3 pieces
I use cotton yarn for this project.
Gauge: 2 group of fancy lace stitch = 2.5 inch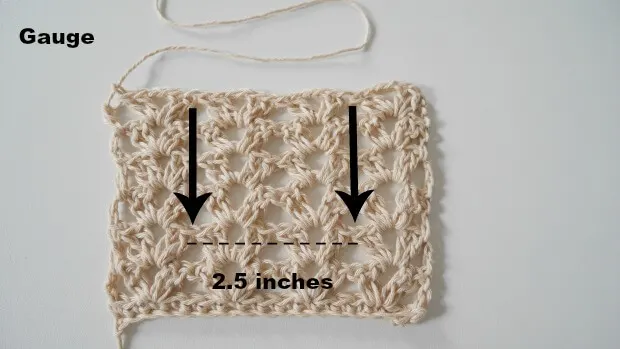 Skill and abbreviations
You will need to know how to make (American crochet term)
-sc which mean single crochet
-dc which mean double crochet
-ch Chain
-slip knot
-sk mean skip stitch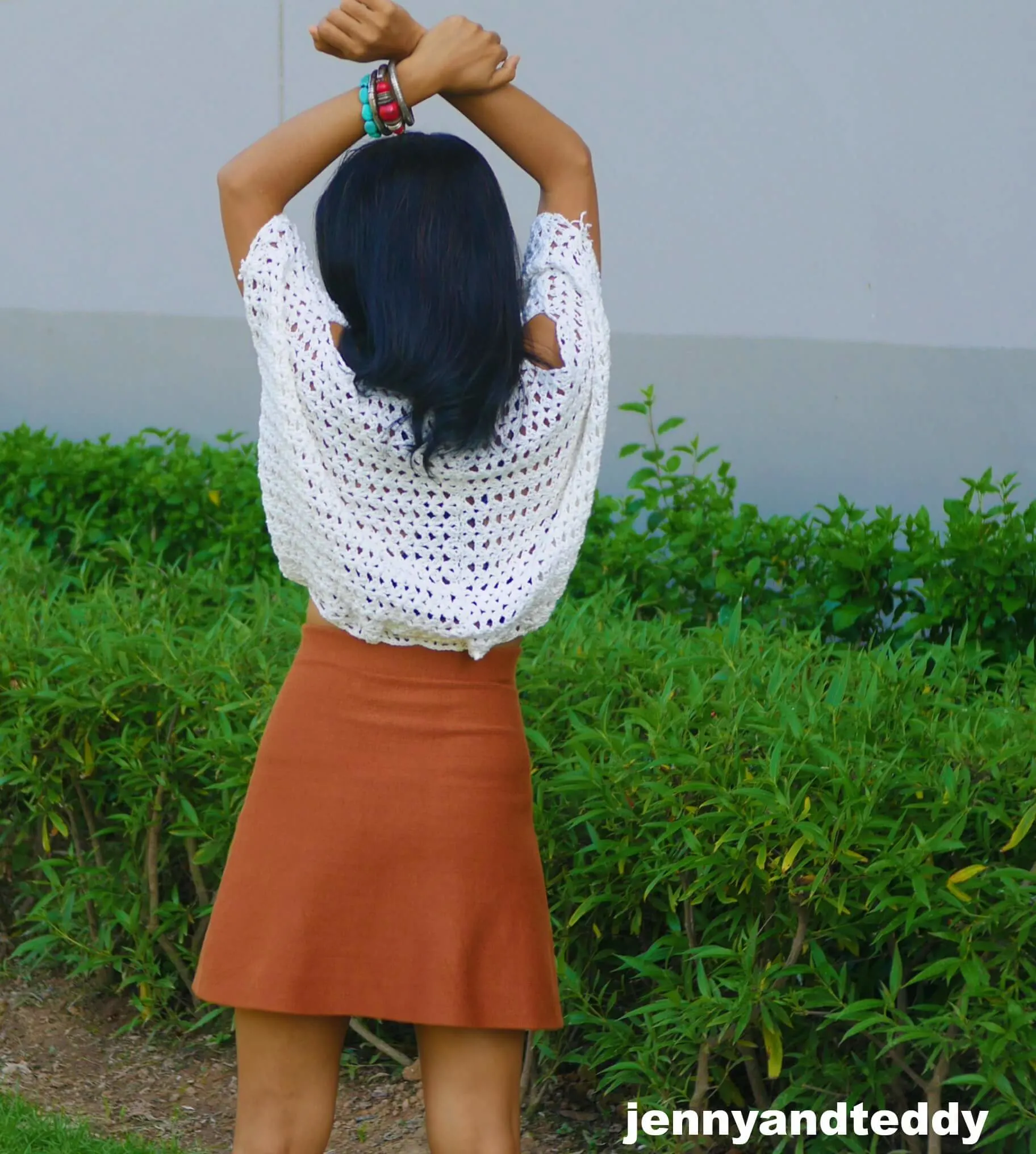 Finished Size Approximately:
For me the model wearing this piece, I am 4'9 feet tall.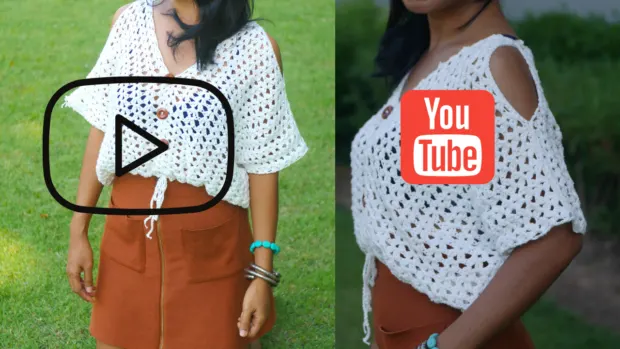 Boho chic crochet V neck crop top instruction.
make 4 pieces.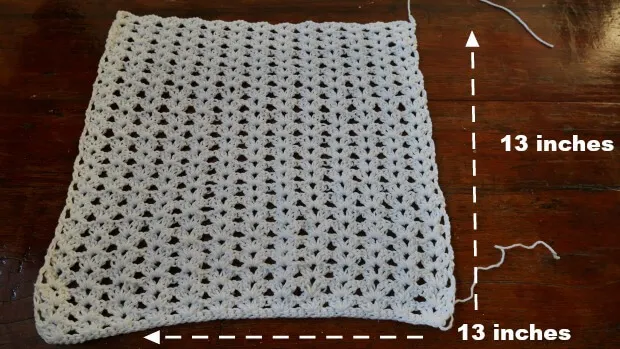 The measurement of one rectangle.
-13 inches long
-13 inches wide
Pick up crochet hook size 4.0 mm and Start of by making a slip knot Then make 52+2= 54chains for size small and medium (foundation chain multiple of 4+2).
( size L 72+2 chain) , ( size XL 92+2 chain) and ( size 2XL 112+2 chain).
Row 1: Sc across, ch 3, turn.
Row 2: then skip the first stitch and make 2dc,ch2,2dc all in the same of the next stitch , then
* skip 3 and make 2dc, ch2,2dc all in next stitch* repeat * to * across until end of the row, then you will have 2 stitch left sk1 and make 1dc in last stitch. ch3 and turn.
Row3. now you will make * 2dc,ch2,2dc in the chain space of the previous row* repeat * to * across until end of the row. at the end make 1dc in ch3 space of the previous row. ch3 and turn.
Repeat row 3 until you get around 13 inches long.
Repeat the same process for the another 3 pieces.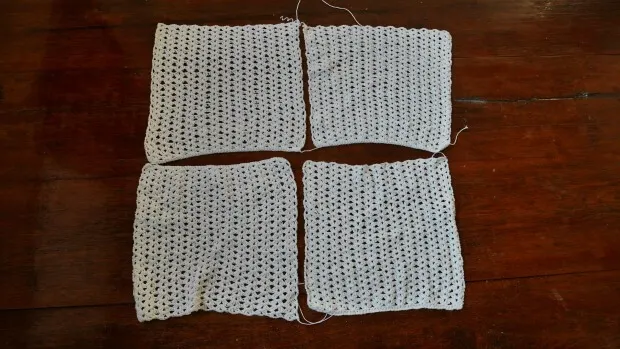 Assembly.
Now you have 4 pieces then we will ready to assembly the back panel of the crop top.
Front panel.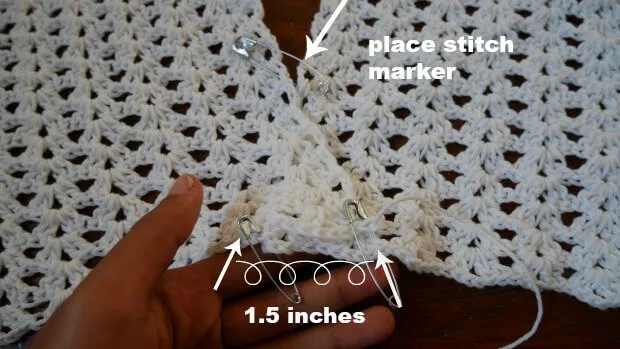 Lay 2 pieces of rectangles in flatted and collapse each end about 1.5 inches like in the pic above and place stitch marker to fixed to position. Now we will sewing by using yarn needle to connect 2 pieces together.
Now lay back panel in flatted and lay front panel on top of back panel.
Now sc around the bottom edge of crop top for 1 round.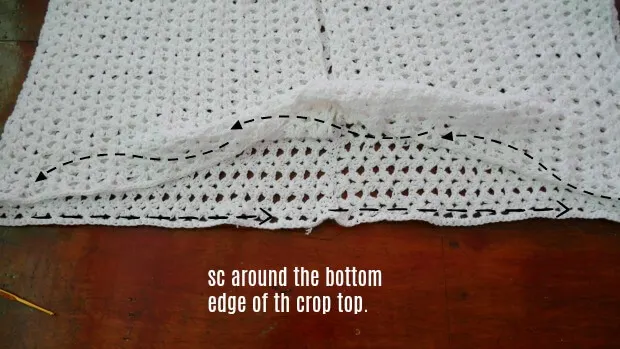 After sc for 1 round then for the next round made * dc, ch1 skip1 dc in next st* repeat this* to * around.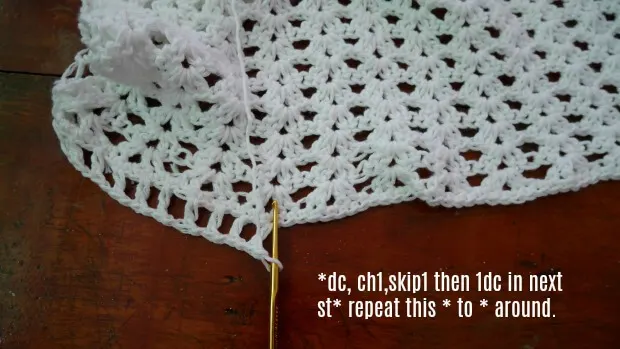 Then add some wooden button.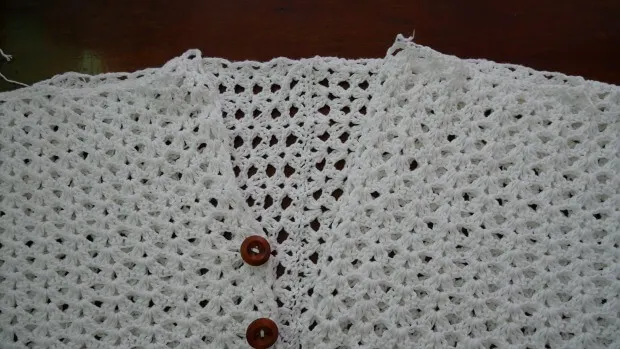 Tie.
To make the tie chain the number that will fit around your waist for me I chain 150 chain.
All done!
Happy crocheting!
How you guys enjoy it as much as I do.
If you make one I would love to see your creation tag me on Instagram!