This very easy crochet triangle scarf/shawl is perfect for beginner. If you are a novoice crocheter and want to move up from making a crochet discloth this simple crochet triangle scarf free pattern with full step video tutorial is waiting for you to try your hand on..
Perfect for cover up you cold shoulder with style.
Beginner friendly triangle scarf.
All you need to make this beautiful rich texture crochet triangle scarf is single and double crochet stitch.
And use only 1 row repeat.
Easy to make in bigger or smaller size shawl.
This pattern is made for all beginners outhere and also very easy to adjust the size to be bigger or smaller scarf by simply add more row to the triangle scarf.
One skein crochet triangle scarf & what yarn to pick for this project.
This scarf/shawl is only use 1 skein of yarn cake and it's DK weight yarn, You can substitute with any yarn cake that u have oh hand for any kind of fiber content, for example.
Cotton DK weight yarn( this is pattern use cotton dk weight) is great for summer and spring time for light weight.
Wool yarn or wool blend yarn will keep you a bit warmer in the chillinh cold day.
Acrylic yarn 100% will you a light weight and varity of color.
How do you crochet a simple triangle scarf?
A triangle scarf can be crochet in many way for example for example they can be start from a magic adjustable loop and work up from center to the widest of the scarf.
For this pattern we start from makeing a chain then join the chain to create the circle and work from the circle to the widest of the scarf.
How long should a triangle shawl be?
Crochet triangle scarf we measure the length from center- back neckline top the peak of the triangle.
This can be varies depend on your desired need for the scarf.
For this scarf pattern be from 22 inch to 25 inch from center-back neckline top to the peak of the triangle.
If you like this triangle scarf You might also like this scarf too.
Let's get start!
– I usedcotton DK weight yarn 600 yard including tassel.
– 5.0 mm crochet hook
– Sewing yarn needle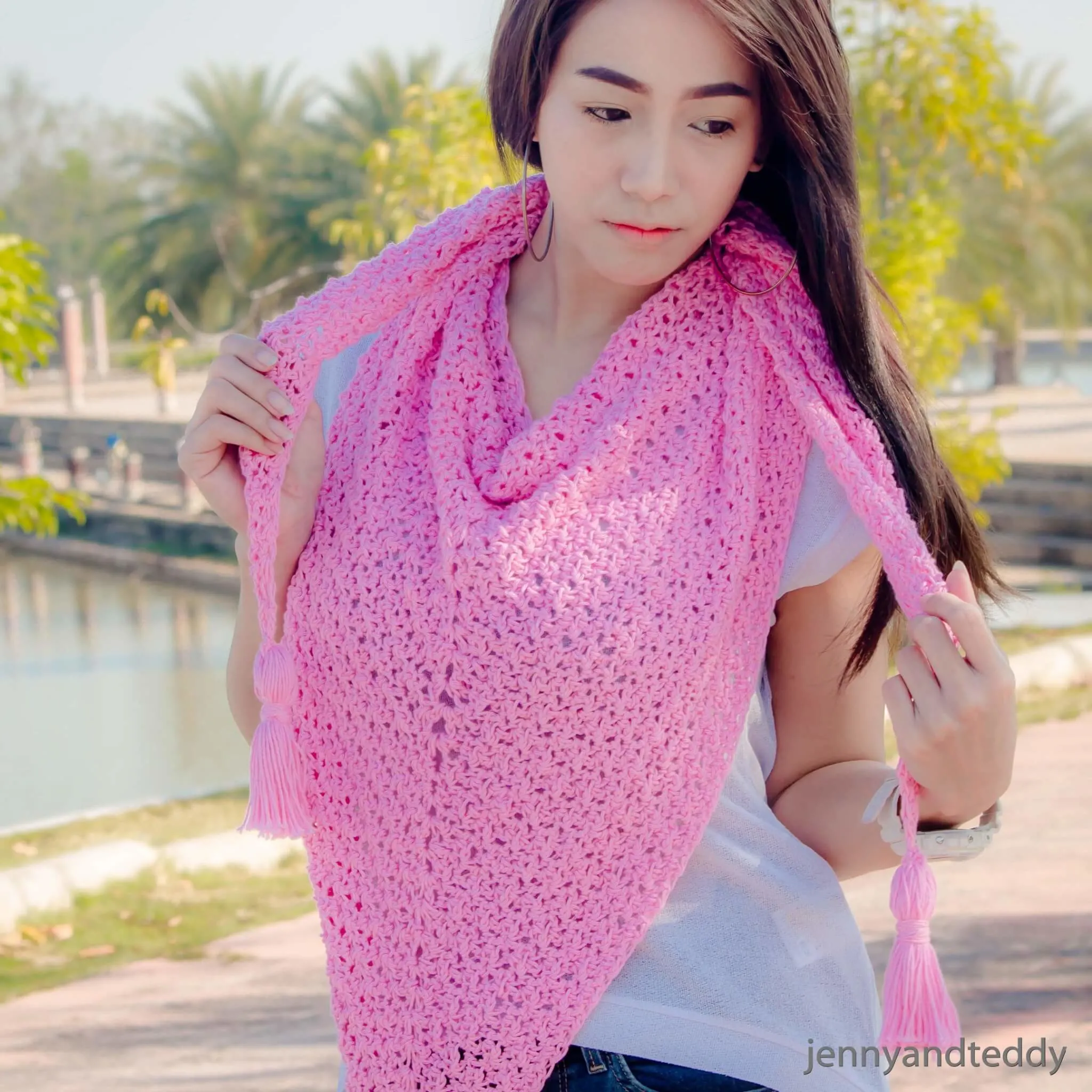 Skill and abbreviations
(American crochet terms)
You will need to know how to make
-Sl st (slip stitch)
-sc which mean single crochet
-dc which mean double crochet
-ch, Chain
-slip knot
Finished Size Approximately: one size fit all adult
Measurement.
-68 inches wide.
-25 inches deep.
Simple triangle scarf crochet pattern instruction.
Start of by making a slip knot Then make 5 chains and slip stitch to join end to form the circle.
Row1. ch2, (count as first dc stitch), 2 dc into the circle, ch2, 3dc into the circle.
Row2. ch2, (count as first dc stitch), turn. 2dc into the first space, sc in next st, dc in next st, ( in the middle space make 1sc,1dc, ch2, 1sc,1dc ), then sc in next st, dc in next st. Now we onto last space of the row ( the chain2 from previous row) make 3 dc.
Row3 and beyond. Repeat row 2 for the rest of the pattern ( working 1sc,1dc, ch2, 1sc,1dc in the middle space) and Fasten off .
Video tutorial.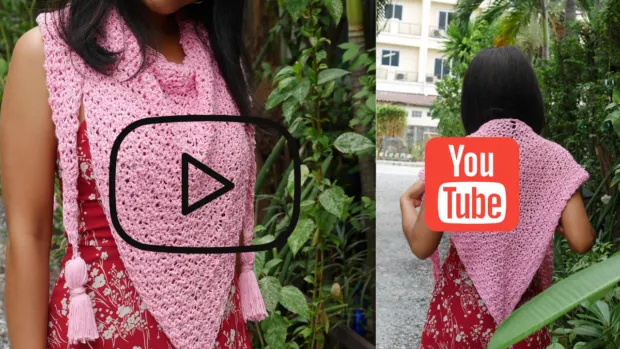 Photo for this easy crochet triangle scarf/shawl tutorial.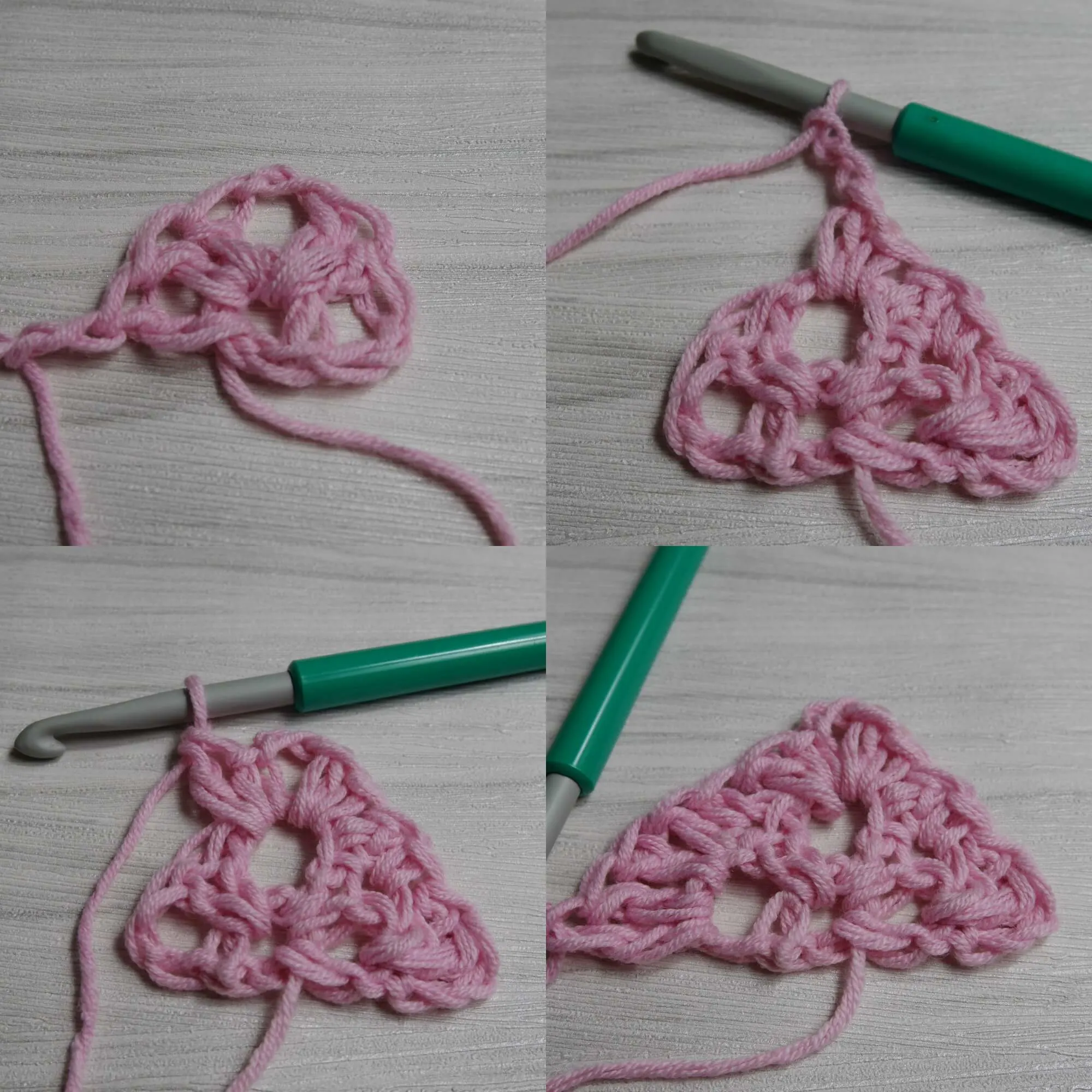 Finishing
Weave in all ends with yarn needle. Then add some pom pom or tassels for decorate.
If you make one I would love to see your creation tag me on Instagram! would love to see your creation.
Happy crocheting.