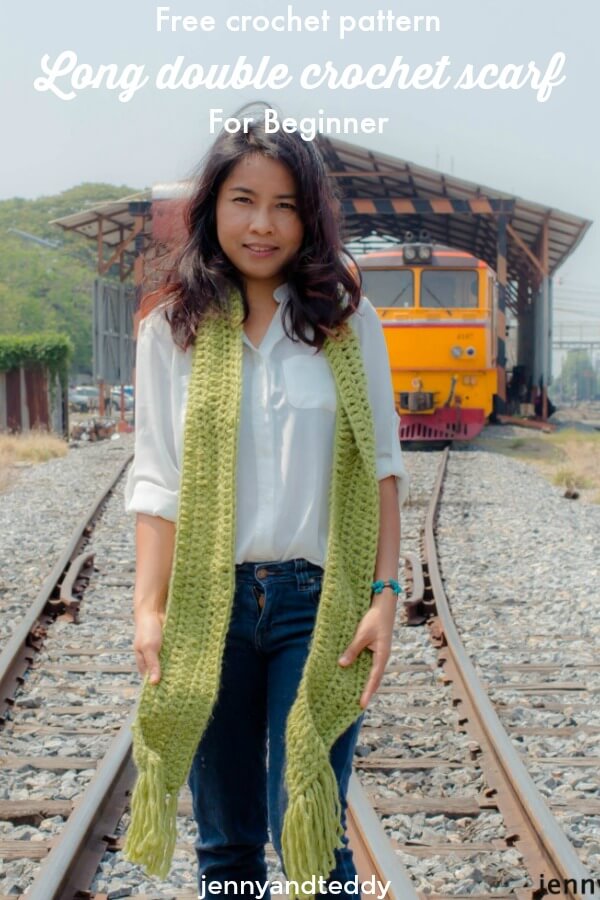 I really have no idea how I've been crocheting this long and never tackled a double crochet scarf pattern. I mean, crocheting and scarves are like the peanut butter and jelly of the craft world, right?!
Anyway, I am super excited, because my first attempt to make a simple scarf with fringe on the end turned out beautifully! Take a look at it from our fun photo shoot from the train yard!
I used a super bulky yarn to give the scarf great texture and make it a breeze to whip up. The extra thickness of the yarn combined with the double crochet stitch makes this easy crochet pattern so quick to finish!
You can use any color yarn you want, but I love using something that brings a pop of color to my wardrobe.
Just be sure that you get enough skeins, because when you're crocheting a long scarf in a double crochet stitch like this it can really eat through the yarn.
You can also make the scarf as long as you want, so it's totally customizable. I made mine 150 chains using a 6mm crochet hook and that gave me a lot of length, but you can make it longer (or shorter!).
I did 5 double crochet rows for the width, but again, you can make it wider or more narrow depending on your taste. The fringe is an easy touch and I think it finishes off the scarf nicely.
As with all of my crochet patterns, this one is great for a beginner. It uses basic stitches, so if you're just learning how to crochet it's an easy, straight pattern to work with.
Sometimes if I'm working on my stitch gauge, I crochet in straight lines like this anyway, so now I can turn it into a scarf!
Gauge: 4 double crochet stitches x 4 rows = 2 square inch
Let's get start!
– I used 100% acrylic Bernat Softee Chunky yarn or wool blend yarn , I personally like Wool-Ease Thick & Quick Solids from Lion Brand .
– 6 mm crochet hook or J/10 US hook size
– Sewing yarn needle
Skill and abbreviations
You will need to know how to make a magic ring or adjustable ring
-Sl st (slip knot)
-dc which mean-double crochet
-ch, Chain
This pattern is made for beginners! There is a basic skill level required to make the hat design.
Start with slip knot then crochet 150 chains.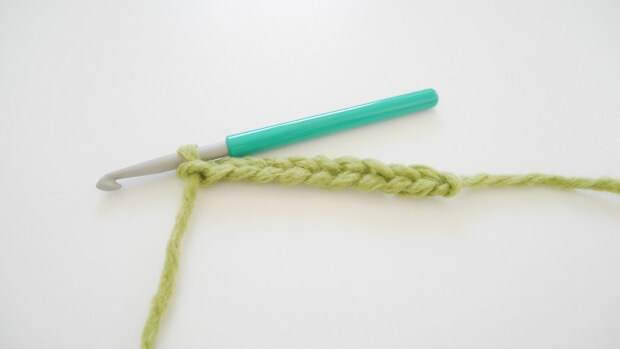 Row1. crochet 1dc in each of the next 149 chain from hook, ch1 turn (150)
Row2-4. crochet 1dc in each of the next 149 stitches from hook , ch1 turn (150)
Row5. crochet 1dc in each of the next 149 stitches from hook , ch1 turn (150) Fasten off.
To add Fringe: Cut 10″ [25 cm] lengths of yarn. Taking 2 strands together, fold strands in half and Insert the crochet hook into the spaces. Hook the crochet hook at the center of the folded s and pull through.Then Trim fringe.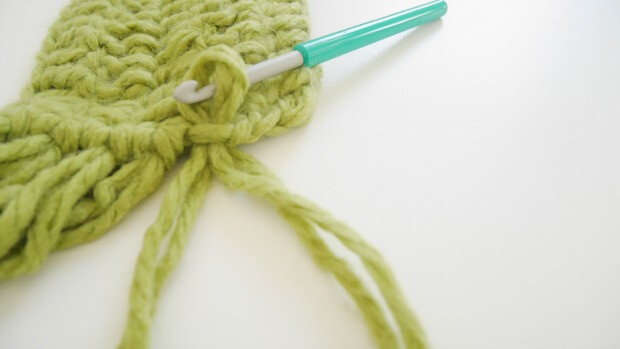 If you make a scarf, take a picture and share it with me on Instagram or Facebook!! I'd love to see your creation!
Happy crocheting, friends!