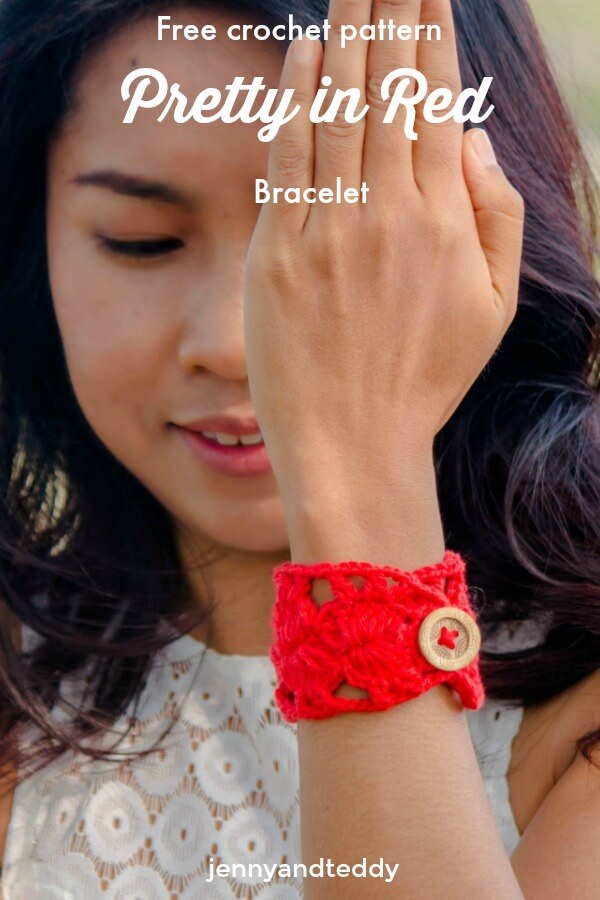 The other day I saw a woman wearing this adorable cuff bracelet with tons of buttons on it. It was so colorful and cute that I immediately decided I needed to make my own version of it to share with all of you. Hence, the pretty in red bracelet easy crochet free pattern for beginners was born!
Now, on this example bracelet, I just used one button, but I have a few more that I whipped up where I added a ton of buttons to make them more decorative.
I figured it was easier to show you how to do the pattern with only a limited number of buttons, so that it doesn't look so overwhelming. Because, really, this is one of the easiest patterns ever for beginners!
The simple stitch makes it the perfect crochet accessory to start with and, if you're a bit more advanced, you can always jazz it up with a few texture stitches. The important thing to remember is that if you make a mistake, you can always take out the stitches and try again.
As with most of my summer patterns, I decided to use cotton yarn for this bracelet since it's hot here and I didn't want the synthetic yarn chafing my wrist. The red cotton yarn is so pretty and colorful anyway, that it looks great when it's turned into a summer crochet accessory!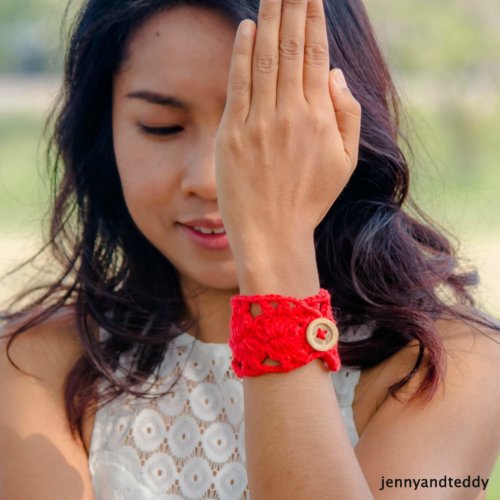 As I mentioned, you can add one button, two buttons, or a ton of buttons if you choose to do so. Just keep in mind that the more buttons you add, the heavier the bracelet will be on your wrist. I also like adding different size buttons that are all within the same color family. I'm finding that it really adds some visual texture to the bracelet that makes it eye-catching. Everyone comments on it!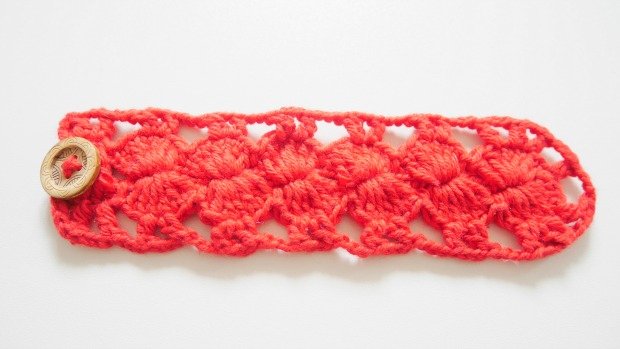 Skill and abbreviations
You will need to know how to make
-Magic ring
-sc which mean-single crochet
-dc which mean double crochet
-ch, Chain
-sl st which mean slip stitch
This pattern is made for beginners! There is a basic skill level required to make the design.
Let's get start!
– I used Lion brand 24/7 cotton
– 3.50mm crochet hook or E/4 US hook size
– Sewing yarn needle
Grab your 3.5 mm crochet hook make a slip knot then 41 chains.
Round1. Sl st in next stitch from hook then * ch2, skip 2 chains, in the next chain make sl st*
Repeat from * to * until the end of this round
Round2. *6dc in space then skip 1space and sl st in next* repeat from * to * until the end of this round.
Round3. *ch3, then 1dc in the 3rd stitch of the shell, then ch3, make 1dc in the 4 th stitch of the shell and repeat from * around. Fasten off leave long tail for sewing and attach button.
I'd love to see how your button bracelet turns out! If you make one, tag me on social media and let me know! Here's to your continued crocheting success!