Meet the easiest crochet V- Neck crop top pattern ever! This cute pretty little thing crop top for summer is here for you girls to enjoy the sun , sea and sand.
I love to making a crochet crop top because they are so so quick to make and easy to wear.
This cute pretty little thing made from 2 simple crochet triangle that will create easy V-Neck style crochett crop top , you can make then in just one afternoon and use not much yarn at all with the very basic crochet stitch mostly double crochet which is beginner friendly.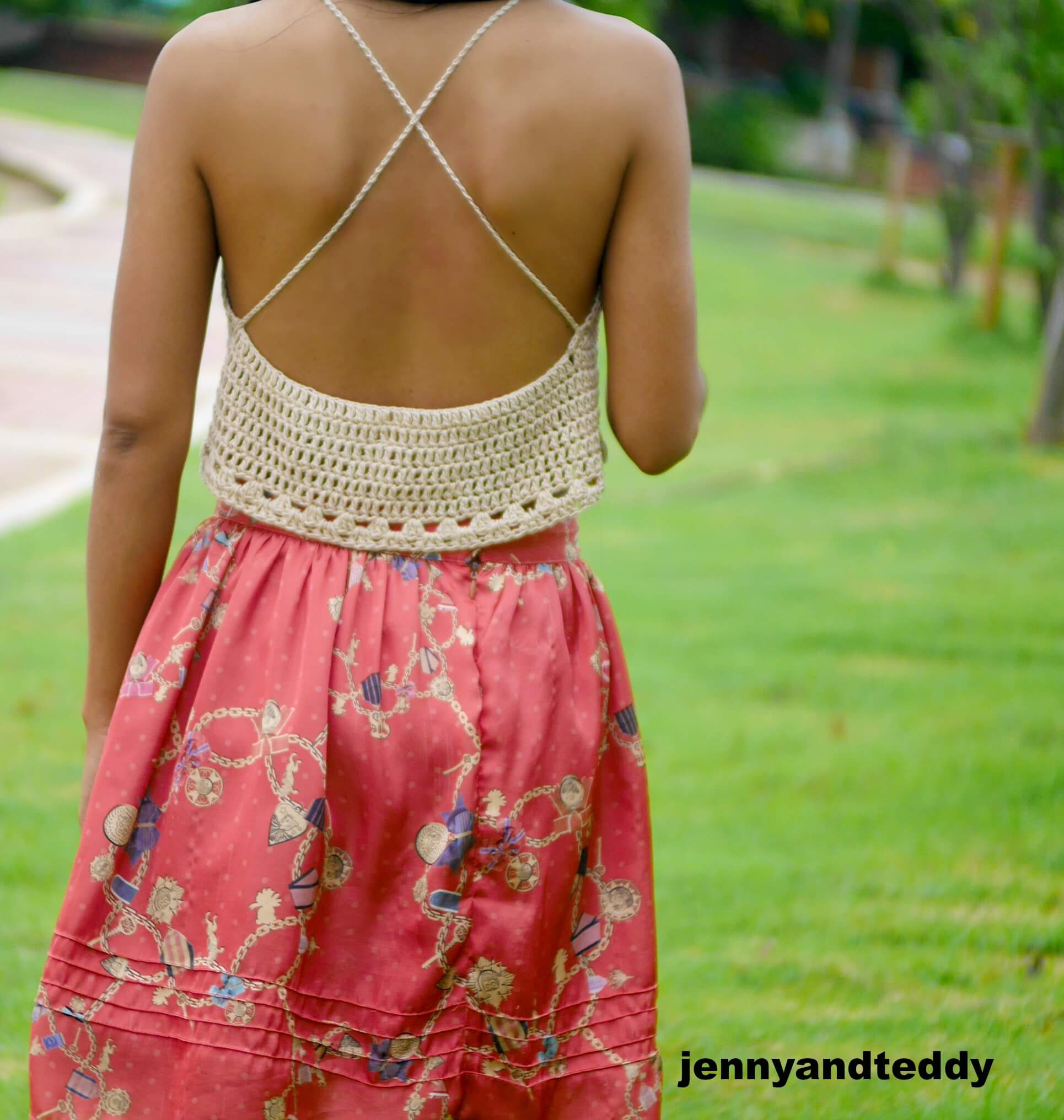 How much yarn do you need for this easy and cute crochet v neck crop top?
I use less than 500 yard to fit size small to medium.
So if you are a beginner this is the project that you might love it!
This free crochet v neck crop top pattern is include step by step video tutorial.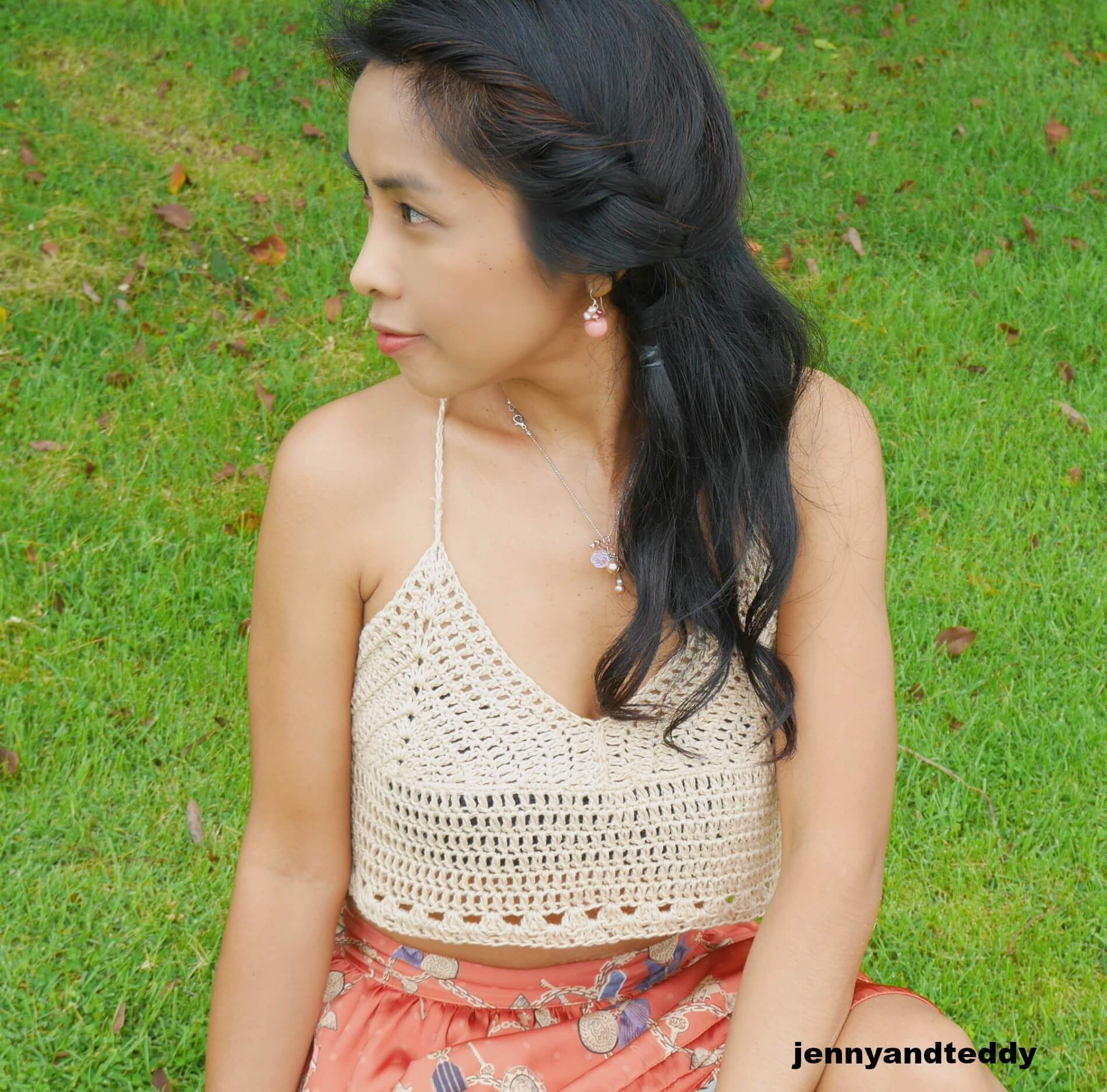 This crochet crop top could be matching with any skirt or even a bikini bottom.
It's made with cotton DK weight yarn , so it will be very comfortable and nice feeling to wear.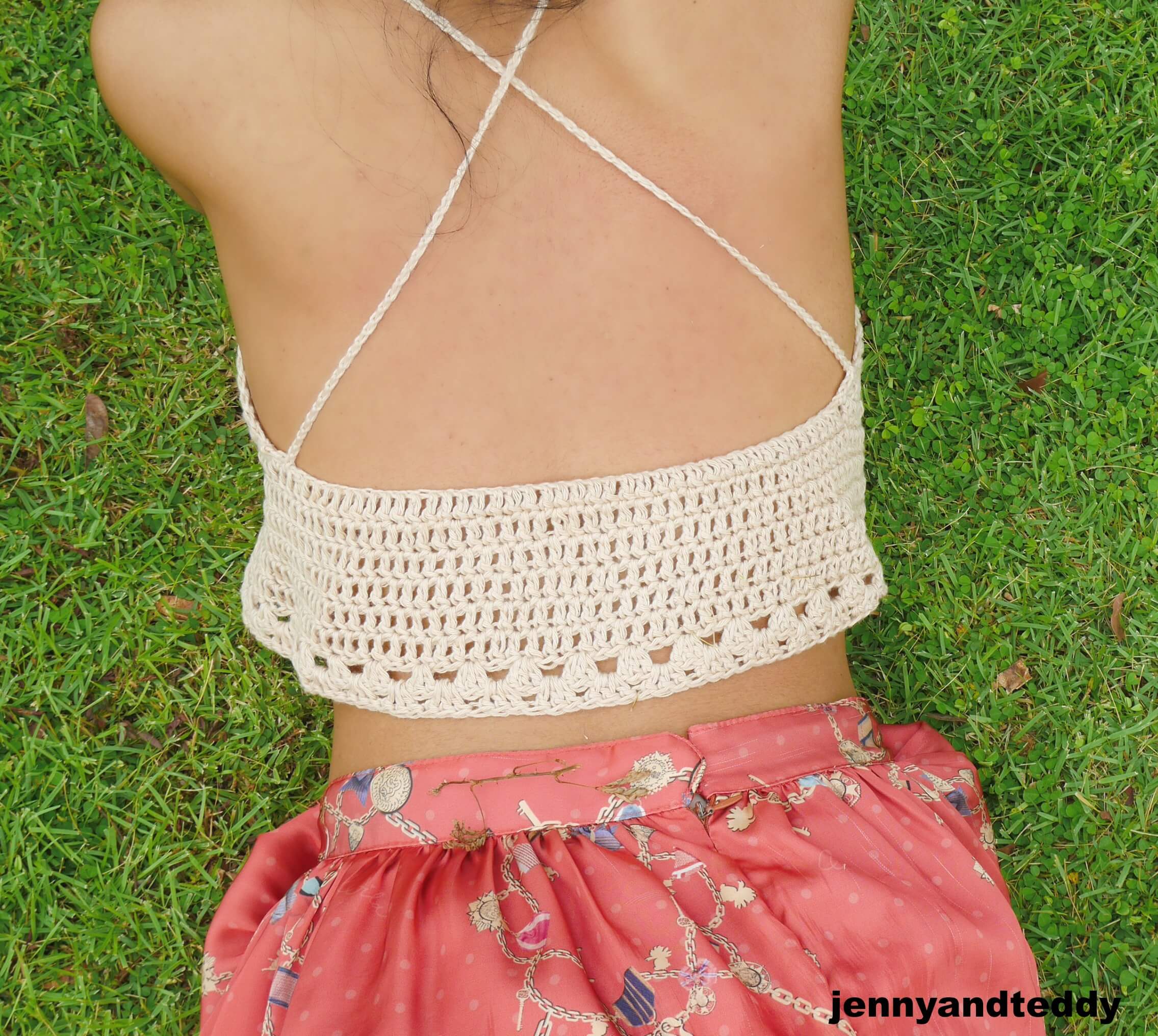 Gauge: 4 double crochet stitches x 4 rows = 1 square inch
Let's get start!
– I used cotton DK weight yarn. I use around 400- 500 yard.
for example Lion brand coboo yarn
– 3.5 mm crochet hook
– Sewing yarn needle
-stitch marker
Skill and abbreviations
You will need to know how to make (American crochet term)
-Sl st (slip stitch)
-dc which mean double crochet
-sc which mean single crochet
-ch Chain
-slip knot
Video tutorial.
Finished Size Approximately:
This top is made in size small. the other sizes M,L, XL,2XL or more just add more row to the triangle to make it bigger for the cup and add more chain to wrap around your chest. see pattern below.
For me the model wearing this piece, I am 4'9 feet tall.
Measurement.
the cup
-9.5 inches long
-5-5.5 inches high
Pretty little thing crochet crop top instruction.
( Making the cup first 2 pieces)
Start of by making a slip knot Then make 5 chains and slip stitch to join end to form the circle.
Row1. ch2, (count as first dc stitch), 2 dc into the circle, ch2, 3dc into the circle.
Row2. ch2 , (count as first dc stitch), turn. 1dc into the first st ( pic 2), make 1dc in each of the next st until at the middle point ch space, ( in the middle ch space make 2dc, ch2, 2dc ) (pic 3 and 4), then 1dc in each of the next st, Now we onto last st of the row ( the chain2 from previous row) make 2dc.
Row3 and beyond. repeat row 2. until you measure the cup at 5 inches height and 9.5 inches long.
After you get 2 pieces of the cup. Time to join the middle part of the cup together use yarn needle with your favorite method. I use whip stitch.
Time to Connecting 2 Cups together.
Lay 2 cups flatted together and start the new joined at the bottom of the corner of 1st cup then make sc or 2 sc in each space along the bottom of 2 cups.
when you reach the end of second cup , you will chain about 42 chain for size small ( the chain that you will make will have to fit your under bust size ) and join the chains to bottom of the other side of the cup. ( be careful do not twist the chain when you join.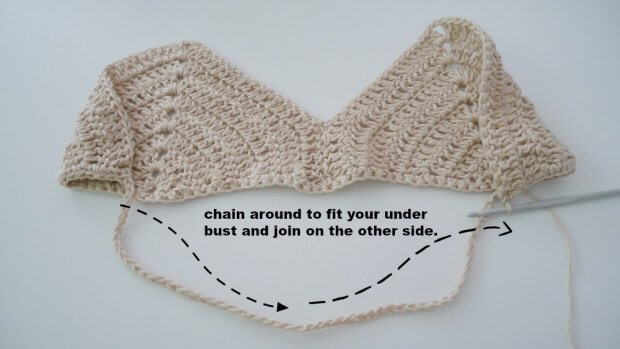 Now we are on to make body part. ( we will crochet in the circle don't join on each row)
make dc in each st along the bottom of 2 cups included the chain that we just make.
My length is about 3 inches deep because I want to make it short like a crop top.
After you get your desired length.
Time to add pretty lace at the end of the last 2 row.
Round1. Make a pretty lace , *3dc in the next stitch, skip2 st, 3dc in next st* repeat *to* and around until the end of the round. turn.
Round2. *3dc in between of the 3dc group* repeat *to* across until the end of the round. Finished off.
After round2, fasten off and weave in ends.
Then and the strap at the heights point of the 2 cups.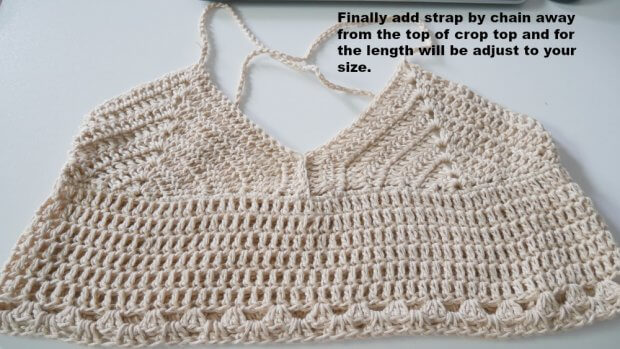 Now you guys have your own very easy crop top perfect for beach wear!
If you make one I would love to see your creation tag me on Instagram!
Happy crocheting.