This whimsical crochet beanie is my new favourite hat right now, they are made up with criss cross crochet stitch that I just learn how to do it. I love the texture that came out of it and the airy gap between the stitch so this is the perfect hat for spring and winter! To keep you warm and stylish. Basicly this beanie made from long piece of one crochet rectangle.
Let's get start!
– I used Lion brand 24/7 cotton or Lion brand wool Ease , they both will give the beautiful result.
– 3.50mm crochet hook or E/4 US hook size
– Sewing yarn needle
Skill and abbreviations
You will need to know how to make
-Sl st (slip stitch)
-dc which mean double crochet
-hdc which mean half double crochet
-sc which mean single crochet
-ch, Chain
-slip knot
This pattern is made for beginners! There is a basic skill level required to make.
Start of by making a slip knot Then make 91 chains (or the number that fit around your head perfectly)
Row1. Sc in 2nd chain from hook and in each chain across, turn
Row2. Ch 3, *skip 1 stitch, dc in next stitch, go backward to make dc in skipped stitch* repeat from * to end of row, in the last stitch make hdc ,turn
Row 3-21. Repeat row2. Fasten off and leave long tail for sewing.
Video tutorial how to criss cross crochet by the crochet crowd

Fasten off and leave long tail for joining both end.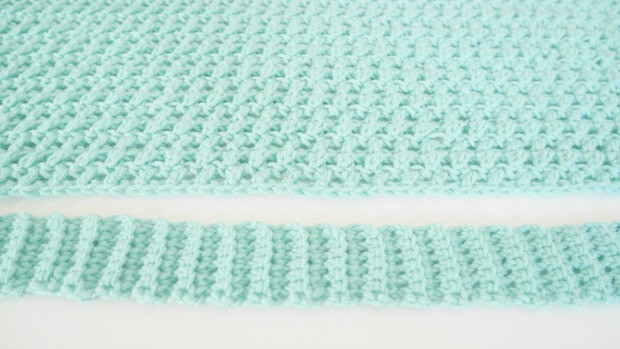 we are now on to make the band
Make band
Next make the band.
Start with making a slip knot and 8 chains
Row 1. Sc in next chain from hook and sc in each chain to end turn and chain1.
row 2. Sc in back loop only and in each stitch to end turn and chain1.
Repeat round 2 until you get the length matching the rectangle!
Attach the band and the rectangle together by single crochet.
Then connecting the short end of the rectangle by sewing using yarn needle to form the hat and close the gap at the top of the hat by weaving the tail and pulling tight to close
Here we have it your very own whimsical beanie.
If you make one I would love to see your creation tag me on Instagram or Facebook!

Happy crocheting!