Crochet coasters are another way to add some fun and funky into your kitchen accessories.
Here I brought to you 20+ free crochet coasters patterns that you can easily whip up with in no time and each of those design are perfect for beginner to enjoy.
You can also give them as a handmade gift at house warming party that everyone will love. Let's make a ton of them in your own style.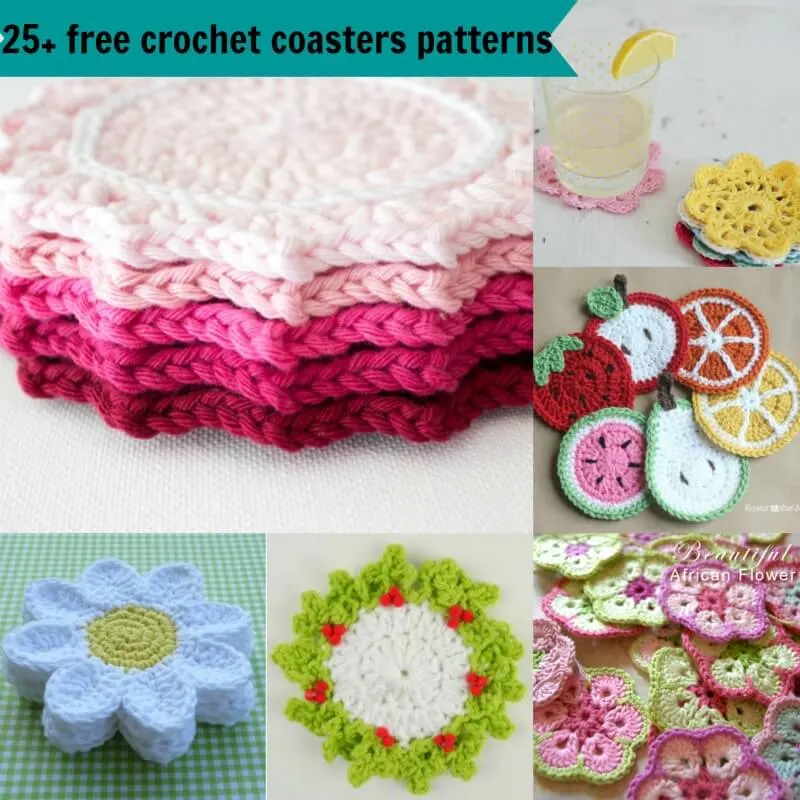 1. This fun set of coasters will add, not just a touch of color, but a wide array of color. You'll be able to set your drinks down on colourful little rainbows
after you're finished making this by Marinke at Creativebeing.
2. If you need to add a little bit of a summer feeling in your home, then this is the coaster set for you. All your guests will absolutely love these cute little
watermelon coasters, you'll be raking in compliments! watermelon coaster by Deborah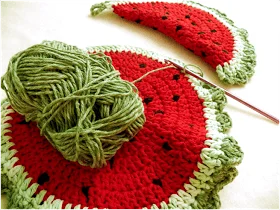 3.Just because we know that those watermelon coasters are so adorable, we're going to offer you a second set that are equally adorable.
Nothing quite says "summer time" like these lovely little fruits!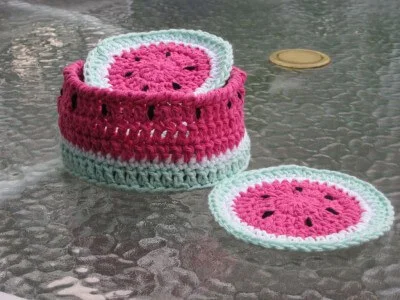 4.Maybe you aren't looking for a summer look and are hoping for something a little more spring feeling.
These colourful floral coasters will be just what you're looking for then. These flowers are sure to make your home bloom with radiance!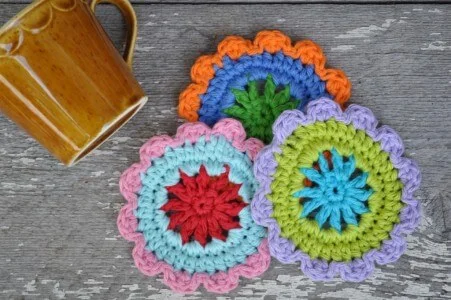 5.We gave you two summer options, so you know we've got to give you two spring options. These coasters are also floral, but this set
features a simpler pattern and bright colors that just grab your eyes. These are a must have!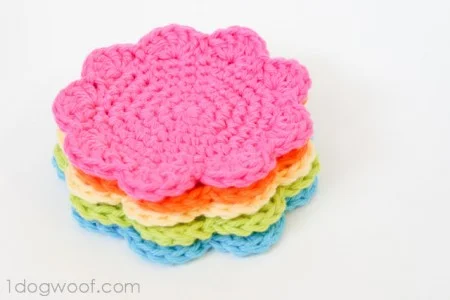 6.Can't get enough of flower coaster? Here we go, this beautiful tutorial at Molliemakes by Yvonne Eijkenduijn. I checked out her blog and have to admit that her blog is full of beautiful photo and tutorials. http://www.yvestown.com/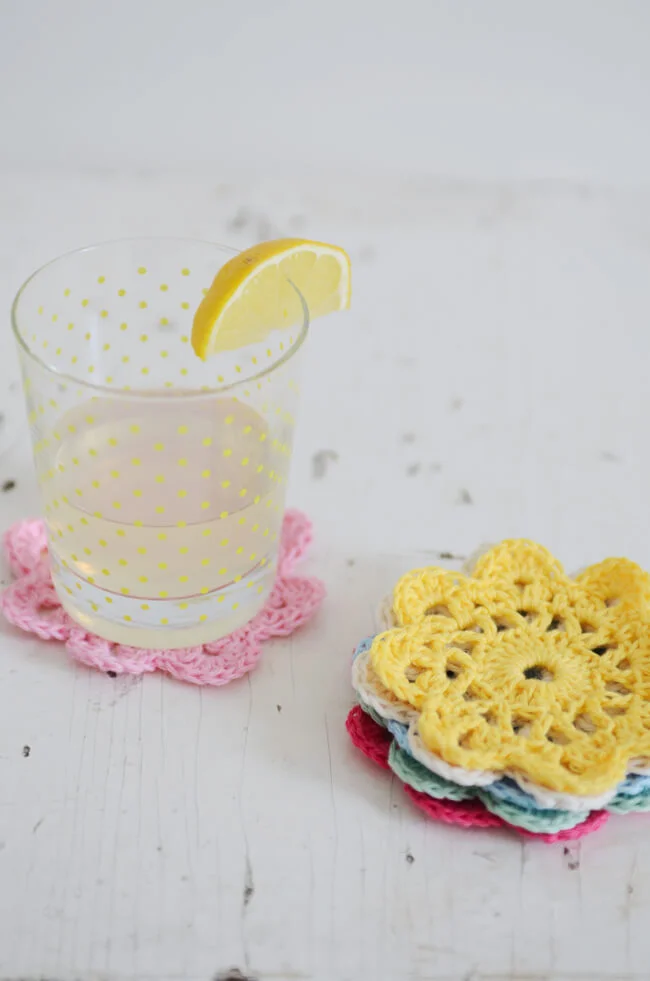 7.Moving along with a season theme, fall would like to make an appearance with these easy and simple apple coasters great for beginner. These patterns are so cute that by the time you're done making them, you'll be able to smell the apple cider!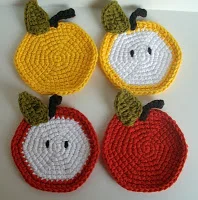 8.With fall around, you know that Thanksgiving is right around the corner. With all your friends and family in your home, you'll definitely need more coasters ready for all those drinks. You better start making these cute crochet turkeys coaster early this year!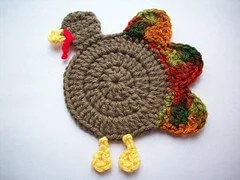 9.Sunflowers are timeless, right? These bright sunflower coasters are sure to brighten up your furniture with its cute little petals coasters.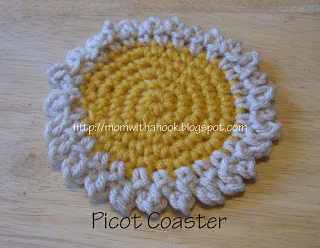 10.We admit it, we love flowers around here. This set of crochet coasters is designed like daisies, and who doesn't love those? These sweet little flowers will compliment
any décor and are a great conversation starter!
11.Everyone loves cupcakes, but sometimes we don't love the calories that they bring into our bodies. Well never fear, now you can enjoy your cupcakes in the form of
cute little cupcake coasters. They are just as cute, but not quite as tasty as the real thing.
12.This set of coasters have absolutely stunning colors, they might make you second guess the colors of your own home. That's right, now is the time to add some
crazy colors everywhere! Maybe just start small with these coasters.
13.Regardless of whether or not you like sushi, you'll love this set of sushi coasters!
These coasters feature a cute and playful design that you won't be able to resist. You'll soon love raw fish!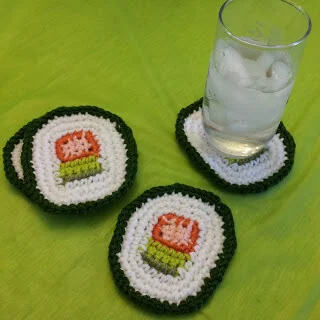 14.You're drinks will finally be able to rest upon the rainbow with these adorable coasters. With so many fun colors you'll want to use them all the time!
15.These cute little clover coasters are sure to add a dash of color to your furniture. Their golden color will look great in any room!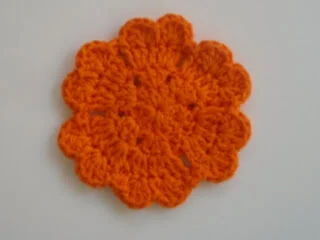 16.These coasters have a cute wheel pattern that stands out amongst all the others we've seen so far.
Their bright colors also make them catch your eye, they are winners all around!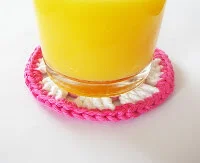 17.If you thought that we were going to skip winter, then you sure thought wrong. We've brought you these sweet little snowflakes coaster to make your home into a winter
wonderland this winter!
18.Playful stripes and playful colors, these coasters are just too cute to pass up. These would go perfectly in your kitchen, or even as a gift to your friends. But who
would want to give something this cute away?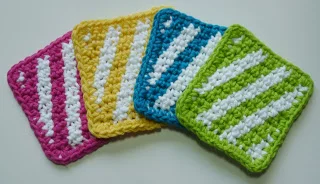 19.This Christmas spirit will be alive and well in your home with these cute wreath coasters around. Winter decorating has never been quite this fun before!
20.Want a bite of this cute and easy apple crochet coaster? I made this simple pattern is great for beginner crocheter only need single crochet to whip up.
21.This has to be one of the cutest patterns we've offered you yet. If you loved the fruity colourful crochet coaster patterns then this is a must. Soon you'll have a whole
pantry of coasters!
22.These sweet and simple flowers add a comfortable touch to your home.
Nothing says home sweet home quite like flowers on the table, now they are just coasters!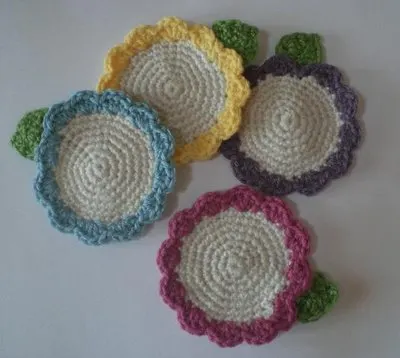 23.Maybe you aren't the kind of person who wants crazy, out there designs. Maybe you just like simple and elegant, this pattern is definitely for you.
24.These flowers are so cute and happy that you won't be able to resist them.
You might not even want to put your drinks on them because they are just too cute.
25.If those first turkeys weren't enough for you, here's a few turkeys that are a little more complex. These little guys are full of character and will look
great in your home!
Well, I hope you guys enjoy this collection of easy crochet coasters patterns.
happy crocheting!