Crochet baby Sandal and bare foot are a must have for your little one closet. I've never met someone who didn't love baby shoes. How could you not love them?
They are so tiny and cute and adorable, and they go on tiny, cute, adorable little feet! What's not so cute about baby shoes is the price though.
Never fear, we're here to keep your little darling in adorable shoes and to keep your money in your pocket!
Get ready to browse through an aww-inducing trip as we send you
browsing through the cutest crochet baby flip flops and sandals free and super easy for beginner patterns we could find!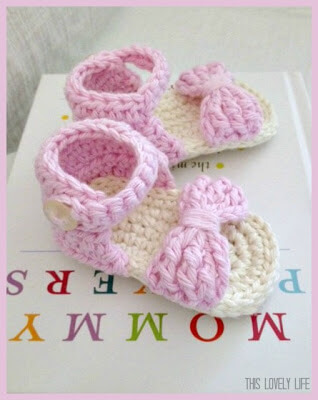 Summertime is such a great time to get your baby outside to play, and you can bet that they'll be looking amazing when they have these cute little pink bow crochet
baby girl sandals on their feet! In fact, they might be ready to walk the catwalk! http://thislovelylife-blog.blogspot.co.nz/2013/03/todays-crochet.html
2.If pink isn't quite your baby's style, then don't sweat it! We also have these cute crochet blue and brown sandals that are equally
stunning for baby boy and girl. They just seem to say "I'm ready for the beach,Mom!"
http://www.imtopsyturvy.com/crochet-baby-summer-sandals/
3.We've also found a cute pair of red sandals for your baby's tiny little feet because let's face it, you have 50 pairs of shoes and
your baby deserves the same! Now you can start mixing and matching outfits!
http://jaysboutiqueblog.blogspot.co.nz/2012/06/free-pattern-comfy-baby-sandals.html
4.Whether or not your baby knows it, they are about to become a mini fashionista! These sandal booties are sure to catch everyone's
eyes on the block! http://www.ravelry.com/patterns/library/463-ruffled-tops-baby-sandal-booties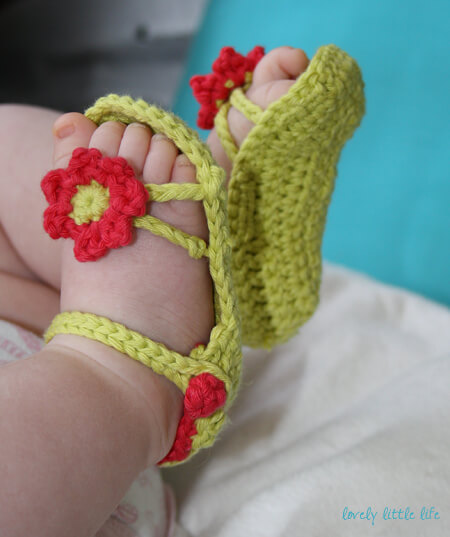 5.Whether your baby was born with a green thumb or was born a flower child, these cute little sandals are just for them!
These adorable little flowers will perfectly reflect your baby's smile! http://www.lovelylittlelife.org/2012/06/flower-power-baby-sandals/
6.With these cute little sandals on your baby's feet, you're going to have to show them off more often!
These cute little blue sandals need to be seen by more than just your eyes! http://www.crochetgeek.com/2012/09/crochet-baby-sandal.html
7.If you're looking for a more innocent look for your baby, as if they weren't innocent enough already, then you should definitely check out these cute little
crochet flower sandals!http://misadventuresofhandmade.blogspot.co.nz/2012/02/barefoot-baby-sandals.html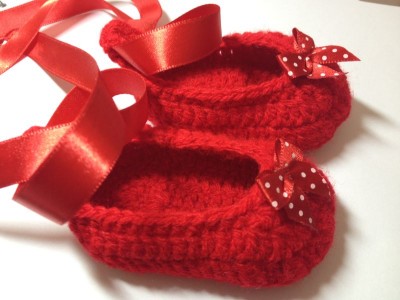 8.There's no place like home, there's no place like home. That's right, now your baby can have their own ruby red slippers! We're not in Kansas anymore.
http://maluuquices.blogspot.com.br/2013/04/sapatilha-luna.html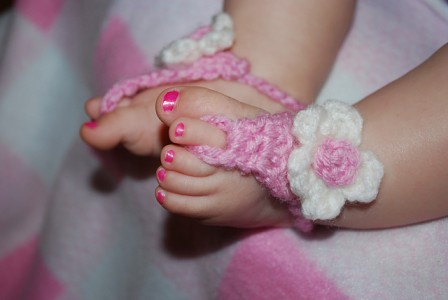 9.You know that you can't resist dressing your baby up in the cutest outfits, so you definitely shouldn't pass up these adorable pink flower barefoot baby sandals.
They are just so delicate and innocent! http://www.ravelry.com/patterns/library/bs-barefoot-baby-sandals
10.These cute little shoes are baby blue with red accents, in other words they are simply too cute. They will make your little one's eyes sparkle!
http://mycrochetshack.blogspot.co.nz/2010/05/baby-sandals.html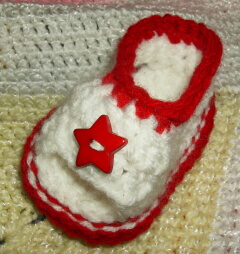 11.These little booties are so unique. They are white with red lining and a cute little red star in the center.
They'll have your baby reaching, or kicking, for the stars in no time!
http://chrisdfriend.tripod.com/christals_crochet/index.blog/1898736/peekaboo-toes-baby-sandals/
12. I don't know if I would call these baby shoes, they are more like little pieces of artwork!
These adorable shoes will bring out your baby's creative side for sure.
http://chrisdfriend.tripod.com/christals_crochet/index.blog/1898162/mock-baby-croc-sandals/
13. These little red sandals feature a cute little daisy resting at your baby's toes. Is there anything that could make those little toes look any cuter?
http://melodyscrochetitems-melody88.blogspot.co.nz/2011/06/pattern-for-crochet-red-baby-sandal_21.html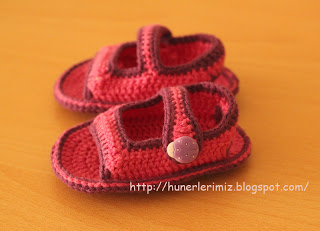 14. If your baby is always on the go, then they might need to check out these pink sandals, nothing says 'I mean business' than an adorable baby in adorable sandals!
http://hunerlerimiz.blogspot.co.nz/2013/05/bebekler-icin-sandalet-patik-yapls-baby.html
15.Maybe you're looking for something a little less flashy and flowery, because little boys need shoes too! These cute little brown sandals could be just what you're looking for!
http://mauviscrafty.blogspot.co.uk/2012/06/crochet-baby-sandals.html
16.If you're a fan of the gladiator style sandals, then here's a pattern you might get excited for. Now you and your baby can have matching shoes!
http://trexycrafts.blogspot.co.nz/2013/05/baby-gladiator-sandals.html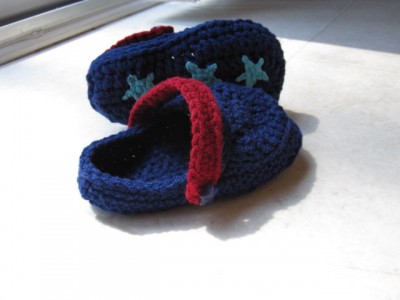 17.None of us want to admit it, but crocs are just so comfortable! Now your baby can have a cute pair of "crocs"
that feature a cute star pattern on the bottom to make them unique.
http://knitpossible.blogspot.co.nz/2010/07/toddler-crocs.html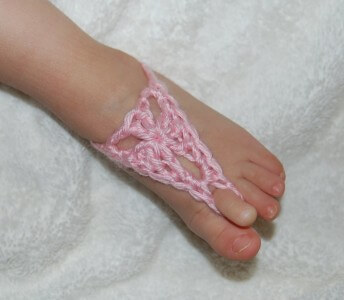 18.Looking for something that looks simply eloquent? Well, look no farther as this pattern would look absolutely darling on your baby's little piggies!
http://livingthecraftlife.blogspot.co.nz/2012/03/baby-barefoot-sandal-simple-and-sweet.html
19.Personally, my favourite color is blue, so these blue sandals make me smile! They are a flip flop style that will make your baby look they are fresh off the beach!
http://melodyscrochetitems-melody88.blogspot.co.nz/2011/05/crochet-baby-slipper-pattern.html
20.This list needs more flowers! So we go, this cute little sandals wraps around your baby's toe and ankle, after that they will rocking adorable little flowers on
their feet! http://www.tutusteaparties.com/2012/03/crochet-barefoot-sandal-free-crochet.html
21.Speaking of flowers, how about these cute little sandals! These sandals feature a cute and crazy flower to reflect your baby's playful spirit!
http://libertycrochet.blogspot.co.nz/2012/01/baby-strap-sandals.html
22.If you thought you've already seen the cutest baby shoes possible, you should be prepared to eat your words!
These adorable little sandals are sure to knock everyone's socks off!
http://stringwithstyle.blogspot.co.nz/2013/06/pretty-baby-barefoot-sandals.html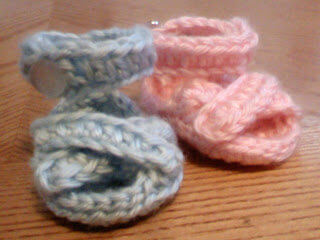 23.These sandals caught my eye because they may have simple colors, but they feature a lovely style that can complement any outfit you put your baby in!
http://unraveled-creativity.blogspot.co.nz/2009/05/newborn-cross-strap-booties.html
24.These red, white, and blue sandals are the essence of playtime! They are absolutely adorable and innocent, they could easily become your baby's favourite shoes!
http://www.ravelry.com/patterns/library/infant-strappy-sandal
25.If you are looking at all of these shoes and thinking that they aren't up for your adventurous baby, then take a look at these shoes!
They are prepared for a little rough and tumble! http://www.ravelry.com/patterns/library/sole-lovely-mary-janes—baby-and-youth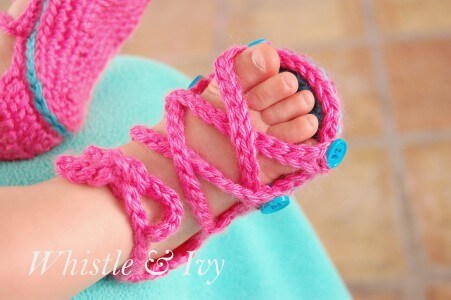 26. These super adorable crochet gladiator shoes are perfect for any baby boy and girl. Your little one will be stylish in this comfy and sophisticated sandal.
http://www.whistleandivy.com/p/baby-button.html
I hope you guys love this list of cute crochet baby sandals and happy crocheting!