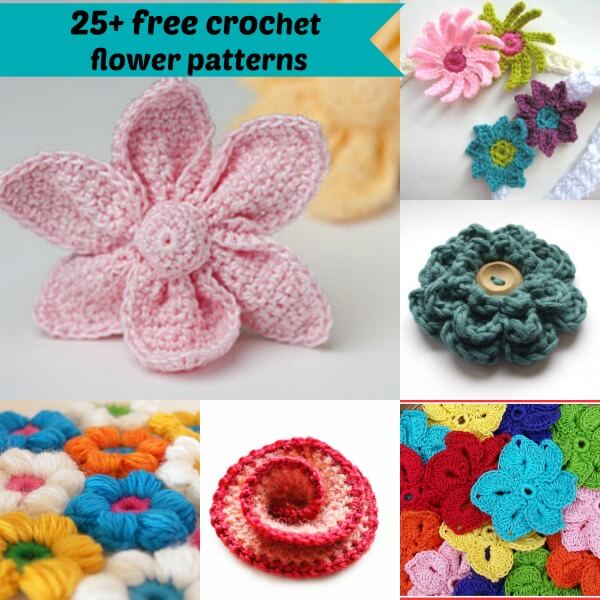 These free crochet flower patterns are great for your first crochet project.
Those crochet flowers can whip up really quick and suite for beginner crocheter out there.
Everyone loves flowers; they brighten up our day and make us smile as soon as we see them. But there also isn't a sadder sight than wilting flowers.
You may have thought that you were stuck in this love hate relationship for life, but never fear, we're here to offer you a perfect beginner free crochet flowers
patterns for life. These cute little handmade crochet flowers will still be blooming bright for years to come!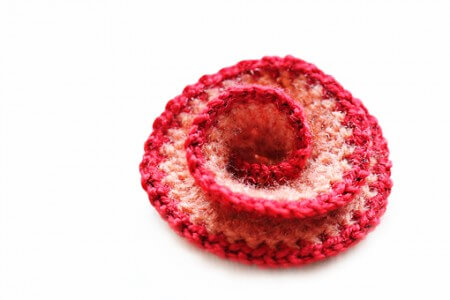 1.Don't underestimate this little easy crochet flower tutorial, it may seem simple but it's not like anything you've seen before.
This flower comes with a cute little twist and might even look cute pinned up in your hair alongside a bun.
http://zoomyummy.com/2011/01/11/crochet-swirls-tutorial/
2.These simple and adorable crochet flowers are absolutely darling! They are vibrant, bright, and feel so alive that you'll want to try and smell them!
These flowers would look adorable pinned in your hair with a pastel colored shirt.
http://easymakesmehappy.blogspot.com/2010/07/6-petal-puff-stitch-flower.html
3.If you like innocent flowers, then this one if definitely for you. Sure you may think that all flowers are innocent, but just wait until
you take a look at these. These flowers would look adorable pinned into a headband or maybe even made into a necklace.
http://crocheterie.blogspot.com/2012/01/crochet-cute-little-flower-free-pattern.html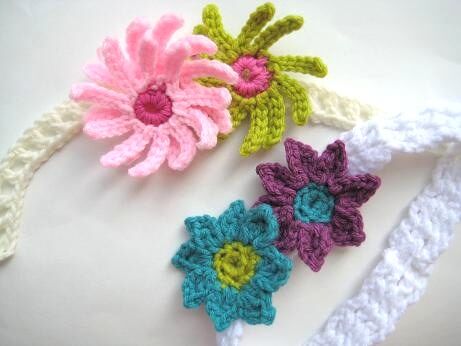 4.These crochet flowers headband have a special little spunk growing in them. These flowers pattern is coming with step by step photo tutorial
and we already knew how they would look best. It would look great with any hair style!
http://crochetdreamz.blogspot.com/2011/07/baby-headband-with-flowers-free-crochet.html#.UirbMBdvPIU
5.Do you like bold looks? Do you love getting complemented on how you look? Of course you do, so check out these adorable flowers! They are bright and large
and just begging for complements!
http://www.craftpassion.com/2009/08/crochet-pattern-5-petal-flower.html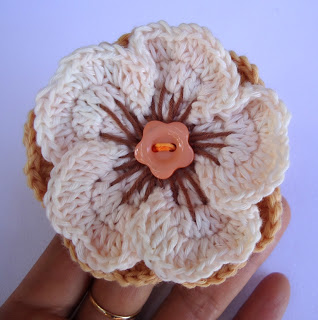 6.This flower is called a cream daisy, which is a very accurate name because it reminds me of mocha. This flower would look great pinned into dark brunette
hair, or could greatly compliment brown eyes!
http://lovestitches.blogspot.com/2011/08/patterns-crocheted-flower-brooches.html
7. Girls with long hair, I've found the perfect flower for you! These cute flowers come equipped with darling curls on the end that would great with any color of hair.
The curls will blend perfectly with long, flowing hair.
http://www.craftsy.com/pattern/crocheting/accessory/flower-with-curls-tutorial-/20056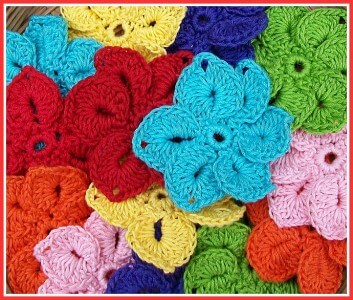 8. I simply love these flowers pattern because they have that classic lacy look to them. I could see these flowers pinned up elegantly in any hair style and
looking fabulous with a nice blouse. Give them a shot, you'll look great!
http://theflowerbed-shr.blogspot.ca/2011/03/flower-pattern-as-requested.html
9. Are you looking for a simpler flower tutorial for your beginner crochet project? Well these pattern just may be what you're looking for. They are small and
quick to make , but they sure do look nice!
http://flowergirlcottage.blogspot.com/2012/01/free-crochet-flower-pattern-perfect.html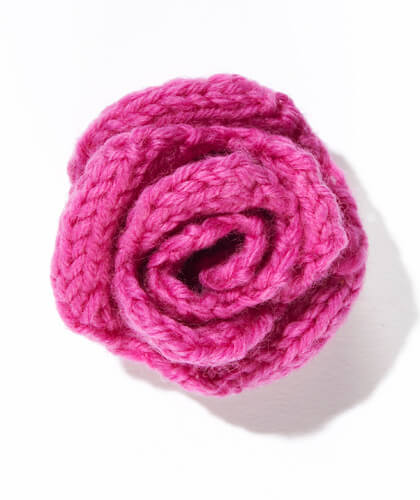 10.A list of flowers could never be complete without a few roses! These crochet roses are so graceful looking that you might consider saving them for fancy occasions
only. These are definitely a must have!
http://the-dark-knit.blogspot.com/2008/11/crochet-roses.html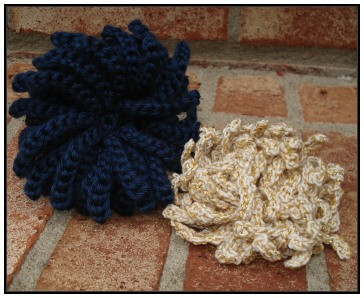 11.Don't give up hope if you're searching for a different looking flower, because we have something for everyone. These crazy little snowball mums are fun and
spunky and will definitely pump up any look!
http://www.thecraftytipster.com/crochet-flower-pattern-mum.html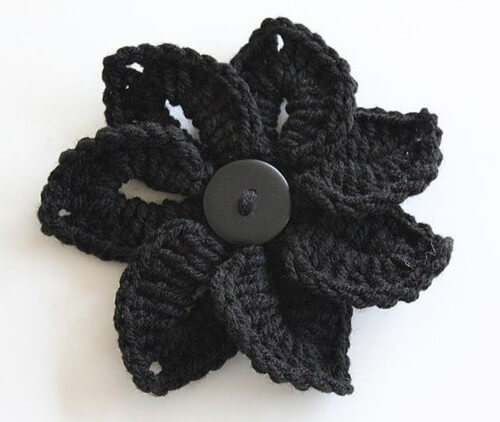 12. I really like this flower designed by Bonita because it's simple and yet so beautiful. In fact, this flower looks so great that you could even pin it in
your hair for a job interview!
http://bonitapatterns.tumblr.com/post/3994231401/here-goes-a-free-pattern-for-a-croco-flower-its
13.Are you looking for a more festive look? How about a poinsettia pinned up in your hair for that Christmas party? This year, you'll outshine everyone!
http://www.planetjune.com/blog/free-crochet-patterns/poinsettia/
14.Here's another simple styled crochet flower, it almost reminds me of a daisy! These flowers sure do look fancy! Pair this flower up with that new blouse, and
you'll be looking great!
https://www.jennyandteddy.com/2011/09/free-crochet-flower-pattern/
15.Don't forget about your little one when you're browsing through this list! These cute little accessories will make your baby's smile shine even brighter. She better
be prepared for extra coos and cuddles with these flowers on her!
http://littlebirdiesecrets.blogspot.com/2010/10/new-baby-hat-and-bootie-patterns-in.html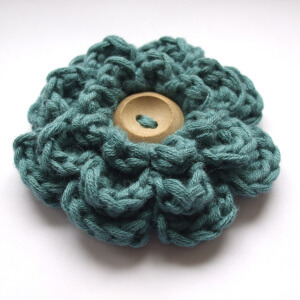 16. This flower seems so special to me because it gives off an artsy and bubbly vibe to it.
When you've got a busy day ahead of you, just throw your hair up in a ponytail and pin in this flower; you'll be looking great!
http://veryberryhandmade.co.uk/my-crochet-patterns/a-frothy-flower/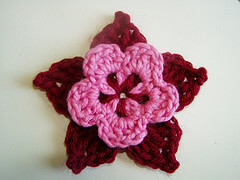 17.This flower literally shines like a star, because it's not only lovely but it is star shaped. I think that this flower would look best paired with a scarf and
would complement a pair of glasses!
http://skamama.blogspot.com/2006/06/picot-flower.html
18.Everyone loves a good rainbow, and now you can keep your rainbow close to home with this flower! Tamara at moogly blog make it as a
dishcloth, but I think it might even make a cute bracelet or necklace. I'll let you decide that one!
http://www.mooglyblog.com/rainbow-flower-scrubby-dishcloth-free-crochet-pattern/?_iwcspid=136373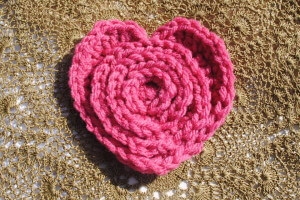 19.It's time to let your inner romantic side out with this adorable little crochet flower. This flower is in the shape of a heart, trust me you won't see this very often! Pin
this cute little flower up in your hair and maybe that cute guy will finally notice you.
http://cre8tioncrochet.com/2013/01/crochet-flower-in-a-heart/?_iwcspid=141133
20.This flower has a cute little look to it that will definitely add a fun element to any look. This flower could be pinned into your hair for any look, even when
all you're wearing is a t-shirt and jeans!
http://makemydaycreative.wordpress.com/2012/07/23/triple-layer-petals-flower-pattern/?_iwcspid=144008
21. Looking for easy multi layered flower to crochet and add the finishing touch for your beanie? Look no further this super easy crochet flower pattern,
by Olivia at Hopeful Honey blog is a great fit for your crochet project.
http://www.hopefulhoney.com/2012/08/tickled-pink-multi-layered-flower.html?_iwcspid=137715
22.Make this easy rose crochet flower pattern perfect for Valentine's day for someone you love and care with Kara at Petalstopicots.
http://www.petalstopicots.com/2013/01/rose-pattern/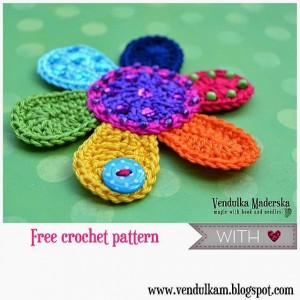 23. I so in love with this cute crochet flower applique tutorial at Vendulka blog.
http://vendulkam.blogspot.com/2013/08/do-you-like-free-crochet-patterns.html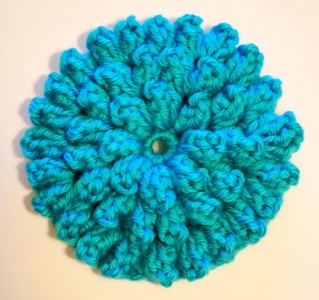 24.Anyone learning to do crochet popcorn stitch?Here this super easy crochet popcorn stitch flower for you to love and make at Bhookedcrochet.
http://www.bhookedcrochet.com/2013/04/26/popcorn-stitch-flower-free-pattern/
Looking great everyday doesn't have to be a chore, it can be really fun!
With these cute little flowers added to your collection of accessories, you will be racking in the complements all day long! Plus you made these flowers yourself, so you'll get to look great and feel great!