Meet this super easy crochet cardigan pattern ever!
Spring time is a happy time for everyone and also for me as well.
This simple crochet cardigan was inspired from the sand, sea and blue sky.
The cardigan is made from soft and breathable cotton yarn that use simple stitches that let the air come through just enough to make you feel comfortable and cool at the same time.
Blue lagoon cardigan come with FREE CROCHET PATTERN and full video tutorial.

Beginner crochet cardigan that you will love.
This Blue lagoon cardigan is cozy, oversize, beautiful drappe perfect for fall days in and out.
The stitch pattern is simple and perfect for beginner called "Granny stitch" which is made up from double crochet stitch which is work up really qiuck.
The body of this caridgan front panel and back panel made up from just one rectangle.
How do you make a crochet cardigan?
I have make 3 easy step by step for you guys to create your first crochet garment with this pattern.
Step1: crocheting a one big rectangle.
Step2: fold each end up to create the armhole.
Step3: add the collar and all done.

How much time does it take to crochet a cardigan for beginners?
For me to crochet this cardigan I spent about 1 weekend with lots of break in between.
For a beginner probrably 20-25 hour without the break.
Remeber this caidigan is super simple construction once you done with your rectangle the rest with be very quick.
Want to make more easy & oversized crochet cardigan?
The Blue lagoon easy cardigan, They will be one of your favorite item to wear each day. They are not only easy to make but also stylish to mixed and match with any jean and dress.
They are made up from one piece of rectangle or a blanket with cotton yarn and 4.0 mm crochet hook.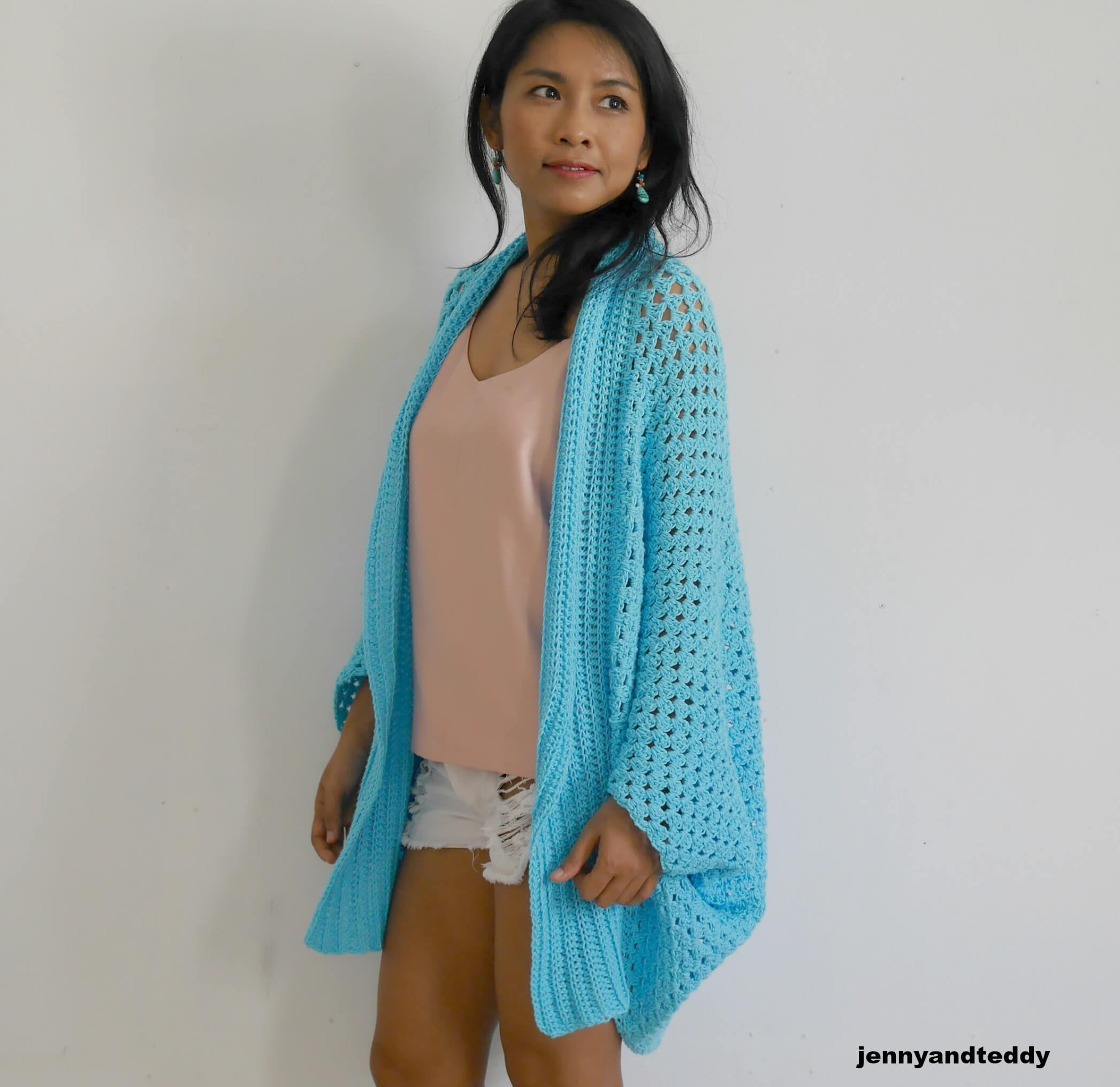 Let's get start shall we?.
I used Cotton yarn DK weight or 3 light . I am using about 1200-1500 yard fit size small to Medium.
( Easy to adjust the size see pattern instruction below) yarn weight 3.
DK yarn 3 weight, Lion brand coboo, viscose & cotton baby yarn from darn good yarn. Or any cotton blend yarn with DK weight.
4.0 mm crochet hook size
Sewing yarn needle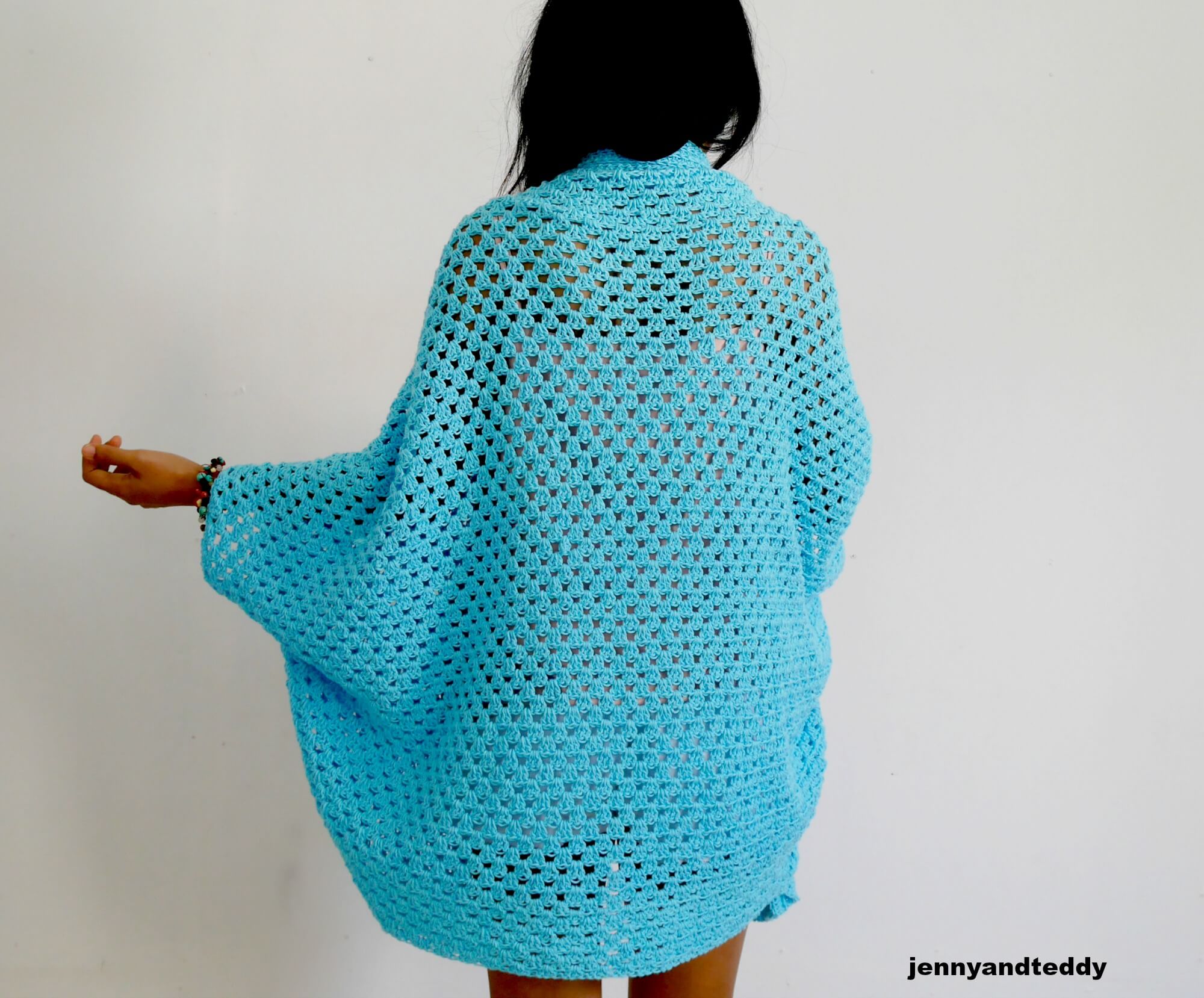 Skill and abbreviations
(American crochet terms)
You will need to know how to make
St (stitch)
sc which mean single crochet
dc which mean double crochet
hdc which mean half double crochet
Blo which mean crochet in back loop only
ch, Chain
slip knot
Finished Size Approximately: Sample size small to fit Medium
Measurement of the rectangle.
S-M 41x 27 inch (example size)
L-XL: 44×27 inch
2xl-3xl : 46×27 inch
4xl: 48x 28 inch
Gauge: 2 group of double crochet= 1.5-1.7 inch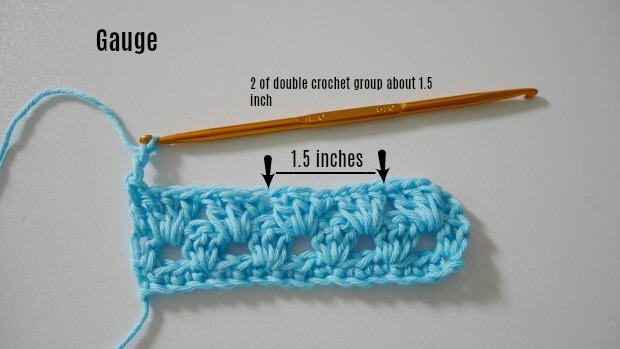 How to crochet an easy crochet cardigan for beginner video tutorial.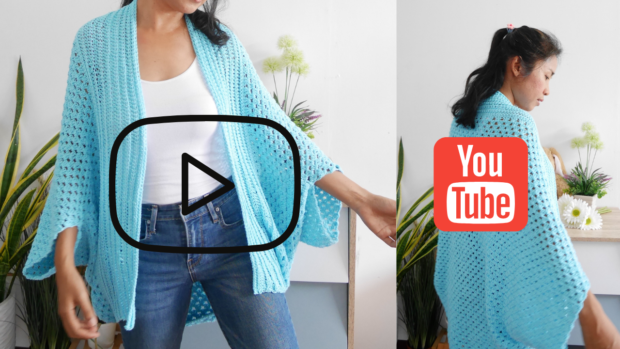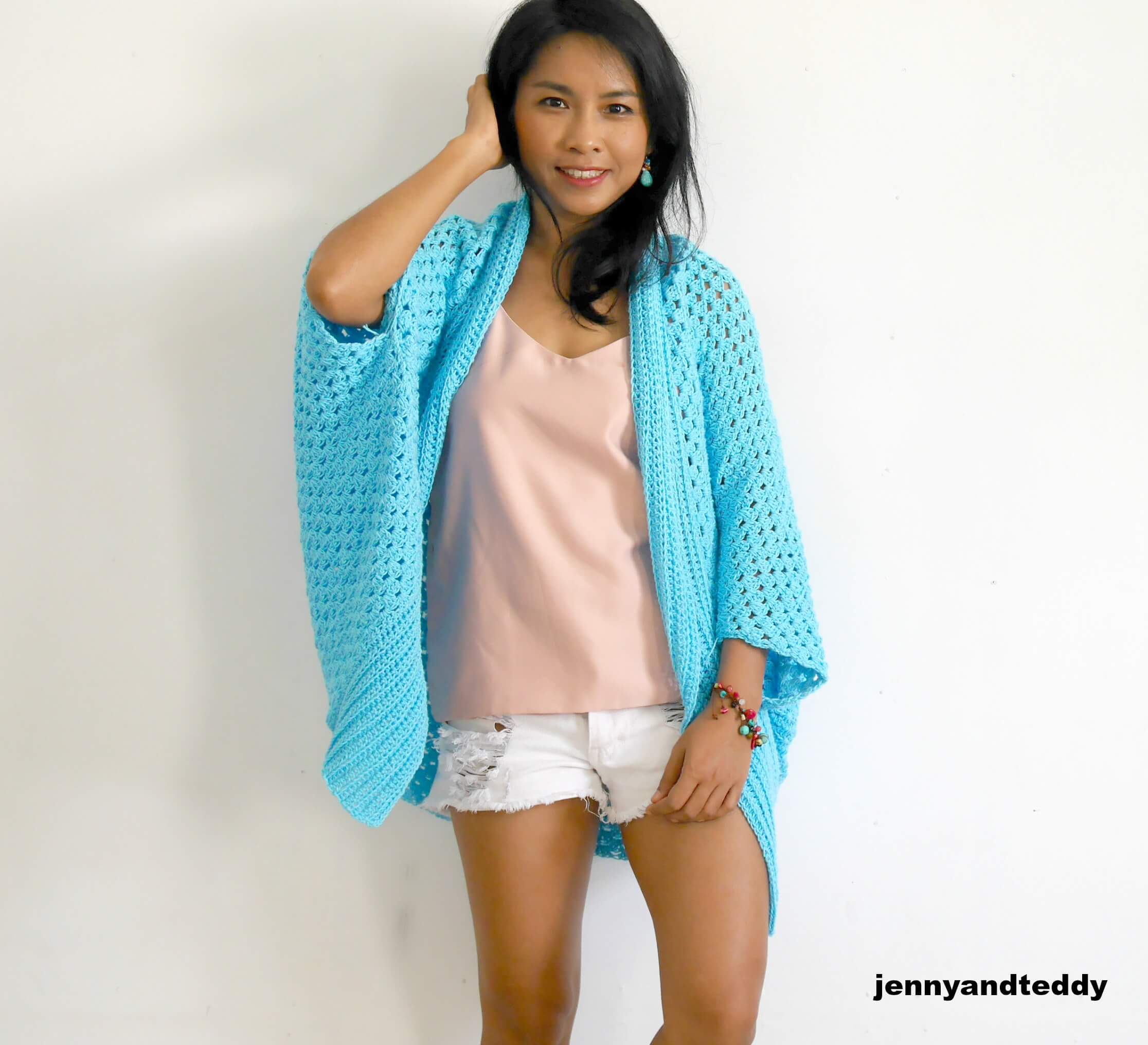 Blue lagoon easy crochet cardigan pattern instruction.
Start of by making a slip knot Then make 140 (138+2=140) ( multiple of 3+2) chains foundation chain.
S-M chain 138+2=140
L-XL chain 150+2=152
2xl-3xl chain 159+2=161
4xl chain 165+2=167
(you can adjust the size of cardigan to be small by decrease foundation chain.
Or Bigger size by increase foundation chain.
After you got the foundation chain then make sc in each chain across, chain2 and turn.
Row1: make 1dc in the same stitch * skip 2 stitches, then work 3dc in next stitch* repeat * to * across until end of the row until you will have 3 stitch remain, skip 2 st, 2dc in the last stitch, ch2 turn. (ch2 not count as a stitch).
Row2. now you will work 3dc in each space ( between double crochet group ) across until end of the row, then dc in the last stitch or ch2 space from the previous row, chain2 and turn. (ch2 not count as a stitch).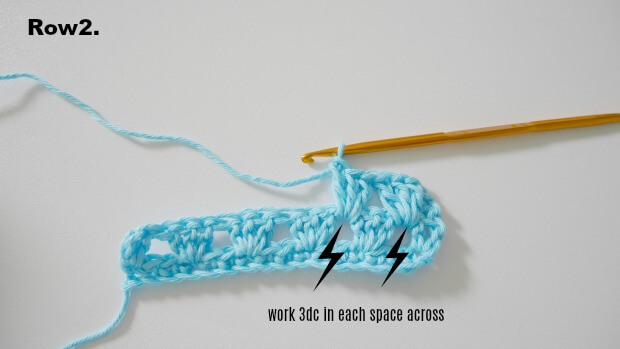 Repeat row 1 and 2 until your rectangle measures approximately 41 inch wide and 27 inches long then finished off and leave long tail for sewing.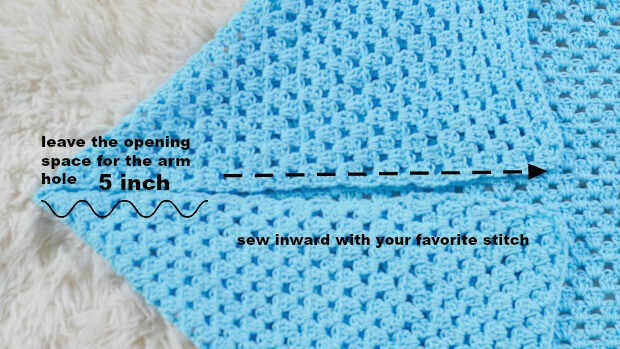 Shape armhole.
Lay the piece of rectangle in flatted and fold each corner inward until they meet then using your yarn needle to seam the corner with your prefer method.
( I used whip stitch) and leaving holes for the arm.
For the arm holes I leave my one about 5 inch or your prefer length.
Repeat for the other side.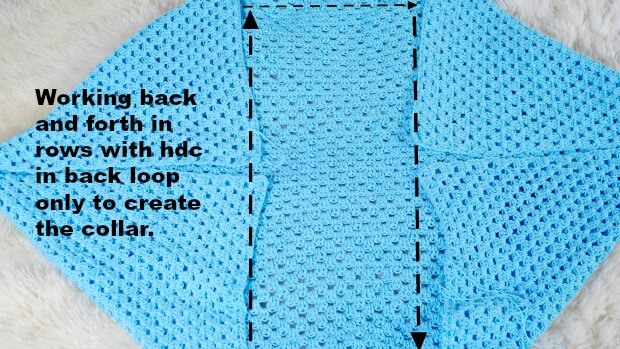 For the edging/collar.
For the collar we will worked along the edge of the opening of the cardigan back and forth in rows with Hdc in back loop only.
Start at the bottom front corner of the cardigan where the first stitch marker place, working around the back of the neck to the bottom front corner on the other side where the second stitch marker place.
(See photo below.)
Add this pattern to your ravelry.
Start by Place each stitch marker at the bottom front corner of the cardigan.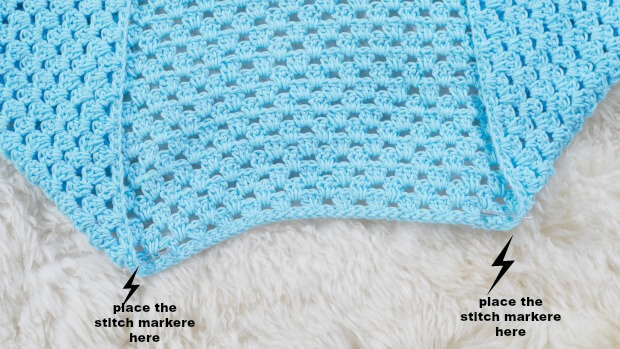 Rejoin your yarn at the first stitch marker is place.
Row1. hdc all around the opening of the cardigan start at where the first stitch marker is place and finish at the second stitch marker is place, chain 1 and turn.
Row2. make hdc in back loop only all around the opening of the cardigan start at where the first stitch marker is place and finish at the second stitch marker is place , chain1 and turn.
Row3. Repeat row2 until your collar measure around 6 inches deep. Fasten off and weave in end.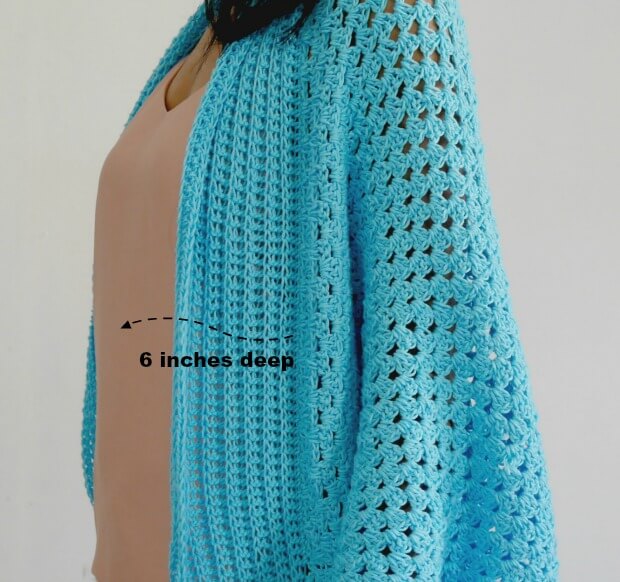 Now enjoy your new cardigan.
If you make one I would love to see your creation tag me on Instagram! would love to see your creation.
Happy crocheting.