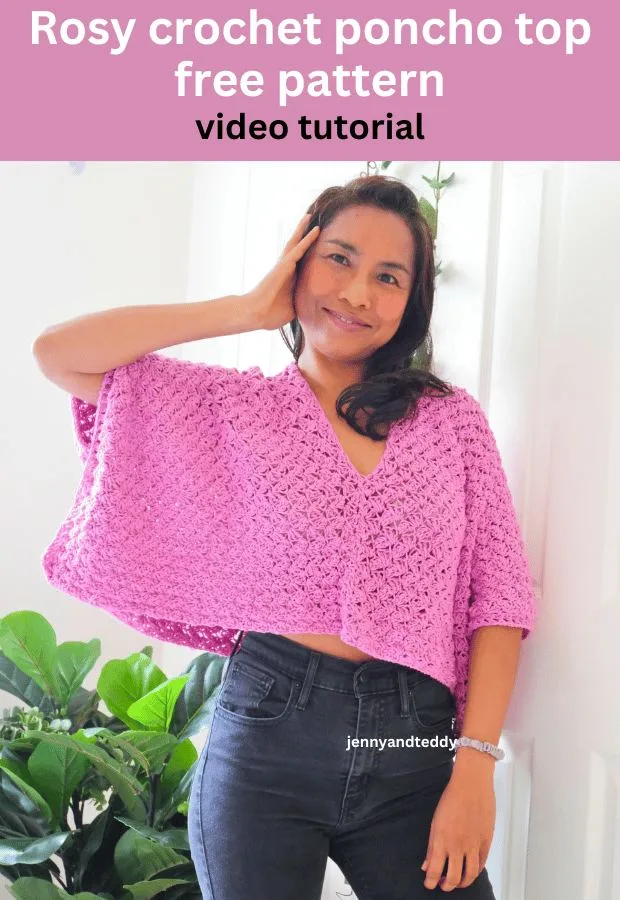 Spring is coming; now is the perfect time to add this poncho-style crochet top to your wardrobe.
I admit that the older I get, the more I seek out for homie-style clothes to wear, which mean cozy but chic enough to go out.
And this Rosy poncho-style crochet top is perfect for that. The rosy top has a mix of a crochet poncho and a top at the same time with a style that is easy to wear with a relaxed fit like a poncho and stylish like a modern top for all body shapes.
Simple 2-rectangle crochet top pattern.
This poncho-style top is designed with just 2 simple crochet rectangles that have a loose fitting with no shaping involved.
Moreover, they are easy to adjust in any size, whether you are extra small or plus size. This poncho summer top pattern covers it all.
The Rosy top is made by measuring your bust size, and that will be the width for your 2 identical panels, left and right.
Don't be intimidated by this beautiful lace stitch; they are actually a very basic combination of single and double crochet to create a unique texture-rich crochet stitch called " the blanket stitch." Just a one-row repeat is all you need.
About the yarn & the substitute.
I am so excited to try new yarn and discover that Scheepjes SoftFun is so soft, comes in DK weight/3 light, and gives you feeling good when you wear it; it is like a second skin garment.. …Ha, am I crazy?
In fact, this yarn has a mix of 60% cotton and 40% Acrylic.
Yarn substitute: You girl can go for any dk weight yarn, whether a cotton blend, bamboo, any plant fiber, or wool yarn it is just perfect.
However, Honestly, cotton or cotton blend yarn will give you the most beautiful drape from my own experience and opinions. OK, If you try out this yarn, let me know in the comment below.
Sizing your crochet poncho summer top.
My favorite part of the Rosy top is that they are simple construction, which is made of easy, straightforward 2 rectangles, so whether your size is extra small or plus size, the Rosy poncho top pattern covers you all.
Remember, when you are about to start to crochet this top, it's essential to measure your body so you can get the perfect fit for your size.
This top is made to measure, so you can crochet them in any size based on your bust measurement or shoulder measurment.
For example, bust measurement: My bust measurement is 32 inches, then divide by 2, which is equal to 16 inches for the width of your left and right panel.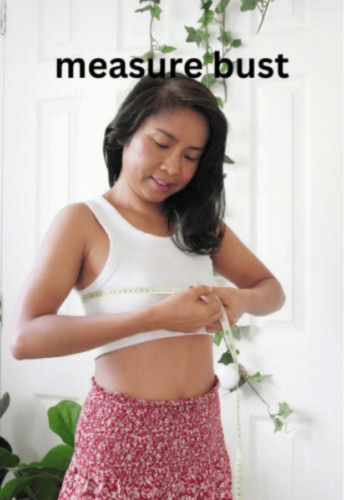 Need More warm-weather crochet top-free patterns?
Material & supplies.
In this free crochet sweater pattern,I used DK weight yarn/3 light from Scheepjes softfun color 2480 pink, around 840 meters = 6 skeins for sizes example, small to medium from bust size 30-34 inches.
1 skein of scheepjes Softfun is 50 gram=140m 60% cotton with 40% Acrylic
4.0 mm crochet hook
Sewing yarn needle
Skill and abbreviations
you will need to know how to make (American crochet term)
sc, which means single-crochet
dc, which means double crochet
hdc, which means half double crochet
ch Chain
slip knot
sk means skip-stitch
crochet blanket stitch video tutorial
Finished Size for this Rosy top Approximately:
This example is made to fit a size small to medium 30-34 inch bust size.
For me, the model wearing this piece, I am 4'9 feet tall, bust of 32 inches, a waistline of 26 inches, hip of 35 inches.
Pattern Note:
This top can be made in any size they are made by measuring your bust.
The 2 rectangles left and right panels are made with the same stitch.
How to crochet a poncho-style summer top for beginner step-by-step video tutorial.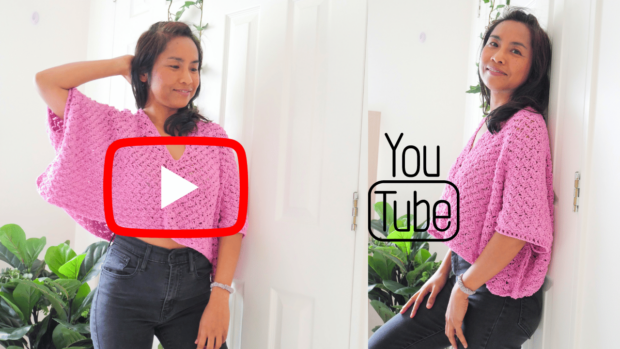 Rosy poncho top free crochet pattern instruction.
The poncho top body makes 2 pieces.
The left & right panel makes 2 pieces.
The measurement of one rectangle.
31 inches long for a crop size length. For a full-length top, add more rows.
16 inches wide fit bust size 30-34 inches.
First, let's measure your bust size, then divide by 2. For example, my bust size is 32/2.
So I will get 16 inches for my size. See the video tutorial for how to make them into your size.
Start with the left and right panels.
Pick up a crochet hook size 4.0 mm and Start off by making a slip knot. Then make 57 chains for sizes small and medium fit from bust sizes 30-34
( For the other size start the foundation chain in multiples of 3 that match your bust size calculation.)
Row1. Make 2 dc in the 3rd chain from hook and *sk 2 ch, sc in next ch, and make 2 dc in same ch stitch* Repeat from * to* end of row. Sc in the last ch of the row. Ch 2, turn.
Row2. 2 dc in the first sc of the previous row, *sk next 2 dc, make sc and 2 dc in next sc*
Repeat from * to* until the end of the row. Make sc in turning ch 2 at the end of the row, ch 2, turn.
Row 3 and beyond, and Repeat row 2 until we get 31 inches.
Add lace edging.
Add edging at only one side of the rectangle.
Row1. sc in each space until the end of the row. Chain 2 and turn.
Row2. dc in the same stitch, * ch1, then dc in next st* repeat this * to * until the end of the row and fasten off and repeat the same for the remaining panel.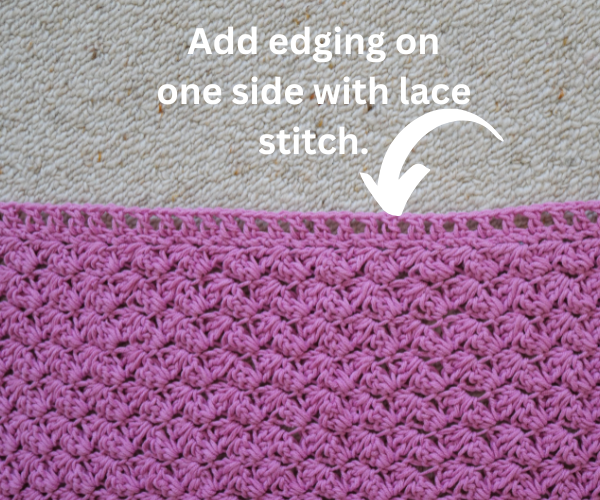 Assemble the poncho top.
Fold the rectangles in half and join the back part of the rectangle to create the back panel for the top.
After we finish creating the back panel, we will move on to create the armhole.
The armhole can vary depending on how big you want the armhole to be. In the example piece, I did an armhole for 7 inches.
After we finish creating the armhole, we will sew up the front to close the open body.
And that is all we did.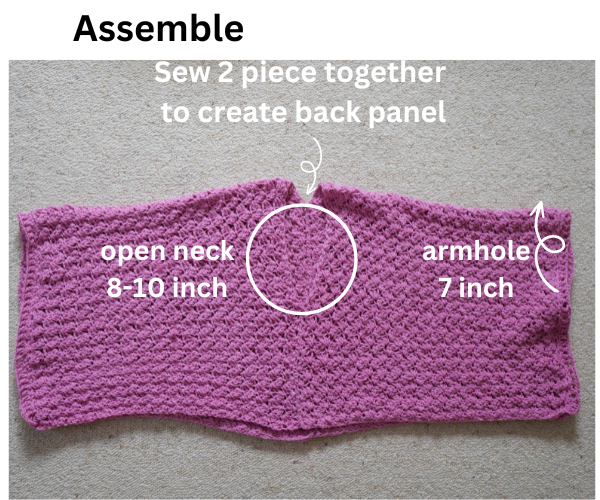 Happy crocheting.