Easy and quick shrugdigan.
This fun beginner friendly ribbed crochet shrug cardigan free pattern is perfect for everyone come with full step by step video tutorial.
They are made from just one rectangle and you are all done! You will suprise how easy and beautiful they are.
This light weight crochet shrug is made from cotton dk weight yarn/3 light, it is summer and spring perfect season to wear.
And you can also use any kind of dk weight yarn from polyester ,acrylic or cotton blend depend on how warm of shrug you want for example if you girl go for the acrylic yarn or wool yarn you will have a warmer shurg for chilly cold day.
The cotton yarn or any plant fiber yarn will be perfect for for hot and hunmid weather.
Beginner friendly and simple shrug.
Crochet shrug is the easiest of the crochet garment to make mostly they made from 1 rectangle. Then fold each end up until they meet and you are all done!
You can also spice the shrug with different color like a rainbow or add an easy sleeve to it.
Pretty stylish ribbed collared add to this shrug.
The cute big ribbed collar add to this shrug cardigan is so simple they made from long rectangle and then attach to the shrug body. The ribbed collar can be customize into bigger or smaller collar. I prefer the thicker collar is much beautiful.
If you love this shrug you will also love another easy crochet shrug on my blog.
Let's get into this cute puff sleeves crop top free pattern shall we?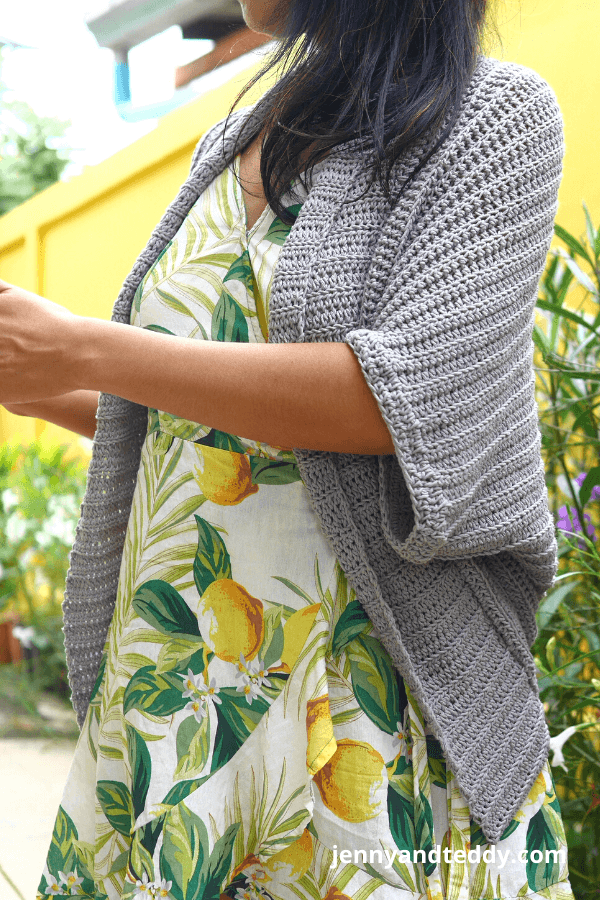 Material.
– I used cotton DK weight yarn 1200 yard for size fit up to small.
– 4.0 mm crochet hook
– Sewing yarn needle
Gauge: 4 hdc = 1 inch
Skill and abbreviations
you will need to know how to make (American crochet term)
-sc which mean single crochet
-dc which mean double crochet
-hdc which mean half double crochet
-blo which mean crochet in back loop only
-ch Chain
-slip knot
-sk mean skip stitch
Finished Size Approximately:
This example shrug is made to fit size small.
The other size up to 2XL are easy to adjust by just add more chain to the foundation chain to make it bigger. see pattern below.
For me the model wearing this piece, I am 4'9 feet tall.
Video tutorial.
Easy crochet ribbed shrug free pattern instruction.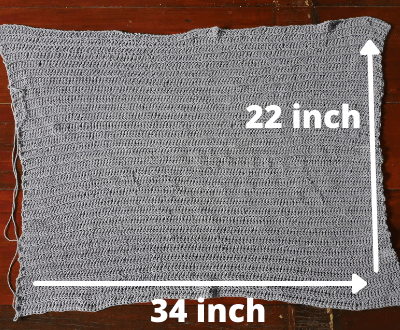 Shrug body make 1 piece.
Shrug body make 1 piece. Start making foundation chain for small size chain 120.
Medium chain 130
Large 140
XL 150
2XL 160
After we chain 120 chains you will get around 34 inch long then will will start on row1.
Row1. Make hdc in each chain across until the end of the row. chain 1 and turn.
Row2. Make hdc back loop only in each stitch across until the end of the row. chani 1 and turn
Row3 and more. repeat row 2 until you get the lenght of 22 inches for all size..
Assemble the shrug.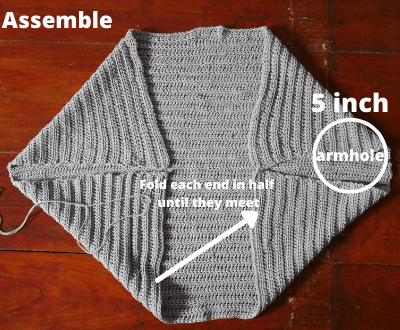 Lay the rectangle in flatted the fold each end until they meet then use yarn needle to sewing to create the armhole.
The armhole will be around 5 inches.
Create the ribbed band for the collar.
Start with chain 18 , you will get around 4 inches of the ribbed band if you want the thicker band add more chain tot he foundation chain for example 20 chain , 30 or more.
After we got a long rectangle that have the lenght that will match the opening of the shrug body.
Row1. make hdc in each chain across until the end of the row. chain1 and turn
Row2. make 1hdc in each stitch back loop only until the end of the row. chain1 and turn
Row3 and more. repeat row 2 until you get the lenght that will match the opeing of the opening of your shrug.
Join the ribbed band and shrug body to create the collar.
Lay the shrug body and the ribbed band then join them together by sc or slip stitch or sewing using yarn needle.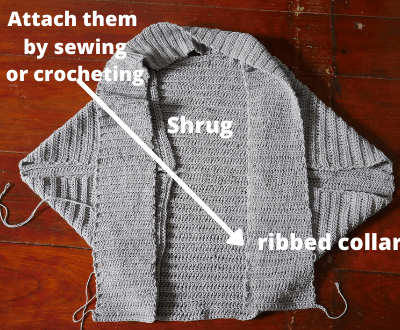 Tidy up the armhole is for the option.
The armhole is good as it is but if you want to tidy up and make them a bit more pretty by make Hdc around the armhole for just 1 or 2 round and that all I did.
Now it's time to wear them and have fun!
We all done!
Happy crocheting.