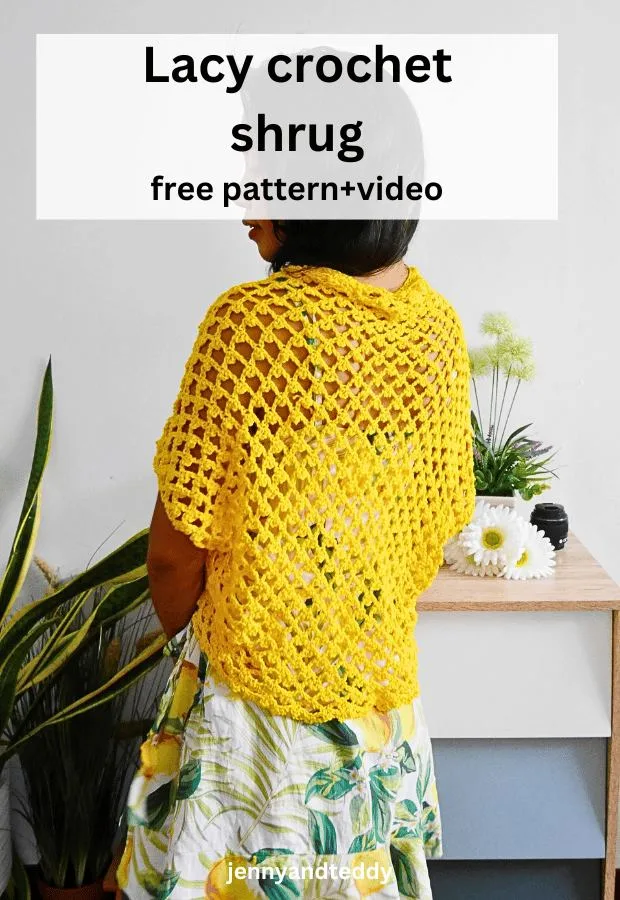 I have to admit that this pretty crochet lace shrug is my favorite of all time; why? Oh well, they have a little cute flower lace detail throughout the shrug, which creates from basic crochet stitches.
This lacy shrug is the easiest way to keep your shoulder warm and make you look fashionable without trying so hard to put many layering pieces.
Just throw them over on your favorite dress then You suddenly look flawless and ready to go out.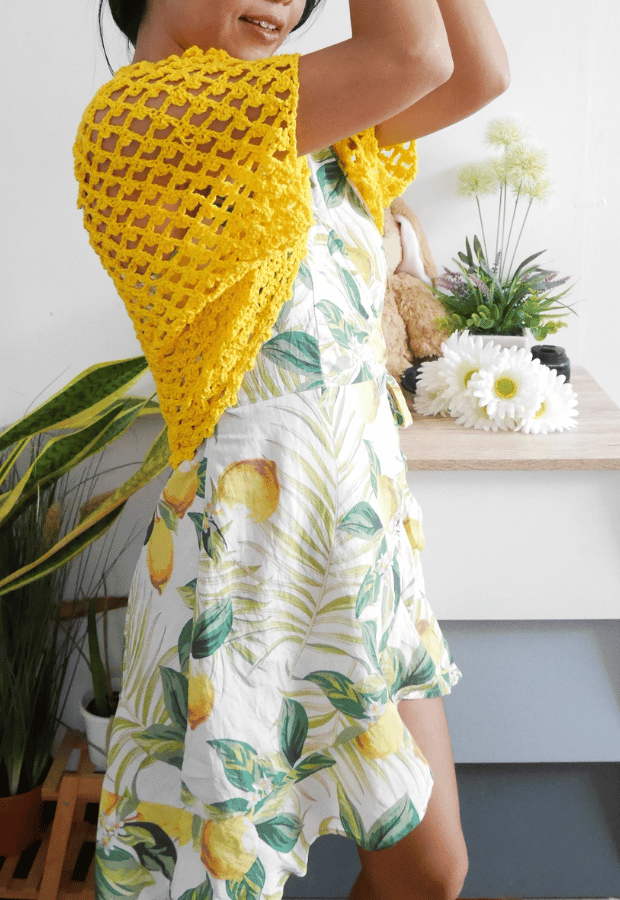 Lightweight & simple shrug pattern.
This open lace crochet shrug free pattern had a very simple construction by just crocheting a rectangle or a square, then folding in all four corners until meet then sewing use the yarn needle to create the armhole, and you're done!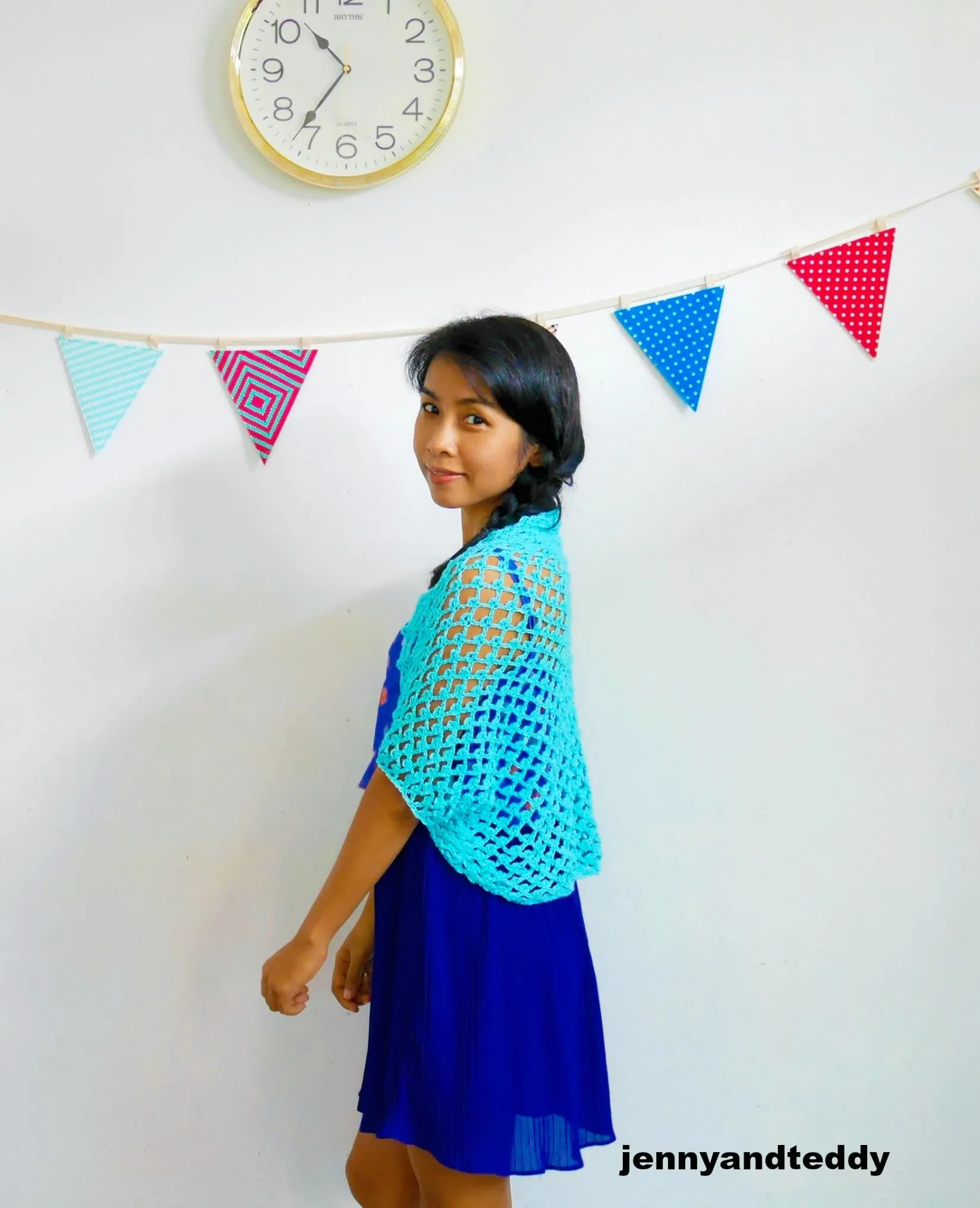 Crochet stitches are used in this lace shrug.
The Love at first sight lacy crochet shrug uses a stitch called" Picot chain stitch" which is a basic combination of single and chain stitch that will create a beautiful little flower look alike.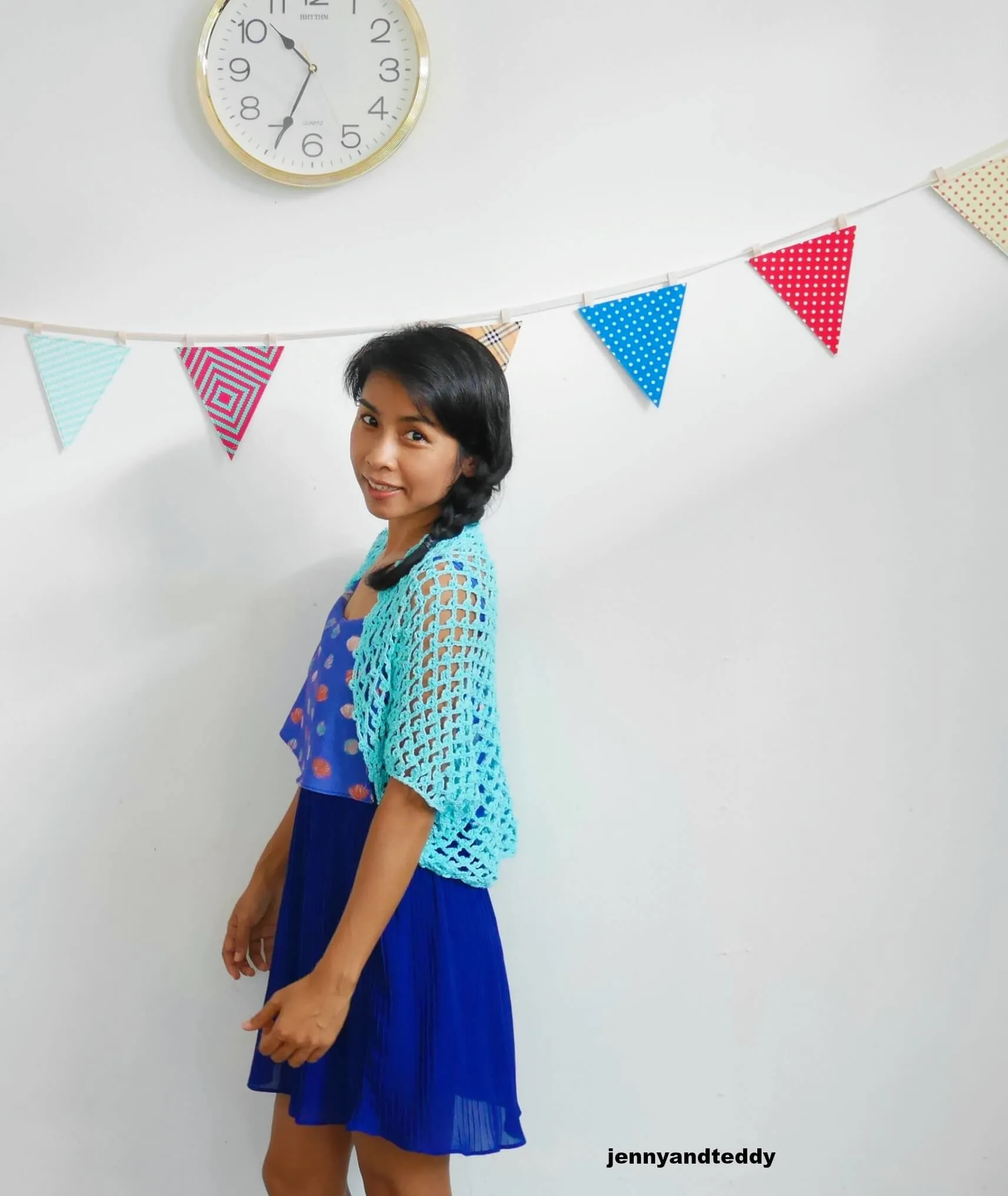 The best yarn for lacy shrug patterns.
Cotton yarn: is my favorite fiber that I love to work with when it comes to crocheting a breezy shrug.
Any plant fiber yarn: you can use any plant fiber yarn such as bamboo, linen, hemp, and more those yarns are lightweight, soft, and great for your skin.
Acrylic yarn: is become the value choice for crocheting an open stitch shrug; however, please bare in mind that it won't give the same beautiful drape like any plant fiber yarn gave you.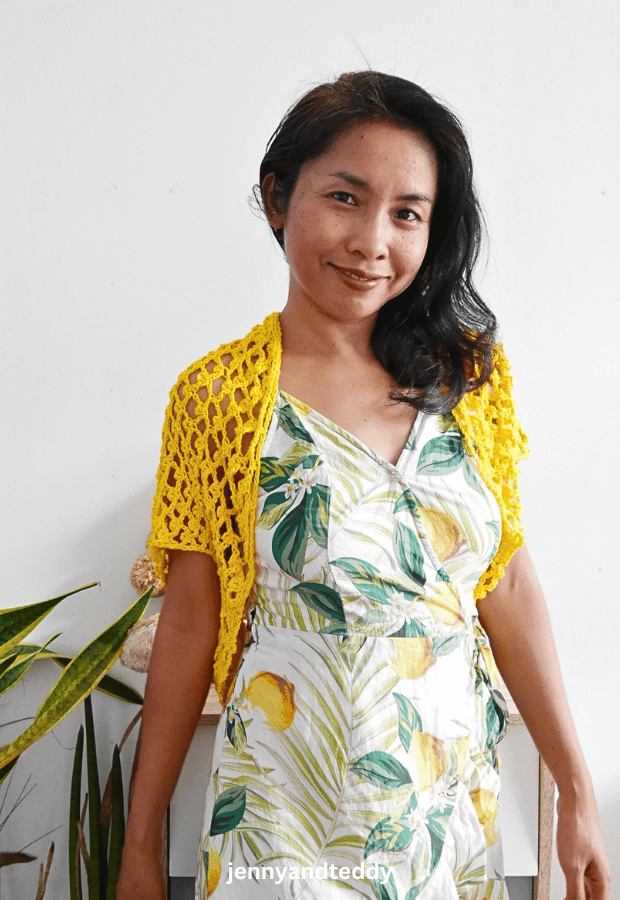 More free crochet shrug patterns for you to enjoy.
Supplies & materials.
I used Lion brand 24/7 cotton, it's 4 medium weight, but you can also use dk weight for more lightweight. I am using about 300-400 yard fit sizes, small to medium. ( easy to adjust the size; see pattern instructions below) yarn weight 4 worsted medium.
4.0 mm crochet hook
Sewing yarn needle
Skill and abbreviations.
(American crochet terms)
You will need to know how to make
St (stitch)
sc, which means single crochet
dc, which means double crochet
ch, Chain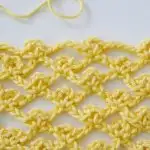 Finished Size Approximately: size small to fit 2XL For the bigger size, add more chains to the foundation chain. See detail below.
How to crochet a lace shrug Video tutorial.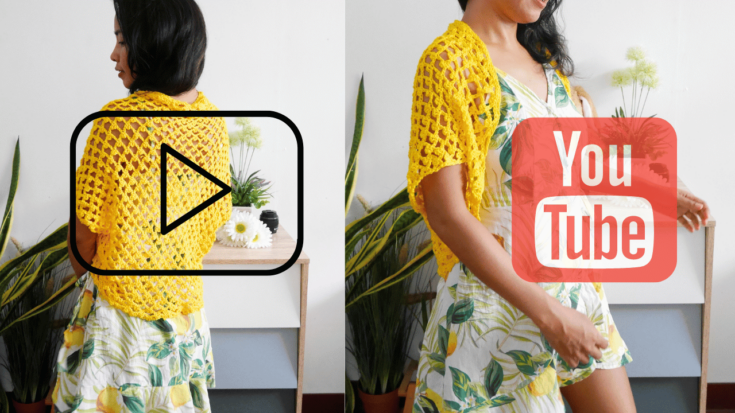 Gauge: 2 group of picot chain stitch = 2.5inch
Measurement.
of the rectangle.
33 inches wide
20 inches long
Love at first sight lacy crochet shrug free pattern instruction.
The chain will be multiple of 5+2 for the foundation.
In this small to medium sample size, I start with chain 120+2.
(Large 130+2)
(XL 140+2)
(2XL 150+2)
Row1. sc in the second chain from hook, * chain 5, skip the next 4 chains, then sc in the next chain* repeat * to* across until the end of the row. turn
Row2. * chain5 then ( sc,ch3, sc in the center ch of the previous row)* repeat * to * across until in last ch5 of the previous row make sc in the center of ch5 then skip2 ch and make 1dc in the last sc. ch1 turn.
Row3. sc in the same St. * ch5( sc,ch3, sc in the center ch of the previous row)* repeat * to * until you are in the last ch5 from the previous row then make sc in the center of ch5.
Repeat rows 2 and 3 until you get to 20 inches long.
Assembly.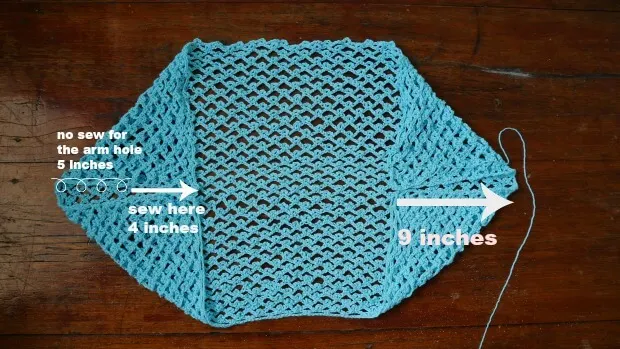 After we got one piece of the rectangle, now it was time to assemble.
Shape armhole.
Lay the piece of rectangle in flat and fold each corner inward until they meet.
Then use your yarn needle to seam the corner with your preferred method ( I used whip stitch) and leave holes for the arm. For the armholes, I leave my one about 5 inches or you're preferred length.
Repeat for the other side.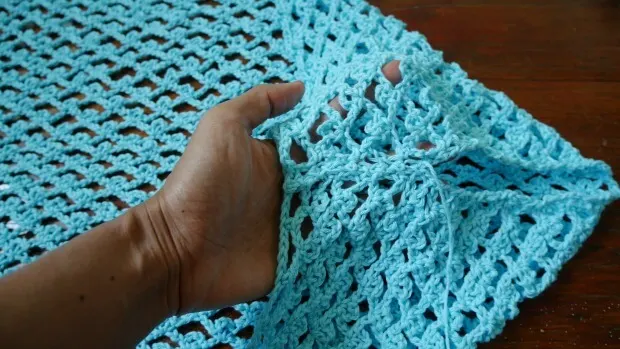 All done!
Happy crocheting.
Now enjoy your new shrug! If you make one, I would love to see your creation tag me on Instagram!