Crocheted cowl are one of my favorite projects to make, especially made with chunky or bulky yarn because they are super quick to whip up. I'm so excited to sharing my quick and easy Crochet Cowl called " Sweetheart fluffy cowl" with you all.
It's made from funfur yarn and acrylic yarn hold together while crocheting , the fluffiness from funfur yarn make it fluffy , squishy and soft to wear with the combination of acrylic yarn which will help to see stitch clearly while crochet!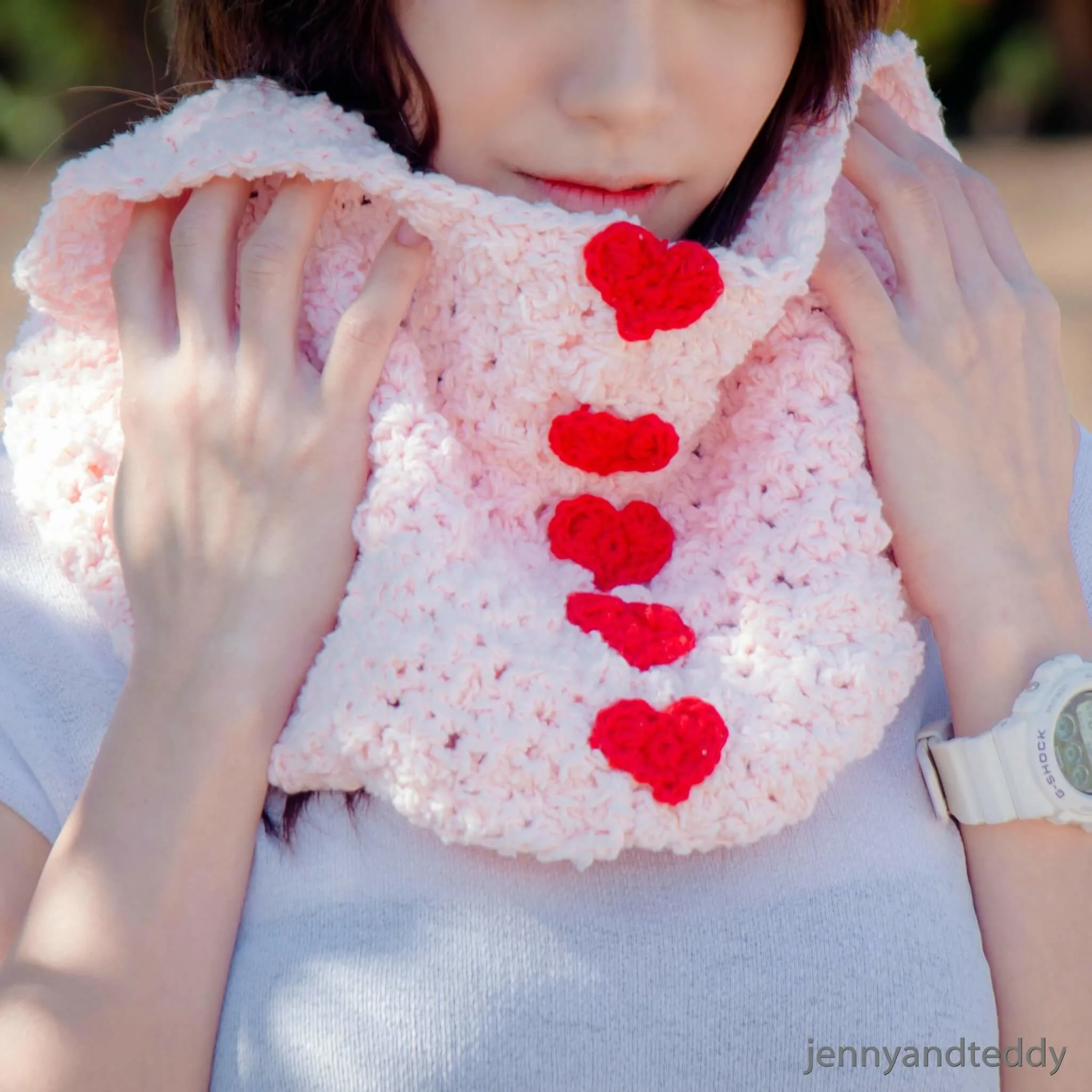 To work this sweetheart fluffy cowl you'll be working in rows and then joining the ends together . They only need basic stitch like single and double crochet. So no worry if you are beginner.
I pick up candy pink color for this cowl and add little touch of tiny crochet heart to spice to the piece. This might be perfect valentine day last minute's gifts.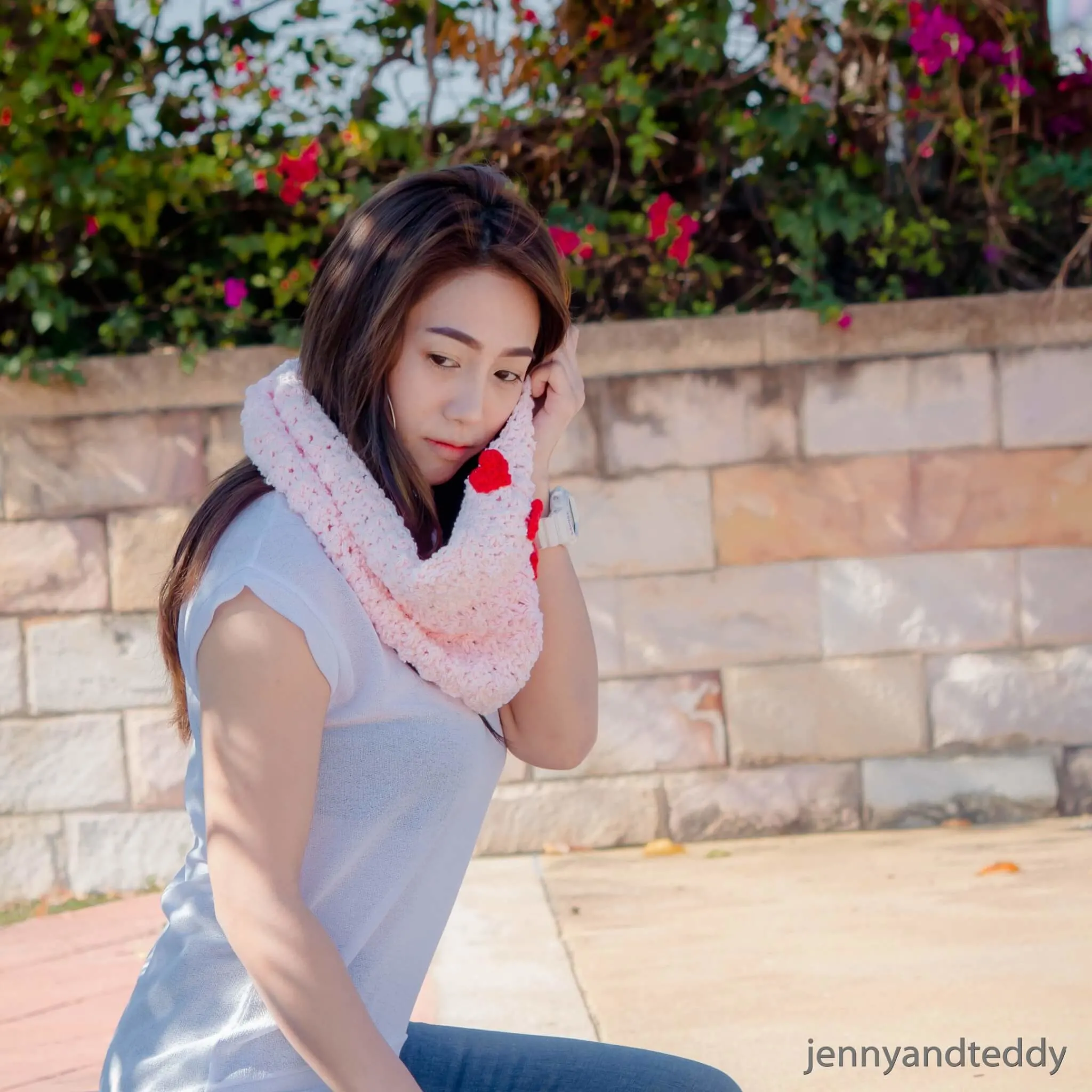 Let's get start!
– I used Worsted weight or acrylic yarn 8 ply 270 m 100g about 2 skein of pink color and 2 skein of ( funfur yarn) 50 grams/60 meters. Sample using WISP Brand Moda Vera Parade 100% soft nylon. (hold them together while crochet )
-red color for crochet heart
– 6 mm crochet hook or J/10 US hook size
– Sewing yarn needle
-3.5 mm crochet hook for crochet heart applique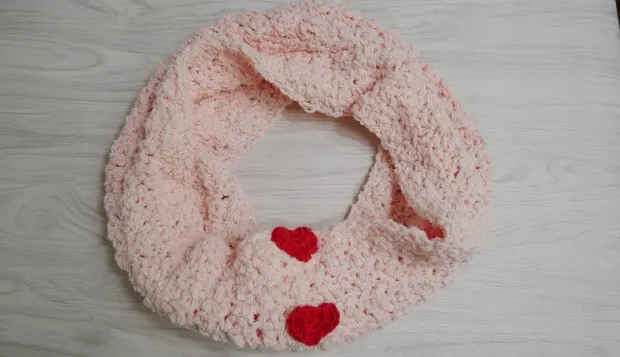 Skill and abbreviations
(American crochet terms)
You will need to know how to make
-Sl st (slip stitch)
-sc which mean single crochet
-dc which mean double crochet
-ch, Chain
-slip knot
Gauge: 2 stitch x 2 rows = 1 square inch
Finished Size Approximately: one size fit all
Measurement.
-9inches wide
-32 inches long
This pattern is made for beginners! There is a basic skill level required to make.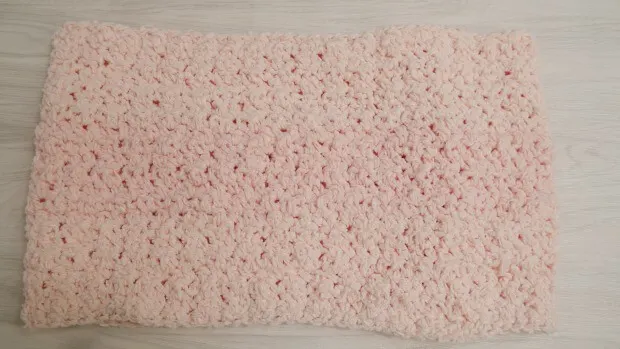 Sweetheart fluffy cowl instruction.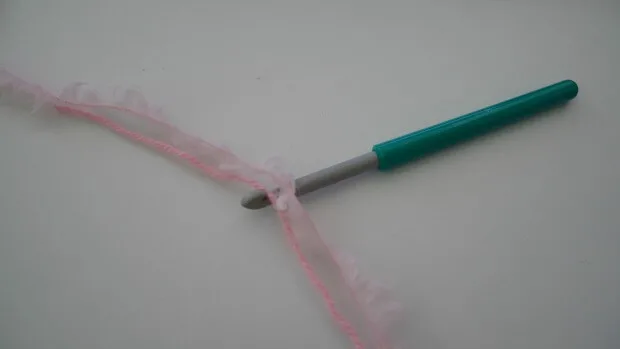 Start of by making a slip knot Then make 80 chains foundation chain. (hold funfur and acrylic yarn together while crochet through out the pattern)
This scarf can be as wide or as narrow as you want it to be, by simply adjust the foundation chain to lower number like ( 80, 100,120 or 140 even number) for the length. And for the wide simply add more row or decrease row.
Row 1: sc in each chain across, ch1 turn
Row 2: * sc in next st, dc in next st * repeat * to * across until the end of the row. Ch1 turn
Row 3: * sc in next st, dc in next st * repeat * to * across until the end of the row. Ch1 turn
Row3-28: Repeat row 3. or your desired wide.
Fasten off.
Now time to make crochet heart
get the free pattern with the video tutorial of easy crochet heart. from jennyandteddy
video tutorial for crochet heart.

I making abut 5 hearts or you guy can use a wooden button instead.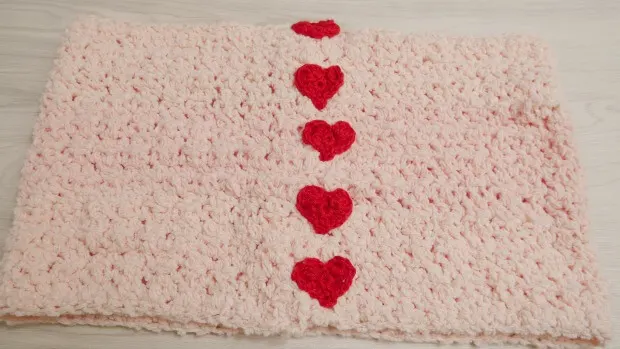 Finishing.
Weave in all ends with yarn needle. Then joining the end together by sewing using yarn needle.
And Adding crochet tiny heart along the seaming.
you can get the crochet tiny heart free pattern with video tutorial.
Now you have your very own Sweetheart fluffy cowl!
If you make one I would love to see your creation tag me on Instagram!
Happy crocheting.