Free crochet Santa hat and Christmas theme patterns. With winter approaching and Christmas getting closer every single day, it's time to start thinking about keeping yourself warm! You don't want to be caught out in the snow without a hat, do you? Never fear, we're always here looking out for you and we've created a great list of hats for you to make for yourself! This list of easy to crochet Christmas hats will leave you with a warm fuzzy feeling in your heart and on your head.
1. https://www.jennyandteddy.com/2012/01/santa-hat/
This super cute crochet Santa hat for baby is simple to make, but you've got to admit that it looks cosy and warm. This will help you get in the spirit.
2.http://cherishedbliss.com/2012/11/stocking-hat-crochet-pattern-free.html
Here's a crochet Christmas stocking hat that will really tug at your heart strings. This long hat is perfect for photo shoots like this website shows. Its super cute you'll never want your babe to take it off!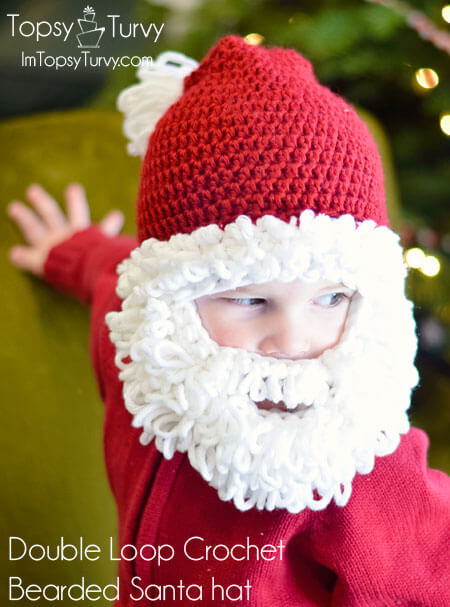 3.http://www.imtopsyturvy.com/double-loop-bearded-santas-hat/
Now you can turn your little one into the cutest Santa around! This hat comes with a cute white beard attached. You'll be laughing all Christmas long!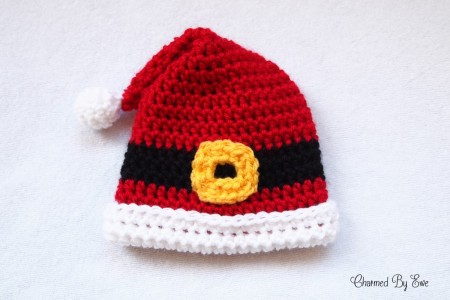 4.http://charmedbyewe.com/free-crochet-pattern-preemie-santa-hat/
I really like this super cute hat. It's like a hat version of Santa's pants, complete with his belt! This is a cute little festive hat for your loved one!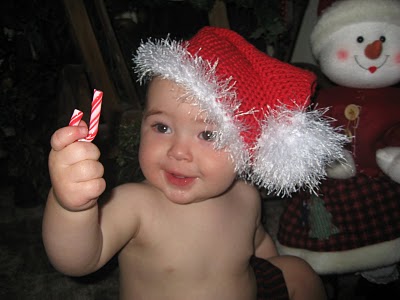 5.http://www.girlinair.com/2010/12/how-to-make-santa-hat.html
Check out this super cute hat! I love the fuzzy fringe on this hat because it really helps the hat to stand out and gives it a silly look!
6.http://amray1976.blogspot.com/2012/12/crochet-snowman-hat.html
That's right, we've got more than just Santa hats around here! Check out this super cute snow man hat! Nothing better than a snow man warming your head, and a bit of irony!
7.http://www.repeatcrafterme.com/2012/12/crochet-rudolph-reindeer-hat-pattern.html
And to go along with a cute little snowman, you're going to die when you see this reindeer!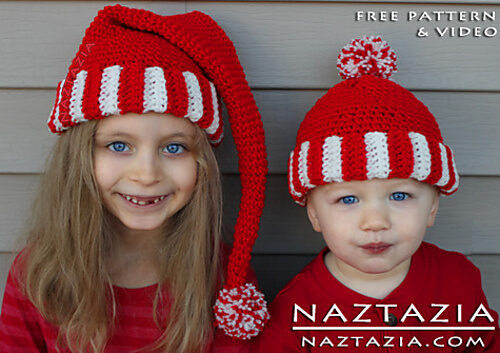 8.http://www.ravelry.com/patterns/library/santa-hat-elf-hat-pixie-hat-beanie-hat-with-help-video-for-kids-children-babies-adults
This site is offering so many different styles of hats! Try one or try them all! It's going to lead to having fun and looking cute!
9.http://www.sharalambethdesigns.com/2012/05/pixie-bonnet-pattern.html
If your dream, or someone close to you has had a dream, of being a cute little winter fairy, then will be very happy with this pattern!
10.http://simplysweetcreate.blogspot.com/2011/12/snowflake-hat.html?spref=fb
Here's a Christmas hat that has a bit of a different look to it. I love the snowflake on the side as it adds a little bit of a feminine touch!
11.http://illhookyouup.blogspot.com/2012/09/christmas-ball-ornament-hanger-crochet.html
This pattern isn't a hat, but it's more of an accessory. When you're wearing a Christmas hat, you might as well have a Christmas bell!
12.http://www.cre8tioncrochet.com/2012/12/trees-go-round-adult-christmas-cap/
Here's a cute winter hat that's decorated with pine trees. With a layer of snow on the ground and Christmas trees around, is there a better way to keep warm?
13.http://allthingsbrightandbeautifulcrafts.blogspot.com/2011/11/christmas-tree-beanie.html
You're never going to be able to pass up this cute little hat! It's literally a Christmas tree! Look at it, are you seeing this cuteness?
14.http://www.repeatcrafterme.com/2012/10/crochet-snowman-hat-pattern.html
Here's a jolly set of snowmen to bring a smile to your face. Frosty the snowman came to life with a hat, so what will it do for you?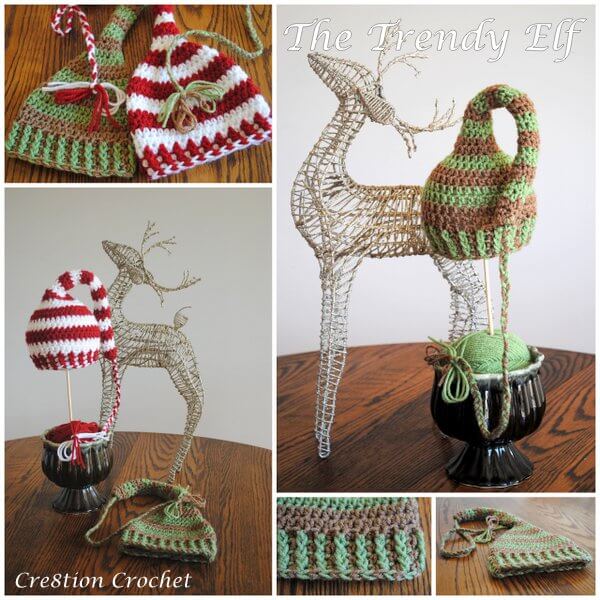 15.http://www.cre8tioncrochet.com/2012/12/the-trendy-elf/
Here's another pattern for a long style hats. Now you can be decked out with Santa's colors, or you could be one of his helpful elves!
16.http://www.oodles-4-noodles.com/2011/03/long-tailed-baby-elf-hat-tutorial.html
Here's another long style hat, but this one features a cute little pink color. This easy to crochet Christmas hat is sure to brighten up someone's winter!
17.http://www.littlestickyfingers.com/patterns/2013/3/28/crochet-infant-elf-hat-free-pattern
If you aren't tired of long style hats, then be sure to look at this one! This hat has all kinds of colors with a cute little puffball at the end!
18.http://classycrochet.wordpress.com/2013/05/14/free-pattern-crochet-elf-striped-pixie-hat/
We may have featured a pink long style hat, but don't think we left out the boys. This blue had will look super cute on your little boy.
19.http://www.knotyournanascrochet.com/2012/11/crochet-elf-hat-adult-with-size.html
And last but not least we've got a cute little elf hat to show off! Give it to your special little helper and they will be sure to know that they are appreciated!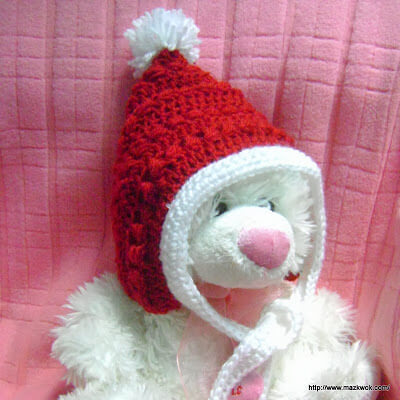 20.http://www.mazkwok.com/2013/10/free-crochet-pattern-christmas-baby.html
Cannot get enough of cute pixie baby hat? here you go another easy pattern to follow for you guys.