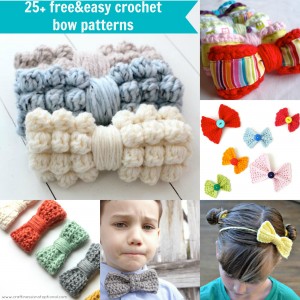 Crochet bows are a must have for your hair accessories.Today we brought you super cute collection of easy crochet bow tutorial and free patterns to whip
up for this holiday season. We all have our own styles. Fashion is one of the things that make us all unique, so why would you settle for any cookie cutter accessories?
Well, you no longer need to fret because we're here to show you the way to make your style stand out! Below is a great list of crochet hair bows that you get to make yourself to add that little personal touch to your style!
1.http://www.craftinessisnotoptional.com/2013/01/easy-crochet-bow-tutorialpattern.html
These bows tutorial may seem a little basic at first, but don't under estimate them. These little bows will add an elegant touch to any
outfit and won't over power another accessory.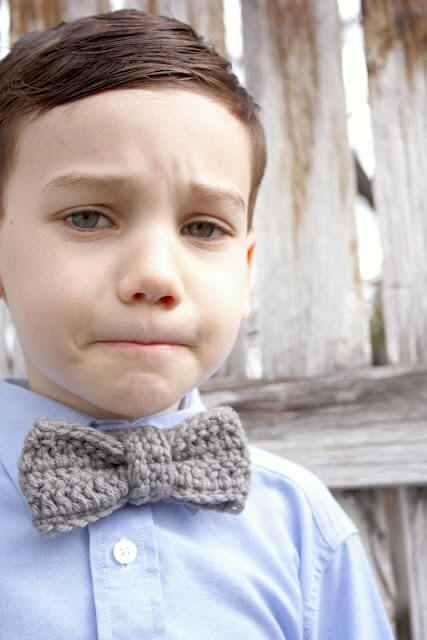 2.http://www.deliacreates.com/2011/03/textured-bow-tie.html
I really wish that I could pull off the bow tie look, but because I can't I definitely want to pass it on. This will definitely add a little throw back look into your outfit.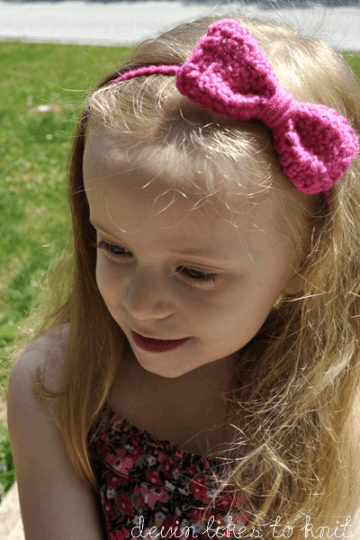 3.http://devinlikestoknit.wordpress.com/2012/06/01/simple-crochet-bow-with-pictures-crochet-pattern/
This cute and easy crochet hair tie will match well with any hair style or color, all you need to do it put it on and you're ready for the day!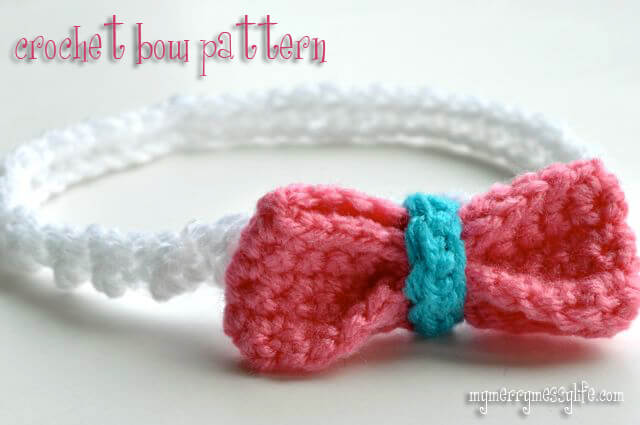 4.http://mymerrymessylife.com/2012/03/easy-crochet-bow-pattern-free-crochet-pattern.html
If you've checked this simple crochet bow pattern out and weren't completely won over within the first 10 seconds of seeing it, take another look because this
bow is absolutely darling and would look fantastic with a sundress!
5.http://adaiha.blogspot.com/2011/02/super-simple-crochet-bows.html
Are you looking for something more than just one simple bow patterrn? How about a few bows of different colors? This set of bows would lay lightly over your hair
and is sure to bring in completments!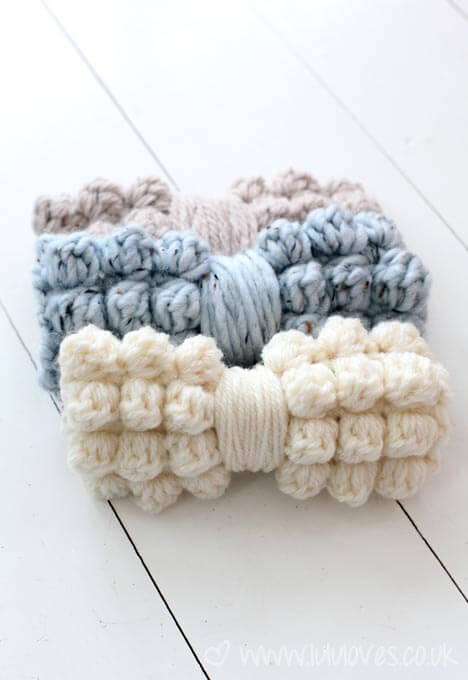 6.http://www.lululoves.co.uk/item/crochet-pattern-chunky-bobble-bows.html
These are called chunky crochet bows, but don't let the name fool you. These bows have great character to them and would look great with a dress shirt, or even a
headband and would definitely complement a pair of glasses.
7.http://www.tejiendoperu.com/crochet/lazo-o-mo%C3%B1o-en-punto-cocodrilo/
This set of bows has the same style, but it's a little different. These bows have a spunk that would complement any smile! In my opinion, they also have a bit of
an 80's vibe to them.
8.http://www.thetastefulhooker.com/tips/crochet-tutorial-how-to-make-hair-bows-and-flowers/
This bow is of a different style. This one would complement any ponytail, but I think it would look very cute on a side ponytail. This cute little flower would
look great with any outfit.
9.http://rischandmade.blogspot.com/2011/08/crochet-bow-hair-clip-pattern.html
Here's another pattern for a simpler bow. These bows have a relaxed feel to them and would work well with a t-shirt and jeans. This way you no longer have to
sacrifice comfort for fashion.
10.http://sewinlovewithcraft.blogspot.hu/2012/07/tutorial.html
These bows are definitely for the crafty ladies out there. These cute little bows remind me of balls of yarn, so feel free to let the world know your passions
with these in your hair!
11.http://peoplewebs.blogspot.ca/2010/11/bow-headband-tutorial.html
This pattern is for a bow headband, and I absolutely love it. Have you ever had those days where you just wanted to give up on your hair? Well with this bow at
your disposal, that won't ever be a problem again!
12.http://www.ravelry.com/patterns/library/chunky-bow-scarf
This one is also a little different, but also a good one for you fashionistas. This pattern is for a bow scarf, good for not only looking fabulous but also keeping
warm on those chilly mornings!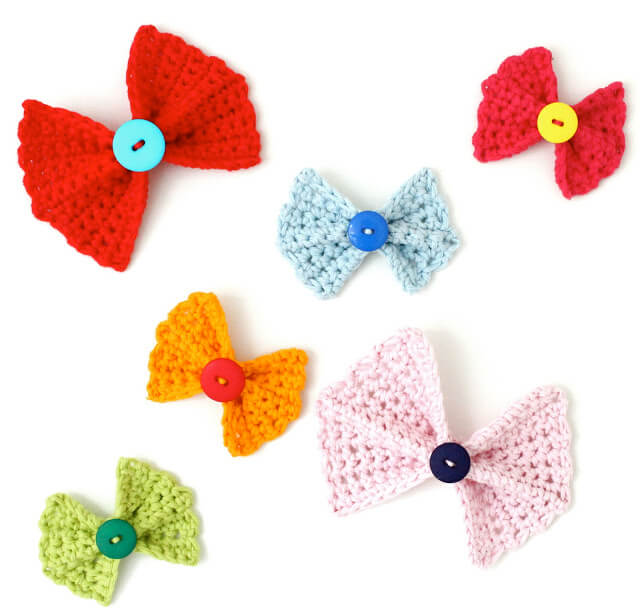 13.http://accordingtomatt.blogspot.co.uk/2012/06/summery-seaside-rainbow-jars.html
These bows simply make me smile! They have a cute little button in the center that just seems to give it a little extra charm. They also look like macaroni
noodles! They are simply too cute!
14.http://www.tangledhappy.com/2013/04/how-to-crochet-sweet-little-bow.html
Don't worry bow fans, that wasn't all we had for you! This cute pattern will be a great one to add to your outfits as well. Maybe I could get into bow headband after
all.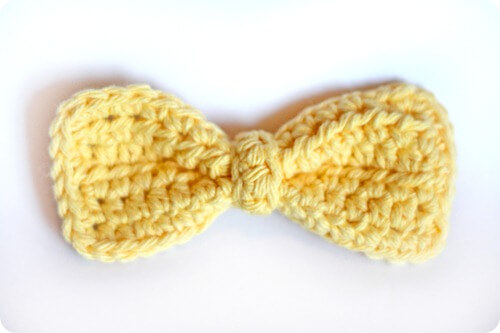 15.http://crochetingthedayaway.blogspot.com/2012/01/simple-bow-pattern.html
If you know us well, then you better believe that we wouldn't leave you without a few flowers! These flowers are adorable and are sure to look great with any
outfit, so try them out!
16.http://www.happytogethercreates.com/2010/08/crocheted-hair-bows-tutorial.html
These bows are a little different from all the others you've seen. I think these bows would look great with a messy bun in your hair or if you teased your hair up.
Mix and match!
17.http://www.desperatehouselife.com/big-crochet-bow-hair-clip-diy.html
Here's a little bit of a bigger bow if you aren't quite a fan of the smaller ones we've shown you thus far. I especially like this bow because I think it would
look well pinned up in thick or wild hair!
18.http://onesheepishgirl.blogspot.ie/2012/09/crochet-boutique-book-review-small-bow.html
This elegant little red crochet bow definitely will get the attention of everyone around you. They will be asking you where you bought it because they will want
to run out and buy it, too bad they won't be able to make it like you will!
19.http://goodknits.com/blog/2012/10/11/crochet-bat-bow/
Oh dear, this cute bow tie is an absolutely must! How would you not want to wear a bow tie that is shaped like a bat?Perfect for little party! You will get to
walk around all day feeling like Batman…or Batwoman!
20.http://thegreendragonfly.wordpress.com/2013/03/28/a-pretty-crochet-bow/
If you liked the first headband style bow, then you'll definitely like this one. This bow looks great with your hair up or down, and will go well with any
seasoned outfit!
21.http://inkandsquid.wordpress.com/2012/01/18/naptime-craft-big-bow-ear-warmer/
Here's one last headband bow for you before we end this list. We want you to feel confident and beautiful in any outfit you wear, and this one will definitely help you along to greatness!
With so many options of bows, I bet you have no idea where to start. My suggestion?
Make them all! Have fun and try new looks, who knows, you might discover a brand new look for yourself!