Summer is here; I am so happy to show you this simple crochet skirt pattern, That I ever made.
This light weight striped skirt crochet pattern uses my favorite color, which is a shade of pink.
I am so happy about how the skirt came out; they have a neat cut shape in the front and a beautiful triangle shape in the back which is a bit longer than the front that will cover up its ty booty.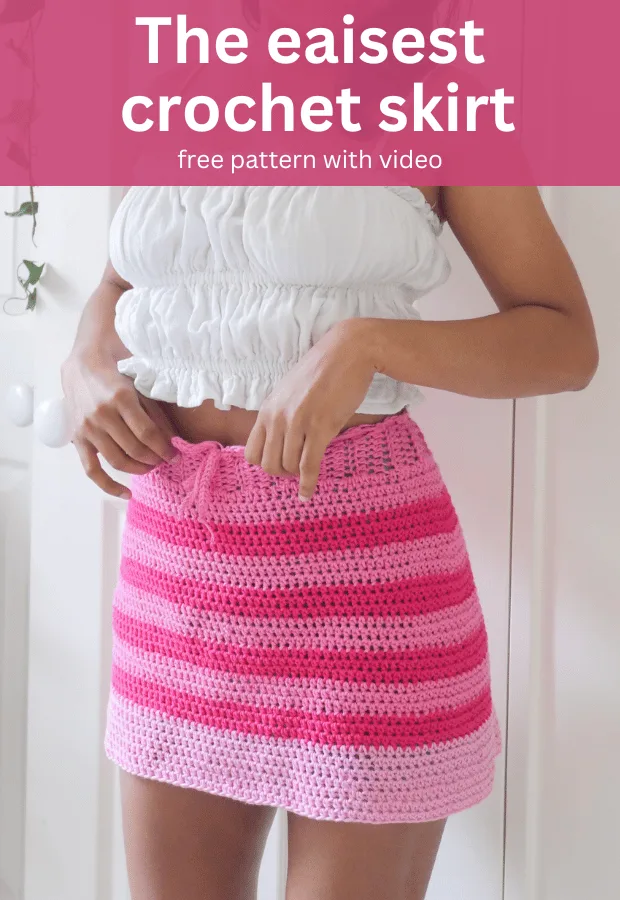 How to crochet a skirt for a beginner.
The Crochet skirt is a beginner-perfect crochet project to start with if you are keen to try your hook for a basic crochet garment.
This crochet skirt has a very simple construction, and a basic crochet stitch needs just a one-row repeat.
This easy-stripped skirt is also simple to customize for shorter or longer lengths by adding more rows to increase the length of the skirt.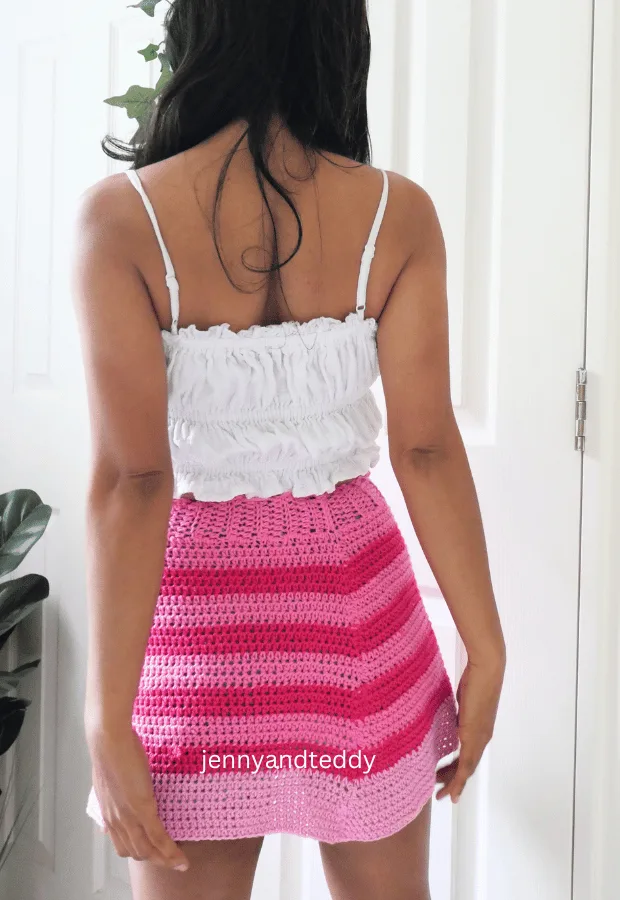 Here I gather 3 easy steps to start crocheting a skirt for you.
Step1. crochet a ribbed band that can wrap around your waistline. Whether you want a high waist or a low waist, you can customize it.
Step2. Join the ribbed band to create the circle, then start to crochet a simple round along the band by picking out your favorite crochet stitch that you like.
Step3. Increase the body of the skirt by marking the two points for the hip part and continue to add length to the skirt and that is all you are done.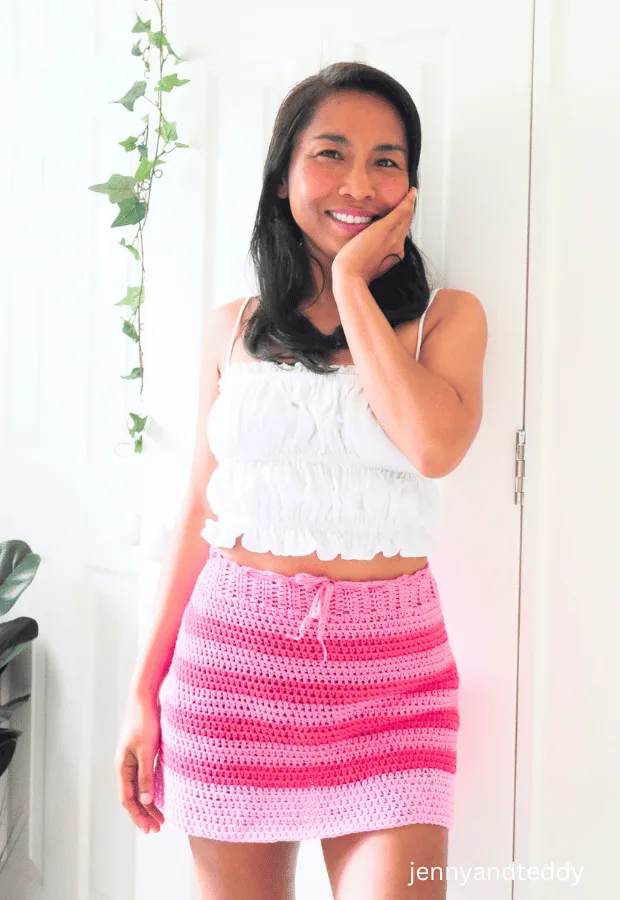 Make them in any size.
This striped skirt high waisted is make to measure which mean that you girls can make them in any size just by measuring your waisted line and we will work it out from there.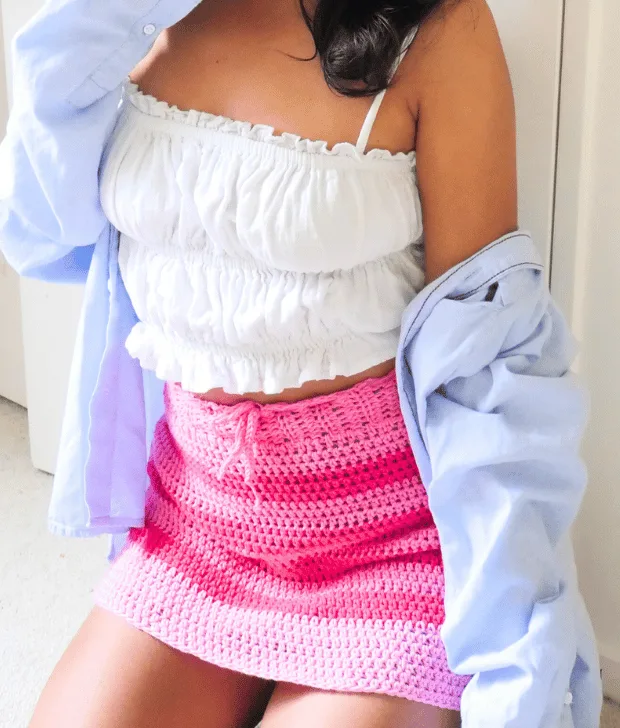 The best yarn for crocheting a skirt.
In this pattern, I use cotton dk weight mixed with 2-weight yarn and they look absolutely fabulous.
So for this crochet stripped skirt pattern, you can use any yarn weight and fiber that you have they will work just fine.
For a summer crochet skirt, I would recommend cotton yarn or plant fiber is perfect for the hot and humid weather because the cotton they not trap the heat in the garment and you will feel more relaxed in it.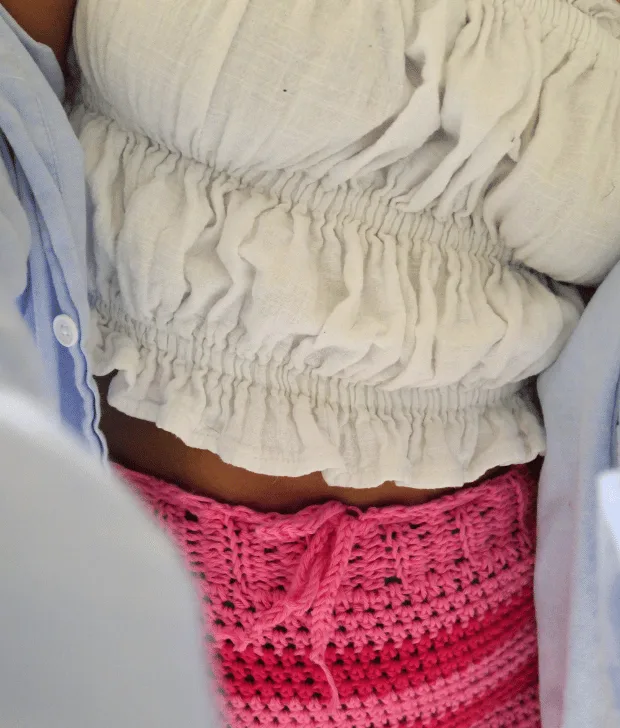 Need more free crochet skirts pattern to make this weekend?
Material & material.
In this skirt pattern,I used yarn weight 2 from Hobbii Rainbow 8/6 around 500 meters = 5 skeins for my waistline 27 inches high waist.
1 skein of Hobbii rainbow 8/6 is 50 gram=105 m 100% cotton
4.0 mm crochet hook
Sewing yarn needle
Skill and abbreviations
You will need to know how to make (American crochet term)
hdc, which means half double crochet
ch Chain
slip knot
sk means skip-stitch
The finished Size for this crochet skirt is Approximately: 27 inch waistline.
For me, the model wearing this piece, I am 4'9 feet tall, bust of 32 inches, a waistline of 27 inches, hip of 35 inches.
Pattern Note:
This crochet skirt can be made in any size by making the waist ribbed band longer to wrap around your waistline.
How to crochet a simple skirt tutorial for beginner step-by-step video.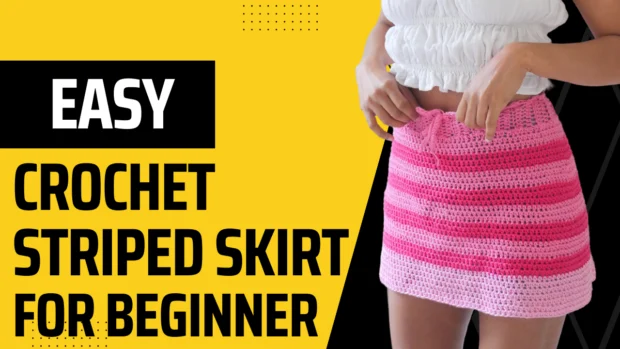 First we will measure your waisted line above your belly button.
The ribbed band is the length of waisted line in this example size fit waisted line 27 inches.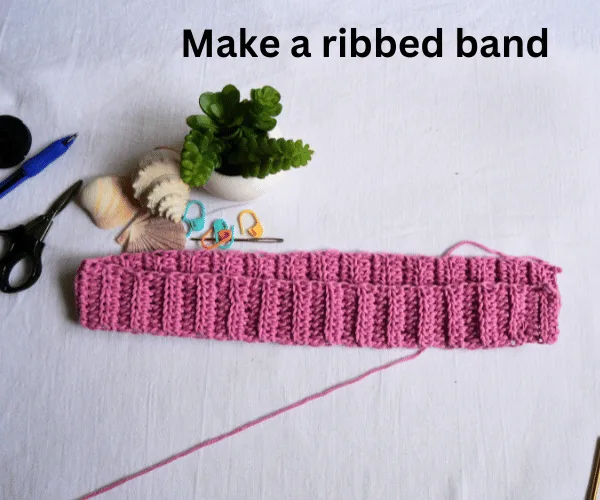 Start making ribbed band.
We will start with 9 chain for 2 inch think of the band.
Row1.Then hdc in each chain across until the end of the row. chain1 and turn.
Row2. hdc in back look only to create the ribbed effect and repeat row2 until you got enough length of the band that can wrap around your waistline.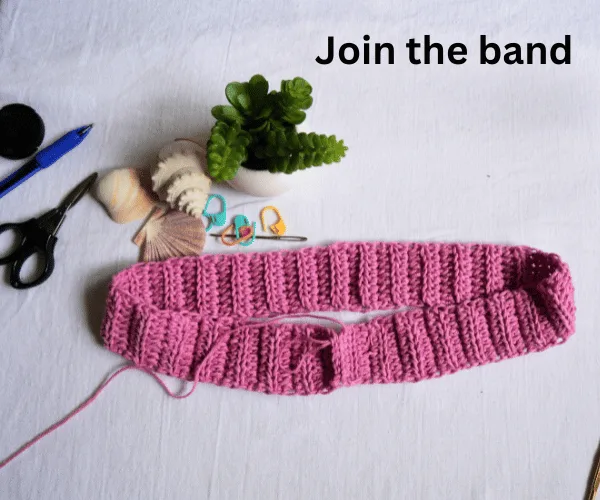 After we got your length of the band for your waistline now we will join the band to create the circle by slip stitch and start round1 of the skirt.
Round1. Make hdc in each stitch across until the end of the round.( join round with slip stitch then chain2).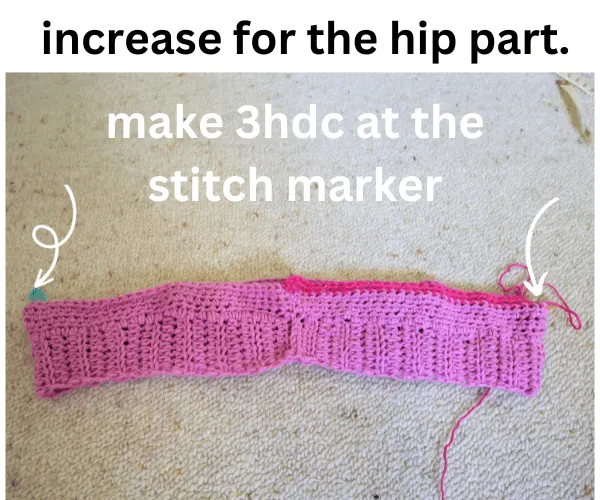 Round2. made hdc in the same stitch ( this will create the triangle shape at the back of your skirt)
then we will place a stitch marker at each side of the skirt for increasing for the hip part,
Now we will hdc in each st around until you meet the stitch marker on the stitch marker we will make 3hdc on that stitch and the rest keep hdc in each stitch until we meet another stitch marker then make 3hdc on that stitch and keep make hdc until the end of the round. (join round with slip stitch ontop of chain 2 from the previous round.
Round3. make hdc in stitch around when we meet at the stitch marker on each side of the hip do not increase just continue with hdc until the end of the round.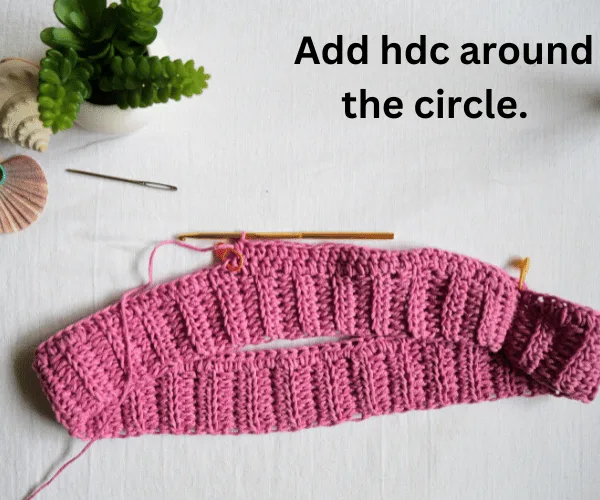 Repeat round 2-3 until you got the skirt is big enough for your hip then we will stop increasing and continue with the length of the skirt with hdc in each stitch around.
All done!