Crocheting a v-neck top can't get any easier than this colorful Candy Frost summer top-free pattern.
The candy front top is so simple, made from 2 crochet panels, one for the left side and one for your right side, and joined together to create the beautiful V-neck style top.
No fuss about shaping the crochet piece to create the v-neck all you need is to join the two panels together, and viola, your v-neck top is done.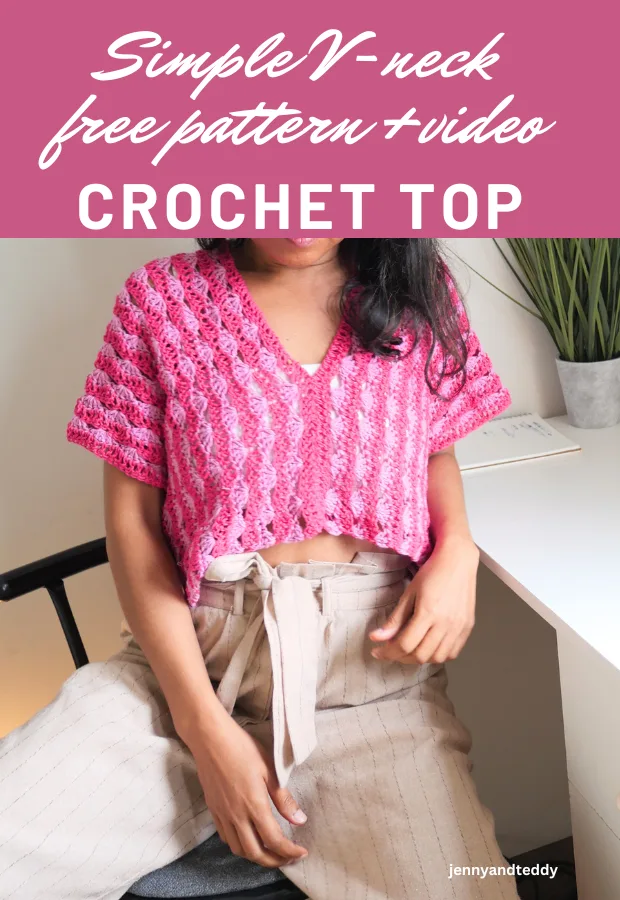 The easiest crochet v-neck pattern for any size.
This candy frost is not only simple but also easy to adjust for every size you want, from extra small to plus size, to suit your body type.
They are made by measure. By this, I mean we just need to add more rows to increase the width of those two panels and that it you done.
Made up your own gauge as you go, I have made a full-step video tutorial for this top for you to follow along.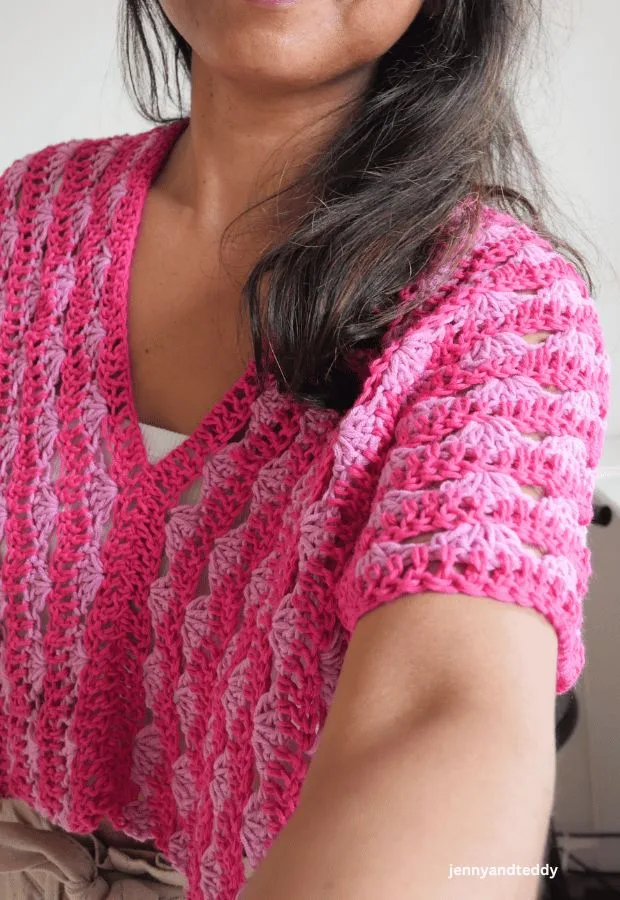 Best yarn for crochet v-neck summer top.
If you girl love working with cotton yarn is a perfect fit for this hot and humid weather and This summer cropped crochet top is great for any yarn type and fiber that you have on had.
Need more free crochet top pattern to make this weekend?
Material & material.
In this skirt pattern,I used yarn weight 2 from Hobbii Rainbow 8/6 around 500 meters = 5 skeins for my cropped length top 14 inches.
1 skein of Hobbii rainbow 8/6 is 50 gram=105 m 100% cotton
4.0 mm crochet hook
Sewing yarn needle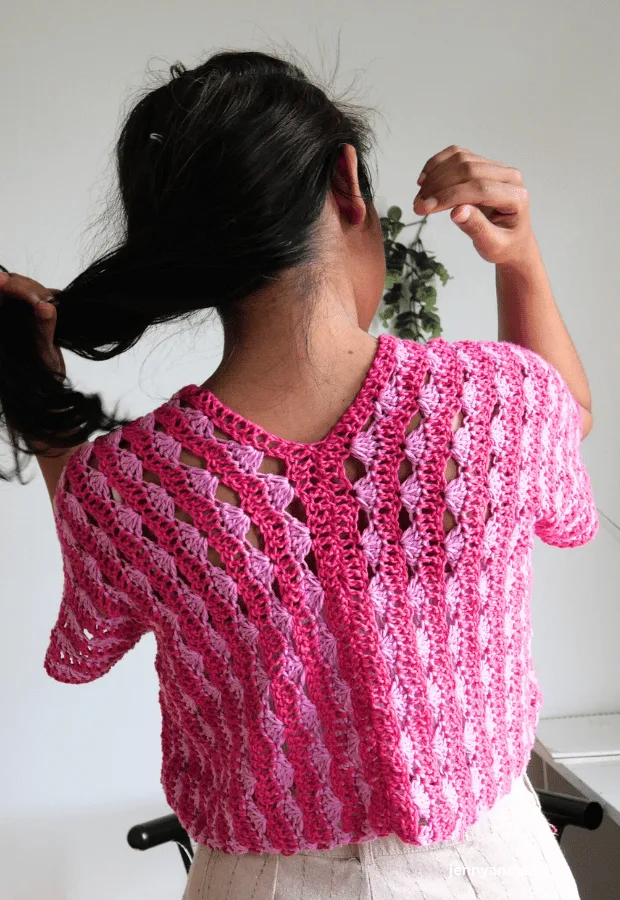 Skill and abbreviations
You will need to know how to make (American crochet term)
hdc, which means half double crochet
ch Chain
slip knot
sk means skip-stitch
dc, which means double crochet
The finished size for this crochet top is Approximately: small.
For me, the model wearing this piece, I am 4'9 feet tall, bust of 32 inches, a waistline of 27 inches, hip of 35 inches.
Pattern Note:
This crochet top can be made in any size by adding more rows to each panel
The adjustable length of the top is by adding more chains to the foundation chain in multiples of 5+1
How to crochet a simple v-neck top for beginner step-by-step video.
Candy frost v-neck crochet top pattern instruction.
Crocheting Left & right panel.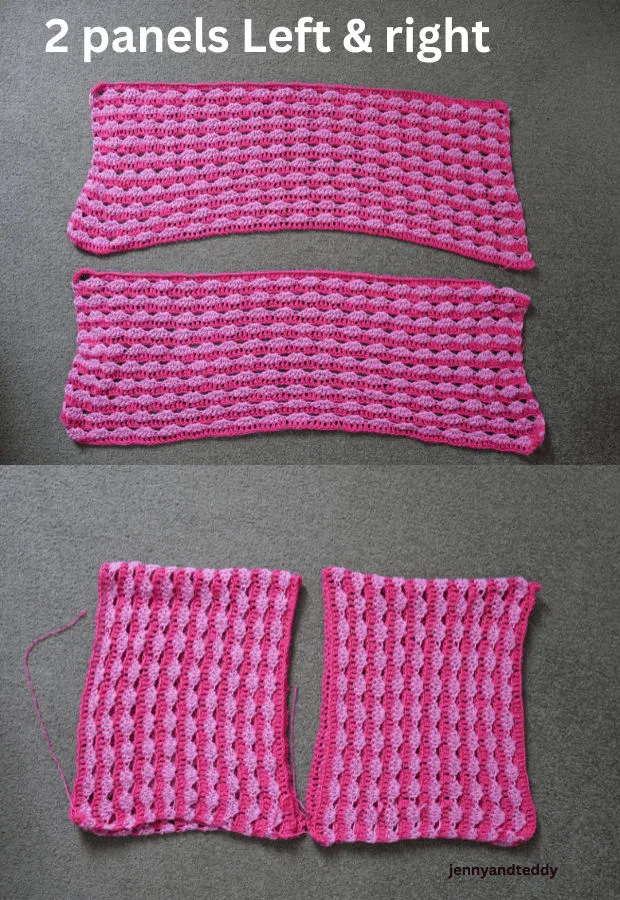 First, we will start the foundation chain in a multiple of 5+1; this will be the length of your crochet top.
In this example is cropped length, so I chain 100+1.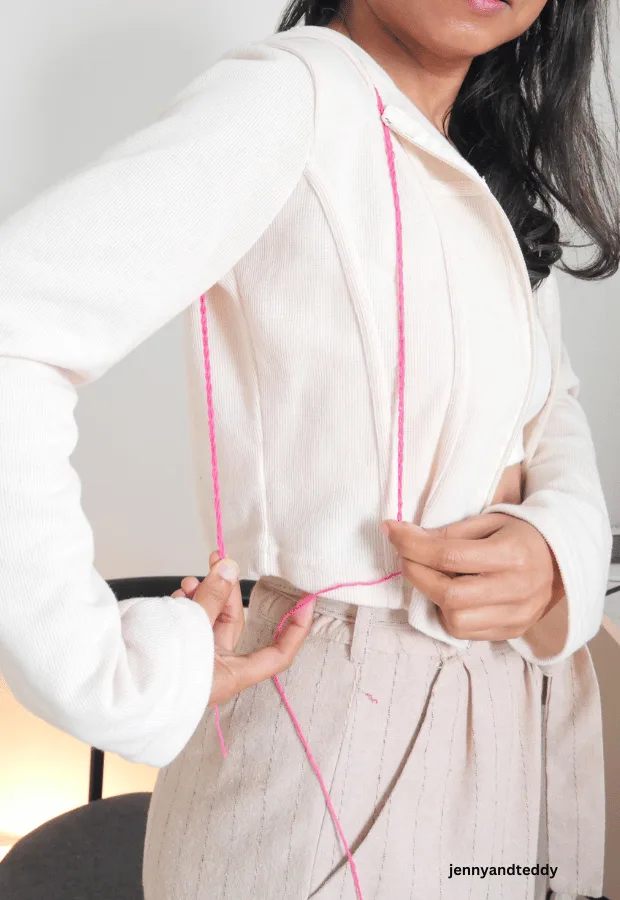 Row1. chain3 counts as 1dc, then dc in each chain across until the end of the row. Chain 3 and turn.
Row 2. 2 dc in the same st, *sk4 st, then make 5 dc in the next st* repeat this until the end of the row; at the end, make 3 dc in the turning chain from the previous row. Chain 3 and turn.
Row 3. 1 dc in each stitch across until the end of the row. Chain 3 and turn.
Row 4 and more repeat row2-3 until your 2 panels is wide enough for your size.
Assemble the v-neck top.
Lay 2 panels in flatted side by side and join them together by sewing using a yarn needle.
Sew in the back to create a back panel for the top, and sew and the side to create the armhole. After that, sew in the front to create the v-neck top.
All done happy crocheting.