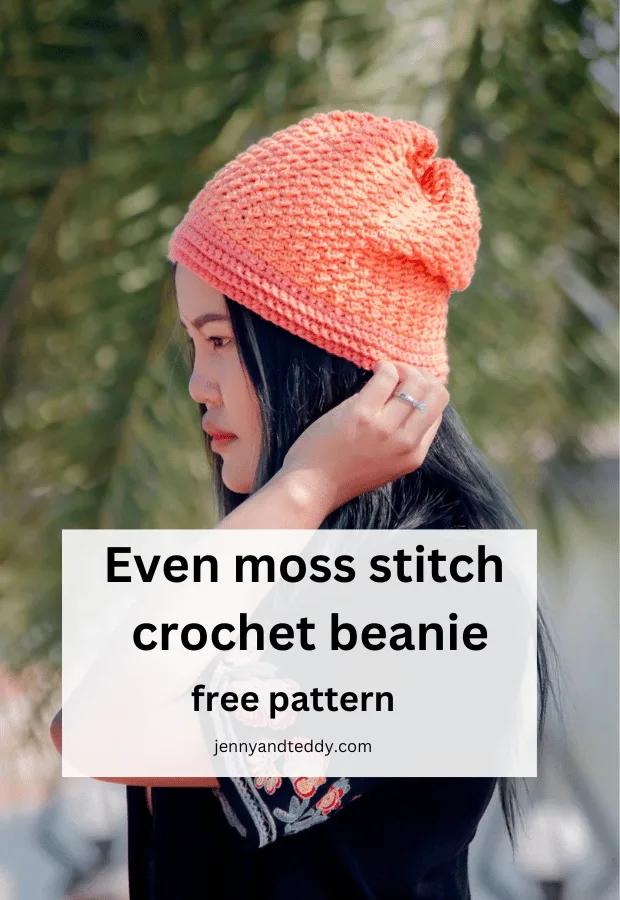 Hi Girls, Did you know that this even moss stitch crochet beanie hat is ridiculously easy? Really they are!
Ok, let me explain why; this funky, fun Abigail beanie hat is super simple to crochet because the whole beanie is made out of crochet, an alternative of half double crochet and slip stitch all the entire hat.
So this is the easiest crochet beanie that is perfect for beginners out there quick and simple!

The easiest even moss hat crochet pattern.
This Abigail beanie surely will be a great addition to your wardrobe this spring and winter.
This even moss crochet hat is made by crocheting one rectangle that is long enough to wrap around your head so that you can make this crochet hat in any size, from child size to adult size.
The beginner stitch in this beanie hat-free crochet pattern is very simple, just a one-row repeat of half double crochet stitch and slip stitch alternate.
The brimmed part of this simple crochet hat is made from continued crocheting from the rectangle, so overall, this hat is crocheted from the top down.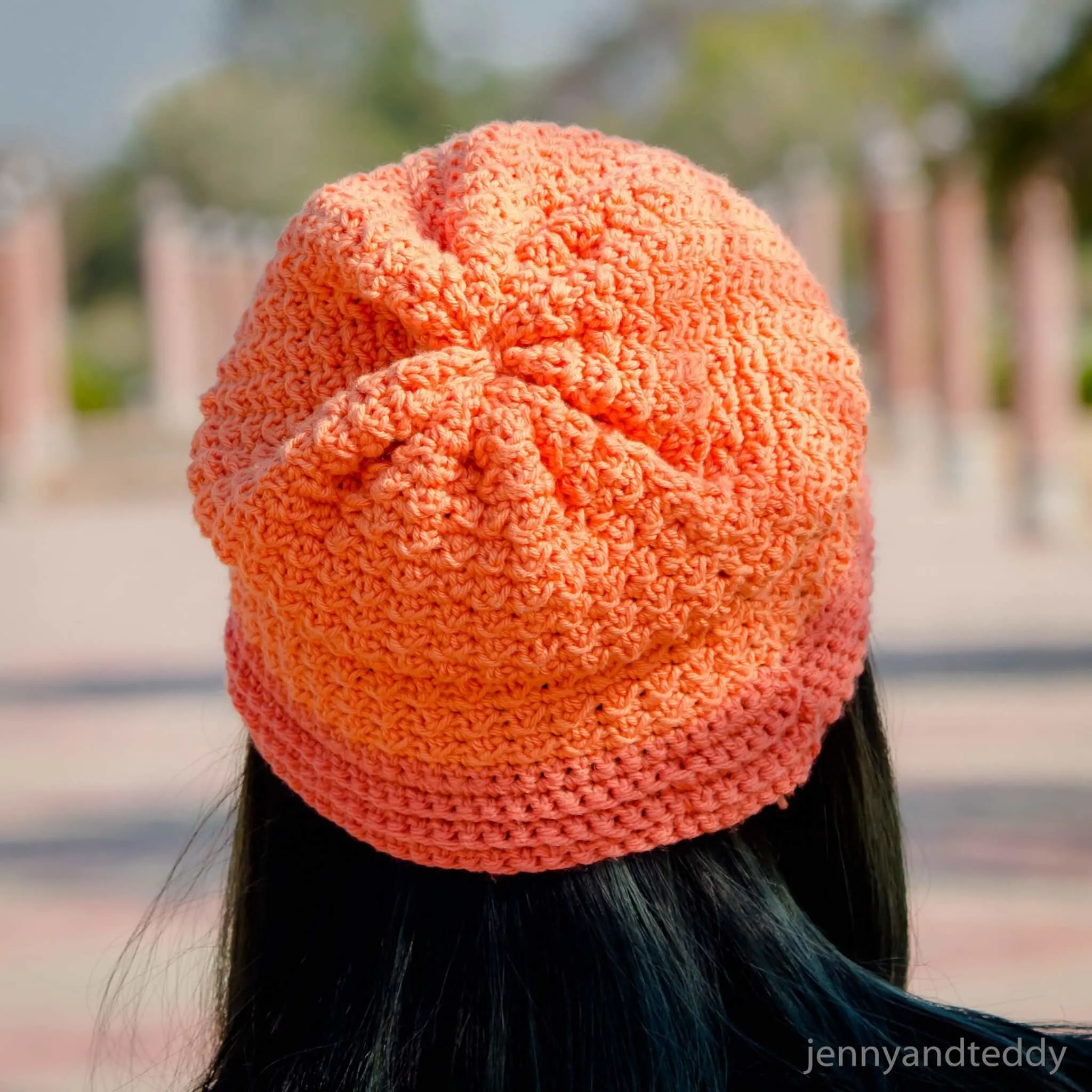 Best yarn for even moss beanies.
In this free crochet hat pattern, I use cotton blend yarn with 4 medium weights.
Now about the fiber content for this crochet beanie, oh well, you can use any material. For example, polyester fiber, cotton, wool, bamboo, etc.. will work just fine.
Need more beginner crochet hat free patterns?
Supplies & materials.
I used Lion brand 24/7 cotton.
3.50mm crochet hook.
Sewing yarn needle.
Skill and abbreviations.
(American crochet terms)
You will need to know how to make
Sl st (slip stitch)
sc which means single crochet
hdc, which means half double crochet
blo, which means crochet in the back loop
ch, Chain
slip knot
Gauge: 4 crochet stitches x 4 rows = 1 square inch
Finished Size Approximately: one size fits all adult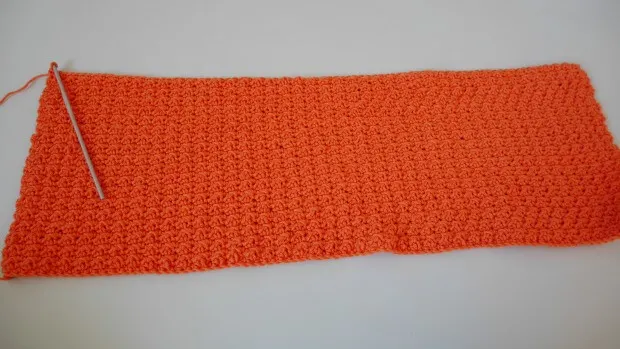 Measurement.
one rectangle
10 inches wide, including band
22 inches long
This pattern is made for beginners! There is a basic skill level required to make.
Abigail, the even moss stitch crochet beanie pattern free instruction.
Crochet the hat body.
Start off by making a slip knot, Then makes 86 chains of foundation chain.
Row1. sc in the next chain from hook, then sc in each chain across until the end of the row, ch1 turn.
Row2. *hdc in next st, then sl st in next st* repeat * to * across until the end of the row. Ch1 turn
Row3-20. Repeat row 2 .
Crocheting the brimmed part of the beanie.
Now we are going to make a band continue crocheting from round 20.
Round21. pick up darker orange color: hdc in each st across until the end of the row, ch1 turn.
Round22. blo hdc in each st across the row, ch1 turn.
Round23. blo hdc in each st across the row, ch1 turn.
Round24. blo hdc in each st across the row, ch1 turn.
Round25. blo hdc in each st across the row, ch1 turn.
Round26. blo hdc in each st across the row, ch1 turn.
Fasten off.
Assemble the hat.
Weave in all ends with a yarn needle.
Fold the rectangle in half and line up the end.
Using your yarn needle and whip stitch to connect the end together, then use whip stitch to close the gap at the top of the hat. Tie off and weave in end.
Now you have your very own Abigail beanie.
If you make one, I would love to see your creation; tag me on Instagram! would love to see your creation.
Happy crocheting.