This chunky boho fringe cowl crochet pattern is a lot of fun to make and quick to crochet.
Ok, girl! Put your hand up if you love all things bohemian style, me too. Do you ever feel your style and outfit depend on your mood? For me, definitely!
Lately, I am so into all things boho-like fringe, tassels, flower crowns, and more. And I thought I would give it a go for the fringe cowl.
Easy chunky crochet cowl with fringe pattern.
This fringe cowl works up quickly because of the bulky yarn I use, and the cowl is crocheted from one rectangle. I add a little touch with the wooden button to make it even more cuteness overload.
You girls can crocheted this easy cowl scarf with or without the fringe it totally looks great either way.
This 3-button cowl-free crochet pattern has easy-to-follow instructions, with a video tutorial to help along.
Best yarn for crocheting this easy fringe cowl.
Acrylic yarn: The 100 % polyester with bulky weight, which they are so soft and cuddly and great for the cold and chilling day for fall and winter.
Wool yarn: also work great and feel luxurious and toasty warm for you if you pick one of those.
Cotton and plant fiber: they work just fine; try to find the bulky weight if you cannot find switch to hold a double or triple stand when you crochet the cowl.
Need more easy cowl crochet patterns for beginners?
Supplies & materials.
I used acrylic yarn Lion brand woolease thick and quick.

6

mm crochet hook or J/10 US hook size
Sewing yarn needle
3 wooden buttons. I used wooden buttons that are 1 inch wide or your preferred choice.
Skill and abbreviations.
(American crochet terms)
You will need to know how to make
Sl st (slip stitch)
sc, which means single crochet
dc, which means double crochet
ch, Chain
slip knot
Special stitch use called " 3d cable stitch."
"3d cable stitch": Skip the next st. Dc in each of the next 3 st. yarn over and go back to the st that we just skipped and insert your hook into the skipped stitch and Pull up a loop to the height of the 3dc. (Yarn over and pull through 2 loops) 2 times, completing our first 3d cable stitch.
Finished Size Approximately: one size fit all adult
Gauge: 2 cable stitch x 2 rows = 3 square inch
Measurement.
Of the rectangle.
8 inches wide
35 inches long
There is a basic skill level required to make.
Dreaming out loud Boho fringe cowl free crochet pattern instruction.
Start off by making a slip knot. Then make 91 chains (foundation chains).
Row1. sc in the next chain from hook, then sc in each chain across until the end of the row, turn.
Row2. ch3, make 3d cable stitch in each st across until the end of the row; in the last st, make dc and turn.
Row3. ch3, make 3d cable stitch in each st across until the end of the row, make dc in the chain space of the previous row, and turn.
Repeat row 3 until the piece measures approximately 35 inches long and 8 inches wide or desired length. Fasten off
How to crochet boho fringe cowl video tutorial.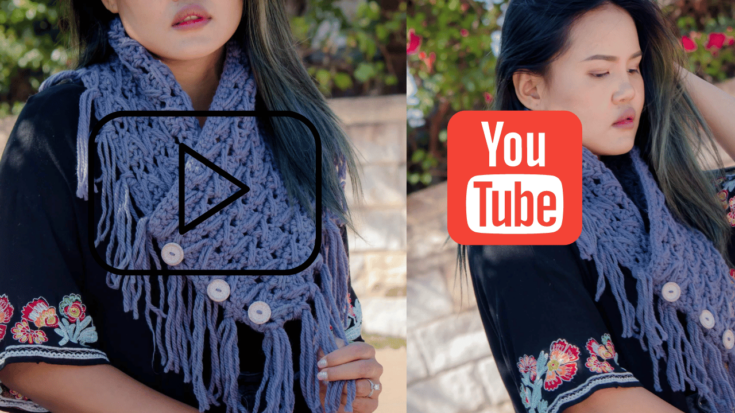 Assemble the cowl.
Weave in all ends with a yarn needle. Add fringe (about 6 inches long) at the bottom.of the rectangle.
How to add fringe on crochet cowl in 3 easy steps.
1. To add fringe, group the three strands of yarn into one group, then cut it about 6 inches long. The length of the fringe depends on how you like the fringe long or short.
2. Make a loop of 3 yarn strands and pull through the gap at the edge of the rectangle and tie a node.
3. After we get all the fringe on the edge of the rectangle then, we will trim the fringe to make them look tidy and pretty that it!
After you add all the fringe to the cowl now take each end to overlap and use a yarn needle to sew both ends together to secure it.
And attach a button on top by using a yarn needle.
Now you have your very own Boho-style cowl.

If you make one, I would love to see your creation. Tag me on Instagram! would love to see your creation.
Happy crocheting.