I am so in love with Spring! And the bright and cheerful yellow color of this tiny duckling crochet pattern brings me joy and happiness from the colors to the smell in the air, everything just seems fresh and new.
My son and I were reading a book the other day that was all about baby animals, so I crocheted up some easy duckling appliques for him. This free crochet pattern is perfect for Springtime fun!
This tiny duck applique had a cute little mouth and a long pointy tail.
I added a colorful wing that can be customized in any color to suit your need. This free crochet duckling pattern is a bit more involved than some of my other appliques, but it's easy to master.
Even if you're brand new to crochet, this little duckling can be yours in under 20 minutes.
If you're a seasoned pro, it should take about 15 minutes. It's definitely a quick and adorable applique for Spring.
While my son has just been playing with the other crocheted amigurumi duck push toy I made for him.
There are a ton of different ways you can use this small duckling crochet applique.
I plan on using them for some of our Spring throw pillows and adding one or two to my laptop bag. I love switching appliques out by season!
Instead of sewing them on, you can use a small safety pin to pin them on; it makes it a lot easier to switch them out!
They'd even make a great addition to a child's Easter basket if you wanted to use them for that.
OH, I almost forgot to tell you that I had another kind of crochet duck applique with a different cutie tail from the previous post, If you guys want to check them out.
You don't need a lot of yarn to make them and you could even switch up the colors if you wanted to.
I chose yellow cotton yarn for the body because I find that it works best for small appliques.
The wings were made with scraps of yarn that I had in my bag, so it was really inexpensive to make them.
If you don't have orange yarn, I would recommend getting a small skein though. The beak looks much better in orange than in any other color.
So, grab your crochet hook and whip up a few easy and cute crochet duckling appliques using this free crochet pattern that I created just for you. The possibilities for it are endless!
How to crochet a duckling step by step.
Let's start with supplies.
I used scrap yarn, you guys can use any yarn weight that you have it will work perfectly but in this example piece, I use 4 medium weight yarns of 100 % cotton or Lion brand 24/7 cotton.
A 3.50mm crochet hook or a 4.0 mm hook will do. You can use any crochet hook size that suits the yarn weight you got in your hand.
Sewing yarn needles.
you can make them bigger or smaller by using bigger or smaller size crochet hooks.
Easy crochet little duckling video tutorial.
Duckling free crochet pattern instruction.
Start with the crochet head of the duck.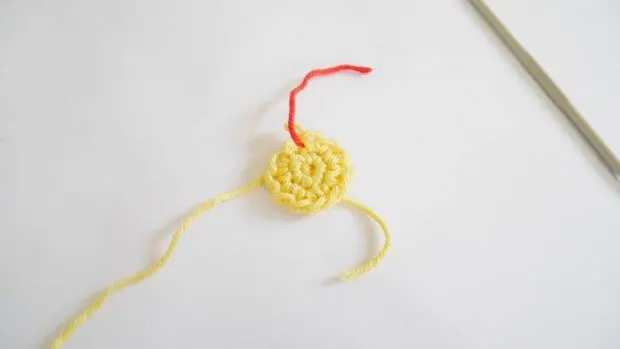 Round1.
Make a magic ring or adjustable ring and 6sc in the ring (6 sts)
Round2.
2sc in each st around (12 sts)
we are onto the crocheted duck body
Round3.
Chain 6 turn and make 1hdc in the next stitch from the hook, then make 2dc in the next stitch, 3dc in the next stitch, sc in the next stitch, and sl st in the next stitch.
Round4. go up to duck head
*Sc in next st, 2sc in next st* and repeat from * around (18)
then move to tail chain 5, (next stitch make 1dc and 1hdc all in the same stitch), then sl st in next, sl st in next, and sl st in the last stitch.
For the mouth.
simply use different colors and connect by making sc follow along with the pic.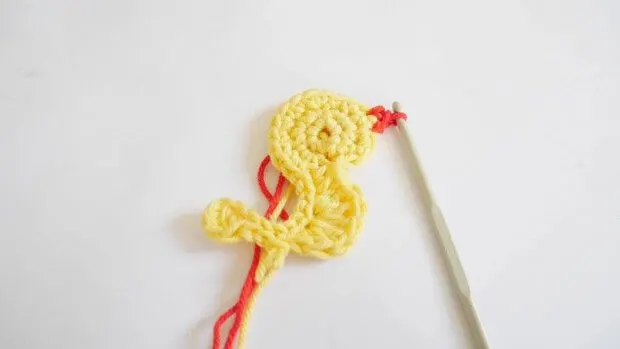 Little Duck wing.
Round1.
Make a magic ring or adjustable ring and 5sc in the ring (5 sts)
Round2.
( sl st in the next stitch from hook) then in the next stitch make 4dc then chain1.
After you got the wing now it is time to sew them onto the body.
All done!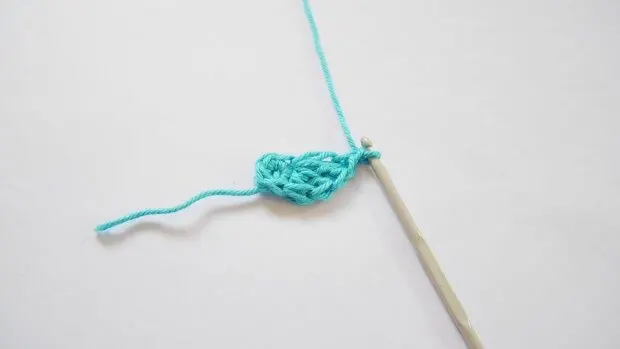 Happy crocheting!