Let me quickly tell you how I designed these Easy 3d crochet flower pattern with multi petals, or you could call it a pinwheel flower.
In my previous post, I made a beginner wide brim crochet hat, and I really want to add some flowers to the hat to make it look more pretty and cute. That is how this pinwheel flower was born.
Flowers make me happy. Whether they're real ones, fake ones, or my favorites – crochet ones- I love seeing them.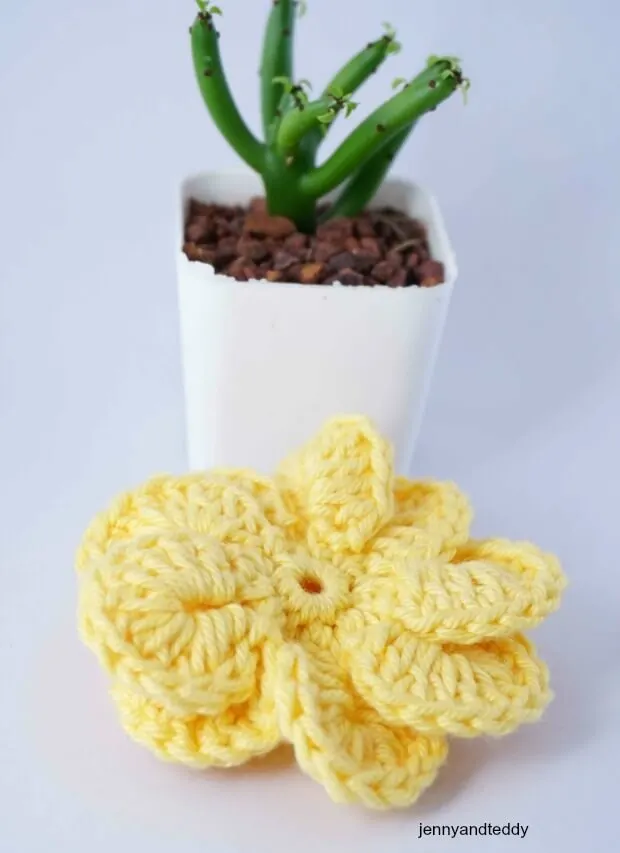 How to crochet a 3d flower.
This 3d crochet flower-free pattern is crocheting all in one piece and starting with creating the magic adjustable ring.
These flowers came from my desire to branch out and create a flower with more depth and dimension and many petals.
This is a scrappy yarn project; it is the idea to use up all your leftover yarn. You can use any type of yarn you'd like. However, I chose cotton yarn because I love the feel of it.
Sometimes acrylic yarn just isn't fun to work with, you know?
You can make the flower in any color you'd like, so it's perfect for any season. Make a bunch of flowers and turn them into a crochet flower bouquet. That is the idea.
Need an addition to your Spring centerpiece? Go for light colors like pale pink and soft yellows. The possibilities are endless!
This free pattern is definitely easier than you guys think.
Need more crochet flower free patterns?
Video tutorial.
Skill and abbreviation.
For this project, you will need to know crochet basic stitches.
American crochet term.
How to make a magic adjustable ring,
hdc, which means half double crochet
dc, which means double crochet
sc which means single crochet
ch, which means chain
sl st, which means slip stitch
Supplies and materials.
I used scrap yarn to hold double.
3.50 mm or 4.0 mm crochet hook for the example piece; you can use any crochet hook size as the yarn label recommends.
Sewing yarn needle
you can make small crochet flowers using a small crochet hook or bigger flowers using a big crochet hook.
3D flower pattern instruction.
Start with crocheting the center of the flower.
Round1.
Make a magic ring or adjustable ring and 10sc in the ring (10 sts)
Round2.
(sc in the next stitch from hook, then chain 6, in the next stitch, make sl st) now we will repeat it around. You will get 10 loops.
Round3.
(In the first loop, make 14dc in the loop, then sl st) and repeat it around, the end!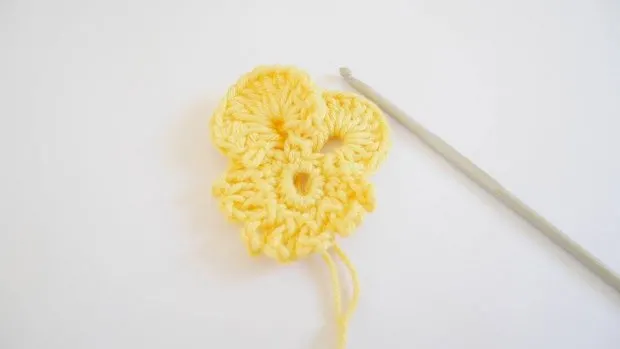 See how simple and easy is that?
Whatever you decide to do with them, just remember to have enough yarn on hand to complete the project.
You could switch out the colors for each petal if you didn't have enough of one, but that's entirely up to you.
Enjoy this new pattern, and let me know what you decide to use it for!
Happy crocheting!