Oh, summer, you certainly do interfere with my plans to accessorize! I love to crochet, but even I don't want to wear a heavy scarf in the middle of a heat wave. To combat Mother Nature's affinity for the heat this year, I decided to create an Easy Ribbed Crochet Infinity Scarf pattern that I'm excited to share with you today.
There are a couple of reasons that I love this scarf pattern. The first is that it's super simple to make. If you can crochet in a straight line, you can make this scarf.
The second is that it's not as wide as some of my other crochet scarf patterns, so the yarn isn't as heavy when I'm working with it. Have you ever tried crocheting a heavy piece that drapes on your lap when it's in the 90s outside? Not fun. This infinity scarf is not like that at all.
I started by making a chain of 250 stitches – which is a long scarf! I then half double crocheted in the back loops only all the way back up. You can repeat that for as long as you'd like to make the scarf as wide as you want, but I decided to only make it 12 rows or about 4 inches wide. It was definitely wide enough for my summer scarf wearing needs!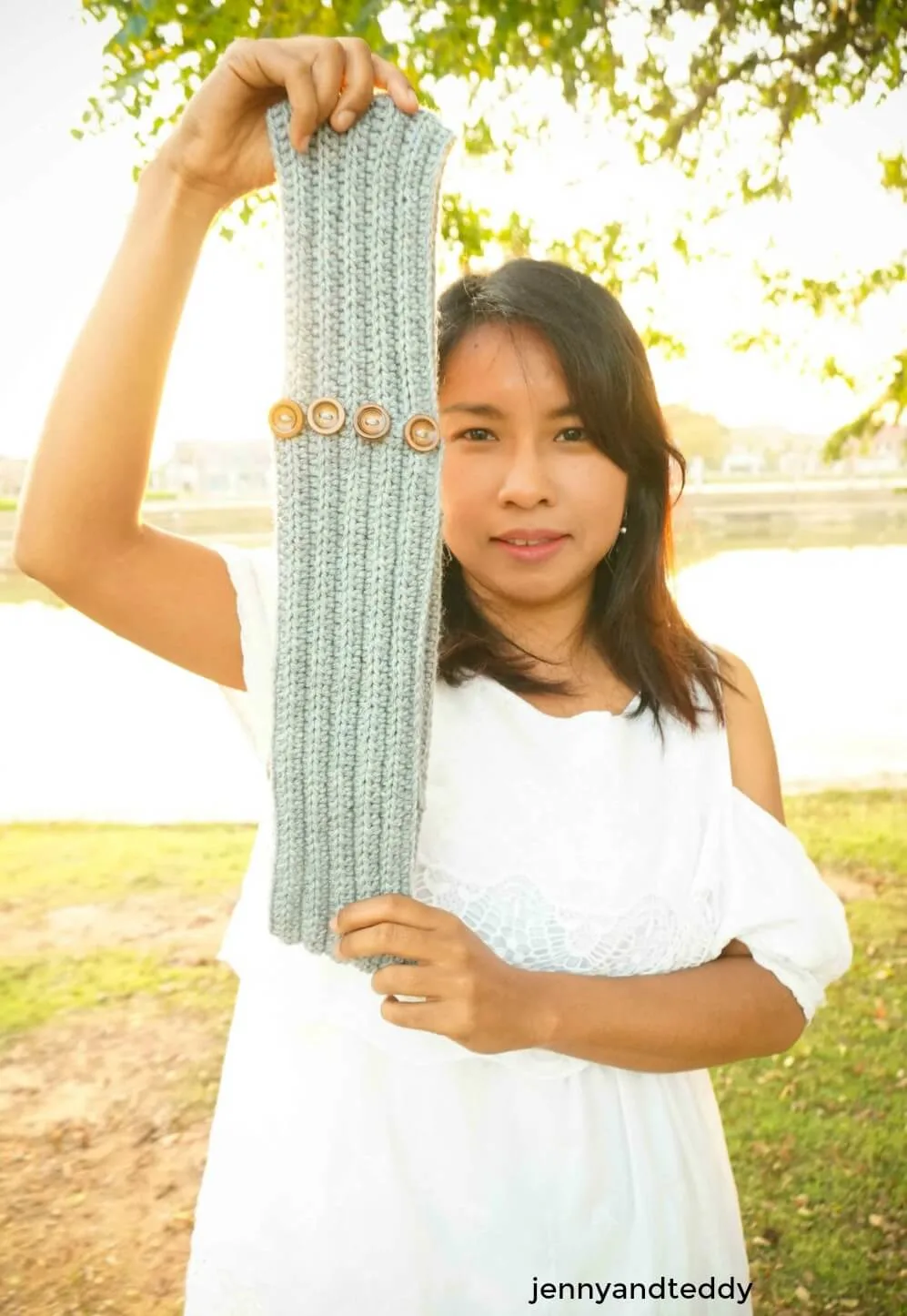 Now, to make it an infinity scarf, you use a yarn needle to sew the ends together to form a loop. I added a pretty button to it for decoration, but you could add a crochet flower or other applique if you wanted to do so.
That's it. It's an easy pattern that you can whip up while binge watching television or while your child is playing with his toys. I really like that I don't have to concentrate too hard on it, but that it gives me something to do and turns out beautifully.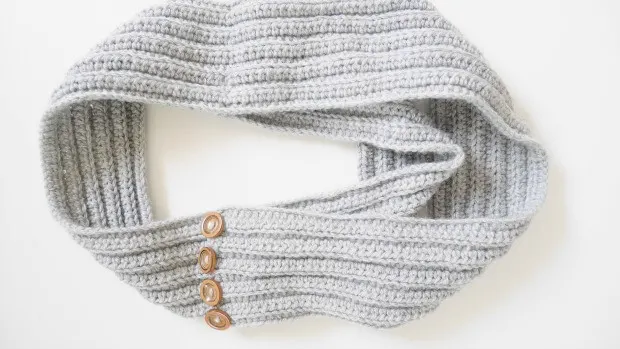 Skill and abbreviations
You will need to know how to make
-Sl st (slip knot)
-hdc which mean-half double crochet
-sc which mean single crochet
-ch, Chain
-Blo which mean work in back loop only
This pattern is made for beginners! There is a basic skill level required to make the design.
Let's get start!
– I used 100% acrylic Lionbrand Heartland 4 medium , 142gram, 251 yard.
– 6 mm crochet hook
– Sewing yarn needle
Easy ribbed infinity scarf instruction.
Grab your 3.5 mm crochet hook make a slip knot then 250 chains.
Row 1 – hdc in the next chain from hook and make hdc in each chain until the end of the row. Ch 1 turn.
Row 2 – hdc blo only in the next stitch from hook and make hdc blo only in each stitch until the end of the row. Ch1 turn.
Rows 3-12: Repeat row 2. Fasten off and leave long tail for sewing.
Be sure to snap a picture and share your finished easy ribbing crochet infinity scarf with me on social media! I'd love to see how it turned out!