This simple crochet cap sleeve crop top is perfect for summer.
Meet the everyday crochet crop top with the big lace cap sleeve add to make this crochet crop top cute overload.
I picked out the beautiful purple color to matching with my purple poncho wrap.
This crochet cap sleeve crop top is made from beautiful cotton yarn and the cutee wooden button to decoration.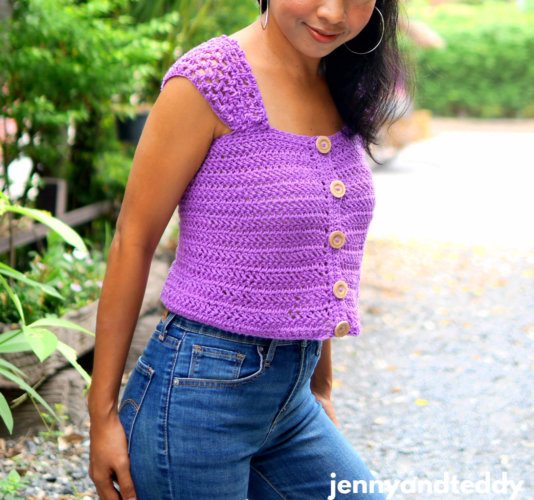 This simple croptop is made up from just one piece of rectangle and feature Herringbone double crochet stitch which I also have the video tutorial as well as this top as well.
If you love this crop top, I think you will love this easy crochet tie strap crop top too.
I hope u like it.
Let's get into it!
I used Lion brand 24/7 cotton yarn weight 4 aran. I use around 700 yard. ( size s to m )
I used 1 color for this top.
– 4.25 mm hokk if you cannot find 4.25 mm hook the 5.0 mm hook will do.
– Sewing yarn needle
-wooden button around 1 inch wide 5 of them.
Gauge: " 3 stitch of herringbone double crochet = 1 inch
Note: we are crochet this top a bit tight but not too tight.
Skill and abbreviations
(American crochet terms)
You will need to know how to make
-sc which mean single crochet
-Sl st (slip stitch)
-dc which mean double crochet
Herringbone double crochet stitch video tutorial.
–hbdc – herringbone double crochet: yarn over, insert hook into next chain, yarn over and pull through the chain and the first loop on the hook, yarn over and draw through 1 more loop on the hook, yarn over and draw through both loops on hook.
-ch, Chain
-slip knot
Size from s to 3xl:
For the model size Small to medium bust size is 30-33 inches
( other size to make it bigger by add more chain to foundation chain, detail in the pattern below)
For me the model wearing this piece, I am 4'9 feet tall.
Video tutorial.
Measurement.
one rectangle 9.5×29 inch.
Everyday crop top crochet instruction.
Start of by making a slip knot Then 90 chain plus 3 chain =93 chains (foundation chain multiple of 2 + 3 ).
small to medium chain 90+3
Large chain 110+3
XL to 2XL chain 130+3
3XL chain 140+3
Row 1: Skip first 3 ch from hook (counts as 1 dc), 1 hbdc in next ch and every ch until the end of the row, ( ch3 turn counts as 1 dc)

Row 2: , skip first st, 1 hbdc in next st and every st of hbdc until the end of the row, in the last st make hbdc in the ch3 of the previous row. ( ch3 turn counts as 1 dc)

Row3 and beyond : Repeat row 2 until we get 9.5 inch deep and do not fastern off yet and we will start working on the edge of the crop top.
Edge.
At the edge of the crop top we are going to make sc in each stitch for 3 row and chain 1 when turning to next row.
After we finished make the edge of the crop top then we will make the edge of the side of the crop top only one side by sc in each space for 1 row, chain 1 when turn to the next row then keep making sc in each stitch until we got around nearly 1 inch deep. Then finished off to assemble.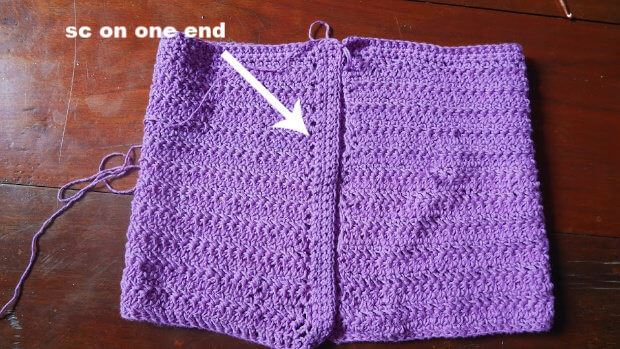 Assemble.
lay the piece in flat then fold them each side until meet.
and use yarn needle to add wooden button then close the gap between the button by sewing using yarn needle.
After we finished attach wooden button set a side and waiting for adding the strap.
Strap make 2 pieces.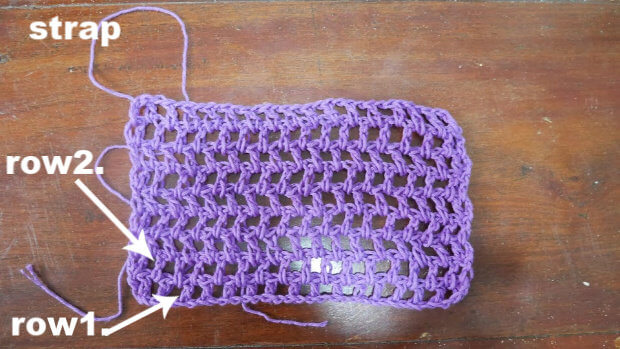 Start by make chain 32 +2 for the foundation chain.
Ps. If you want the strp to be longer add more chain in even number +2
For example 38+2 , 40+2, 44+2
Row1. skip2 ch from the hook, dc in next ch, *ch1,sk1,dc in next* repeat this* to * until end of row at the end have 1 chain left then we make dc, ch2 and turn.
Row2. dc in same st, * ch1,dc in next chain space* repeat this* to * untin end of row at the end make dc in chain2 space from the previous row, chain2 and turn.
Row3 -9. repeat row2. and finished off leave long tail for sewing.
Attach strap tot he crop top.
Use yarn needle to secure the strap see pic below and detail on video tutorial.
then attach the strap to the crop top body.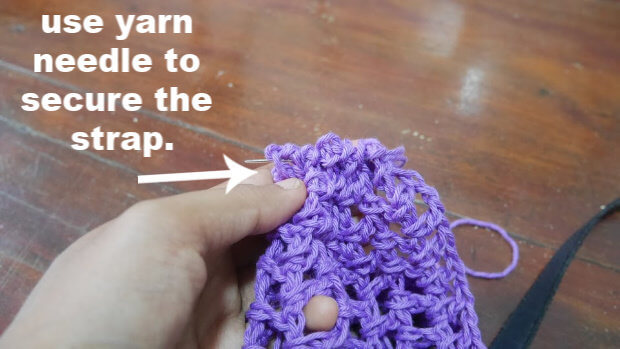 All done!
Happy crocheting!
If you make one I would love to see your creation tag me on Instagram!