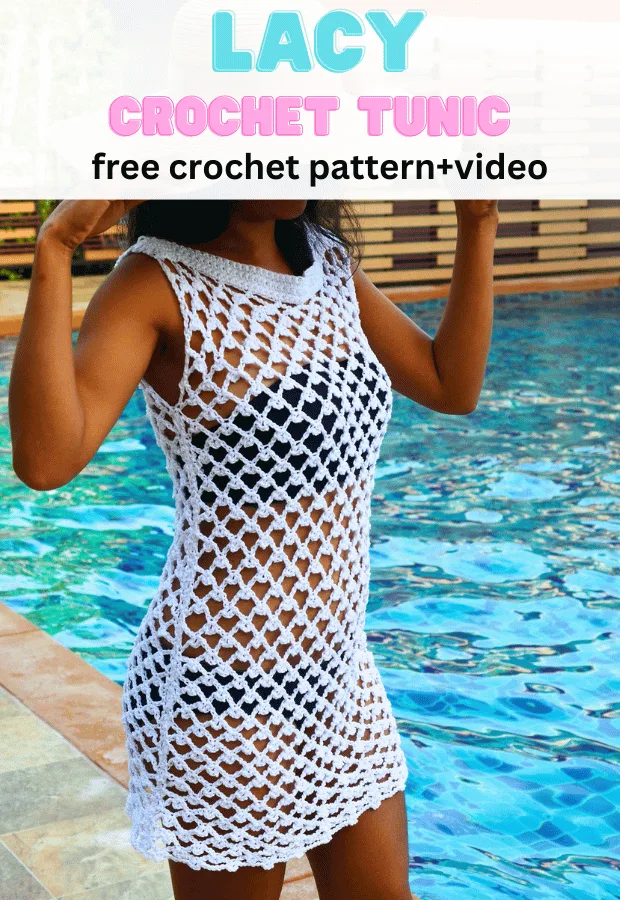 This beachy lace crochet tunic is my unfinished crochet wip. I had it for a long time in Thailand before I moved to New Zealand.
As You know now, my life is hectic with moving things around to new places, and all the different aspects that I have to adjust myself to the new environment make me feel a little depressed sometimes.
However, this lacy crochet tunic beach cover-up reminds me of happiness when I think about whether I will wear it to the island for a beach holiday getaway in the future.
Simple lace tunic crochet beach cover-up pattern.
I promise you will love how easy this lacey tunic is; this mesh crochet tunic dress has a very simple construction with no shaping involved.
They are made from 2 basic crochet rectangles. That joins them together with an easy seam.
If you want to, you can totally create your own crochet beach dress with your favorite crochet lace stitches and turn them into an effortless look tunic beach cover-up with this easy free crochet pattern guide step by sy step.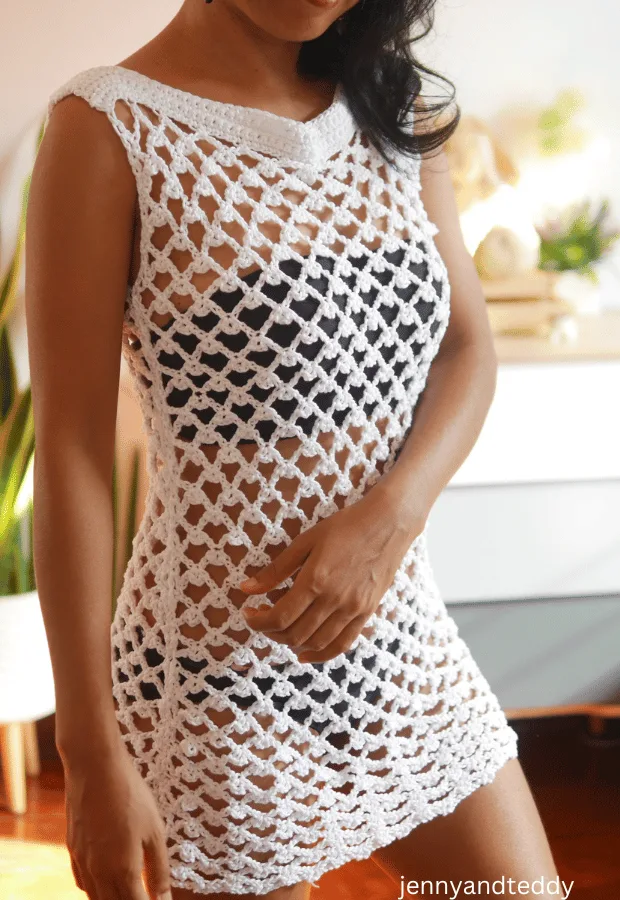 How to size your beach tunic swim cover-up for the perfect fit.
This easy crochet beach tunic pattern is made to measure, so you girl can crochet this easy tunic in any size, from extra small to plus size. We can measure in two similar ways by.
First: measure your shoulder wide, and that will be your foundation chain.
Second: measure your bust size and then dive by 2, and that will be your foundation chain; for example, my bust size is 32-inch dive by 2, so it will be 16 inches for the wide of your foundation chain.
I put more detail in the video tutorial on how you measure it so that you can make a perfect fit for your beautiful body.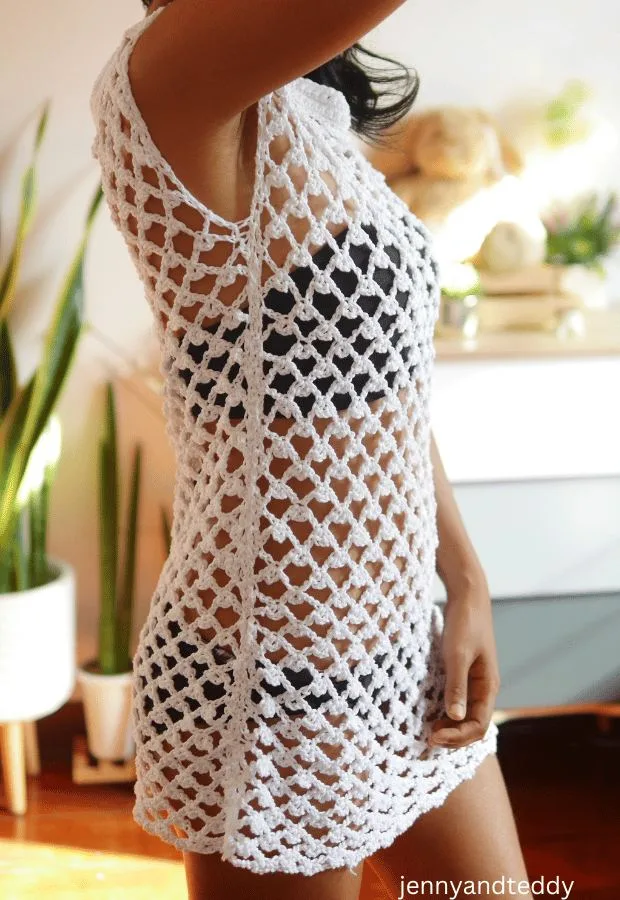 How to crochet mesh tunic in any size with 3 simple steps.
Here is how you can crochet any tunic beach cover-up dress with two rectangles in 3 easy steps.
Step1. Measuring your bust size. The bust measurement is the width of your tunic dress.
Step2. Pick out your favorite crochet lace stitch to create 2 rectangles, or follow this free tunic pattern.
Step3. Simple seam, after you are done with 2 crochet rectangles, now we will join two pieces together by easy seam.
That's all you done.
Best yarn for lightweight crochet tunic in the summertime.
Whether you are crocheting a beach cover tunic top or dress, there is no doubt that cotton yarn is my favorite go-to for the hot and humid weather because they are durable, easy to wash, and doesn't trap heat so much.
Well, one more good thing about cotton is, it will give you a beautiful drape to your garment.
For this free crochet tunic mesh pattern, I used 100% cotton DK weight yarn/3 light.
You can also use 4 medium-weight yarns that will do just fine as dk weight.
Need more summer lace crochet cover-up patterns to make?
Material & supplies.
In this free crochet lacy tunic pattern,I used DK weight yarn/3 light from Hobbii Rainbow, around 492 yards = 6 skeins for sizes example, small to medium from bust size 30-32 inches.
1 skein of Hobbii Rainbow cotton is 50 gram=75 m or 82 yards 100% cotton
4.0 mm crochet hook
Sewing yarn needle
Skill and abbreviations
you will need to know how to make (American crochet term)
sc, which means single crochet
dc, which means double crochet
hdc, which means half double crochet
ch Chain
slip knot
sk means skip stitch
Finished Size for this easy lace tunic Approximately:
This example crochet tunic is made to fit size small 30-32 inch bust size
For me, the model wearing this piece, I am 4'9 feet tall, bust of 32 inches, waist of 27 inches, hip of 35 inches.
Note:
This mesh tunic can make in any size they are made by measuring your shoulder or your bust.
The rectangle front and the back panel of this tunic are made with the same stitch pattern.
How to crochet easy mesh tunic step-by-step video.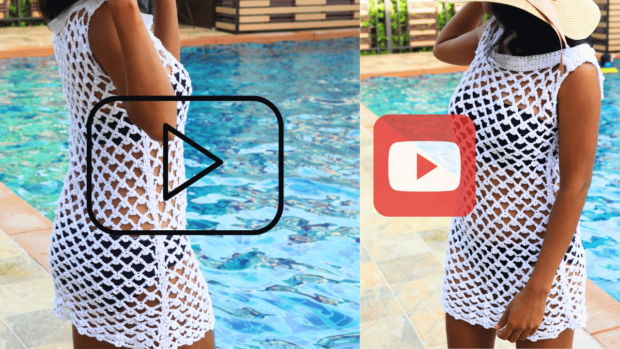 Easy crochet lace tunic free pattern instruction.
The tunic makes 2 pieces.
Measurement for one rectangle for size small, wide16 inches x 24 inches long.
To adjust for longer lengths, add more rows.
To adjust for a bigger size, add more chains to the foundation chain.
The back & front panel makes 2 pieces.
The chain will be multiple of 5+2 for the foundation.
In this small sample size, I start with chain 50+2
Row1. sc in the second chain from hook, * chain 5, skip the next 4 chains, then sc in the next chain* repeat * to* across until the end of the row. turn
Row2. * chain5 then ( sc,ch3, sc in the center ch of the previous row)* repeat * to * across until in last ch5 of the previous row make sc in the center of ch5 then skip2 ch and make 1dc in the last sc. ch1 turn.
Row3. sc in the same St. * ch5( sc,ch3, sc in the center ch of the previous row)* repeat * to * until you are in the last ch5 from the previous row, then make sc in the center of ch5.
Repeat rows 2 and 3 until you get to 24 inches long
Repeat the same for second panel.
Spice up your beach tunic.
You can add some variation to your crochet beach tunic cover-up to spice it up.
For example, you can add a tassel or a fringe to the bottom edge of the tunic. or crochet 2 more rectangles to be long sleeves.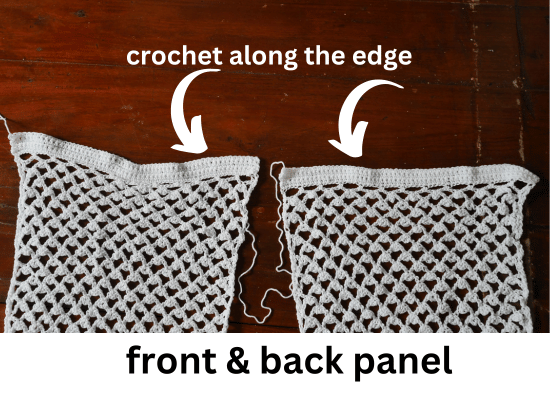 Add edging.
In this pattern, we will crochet the edging for the tunic by making sc in each stitch along the edge until the end of the row then chain 1 and turn and repeat this step until you get your desired think for the border, mine is about 1 inch thick, maybe around 4-5 rows. And fasten of leave long tail for sewing.
Assemble beach tunic.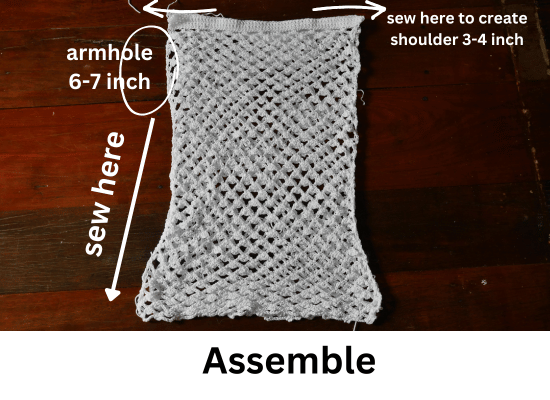 Lay 2 pieces in flat and sew along the photo show.
For the armhole, you can make the gap depending on how big your arm is.
Sewing to create the shoulder can be varied depending on how you want your open neck to be bigger or smaller.
That's all we done.
Happy crocheting!