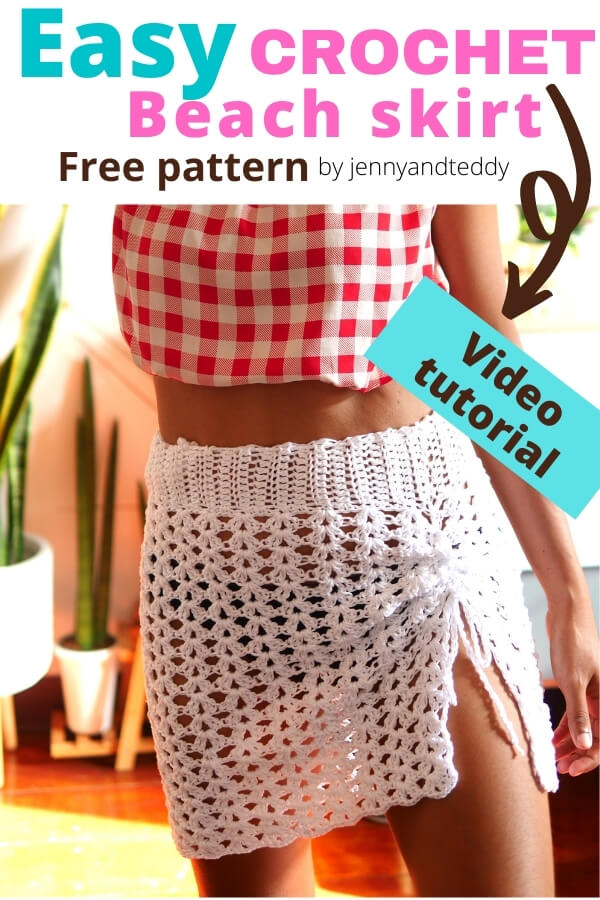 This easy crochet skirt beach cover up or swimsuite cover is great for beginner. It's a great lazyyyy lush quick crochet beach cover to make before you go on holiday vacation! By that I mean, it's super easy and simple to make. And this crochet skirt can make in any size simple!!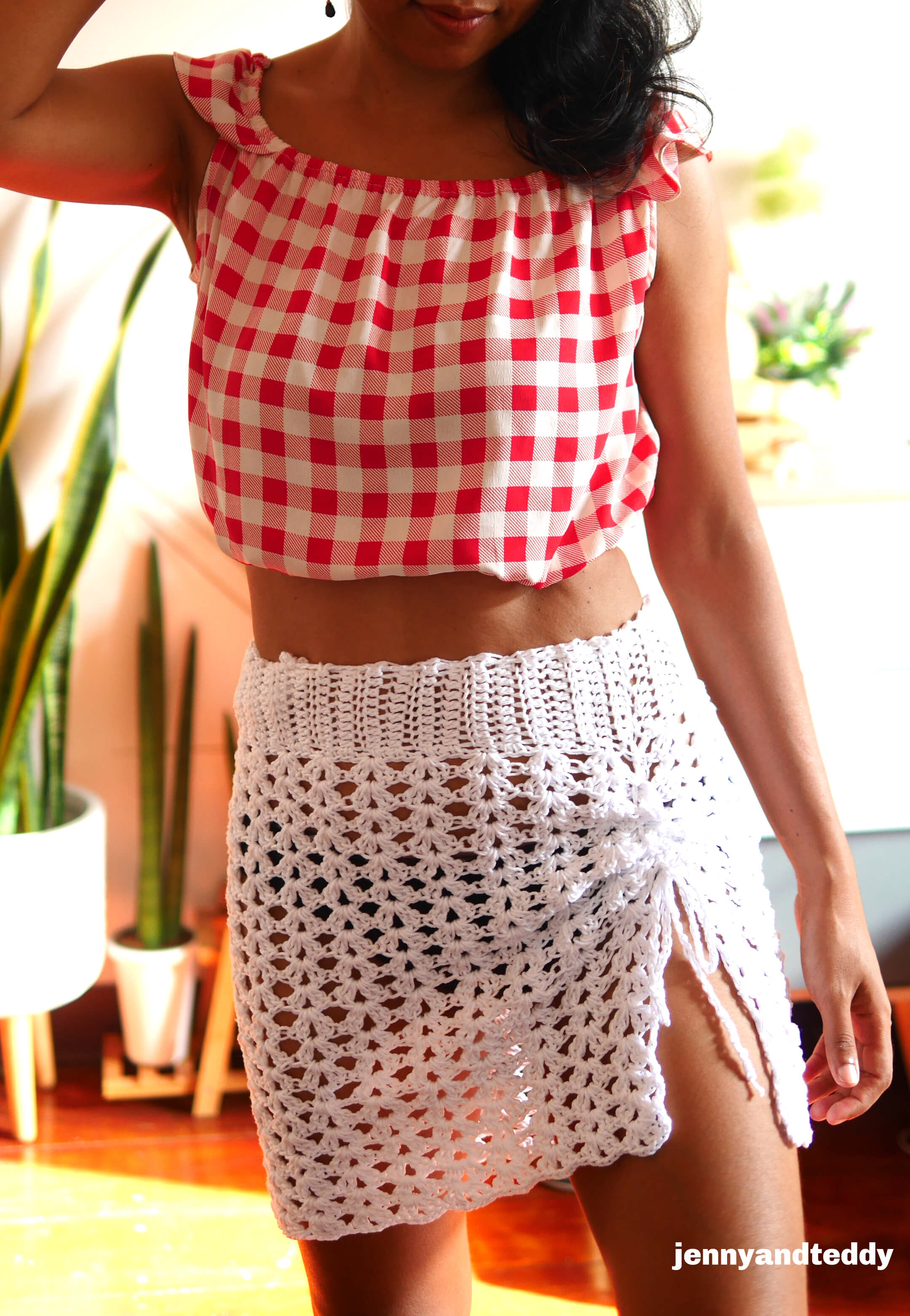 This cute crochet beach skirt is made from just 1 piece from top down by start at the ribbed band and I have add some fun thing to do as a tie up skirt you can pull up or down toward the top. Or you could turn them into a maxi beach skirt by add more row , see how easy is that?
Follow along a step by step how to crochet skirt for beach cover with video tutorial for you girl.
If you want to get more summer item to made , let's learn how to crochet a bucket hat for beginner with raffia yarn.
So, what to wear for matching with your crochet beach skirt?
You girl could wear with a crop tee or a crop white bikini if you make your crochet skirt in white color.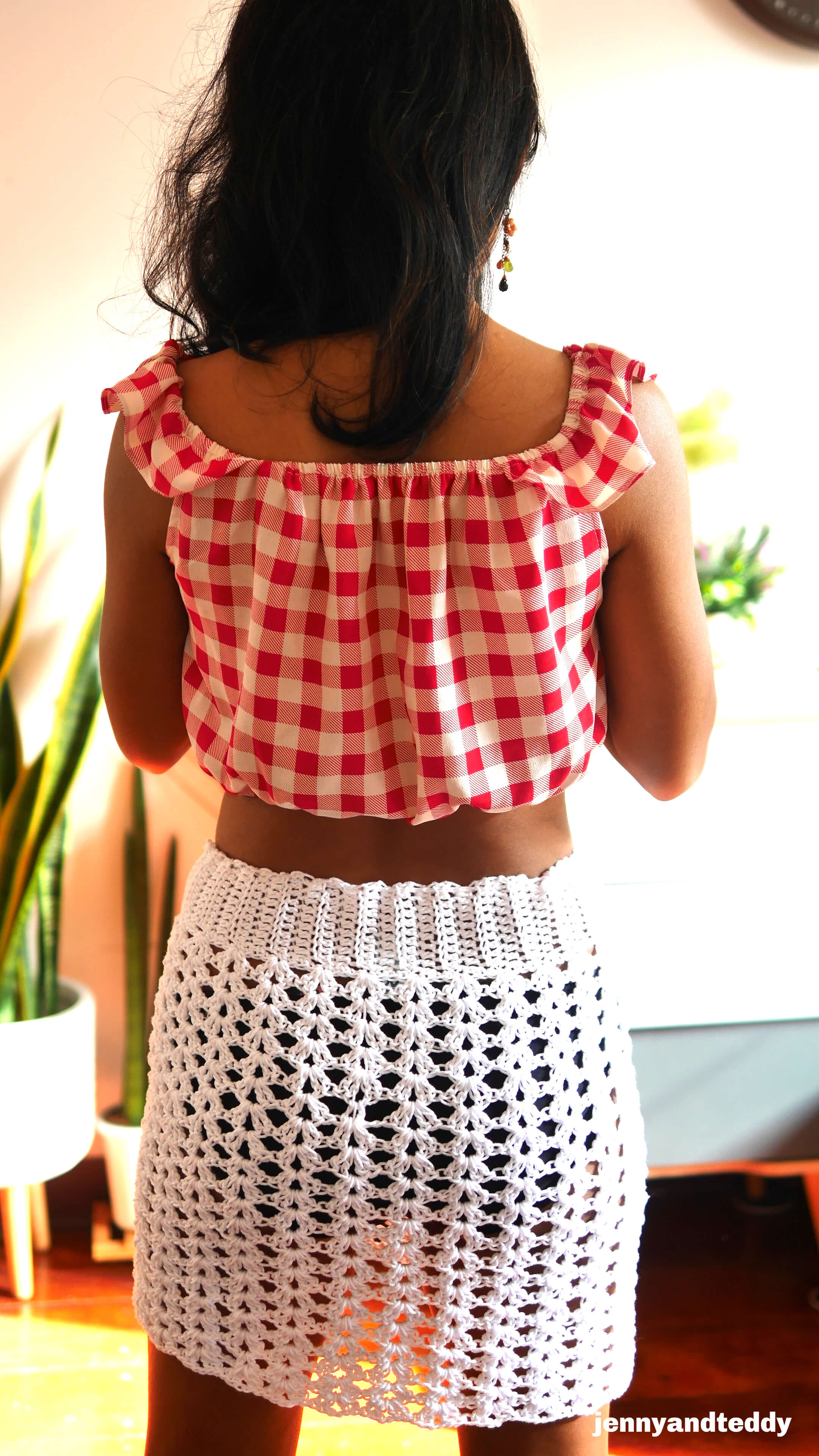 Right now, I am on the summer crochet holiday theme at the moment and have made so many crochet beach wear and accessories like, a beginner wide brim crochet sun hat, easy crochet basic bucket sun hat , easy crochet beach bag , beach cover up dress , summer crochet cardigan … etc, because I live very far from the beach like 10 hr drive from my city .
So let's have some fun dress yourself (me!) at home and pretend we are at the beach or a pool party, Yay!!
Let's get start!
– The example fit my waist size 26 inch. ( easy to adjust to any size)
I used Lion brand 24/7 cotton yarn weight 4 aran ( white blanc color)
I use around 500 yard 2 and a half skein. ( size small in example piece )
– 3.0 mm crochet hook
– Sewing yarn needle
-2 stitch marker
Note: we are crochet this skirt not too tight.
skill and abbreviations
You will need to know how to make (American crochet term)
-dc which mean double crochet
-Blo which mean crochet in back loop only
-hdc which mean half double crochet
-sc which mean single crochet
-ch Chain
-slip knot
-sk mean skip stitch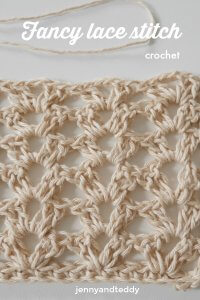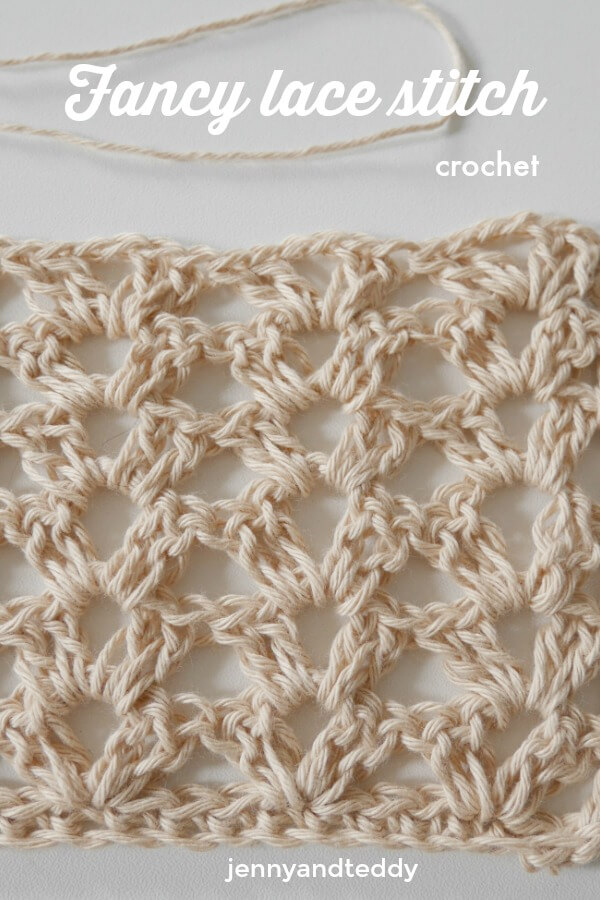 Finished Size of example piece Approximately: example size waist 26 inch.
For me the model wearing this piece, I am 4'9 feet tall.
Video tutorial.
Gauge:
2 group of fancy lace crochet stitch = 3 inch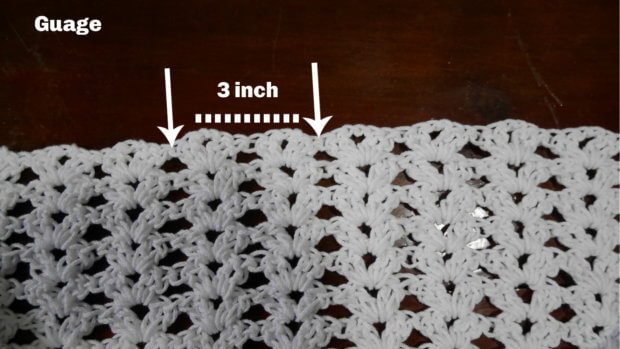 Beach skirt cover up instruction.
First we start to create the ribbed band.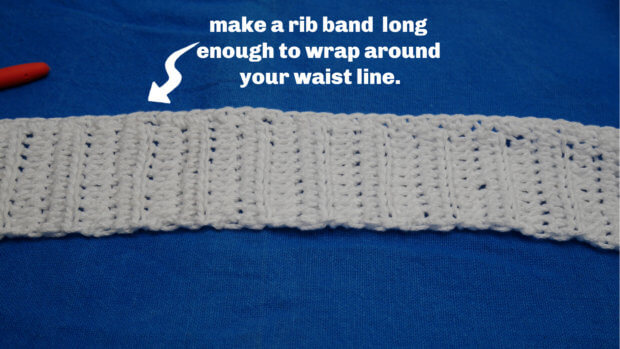 Pick up your 3.0 mm. crochet hook then Start with slip knot then crochet 11 chains.
Row1. crochet hdc in each of the next 10 chain from hook, ch1 turn (10 stitch in total )
Row2. crochet 1 hdc in each of the next 10 stitches from hook ( blo only), ch1 turn (10 stitch)
Repeat row 2 until the ribbed band piece get around 26 inches long or long enough to wrap around your waist line.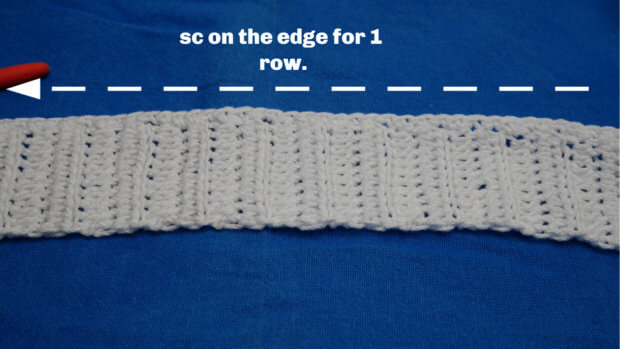 After we get the length of ribbed band for your waist size now , we are going to make sc at each stitch or space along the edge of the ribbed band for 1 row, to start the base for the beach skirt. At the end of the row ch3 and turn
After we finished 1 row of sc on the edge of the ribbed band. then we will start to crochet fany lace stitch.
Ch 3, and turn to row of fancy lace stitch row.
Row 1: then skip the first stitch and make 2dc,ch2,2dc all in the same of the next stitch , then
* skip 3 and make 2dc, ch2,2dc all in next stitch* repeat * to * across until end of the row, then you will have 2 stitch left sk1 and make 1dc in last stitch. ch3 and turn.
Row2. now you will make * 2dc,ch2,2dc in the chain space of the previous row* repeat * to * across until end of the row. at the end make 1dc in ch3 space of the previous row. ch3 and turn.
Repeat row 2 until you get 12 inch long for the skirt or your desired lenght and then finished off and leave long tail for sewing.
Assemble.
Lay the piece in flatted and fold the piece in half then use yarn needle to sew along on the side of the skirt and leave the end no sew for open.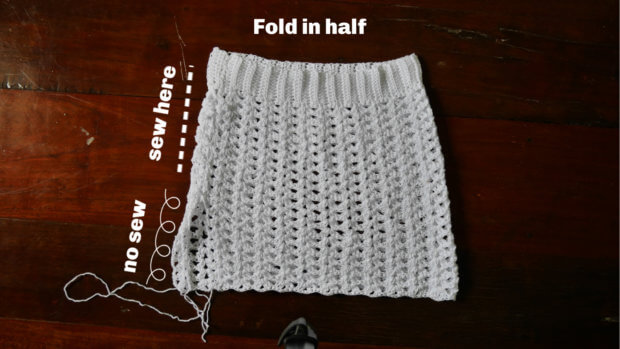 Make the tie.
Make 2 tie seperate.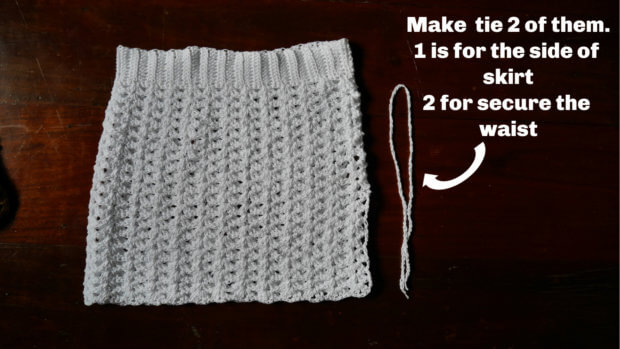 To make a tie just simple make a chain the number that will wrap around your waist line ( my waist line is 26 inch mmm.. my chain is about 120 chains and short one ( i make about 80 chains) for the side of skirt
All done!
Happy crocheting!
If you make one I would love to see your creation tag me on Instagram!