Easy as pie, a simple crochet bolero free pattern surely is the perfect layering piece for your casual everyday outfit.
This versatile bolero jacket is working up quickly with a full step-by-step video tutorial for all crochet skill levels, especially beginner crocheters.
Moreover, this bolero cardigan goes great with everything, you can pair them from jeans to skirts, or you can even throw them over on top of your favorite dress to get ready to hit the town and a date night.
What is a bolero?
A crochet bolero is cropped jacket that has a short length above the waist and an opening front. They usually cover the shoulders, the back, and the arm.
What is the difference between crochet shrugs and boleros?
In short: A shrug is a cropped-length cardigan that has a simple construction, mostly from a rectangle.
On the other hand, a bolero had a longer length than shrugs and often had a more complex design than shrugs.
Easy bolero pattern.
This beginner bolero free crochet pattern is made up of just 2 identical pieces of rectangles with basic crochet stitches, single and double crochet. All you need is just a one-row repeat.
But for the option, I have added some bobble crochet stitches for the opening front; you can opt out for a single crochet stitch instead.
All about yarn.
How much yarn do you need for crocheting a bolero?
Most crochet bolero shrug is a cropped jackets with short lengths above the waist, so they don't consume much yarn at all.
For this Easy as-pie, We use almost 500 yards to fit sizes small to medium. If you are up one size, just add 160 yards. For example, if you are size large so, 500+160= 660 yards.
What is the best yarn type & yarn weight to make a bolero crochet jacket?
Lightweight with cotton and any plant fiber content: if you thinking about crocheting a summer bolero, I would suggest going for yarn in dk weight or 4 medium weights like bamboo, hemp, linen..etc… are always great because they don't trap so much heat and feel comfy on your skin.
Chunky yarn: the bulky yarn and super bulky weight is always great for crocheting a bolero cardigan jacket; they will keep you warm and stylish at the same time without feeling or looking like you wearing a thick cloth like the Eskimo.
Can you girl picture this what I mean? Moreover, the chunky yarn will speed up your process.
However, in short: You can pick any yarn weight and fiber content that you like to work on; it depends on what purpose you want to use them for, right?
Need more free crochet patterns for women's bolero and shrug?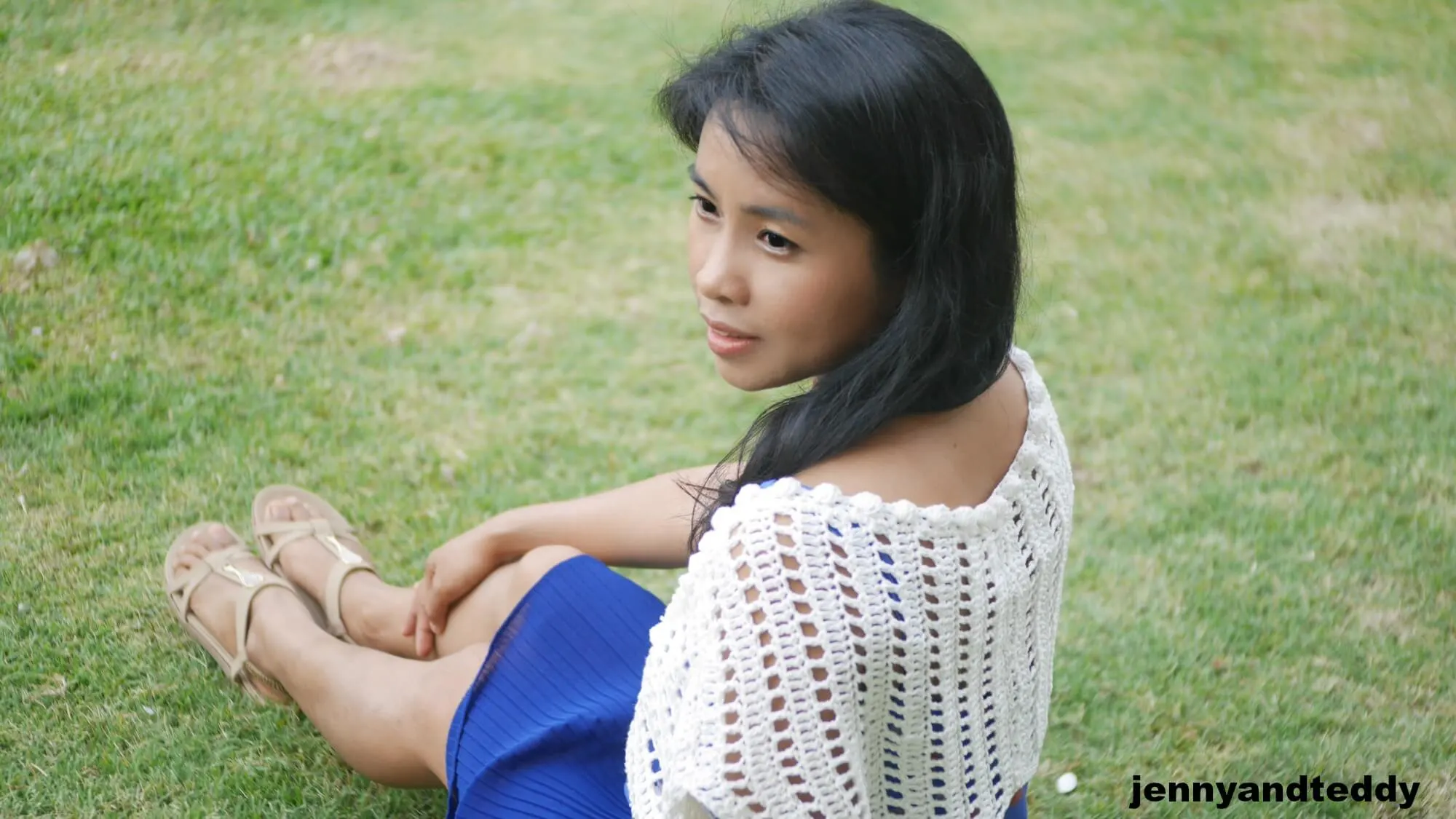 Materials &supplies.
I used cotton DK-weight yarn. I am using about 2 -3 skeins around 400-500 yard fit sizes small to Medium.
( easy to adjust the size. See pattern instructions below).
3.0 mm crochet hook
Sewing yarn needle
2 stitch marker
2 wooden button
Skill and abbreviations.
(American crochet terms)
You will need to know how to make
St (stitch)
sc, which means single crochet
dc, which means double crochet
ch, Chain
slip knot
Bobble stitch (5dc together all in the same stitch)
to start our first bobble stitch, ch3, this chain will count as 1 dc, turn then work 4 dc all into the same stitch, leaving the last loop on the hook each time. When you've got 6 loops on the hook, yarn over and pull through all 6 loops; in the next stitch, make sc.
Now you complete your first bobble stitch, then sc in the next st to give some space between bobble stitches.
Tamara on Moogly's blog has a great tutorial for this bobble stitch.
How to Crochet a Bolero for beginners youtube video tutorial step by step.
Finished Size Approximately:
Small to medium ( Easy to adjust by adding more rows for bigger size)
For me the model wearing this piece, I am 4'9 feet tall.
Measurement of one rectangle.
26 inches long
8 inches wide
For the width: If you need to make it wider ( bigger size) simply add more row.
For the length: add more chains to the foundation chain in even numbers for this bolero, I have 100 chains.
Gauge: 4 double crochet stitch = 1 inch
Easy as pie bolero free crochet pattern instruction.
Start off by making a slip knot. Then make 100 chains (foundation chain)
S-M 100 chains x 8 inches wide
L 110 chains x 10 inches wide
XL 120 chains 12 inches wide
2XL 125 chains 13 inches wide
Row1. dc in the next chain from hook, then dc in the next chain across until the end of the row, then ch2 turn.
Row2. dc in the same st, * ch1, skip1 st, dc in next st* repeat this * to * across until the end of the row , then ch2 turn.

Row3. dc in the same st, then dc in each st across until the end of the row, then ch2 turn.
Repeat rows 2 and 3 until your piece measures approximately 8 inches wide, and Fasten off.
Repeat the same process to make a second piece of rectangle
After you got 2 pieces of the rectangle, then time to assemble.
Assembly.
Lay 2 pieces of each rectangle side by side. Now fold them in half, then use a yarn needle to seam up( with your favorite stitch.
I use whip stitch) the middle part together to create the back panel, from the top down around 10 inches. Tie off and weave in the end.
After you finish, seam up the back part of the crochet bolero.
Now we are going to create the armhole by a seam up the side of the bolero to create the armhole.
( I am leaving space for the armhole 6 inches ) see pic below.
For the opening neck.
Join the new yarn at the front end of the opening neck, then sc in each space around the opening neck back and forward for 2 rows.
Then start to do bobble crochet stitch for the 3rd row and fasten off.
On row 3. make bobble crochet stitch.
Time to add a wooden button.

All done! Hope you guys enjoy making this pretty bolero.
If you make one, I would love to see your creation. Tag me on Instagram! would love to see your creation.
Happy crocheting.