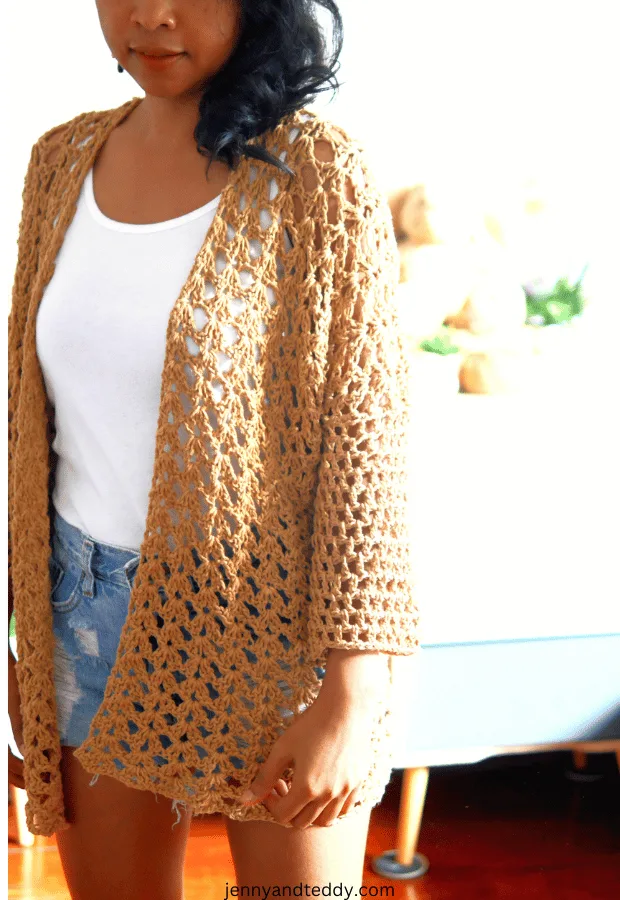 Do you love crocheting a summer cardigan? And looking for the new one to make?
Let's meet the easiest lacy crochet summer cardigan FREE PATTERN with step by step video tutorial.
I love to wear a summer cardigan, especially one that is made from cotton yarn with a lace stitch that will let the air flow throughout the garment.
Make it feel the cool breeze in the hot and humid weather.
This cardigan is stylish and quick to make from the crochet lace stitch.
Comfy to wear from the breathable yarn of your favorite choice.
Wear this summer and spring crochet cardigan that will make you feel like going on the Island beach holiday vacation of your dream.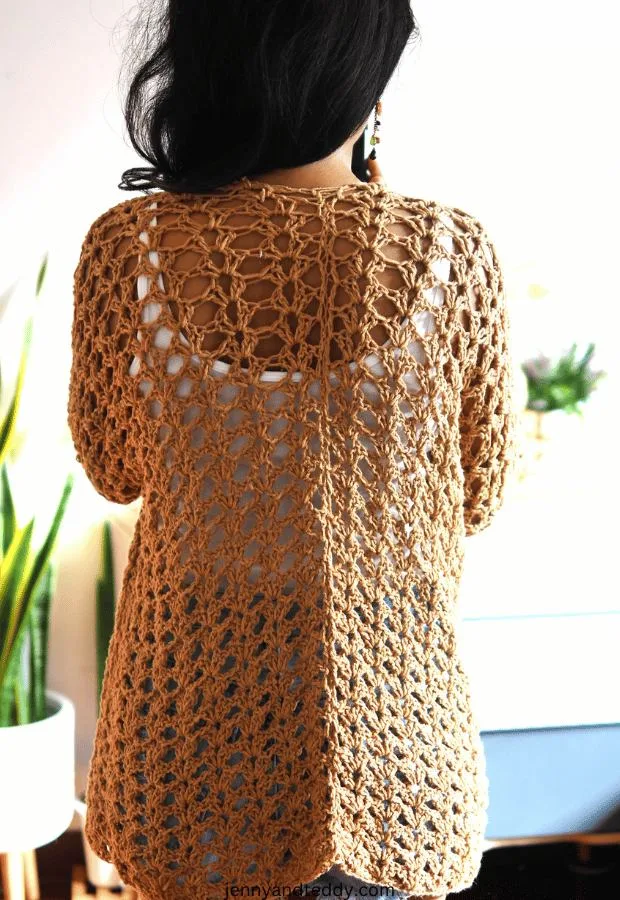 Simple lightweight crochet cardigan pattern.
This crochet summer cardigan is super easy beginner friendly and made from crochet lace stitch, which is only a one-row repeat.
They are made from 2 pieces of rectangles and connected them together.
All you need is common crochet stitches, like knowing how to make a single crochet, double crochet, and chain.
The open lace stitch will make this summer crochet cardigan so light and airy will let the air go through when you wearing them.
They are also great for swimsuit covers up and so versatile to use.
You can easily customize and turn them into a long summer cardigan by adding more rows to the two rectangles or a short sleeves cardigan by decreasing rows.
Best yarn for crocheting a lacey summer cardigans?
Cotton yarn and plant fiber: especially Pima cotton would be luxurious for me, or any kind of cotton blend yarn.
Any plant fiber content will make it comfy to wear on your skin. And they are breathable for a hot day in the
summer. Moreover, the plant fiber will give good weight and a beautiful drape for your garment as well.
Yarn weight: you guys can go for a 4 medium weight or DK weight yarn for a lightweight summer cardigan.
Both weights work fine for this cardigan pattern.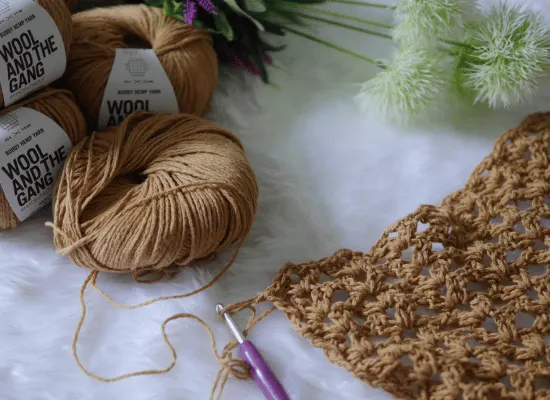 Have you seen my other summer crochet pattern for the holiday yet?
From crochet accessories to wearable.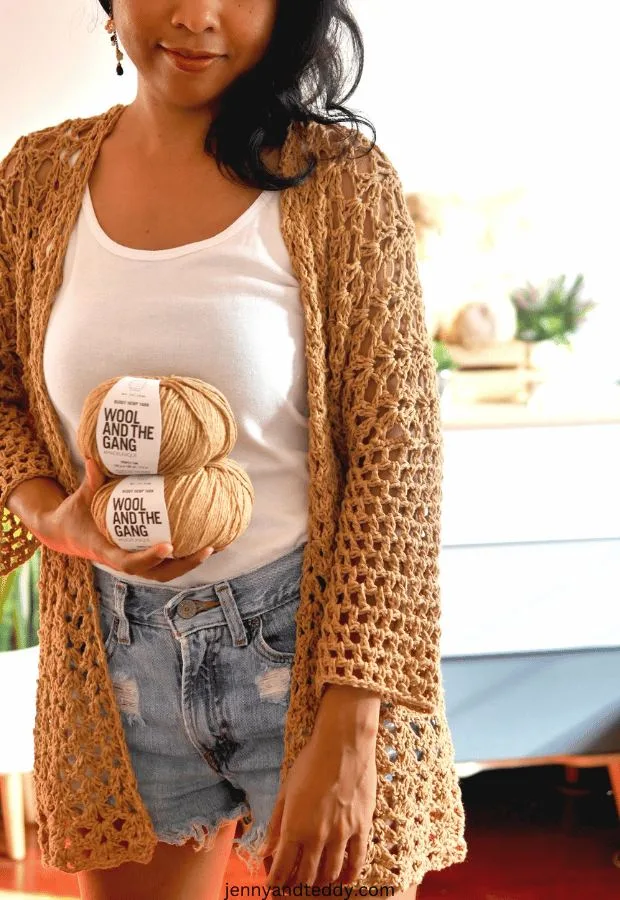 Let's get started!
Material for making this easy summer cardigan pattern.
I am using about 800 yards fit size small ( easy to adjust the size. See pattern instruction below).
I used Woolandthegang Buddy hemp yarn color Tropez tan 4.5 skeins (small size)
5.0 mm crochet hook
Sewing yarn needle
4 stitch marker
Note: we are crocheting this summer cardigan not too tight.
Skill and abbreviations.
You will need to know how to make (American crochet term)
dc, which means double crochet
sc, which means single crochet
ch Chain
slip knot
sk mean skip stitch
Finished Size of example piece Approximately: example size small
For me the model wearing this piece, I am 4'9 feet tall.
How to crochet a summer lacy cardigan Video tutorial.
Gauge:
2 groups of fancy lace crochet stitch = 3.5 inch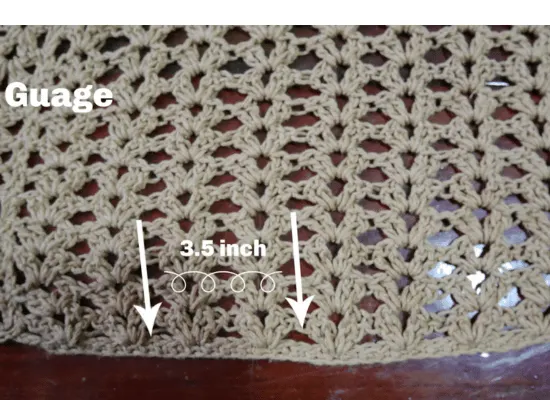 Measurement of one rectangle.
10x 48 inches.
For the length: If you need to make it longer, simply add more rows of fancy lace stitch.
Lacy summer crochet cardigan pattern instruction.
Make two pieces of the rectangle.
Pick up a crochet hook size 5.0 mm and Start off by making a slip knot. Then make 32+2= 34 chains.
(foundation chain multiple of 4+2)
(small size 32+2 chain)
(medium and large size 40+2 chain)
( XL-2xl size 48+2 chain)
(3xl-4xl size 56+2 chain)
Start to make the fancy lace crochet stitch.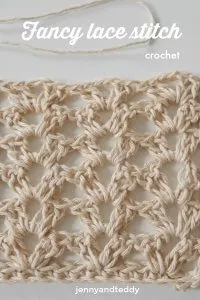 After we finished with the foundation chain, then Sc in each chain across, ch 3, turn.
Row 1: then skip the first stitch and make 2dc,ch2,2dc all in the same of the next stitch, then
* skip 3 and make 2dc, ch2,2dc all in the next stitch* repeat * to * across until the end of the row, then you will have 2 stitches left sk1 and make 1dc in the last stitch. ch3 and turn.
Row2. now you will make * 2dc,ch2,2dc in the chain space of the previous row* repeat * to * across until the end of the row. At the end, make 1dc in ch3 space of the previous row. ch3 and turn.
Repeat row 2 until you get 48 inches long and finish off set aside waiting for assembly, then make a second piece exactly the same.
After we finished 2 pieces of a long rectangle. Time to assemble.
Assemble cardigan.
Lay 2 pieces flatted side by side, then fold them in half and use a yarn needle to seam up the middle part of the 2 rectangles together.
Then seaming on each side and leave for the armhole 5-6 inches, depending on your arm size.
Add the long sleeves.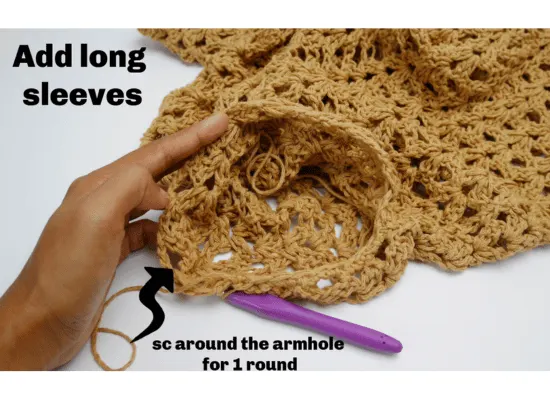 After we finished up assemble the cardigan, then we will add the long easy lace sleeve.
By joining yarn at any part of the armhole, the sc around the armhole for 1 round. We crochet in spirals and do not join yarn at the end of the round.
After we finished sc around the armhole for 1 round, then we chained 2 to start the simple lace stitch.
round1. after we make chain2 then dc in same st, * ch1,skip1 st,then dc in next stitch* repeat this * to this* and around. at the end of round dc in same st to start the new round
round2. * ch1,then make1dc in next chain space* repeat this to* this and around.
round3. repeat round 2 until we have 10 inches long for the sleeve or your desired length. And fasten off .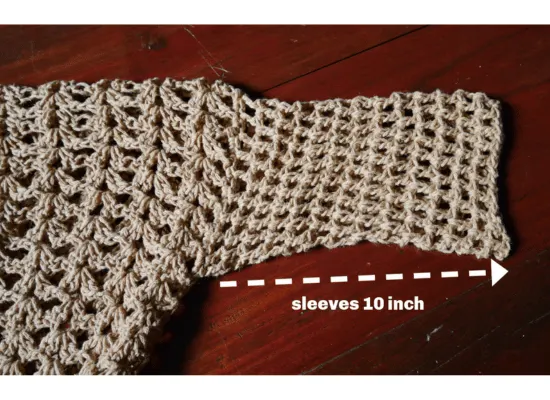 Repeat the same for another sleeve.
All Done!
Happy crocheting!
If you make one, I would love to see your creation tag me on Instagram!