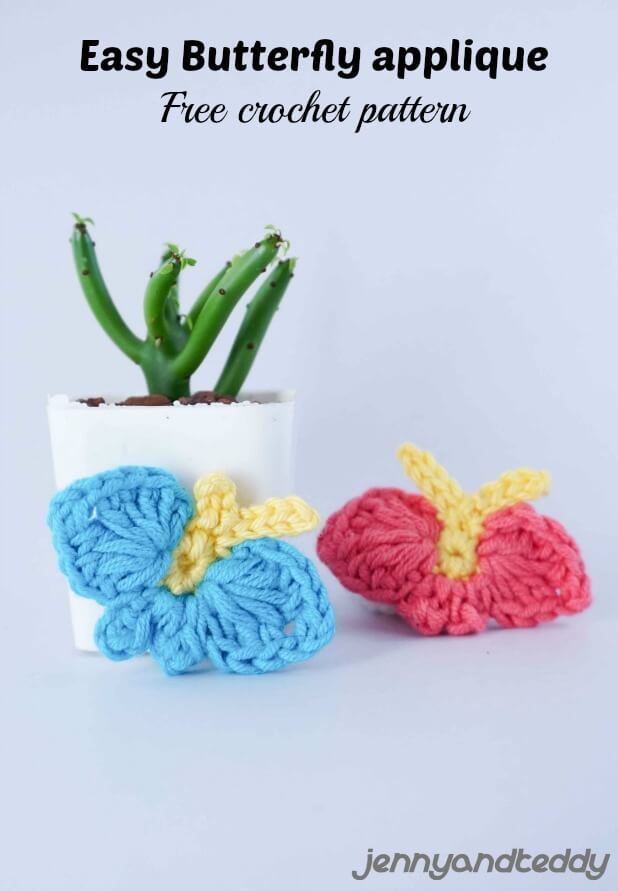 Let me quickly tell you how I end up making this tiny crochet butterfly pattern.
From the previous post, I made a crochet flower crown, reversible flower crown, and flower headband.
Ohhh…. yeah, I love crocheted flowers and all things girly girl lol…… I knew you might like it too!
So after I crochet lots of flower headbands and my idea was to crochet a bunch of butterflies and turn them into the headband and had a pretty photo shoot with it.
Oh well, these crochet butterflies' applique did not turn into the headband was a failed attempt lol.
Anyway, they are all so teeny tiny, and pretty aren't they am I right? would you want to make one?
Easy crochet butterfly pattern.
This easy crochet butterfly embellishment pattern is great for scrappy yarn projects and perfect for your additional springtime.
It's perfect for beginners and a quick yarn project to keep you company while watching TV at night you can whip them up in less than 15 minutes.
They are versatile to use for a brooch, glue a magnet on it and stick on your refrigerator, also a great idea for bedroom wall decor and much more depending on your creative craftsy is no limit.
With this butterflies pattern, you can whip up a dozen before your favorite television show is over!
Unlike a lot of crochet patterns, these butterfly design is crocheted all in one piece so it is no sews at all how convenient it can be? and they don't take a lot of yarn.
Love that! It's especially good news if you have a big bag of leftover yarn scraps from other knitting or crochet projects.
It also makes this free crochet pattern ideal for using in schools or assisted living communities when you volunteer, as most times the yarn is donated in odd quantities and there's never quite enough to complete a full project.
If you're a beginner and worried that it might be a bit too complicated – don't worry! It's easy to make and is the perfect way to start your crocheting journey!
Skill and abbreviations.
For this project, you will need to know crochet basic stitches.
American crochet term.
How to make a magic adjustable ring.
half double crochet which means hdc
double crochet which means dc
slip stitch which means sl st
If you are an absolute beginner, check this out.

how to make magic ring

.
Let's start with supplies.
You can use scrap yarn that you got or in the example piece, I use cotton dk weight or 4 medium weight yarn like Lion brand 24/7 cotton.
In the example piece, I use a 3.50mm crochet hook or a 4.0 hook size or you can use any crochet hook size that suits your yarn weight according to the yarn label recommendation.
Sewing yarn needle
(you can make the butterfly bigger or smaller by using bigger or smaller size crochet hooks
How to crochet butterflies applique video tutorial.
Crochet butterflies free pattern instruction.
Round1.
Make a magic ring or adjustable ring and 9sc in the ring (9 sts)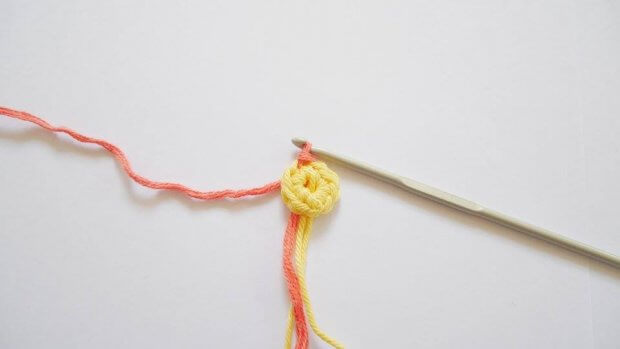 follow along with the pic.
Now we are on to crocheting the butterfly wings.
Round2.
(Sl st in the first stitch) (in the next stitch make 5dc and chain2 turn 1hdc in next chain stitch from hook and 4dc in the same stitch of 5dc)
Then skip1 stitch,( sl st in the next stitch then chain 2 turns make 1hdc in next chain from hook and then 1hdc sl st in the same stitch)
,( sl st in next stitch and chain 2 then turn 1hdc in the next chain from hook and sl st),
( sl st in the next stitch), ( next stitch make 4dc then chain2 and turn to make 1 hdc in the next chain from the hook and make 5dc) than in the last stitch make sl st.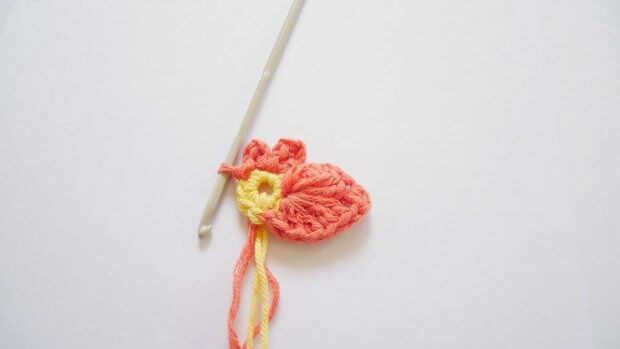 Make a butterfly antenna.
by making 5 chains then turn and make sl st in each stitch and repeat the other one.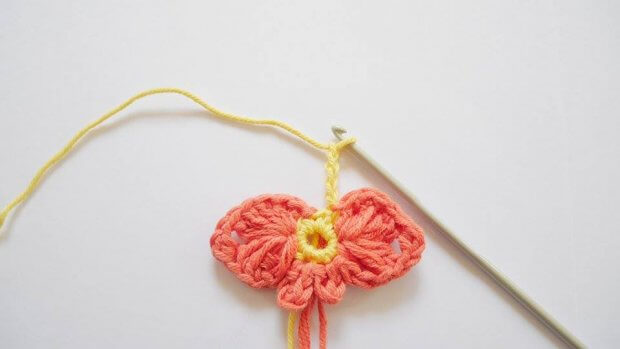 All done!
Happy crocheting.
I hope you enjoy making them.